Angle Pro Knife Sharpener with Angle Gauge — With Ceramic Wheels, Tungsten Carbide Rod, Diamond Wheels & Angle Gauge, This 3-in-1 Sharpener Provides Complete Maintenance to Your Favorite Knives
The Angle Pro Knife Sharpener helps you get professional quality sharpening right in your own home. This 3-in-1 knife sharpener includes a stainless steel angle gauge for measuring your blade's exact angle, three ceramic wheels for honing (straightening) your blade, three diamond wheels for sharpening your blade, and 3 tungsten carbide rods for putting a new edge on your blade. The result is complete maintenance of your favorite knives for effortless slicing and dicing.
Stainless steel angle gauge: For measuring exact angle of your blade
Ceramic wheels: For honing or straightening your blade
Diamond wheels: For sharpening your blade
Tungsten carbide rod: Putting new edge on your blade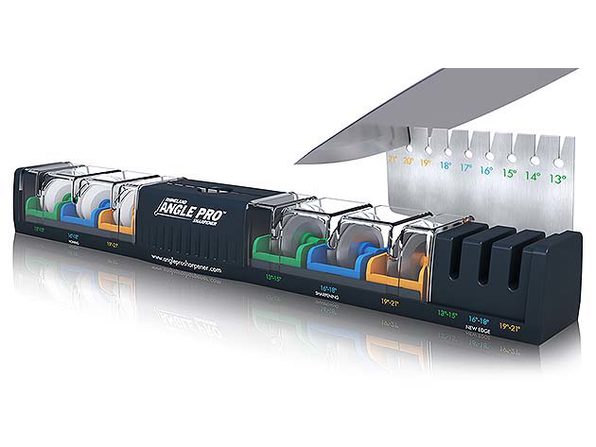 The Gadget Flow: "It hones, sharpens, and gives your knife a new edge at every angle."
Specs
Color: multicolor
Finish: matte
Materials: plastic, ceramic, tungsten, steel
Dimensions: 2″H x 16″L x 2″W
Number of ceramic wheels: 3
Number of diamond wheels: 3
Measurement
Sharpens
Complete maintenance
Convenient
Manufacturer's 3-year warranty

Includes
Angle Pro Knife Sharpener
Angle Gauge
Shipping
Ships to the Contiguous U.S.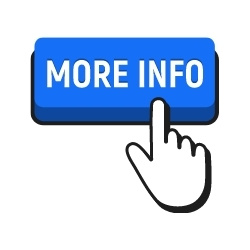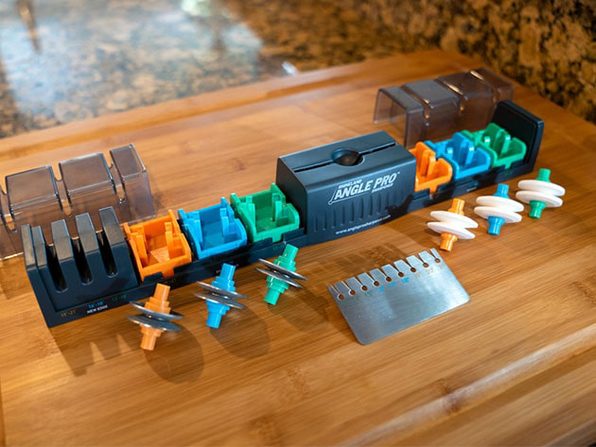 Links on this page are affiliate links. See our affiliate disclosure.