So you want to start a knife collection … or perhaps you want to specifically start collecting Buck Knives!
Buck is a great American knife brand and highly desirable and collectible, as well as extremely useful for anyone who wants and uses a knife, whether it's for everyday carry or specific tasks such as hunting, fishing or other recreational activities.
This page has some helpful information and resources as you begin your Buck Knife collection.
[affiliate_video_pro id="vi15ddfe9471e730"]
The History of Buck Knives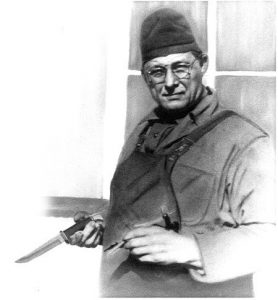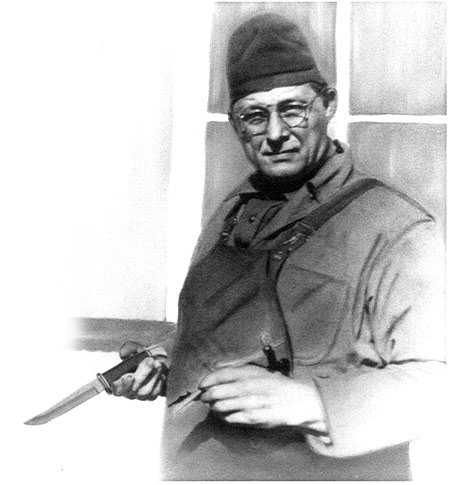 A young Kansas blacksmith apprentice named Hoyt Buck was looking for a better way to temper steel so it would hold an edge longer. His unique approach produced the first Buck Knife in 1902.
Hoyt made each knife by hand, using worn-out file blades as raw material. His handiwork was greatly appreciated during World War II.
Hoyt's eldest son Al had relocated from the Pacific Northwest to San Diego California after finishing a stint in the navy a decade earlier.
Hoyt and his wife Daisy moved in with Al and his young family in 1945 and set up shop as H.H. Buck and Son. Following the death of his father, Al kept the fledgling custom knife business going until incorporating Buck Knives, Inc. in 1961.
Al introduced his son, Chuck, to the knife business at an early age and Chuck and his wife, Lori, were both involved when the company was incorporated. In 1964, the knife industry was revolutionized with the introduction of the Model 110 Folding Hunter, making Buck Knives a leader in the field. 
To start, Buck Knives warranties every Buck Knife to be free of defects in material and workmanship for the life of the knife, and they will repair or replace with a new Buck Knife, at their discretion, any Buck Knife that is defective. Buck however, does not warranty its products against normal wear, misuse, or product modifications. And remember, Buck Knives — or any knife — is not intended to be used as a hammer, chisel, pry bar or screwdriver.
And if supporting a knife company here in the USA that's family owned is important to you, then the Buck line of knives will satisfy that for you. Buck Knives is a 4th generation family-owned business. CJ Buck interacts with customers on a weekly basis and just as his father and grandfather did, he is committed to ensuring that Buck Knives is delivering on the promises it makes to its customers, community, and employees.
And lest we forget — Buck Knives have a great style, are pleasing to the eye, function as they should and are made of top quality materials… pretty  much everything you'd want in a knife for use or collecting.
Why are Buck Knives Better?
For over 110 years Buck Knives has been exploring the best materials, scrutinizing their designs and refining their processes.
Buck inspires and encourages their craftsmen to maintain a passion to preserve the enduring legacy of building knives that can withstand hard use and still hold an edge.
In addition to that though is the Buck Knife warranty, which is one of the best in the knife industry!
Buck backs their knives up with their "Forever Warranty." This company and their products have survived generations and they continue to take pride in hard work, integrity, quality and craftsmanship.
Buck doesn't cut corners and their warranty is proof of that. The fact is, Buck Knives are built to last.
Which Buck Knife Should I Collect?
The beauty of Buck Knives is that there are a variety of styles and types of knives to choose from so that
you can select the best Buck Knife for you and your uses.
You can choose from
Everyday carry (EDC) knife
Hunting knife
Fishing knife
Recreational knife
Survival knife
Cutlery knife
And Buck Knives also has sheaths, sharpeners and accessories for each of these, as well as merchandise and swag if you turn into a Buck fan!
On the Buck Knives website, you can also create your very own custom knife from the vast array of knives in their inventory, fixed or folder, your blade length, finish, material, etc., price range, and even if you'd like it customized!
And if you're a Boy Scout leader or have a son in the scouts, Buck Knives offers officially licensed Boy Scouts of America® knives, with each knife featuring the BSA® logo on the handle.
And if all that selection wasn't enough, Buck Knives also has what are called "collections."
These are specifically grouped or categories of knives — like the Boy Scout Collection.
Collections include:
Limited Editions
Boy Scouts of America
Ebony
722 Spitfire
Weddings and Celebrations
Rocky Mountain Elk Foundation
Buck of the Month
The Buck of the Month Program, featuring a custom built knife in limited quantities (ranging from $50-$250), is exclusively available on the Buck website. Each month, Buck releases one of their favorite knives as a limited production model and discounts do not apply. 
This is a fantastic way to build your Buck Knife collection!
Collecting Older, Vintage Buck Knives
Perhaps you want to start your collection of Buck Knives with a vintage knife, not a new one.
That's cool. But how do you know how old that knife is?
Well that's no problem with Buck Knives. They have a webpage showing you how to date your Buck.
The page features this chart (seen below) as well as some additional information helpful for dating your Buck.
How Do I Sharpen My Buck Knife
After you've decided on the perfect Buck for you, the question becomes "how do I sharpen my knife."
Have no worries! 
The video below from Buck shows you exactly how to sharpen your Buck knife.
[affiliate_video_pro id="vi15ddffceaed60d"]
Paraphrasing the famous words of the Nike shoe brand, just start collecting!
Buck Knives make excellent everyday knives and specialty knives for hunting, fishing and even the kitchen.
You can't go wrong with the quality and usability of a Buck Knife, and the designs and styles are aesthetically pleasing to look at and collect if you don't plan to carry or use them.
Their price though makes them easy to do both!
So what are you waiting for?