Meet Your Podcast Host and Producer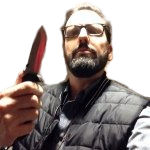 Bob Demarco
Host and true "Knife Junkie," Bob DeMarco has been a knife lover since early childhood. He loves both the art and form of knives, their unique style and function, and can't wait until the next knife arrives in his collection. The Knife Junkie podcast and this site were his inspiration and he hopes you enjoy coming along with him on this wonderful knife journey.
Jim Person is the producer of The Knife Junkie podcast and Thursday Night Knives. He is an online entrepreneur, podcast producer/host and loves listening to podcasts. The "Knife Newbie," Jim might not yet be a full-fledged "Knife Junkie," but he loves learning about knives and knife collecting.
Do you love knives? Use them and collect them? Buy and sell them? Then you're in the right place. 
Each week on The Knife Junkie Podcast we'll bring you knife news and information, tidbits about how to collect, use and maintain your knives,  as well as our latest knife buys, and special features such as our "Maintenance Minute," "Tip of the Week" and more! 
If you like knives we'll think you'll love The Knife Junkie Podcast. Thanks for listening!