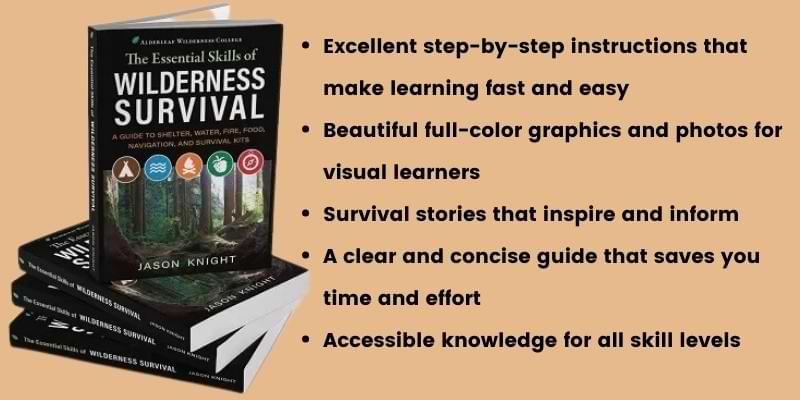 "The Essential Skills of Wilderness Survival: Your Complete Guide to Surviving in the Wild"
For anyone who spends time outdoors, having solid wilderness survival skills can mean the difference between life and death in an emergency. That's why "The Essential Skills of Wilderness Survival" by survival expert Jason Knight is such an invaluable resource. This comprehensive guide teaches you the core skills and knowledge you need to stay safe and comfortable if you ever find yourself lost, stranded, or in a survival situation.
With clear explanations, step-by-step instructions, and beautiful illustrations, this book makes learning wilderness survival skills simple and accessible for all levels. "The Essential Skills of Wilderness Survival" is the ultimate survival manual no outdoor enthusiast should be without.
Covers the Essential Survival Skills
"The Essential Skills of Wilderness Survival" focuses on the most crucial abilities you need to survive in the wild. This includes shelter building, fire making, water purification, foraging for food, navigation, first aid, and signaling techniques. The book breaks down each skill into easy-to-follow steps.
Having this foundational wilderness knowledge can help save your life and give you the confidence to enjoy the outdoors safely.
Detailed Visual Instructions
The book contains over 150 full-color illustrations and photos that clearly demonstrate every survival technique. This makes the skills easy to understand and master. You'll learn proper shelter construction, fire starting methods, edible plants identification, trap setting, and more through detailed visual guides.

Bonus Materials
Readers receive free bonus checklists for assembling survival kits plus monthly wilderness skills articles. This supplemental material reinforces the core concepts so you don't forget these potentially lifesaving abilities.
Written by a Leading Expert
With decades of experience teaching wilderness survival, Jason Knight provides accurate advice you can trust. He's trained survival instructors for the Discovery Channel, National Guard, and other organizations. So you can be confident you're getting authoritative guidance.
Useful for All Skill Levels
Whether you're a total beginner or seasoned outdoorsperson, this book offers valuable insights. The clear explanations cater to novices while offering new tips for experienced wilderness travelers. It also makes a great educational resource.
Shelter Building
The book thoroughly covers fundamental shelter construction techniques. You'll learn how to make debris huts, lean-tos, thermal A-frame beds, and other essential shelters using materials found in nature. This protects you from exposure, which is ultimately what kills people in survival scenarios.
Detailed illustrations provide visual guidance on how to construct shelters properly. You'll gain the ability to keep yourself warm, dry, and protected in an emergency overnight stay in the wilderness.
Fire Making
Mastering firemaking is another key skill covered in the book. The ability to start fires without matches provides heat, light, cooking capability, and more. "The Essential Skills of Wilderness Survival" teaches hands-on fire-starting methods like bow drilling, hand drilling, and flint & steel.
Again, the step-by-step visual instructions make these primitive techniques easy to learn. You'll gain the confidence to start fires whenever needed using natural materials.
Foraging Wild Edibles
The book helps identify the most common wild edible plants. With this knowledge, you can obtain calories, nutrition, and energy from the wilderness. Vital details like look-alike plants, harvesting, and preparation ensure you forage safely.
This provides a food source in a survival situation and enriches regular outdoor adventures. Foraging enhances any hiking or camping trip.
Signaling and First Aid
You'll learn visual signaling techniques like ground-to-air signals to attract help. The book also covers improvised signaling devices. Basic first aid and medical care information prepares you to treat injuries using wilderness resources.
Overall, the book instills total confidence in your ability to handle emergencies in the backcountry.
Pros and Cons
Pros
Covers every essential wilderness skill thoroughly
Detailed step-by-step instructions with illustrations
Trusted advice from a leading survival expert
Suitable for all skill levels
Bonus checklists help put skills into practice
Cons
Does not cover advanced or long-term survival skills
Limited to wilderness survival rather than urban or sea survival
Why This Book Beats Other Survival Guides
Most survival manuals try to cover too many topics, providing an overview rather than in-depth knowledge. "The Essential Skills of Wilderness Survival" is different. It zeroes in on the most vital abilities in the context of wilderness survival.
The meticulous step-by-step instructions ensure you gain proficiency. The visual guides accelerate learning. It sticks to need-to-know survival knowledge rather than bogging you down with tangential information. Beginners get a perfect introduction while experienced outdoorspeople expand their skills.
For focused, practical wilderness survival instruction, this book is unbeatable.
Genuine User Experiences
With over 150 5-star reviews, readers agree this is an invaluable survival resource. Users say the skills become like "muscle memory," allowing them to recall techniques years later when needed. The visual guides give users confidence to practice skills on camping trips and then replicate them in real emergencies.
Many readers buy copies for family and friends to make sure everyone has these essential life-saving abilities. They appreciate the authoritative expertise distilled into an easily digestible manual.
Tips and Tricks
Here are some tips for getting the most from "The Essential Skills of Wilderness Survival":
Practice the skills on each outdoor excursion to build proficiency
Pack the book on trips for quick reference
Study the plant identification sections before hikes to start recognizing species
Use the bonus checklists to assemble survival kits for your home, car, and backpack
Take notes and highlight key parts for quick review
Share the knowledge by teaching your outdoor companions basic skills
Perfect For:
Hikers & backpackers
Campers & RVers
Fishing & hunting enthusiasts
Foragers
Preppers & survivalists
Outdoor educators
SAR personnel
Outdoor recreationists and adventurers of all kinds
Frequently Asked Questions
What specific skills does the book teach?
The book covers shelter building, fire making, water purification, foraging for food, navigation, signaling techniques, first aid, tool making, and other fundamental wilderness survival abilities.
Can beginners learn from this book?
Absolutely. The detailed explanations and visual guides make it perfect for novices with no prior experience. The clear writing is accessible for all levels.
Does it require buying special tools or equipment?
No, the book focuses on improvising solutions from materials found in nature. No special tools or gear required.
What makes this better than other survival books?
It isolates the truly essential skills and covers them in-depth, unlike most overview-style survival books. The meticulous step-by-step instructions ensure you gain proficiency.
Is there a money-back guarantee?
Yes, the book comes with a 60-day money back guarantee. So you can purchase risk-free.
Final Verdict
For anyone who ventures into the wilderness, "The Essential Skills of Wilderness Survival" is required reading. This clearly written, visually rich guide teaches the fundamental abilities that could save your life. By isolating the most critical skills, it establishes competence and confidence. There is no better resource for learning wilderness survival basics quickly and thoroughly. Pick up a copy before your next outdoor adventure.