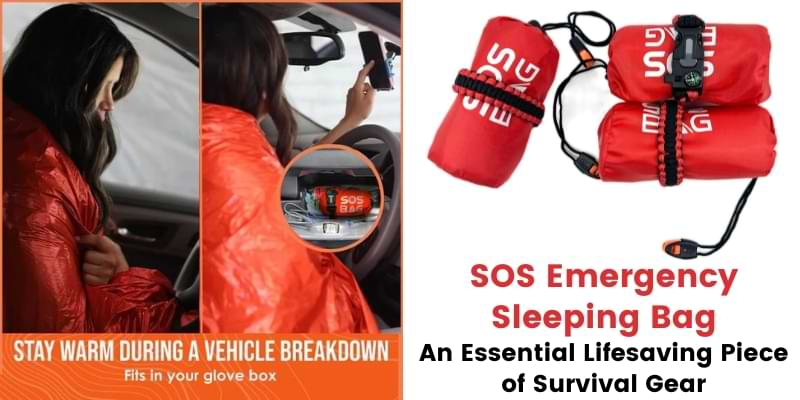 SOS Emergency Sleeping Bag: An Essential Lifesaving Piece of Survival Gear
Finding yourself stranded in the wilderness during treacherous weather can quickly become a life-or-death scenario. Without shelter or insulation, cold temperatures and precipitation can lead to fatal hypothermia in just hours. Yet disaster can strike even the most prepared outdoor adventurers. Unexpected storms, accidents, and gear failures can leave anyone unexpectedly exposed to the elements with no refuge in sight.
This is where the SOS Emergency Sleeping Bag lives up to its name as an essential piece of survival gear.
Engineered specifically for emergency scenarios, the SOS Emergency Sleeping Bag provides a critical barrier against the cold when you have no other option. Its ingenious design packs insulating protection into an ultra-portable package that can be a lifesaver in dire circumstances. For hikers, climbers, hunters, and all outdoor enthusiasts, this sleeping bag is a worthwhile investment that could save your life when circumstances turn deadly.
This SOS Emergency Sleeping Bag is a compact, ingeniously designed product that can prevent hypothermia and extend survival when caught off guard by extreme weather or accidents in the backcountry. Its premium materials, clever survival features, and carefully engineered design work together to create a potentially lifesaving piece of emergency gear.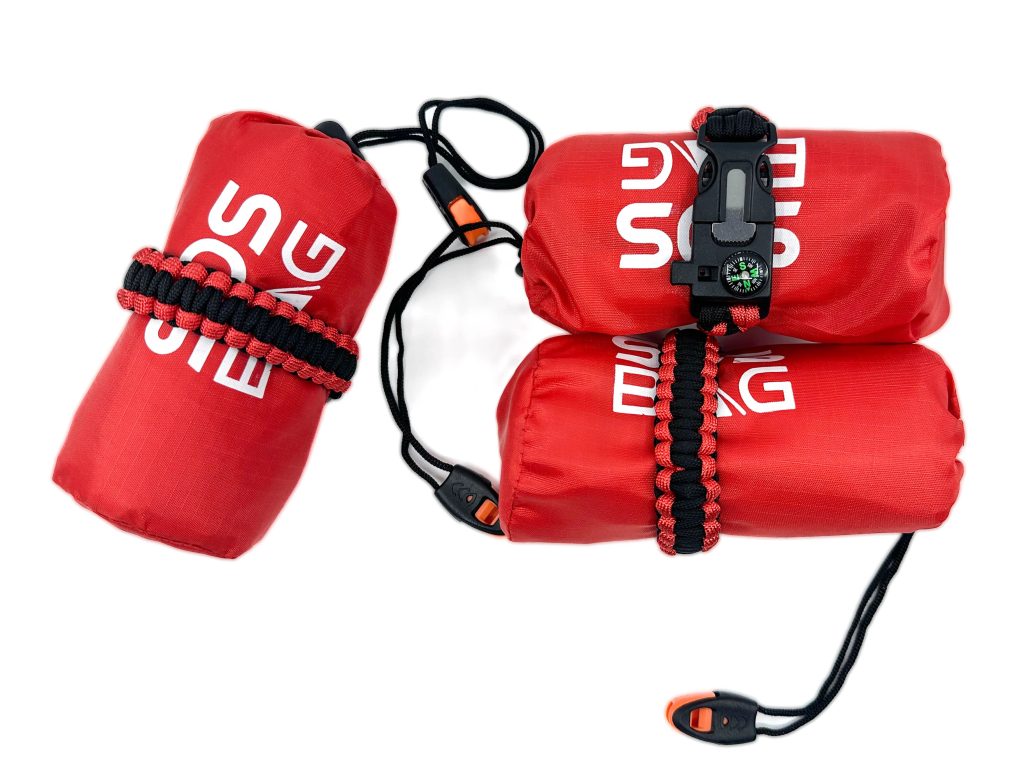 High-Performance Materials Withstand the Elements
Outdoor emergencies that expose you to the elements call for equipment that can stand up to the harshest conditions. The SOS Emergency Sleeping Bag uses premium materials designed to insulate and protect you in cold, wet scenarios. The exterior is made from ultra-durable, water-resistant nylon that shields you from wind and rain. Despite its tight, compressed design when packed, the shell fabric resists rips and tears while expanding to full size.
The interior is covered in a thick layer of heat-reflective aluminum coating that retains your precious body heat when trapped inside. Even in icy sub-zero temperatures, this metallic lining acts like a space blanket to radiate warmth back to you rather than letting it escape into the cold air.
The full-length zipper and adjustable hood seal out drafts and lock in heat. Top quality components like the YKK zipper ensure reliable performance when you need it most.
Innovative Survival Features
Unlike regular sleeping bags for leisure camping, the SOS Emergency Sleeping Bag has purpose-built features to aid your survival in emergency scenarios:
High-visibility reflective strips allow rescuers to spot your location in low light. This could be the difference between life and death when stranded overnight.
An integrated rescue whistle on the pull cord provides a way to signal and call for help that requires no dexterity or hand strength. Just pull the cord to sound the whistle.
Waterproof matches and a fire starter tucked into a pocket help you create a warming fire. This gear could save your life if you are able to safely start a fire.
Printed instructions coach you through various wilderness survival techniques like making shelters, trapping food, and orienteering so you can sustain yourself while waiting for rescue.
Ultra-Portable Design for Easy Transport
The genius of the SOS Emergency Sleeping Bag is how it packs insulation and survival utility into an extremely portable package. When compressed into the included stuff sack, it shrinks down to just 5 x 3 inches and weighs only 7 ounces.
You can stash this tiny bundle practically anywhere—clipped to your backpack, secured in a car, or slipped into your emergency kit. It takes up no space but gives you peace of mind.
To deploy, just pull the stuffed bag out, unfurl it, and zip yourself up in seconds. The compact compression means body heat warms up the bag quickly. The included carabiner and belt clip make it easy to keep the bag within reach on your person at all times.
Life-Saving Performance When It Counts
Should disaster strike, the SOS Emergency Sleeping Bag could save your life in the worst-case scenario of an outdoor emergency. It's intended as a last line of defense against deadly hypothermia when you have no other shelter. The thick synthetic insulation provides a barrier to conductive heat loss when you're trapped on a mountainside or caught in a snowstorm with no refuge in sight.
While it's built for survival rather than comfort, users confirm that the bag does retain body heat impressively when properly sealed inside. It's not meant for regular winter camping, but users praise its performance as emergency gear when planning fails.
One reviewer called it a "lifesaver" after being forced to spend a frigid, wet night exposed on a cliffside. It helped him survive and get rescued at dawn.
The Essential Emergency Tool for Outdoors Enthusiasts
In the outdoors, conditions can turn treacherous in an instant, leaving you in a life-or-death fight against the elements. That's why the SOS Emergency Sleeping Bag is mandatory equipment for backcountry hikers, alpine climbers, hunters, emergency preppers, and anyone who spends time away from civilization. Don't gamble that you won't need emergency insulation; carry this lightweight bag on every trip.
For less than $40 (limited time offer), the SOS Emergency Sleeping Bag provides cheap insurance that could save your life.
Water-resistant, heat-reflective, and purpose-built for emergency use, it's a smart investment in a foolproof safety net. Pick one up before your next adventure so you can venture out with confidence knowing you're prepared if the weather turns deadly.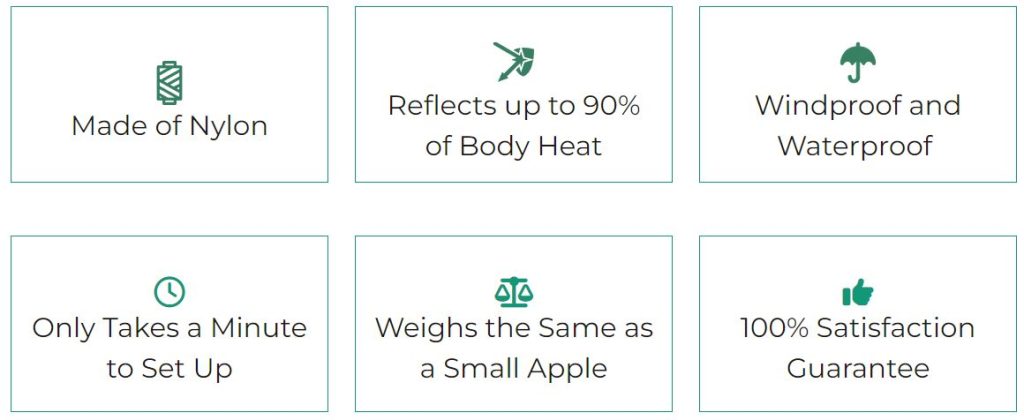 Frequently Asked Questions
What temperature range is the SOS Emergency Sleeping Bag rated for?
The bag is engineered to prevent hypothermia in temperatures down to -20°F. But user feedback indicates it provides life-saving insulation even in more extreme cold when used properly in an emergency.
How long can someone survive in the bag?
The SOS sleeping bag can extend survival for multiple days if you also use proper insulating techniques like covering your head and neck. Do not expect comfort, only the life-saving insulation necessary to prevent hypothermia.
Does the stuff sack have a belt clip?
Yes, the included stuff sack has a built-in belt clip and carabiner for attaching the packed bag to your backpack, belt, harness, or other gear, so it's always within reach.
Can I use this for winter camping trips?
The SOS Emergency Sleeping Bag is not intended for regular recreational winter camping. It is engineered solely as an emergency survival tool for worst-case scenarios. Look for a different sleeping bag for camping comfort.
Verdict: A Wise Investment That Could Save Your Life
The SOS Emergency Sleeping Bag provides an invaluable, insurance-like layer of protection against the elements. For any outdoor adventurer, this cleverly designed, lifesaving gear is absolutely essential equipment.
The next time you head out into the backcountry—or for a simple hike or even a road trip—make sure you have this compact sleeping bag at the ready; it just might be the difference between life and death if the weather turns dangerous. Prepare now, and enjoy your adventures with peace of mind.