The Knife Junkie / Hogtooth Knives Collaboration Knife (NoVA-1 EDC Bowie)
The NoVA-1 EDC Bowie Knife is a collaboration project between The Knife Junkie (Bob DeMarco) and Hogtooth Knives (Matt Chase).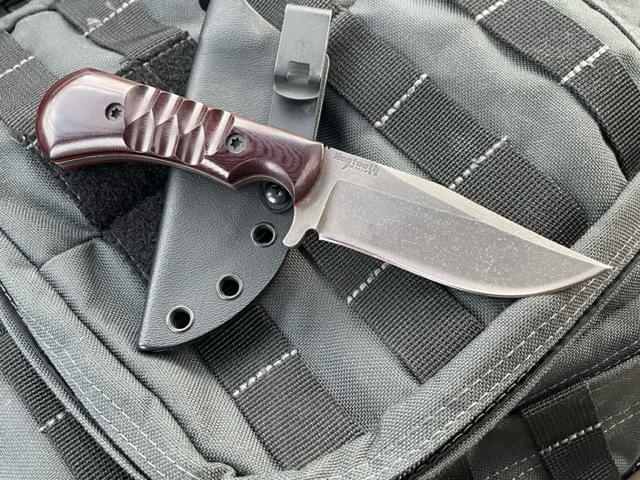 The NoVA-1 EDC Bowie Knife is a design collaboration between Bob DeMarco of the Knife Junkie Podcast and ABS Journeyman Bladesmith, Matt Chase of Hogtooth knives. Inspired by the Hogtooth Knives EDC Tanto, a fixed blade knife that's easy to carry in the uptight environs of Northern Virginia (NoVA), the Knife Junkie decided to call this EDC Bowie, NoVA-1, in honor of the D.C. suburbs.
The 3.5" 154CM Bowie blade reflects the spirit of the traditional Bowie, delivering effortless cutting and thrusting performance with its hollow ground main edge and zero-ground swedge. The slight recurve adds to cutting efficiency while allowing for years of use and sharpening focused at the belly.
The handle ergonomics of the NoVA-1 and overall package are based on the Hogtooth Knives EDC Tanto, a fixed blade knife consistently featured on the Knife Junkie Podcast due to its ease of carry, robust usefulness and utter charm. NoVA-1 features polished deep burgundy linen micarta handle scales with forest green liners.
The Kydex sheath is a taco style, minimizing the overall footprint of the NoVA-1 and creating snappy, rattle-free retention of the knife. A thumb wave on the sheath aids in the discreet removal of the blade. The Discreet Carry Concepts clip keeps the sheath firmly anchored where you put it.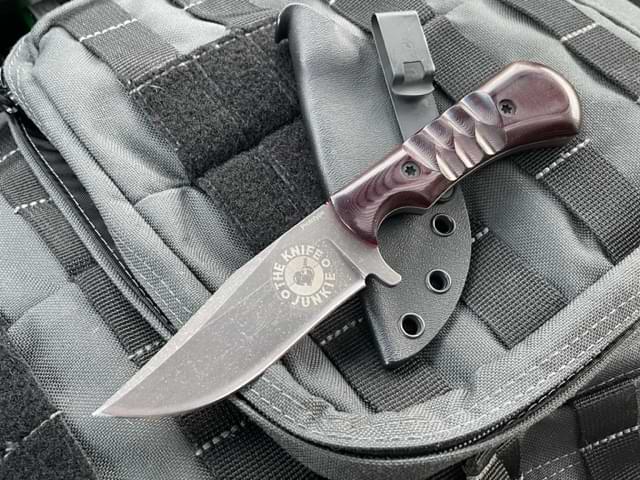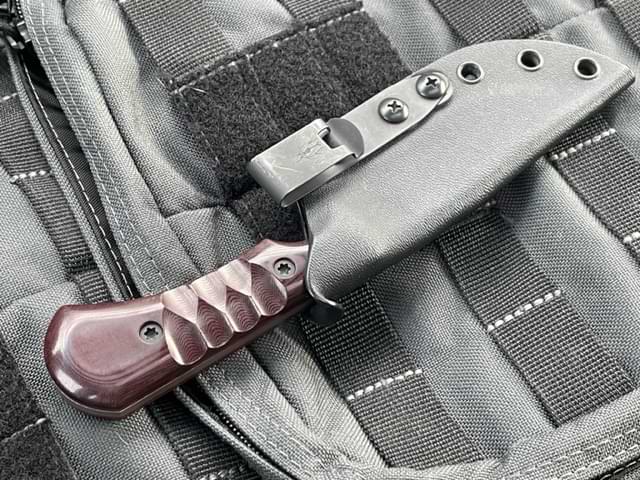 BUY Your NoVA-1 EDC Bowie
Changes will be made to the pictured prototype:
Knife Junkie Logo will be reduced in size to fit on the flat of the blade
Each knife will have a unique series number
Jimping will be moved up the spine toward the swedge
Handle liners will be forest green
Clip the NoVA-1 to your pocket or waistband and know you have it covered, from cutting string and cardboard to defending life and limb. Each knife is hand made by Matt Chase in Massachusetts where he proudly makes knives at the forge and the grinder from 100% USA materials.
The NoVA-1 EDC Bowie Knife, carry a sharp piece of history with you every day.
BUY Your NoVA-1 EDC Bowie

NoVA-1 Custom EDC Bowie from The Knife Junkie & Hogtooth Knives
Specs:
Type: Custom / Numbered EDC Fixed Blade
Overall Length: 7 3/8"
Blade Length: 3 ½ "
Cutting Edge: 3 1/4"
Blade Thickness: 3/16"
Blade Material: 154CM
Blade Style: Bowie
Blade Grind: Hollow
Finish: Acid Stone Wash
Edge Type: Plain
Handle Length: 3 ¾"
Handle Material: Linen Micarta
Handle Color: Burgundy (handle color will change with each run of knives)
Weight: Knife 5.1 oz., with sheath 6.7 oz
Sheath: Kydex
Sheath Clip: Discreet Carry Concepts
Knife Type: Fixed Blade
Maker: Matt Chase / Hogtooth Knives
Designers: Matt Chase & Bob DeMarco
Model: NoVA-1
Price: $275
BUY Your NoVA-1 EDC Bowie