10 Best Self Defense Folding Knives – The Knife Junkie Podcast Episode 275
On the mid-week supplemental episode of The Knife Junkie podcast (episode 275), Bob "The Knife Junkie" DeMarco looks at the 10 best self defense folding knives.
Bob starts the show with his "pocket check" of knives — a Pro-Tech TR-3 and the BRK Mini Bush Seax — while in Knife Life News, it's a new We Snick, which is quite slick indeed, and finally, a premium Civivi Elementum.
And in his "State of the Collection," Bob looks at the Civivi Elementum with Ebony handle, a present for the wife, and the Wingard Wearables Stingray Tomahawk.
This week I'm ranking my top 10 best self-defense folding knives. What do you think? What's your favorite?
Click To Tweet
For early access to The Knife Junkie podcasts and YouTube videos, receive Knife Junkie stickers and be entered into the monthly knife drawing giveaway, join The Knife Junkie's Patreon group of awesome supporters.
Knives, News and Other Stuff Mentioned in the Podcast
Pocket Check
Pro-Tech TR-3
BRK Mini Bush Seax
State of the Collection
Civivi Elementum, Ebony Handle
Wingard Wearables Stingray Tomahawk
10 Best Self Defense Folding Knives
Kizer Inversion
Spyderco Delica Serrated Wharncliffe
Microteck Ultratech D/E
Hinderer Eklipse Tanto
Spyderco Yojumbo
Bastinelli Big Dragotac
Cold Steel Black Talon 2
Fox / Knight MK Ultra
Emerson PSARK
Cold Steel Voyager XL Serrated Vaquero

Let us know what you thought about this episode. Please leave a rating and/or a review in whatever podcast player app you're listening on. Your feedback is much appreciated.
Please call the listener line at 724-466-4487 or email bob@theknifejunkie.com with any comments, feedback or suggestions on the show, and let us know who you'd like to hear interviewed on an upcoming edition of The Knife Junkie Podcast.
To listen to past episodes of the podcast, visit theknifejunkie.com/listen.
Today's podcast in sponsored in part by the Get Upside App, your way to get cash back on your gas purchases. GetUpside lets you search your area for savings on gas, claim your discount, fill up your tank, then just take a picture of the receipt with your phone. And that's it… you've just earned cash back! Get the app right now at theknifejunkie.com/saveongas. Get the app and start saving money on gas — and help support The Knife Junkie podcast! Again, that's theknifejunkie.com/saveongas.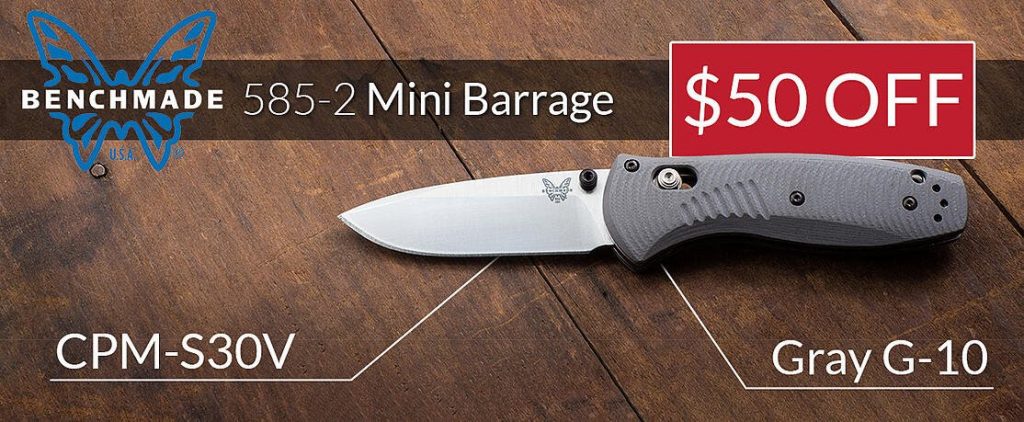 Shopping for a Knife?
Support The Knife Junkie Podcast and YouTube Channel by buying through my affiliate links
Shop on Amazon
Shop on eBay
Shop on Blade HQ
Shop on Field Supply
Shop on Knives Ship Free
Follow The Knife Junkie
Visit The Knife Junkie website
The Knife Junkie Listener Line — 724-466-4467
Email The Knife Junkie
Follow The Knife Junkie on YouTube
Follow The Knife Junkie on Instagram
Follow The Knife Junkie on Twitter
Join The Knife Junkie Facebook Group
Affiliate Disclosure
In the name of full transparency, please be aware that this website contains affiliate links and any purchases made through such links will result in a small commission for me (at no extra cost for you). If you use these links, I might be rewarded credit or a small commission of the sale. If you don't want to use these links, no problem. But know that I truly do appreciate your support.