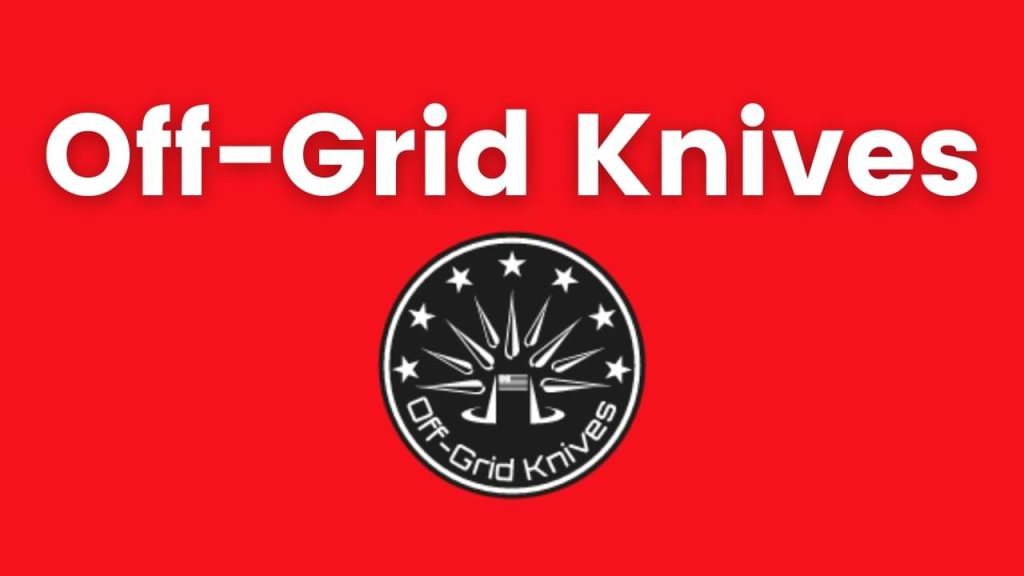 Off-Grid Knives
Off-Grid Knives is a family-owned, American business, offering high-quality knives at multiple price points. They offer a wide variety of tough, overbuilt, hard-use EDC folders and fixed blade knives.
Off-Grid uses high-quality materials combined with excellent fit and finish, which creates knives that last a lifetime. Off-Grid's knife designs are created in-house using vetted, proven, and trusted companies to build our designs.
Being a smaller knife company means less overhead and those savings can be passed to the customer. As e a direct-to-consumer business, if you buy an Off-Grid knife, it's comes directly from Off=Grid — no middleman. Off-Grid Knives values its customers and offers world-class customer service. Off-Grid does not advertise, but relies on good old-fashioned word-of-mouth — if it's a high-quality product and value, Off-Grid founder/owner Cary Orefice believes that knife collectors will spread the word.
The goal of Off-Grid Knives is to add value to your knife collection, and when you buy an Off-Grid knife, they want you to say, "this feels like a knife twice the cost." And so far, that's the feedback they're receiving from their customers.
Off-Grid Knives is a proud supplier to the U.S. Border Patrol (fixed blades and folders). Off-Grid has also supplied knives to the U.S. Air Force, DHS, U.S. Secret Service, U.S. Marines, EOD (Explosive Ordinance Disposal), and the Coast Guard.
Learn More About Off-Grid Knives
Off-Grid Knives Founder/Owner Cary Orefice
Off-Grid Knives founder/owner Cary Orefice was featured on episode 292 of The Knife Junkie Podcast. Cary is a lifelong knife collector turned knife company owner — He dropped everything to design knives and start the company in 2016.
This was his second appearance on the podcast, first appearing on episode 164 of The Knife Junkie Podcast.
Off-Grid Steels
Cryo D2 Steel
We love D2, it's that simple. As long as it's heat treated properly, it's a fantastic blade steel. The Off-Grid high quality D2 is carefully heat treated with a HRC of 59-62, a truly 'tough as nails' steel that holds an edge even after tons of hard-use, excellent wear and corrosion resistance. D2 is considered a "borderline stainless steel" because it contains 11.5 percent chromium. D2 also has a very high carbon content, 1.5% which lowers corrosion resistance because the carbon "grabs" a lot of D2's chromium to form chromium carbides. The chromium carbides are good for improving wear resistance, improved wear resistance enhances edge holding. Used in the Backcountry Coyote & Tracker-X fixed blades, Viper knives, Badger EDC's, Rapid Fire Series, Seadog V2, Backcountry Blackout and others.
BÖHLER M390
An outstanding "Super Steel", M390 is a top shelf blade steel, Bohler calls this steel "Microclean", it can be polished to achieve a true mirror finish. A third generation powder metal technology, M390 has excellent corrosion resistance and very high hardness for excellent wear resistance. Chromium, molybdenum, vanadium, and tungsten are added to promote sharpness and outstanding edge retention. Used in the ELITE SERIES Black Mamba, and now all of the Scorpion knives have been upgraded M390 steel.
Sandvik 14C28N
Currently used in the Ridgeback bushcraft knives, Caiman XL and Baby Rhino. Sandvik 14C28N is the ultimate combination of hardness and corrosion resistance. A fairly new steel to the industry, the popularity is exploding and it's easy to see why. Sandvik 14C28N is ideal for knife applications which place very high demands on edge sharpness, edge stability and corrosion resistance making it perfect for pocket knives, hunting and fishing knives as well as chef's knives. Off-Grid is offering this steel in their catalog with new models on the way.
Crucible 154CM
The Rhino V2, Stinger XL, Enforcer XL and Enforcer EDC use 154CM and many upcoming new designs will also have Crucible 154CM, an incredible steel made by Crucible Industries. The price point moves higher, but it's an upgrade that many have been asking for and we are happy to offer it. 154CM has an exceptionally good balance between toughness, hardness and corrosion resistance.
Learn More About Off-Grid Knives
Where Are Off-Grid Knives Made?
Many of Off-Grid's knives and all of their fixed blades are made in Taiwan. Their Taiwanese production partner produces, or has produced, knives for Ka-Bar, SOG, Kershaw, CRKT, Cold Steel and many others that you likely own and carry every day.
The ELITE SERIES "Black Mamba V2" and "Scorpion" knives are built by Bestech who are based in China. Off-Grid's Rhino's, Raptor, Cleaver V2, Caiman, Caiman XL, Enforcer, Enforcer XL knives are also built by Bestech.
Bestech and Off-Grid's Taiwan partners have strict fit and finish and quality control policies, and they know how to build excellent knives with amazing action, teaming up with them was an easy choice. Off-Grid Knives founder/owner Cary Orefice personally met with the owners of Bestech and Off-Grid's Taiwan partners and reports that "they are passionate and caring people whose goals are the same as ours, create high quality knives with the best fit and finish possible at affordable, fair prices."
Unfortunately Orefice added, that Off-Grid has attempted to produce high quality affordable production knives in the U.S., but it's "not possible to meet our price points for the customer." Orefice also noted, "We thoroughly vetted the companies we teamed with, we personally sample and test all prototypes prior to launching any knife into the market, make any changes necessary, we take our time before we release a new knife."
Off-Grid Knives Video Reviews
Off-Grid Tracker X2 — Camp/Survival Knife
This Off-Grid Tracker X2 has all the ingredients it takes to be an excellent outdoors, camp and survival knife. The fully flat ground D2 steel drop point blade is broad and stout measuring 4.75″ and is great for carving and light batoning for campfire kindling. The handle is broad, contoured and comfortable with linen micarta scales and texturing. Off-Grid has been on a constant improvement kick with their knives and also now their sheaths with a sleeker taco style shipping with their fixed blades.
Learn More About Off-Grid Knives
Learn more about Off-Grid Knives, a family-owned American business offering high-quality knives at multiple price points.
Click To Tweet
Affiliate Disclosure
In the name of full transparency, please be aware that this website contains affiliate links and any purchases made through such links will result in a small commission for me (at no extra cost for you). If you use these links, I might be rewarded credit or a small commission of the sale. If you don't want to use these links, no problem. But know that I truly do appreciate your support.