Don't Be Caught Unprepared: Add a Survival Saw to Your Gear
You never know when you'll find yourself in a situation where a reliable saw could save the day. That's why every outdoor enthusiast should have a survival saw in their gear bag or bug-out kit. This compact tool packs an impressive cutting punch in a portable package.
The key is being prepared with the right equipment, like a high-quality survival saw, that can handle anything the wilderness throws at you. Whether you're a hunter, hiker, camper, or prepper, this versatile tool belongs in your arsenal.
In an emergency, you don't want to be stuck without the ability to construct shelter, gather firewood, butcher game, or clear debris. The survival saw's hardened steel teeth can cut through even thick wood and bone in a pinch. Yet its slim form slides right into your pocket or pack.
But you don't need to find yourself in dire straits to get great use from this handy saw. It can make all sorts of outdoor tasks quicker and easier. The rugged design and comfortable grip allow you to take on big jobs without hand strain.
So why take chances with being under-equipped? Make sure you're ready for anything and add a survival saw to your go-bag today. Keep reading to learn more about this essential tool and why you need one ASAP.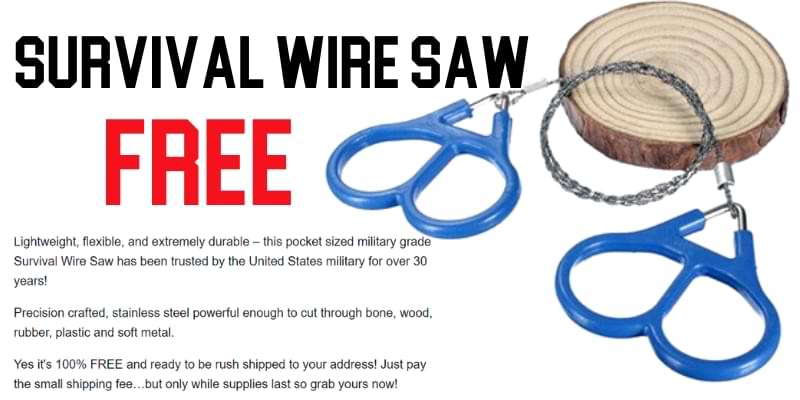 Durable and Portable
Made from stainless steel, the survival saw blade is lightweight yet extremely durable. It folds down small enough to fit in your pocket or pack, ready to whip out whenever needed. The compact size makes it easy to take anywhere.
Cuts Through Almost Anything
The hardened steel teeth on the flexible blade can rip through wood, plastic, rubber, soft metals, and even bone. Its strength and sharpness allow this little saw to cut through material up to 6 inches thick with ease.
Trusted Design
Modeled after military-grade saws, the rugged design has proven its mettle for over 30 years. The US Armed Forces rely on similar saws as an essential survival tool. That lineage speaks to its quality and dependability.
Comfortable Grip
The textured plastic handles minimize hand fatigue and maximize control. Even during extended use, the ergonomic grip keeps the saw comfortable. The improved double grip gives you more leverage when tackling tough materials.
Handy for Many Uses
In the wilderness, it can trim branches to set up shelter, cut firewood, or butcher wild game. Around the house, it helps with DIY projects, yard work, and storm cleanup. And it's great to have on hand for emergencies.
Affordable Price
Considering its proven effectiveness and utility, the survival saw delivers big value for its low price. And right now you can get one for free; you just cover minimal shipping. It's a bargain for a tool you'll use time and again.
Ready to add this versatile survival saw to your outdoor arsenal? Click here and claim yours now while supplies last!