Happy Thanksgiving — and happy Black Friday and Cyber Monday shopping!
Here's a sale that didn't require you to get up at 4 a.m. to catch the holiday deals!
Our friends at Knives Ship Free have a Black Friday/Cyber Monday Knife sale going on through midnight on Cyber Monday, Dec. 2. And new deals are added everyday in between.
Enjoy some super savings and exclusive deals with these special prices. You'll find all the details here.
And just so you know, if you do buy any of these knives using The Knife Junkie link, we will get a small commission, but it doesn't impact the price you'll pay — it's just a great way to show support for The Knife Junkie and our website, podcast and videos. And we appreciate your support.
So what are you waiting for … let's get to shopping!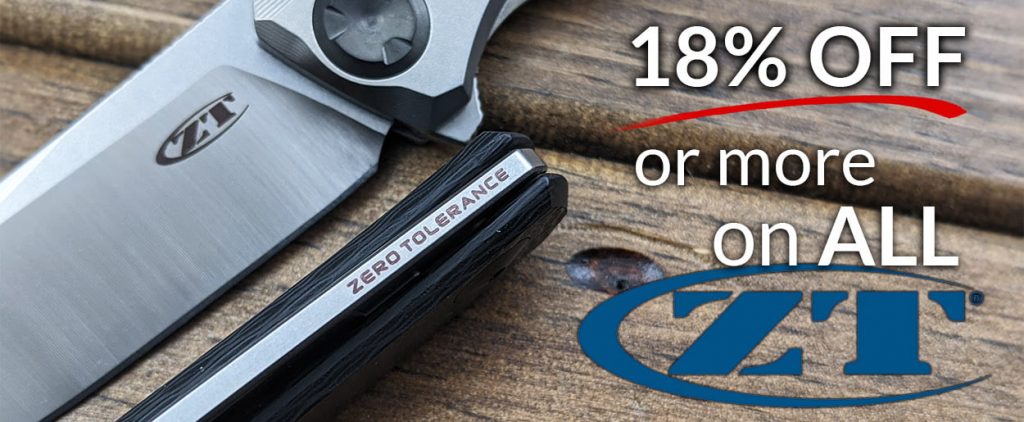 18% Off ZT Knives
Through midnight Monday, Dec. 2, enjoy 18% savings on all Zero Tolerance (ZT) Knives! If you've been wanting to get a ZT for your collection, now is the time. But hurry, time is limited.
Very rarely will you see a chance to get such a discount on every Zero Tolerance knife, but this year is your chance — but only for 4 days. So now through midnight on Cyber Monday (Dec. 2) you'll get 18% off of any ZT knife. Good luck picking out a few of your favorites.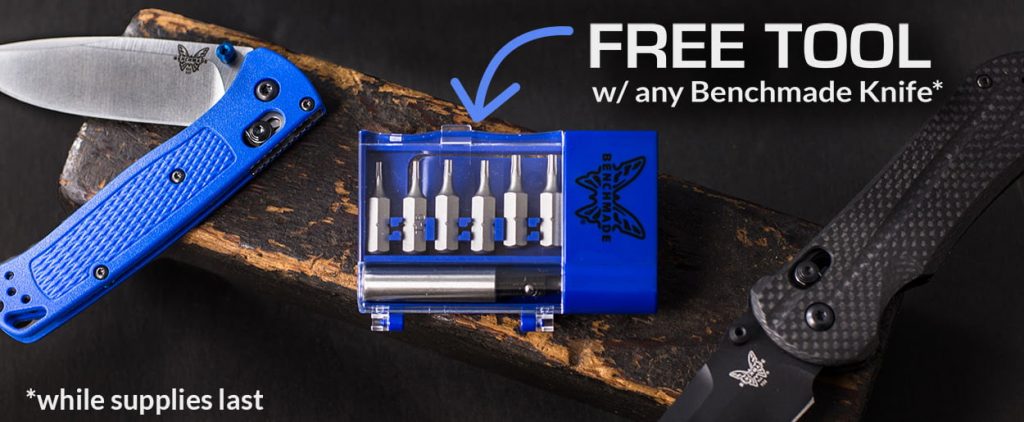 Free Blue Box Tool with Any Benchmade Knife
Through Monday, every order of a Benchmade knife will ship with a free Blue Box Toolkit! Super handy and it doubles as a convenient container for all the bits you need to tune and maintain your knife. Super easy deal here – no coupon needed – just buy any Benchmade Knife and you get a toolkit for free (while supplies last).

Dragon Kitchen Knives 25% Off
The Dragon line hits a perfect sweet spot between Eastern and Western kitchen knife philosophies – the blade is not too thick, not too thin. The handles are constructed from G-10 to provide all the durability and comfort you need, and the BD1N blade steel can hold its edge far longer than most steels on the market. Right now you can get 25% off – no coupon necessary!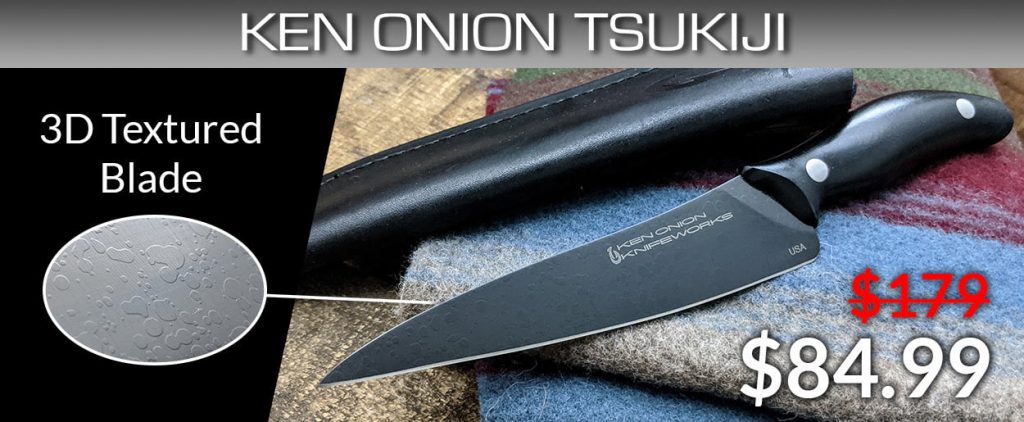 Ken Onion Tsukiji – $84.99
Exclusively made for Knives Ship Free by Ken Onion Knifeworks, this Tsukiji model takes a fillet knife to a whole new level thanks to the unique ergonomics, slender blade, and Carpenter's BD1N steel with a 64 Rockwell hardness. While supplies last, this knife is on sale for $84.99!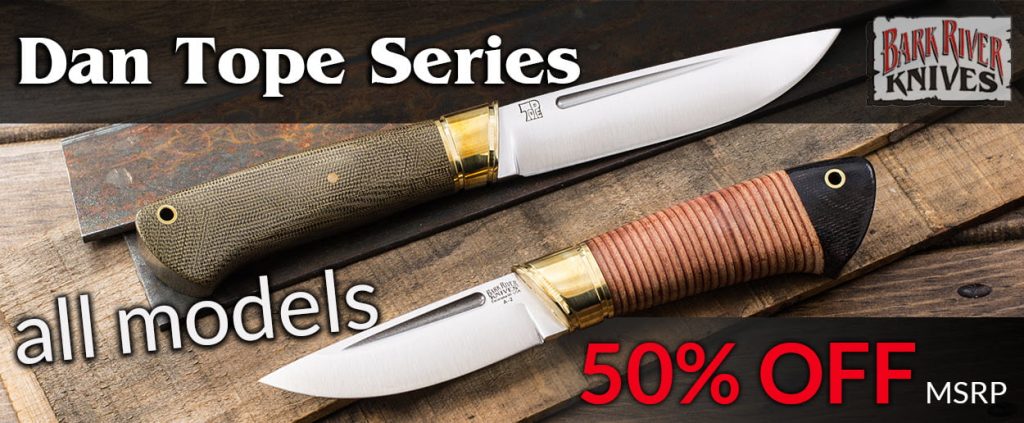 Bark River Knives Dan Tope Series — All Models 50% Off
Bark River's Co-Brand series with maker Dan Tope spans the whole spectrum of sizes and always brings an attractive visual flair. From now until Monday, Dec. 2 only, you can get any model in the Dan Tope series for 50% off MSRP.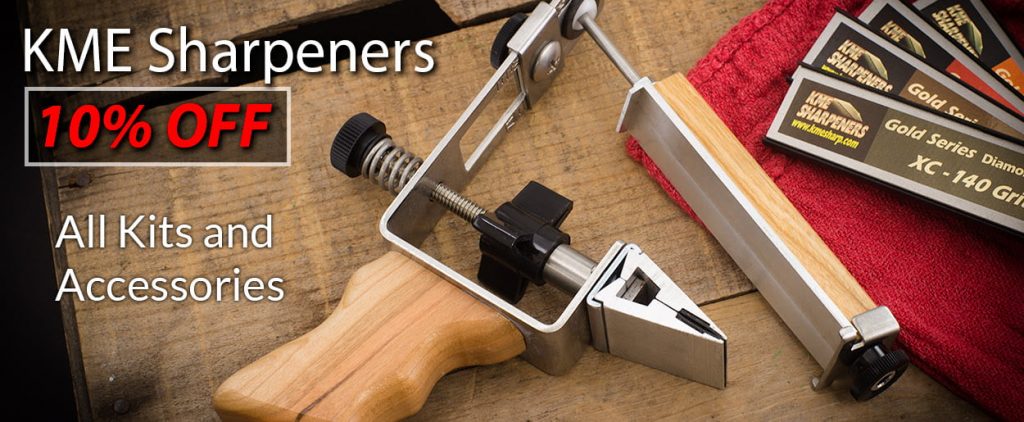 KME Sharpeners 10% OFF
There are a lot of knife sharpening systems on the market today. Some of are cheap and flimsy while others are outrageously expensive, but then there's KME. KME is precise enough to sharpen your fine knives and yet priced in a way that won't break the bank. Right now everything KME is on sale for 10% off, including their full kits and accessories!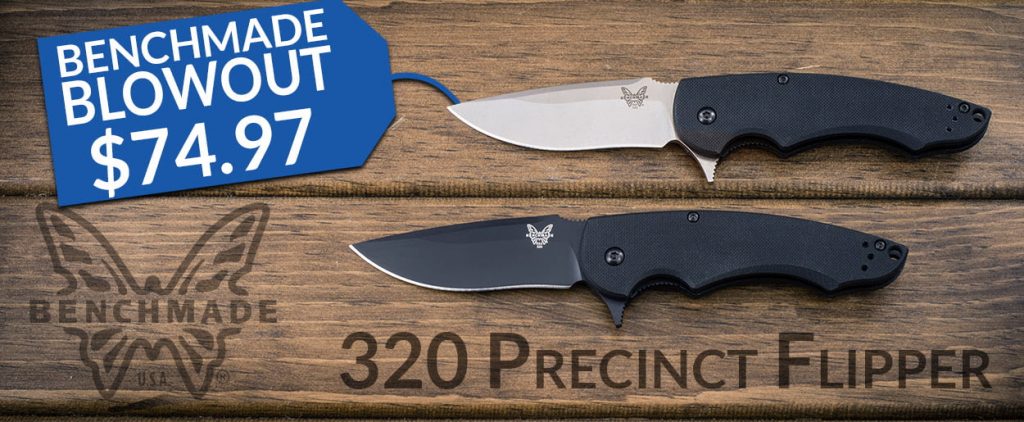 Benchmade Precinct Flipper ONLY $74.97
The Benchmade Precinct – 320 model is right in the sweet spot when it comes to blade length and handle comfort. It plenty of grip to stay secure during continued use, and the attractive drop-point blade is perfect for an all-purpose EDC blade. This discontinued model is on sale for a crazy low $74.97 while supplies last! (You'll even get the free toolkit this weekend.)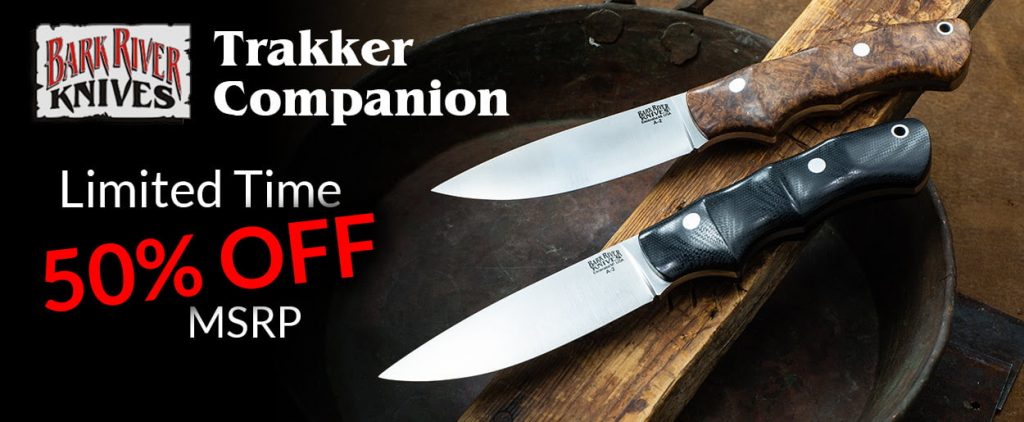 Bark River Knives Trakker Companion 50% Off
The Bark River Knives Trakker Companion is the perfect size for a general use outdoor knife. The drop-point blade can match a lot of tasks and cuts very well thanks to a full-height grind. And this weekend you can get this great knife at a huge discount – 50% off MSRP!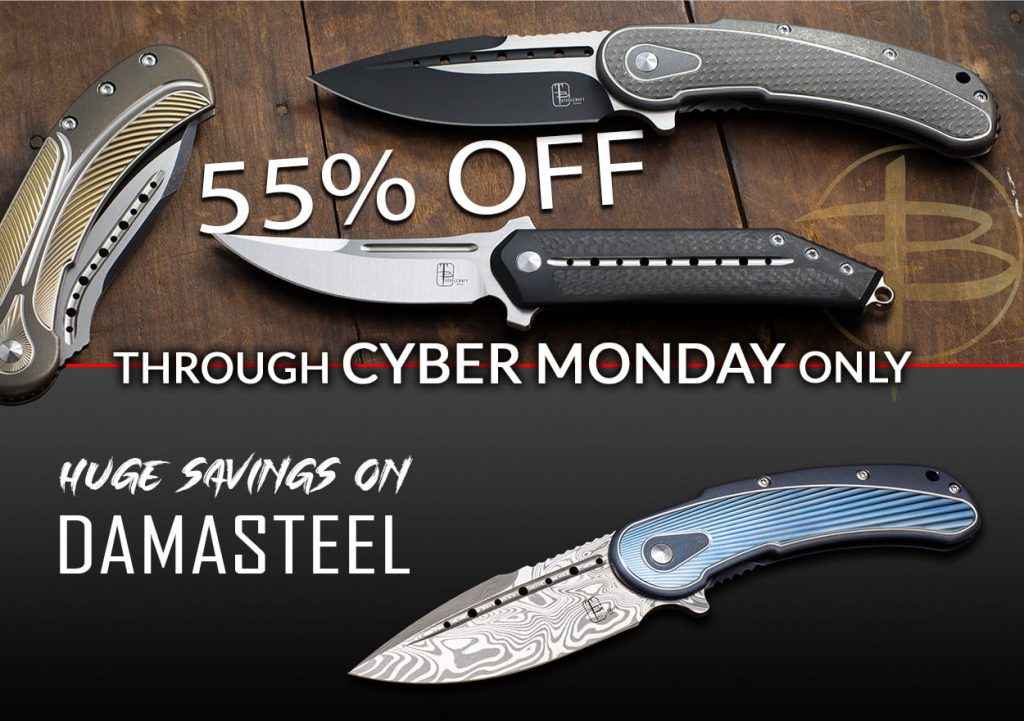 Todd Begg Steelcraft 55% Off
The Steelcraft Series is home to custom Todd Begg designs done at a production price – with incredible precision, quality, and materials. They all stand out with a comfortable curved design and amazing attention to detail. We'll start with the frame: all titanium with precision machined patterns that add physical texture and visual flair. The pivot runs on smooth-as-silk IKBS bearings, allowing smooth travel for the precision ground blades.
Available in both CPM-S35VN and Damasteel options, these knives are all about custom-grade finish and features, and we're offering them right now at 55% off! These are at ridiculously low prices for some of the highest quality in production knives ever seen. After this weekend – prices go back up, so pick one for you and one for a friend
Knife Deals Added Daily
Every day from Black Friday through Cyber Monday you'll find some great knife deals. Check out this page every day for super savings!
Affiliate Disclosure: In the name of full transparency, please be aware that this website contains affiliate links and any purchases made through such links will result in a small commission for me (at no extra cost for you).
If you use these links, I might be rewarded credit or a small commission of the sale.
Again, remember … you will not be charged extra and you will help offset the associated costs of website design/development, web and podcast hosting fees, and other miscellaneous costs to bring you the content on this website and related channels. And of course, to occasionally buy a new knife! Overall, it's a win-win for us both.
Thanks for your support!