Drop Points That Have Won My Heart – The Knife Junkie Podcast (Episode 347)
On the mid-week supplemental episode of The Knife Junkie podcast (episode 347), Bob "The Knife Junkie" DeMarco looks at a baker's dozen drop point knives that have won his heart, including the Finch Knives Buffalo Tooth, Civivi Praxis, Bestech Ornetta and more. Find the list of all the knives shown in the show, and links to knife news stories, listed below.
Bob starts the show with his favorite comment of the week followed by his "pocket check" of knives — the Microtech SOCOM Bravo, the Jack Wolf Knives Laid Back Jack and the Kizer Inversion (his emotional support knife). Bob also shows off a couple of knives on loan from @Jocksknives: the North Arm Skaha II and the Blade HQ exclusive Dessert Warrior Elementum (Civivi).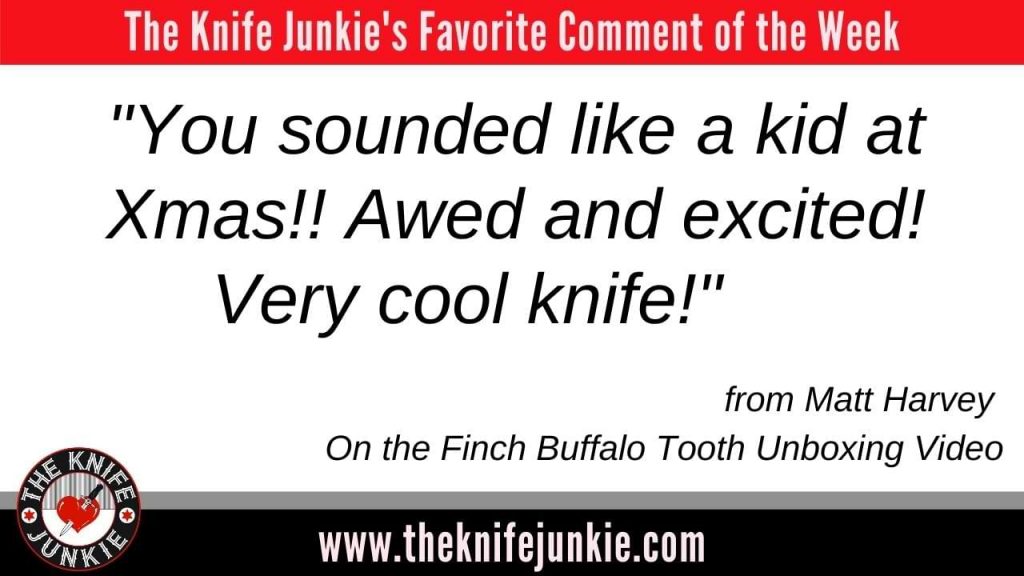 In Knife Life News, there's a new Kansept/Pinkerton collaboration folder and a new hatchet joins Ka-Bar lineup. Meanwhile in his "State of the Collection," Bob shows off a Carter Cutlery Neck Knife (which will be auctioned off in the near future), as well as his new Off Grid Stinger XL, Off-Grid Rapid Fire Blackout & Rescue models, and the Off-Grid Baby Rhino Blackout.
Get your Off-Grid Knife (or knives) with Bob's affiliate link — theknifejunkie.com/offgrid — and your very own Vosteed Night Shade with our link — theknifejunkie.com/vosteed — and support the Knife Junkie channel. For your next knife purchase you can find additional affiliate links at theknifejunkie.com/knives.

Be sure to support The Knife Junkie and get in on the perks of being a Patron — including early access to the podcast and exclusive bonus content.
Drop point knives? You know the Knife Junkie doesn't often talk about drop points, but this show is dedicated to a baker's dozen drop point knives that have won Bob's heart!
Click To Tweet
Read Full Transcript
Automated Transcript
Drop Points That Have Won My Heart
The Knife Junkie Podcast (Episode 347)
00:02
Welcome to the Knife Junkie podcast, the place for blade lovers to learn about knives and hear from the makers, manufacturers and reviewers that make the knife world go round.
I'm Bob DeMarco, and coming up Pinkerton and Concept's a new folder.
I'll show you something exquisite from Carter Cutlery and a bakers dozen drop points that have won my heart.
Welcome to the Knife Junkie podcast.
Your weekly dose of knife news and information about knives and knife collecting.
Here's your host, Bob the knife junkie DeMarco.
Welcome back to the show.
00:43
My favorite comment from this past week was a simple one.
I have a lot of great comments, but this one just sort of encapsulated the whole reason why I do this.
Basically, Matt Harvey said you sounded like a kid at Christmas.
Odd and excited.
Very cool knife.
He was talking about my unboxing of the awesome Finch Buffalo tooth that I haven't really parted with since I got it.
But really, that's the feeling I get.
01:10
First of all, unboxing videos are like that.
You don't know exactly what's in it oftentimes, so it's sort of exciting to bring someone along as you as you open the box, but also just feeling.
So excited about a new knife and then finding it to be something special that you weren't necessarily expecting to be that awesome.
So Matt Harvey, thanks for the comment and thank you one and all for the views and for the comments.
They're all greatly appreciated.
Before we get to a pocket check, I do want to get through this 600 plus funniest dads Dad jokes.
And so we're going to, you know, we're going to eat the elephant one bite at a time.
01:54
And tonight.
Have to say to the guy who invented 0. Thanks for nothing.
All right.
That's, I mean, to me, that's comedy.
Anything more than that is too complicated for my old man mind to comprehend.
So a pocket check today, today was a was indifferent, was kind of different.
And uh, why do I say that?
02:18
I'm not sure.
I'm not sure, but just sort of an unexpected combo.
As I was leaving and and they were all great to have on me today, I had the micro tech SOCOM Bravo in my front right pocket.
This thing is really, really cool the the history of the bravo as I know it.
The SOCOM Bravo is a very, very limited exclusive limited in House production that they would do of the SOCOM line, but fancified like this with bolsters and carbon fiber and special builds and special blades with fullers and cool clips.
Appropriately properly oriented, unlike the elite.
So just a storied sort of blade, but a very expensive one for micro tech to manufacture.
03:09
I think it it it took retooling a lot of the factory and so they decided to outsource this.
And they looked.
To the east and went with Reich Knives, and we know Reich Knives for their really complicated builds and complicated sculptural milling.
Very cool knives.
Not exactly my style of most of the time at least.
Those that come under their own shingle are a lot of them to me are really, really cool.
But like I said, not my style.
03:41
They almost look like proof of concept knives, just to show that they can they can sculpt and knife that looks like an insect.
They'll do it or or something like that.
Just not my my type of thing.
But I have massive respect for it, especially after having this.
This is such a just a really, really great knife.
Carbon fiber, again, in this case.
It's a twill and I rather like it.
04:07
I love the shape of this bolster.
That's of course titanium.
Got a nice little pivot collar there.
The spine of this knife is so appealing.
You have jimping, you have, you have milling milled grooves going both side to side and front to back.
So you get this really great texture all along the spine, but especially on that thumb ramp.
I mean you are just so locked in and a Saber grip like this.
04:34
And then this of course is the clip point blade.
They also have the Tonto.
Both are beautiful, but since I have the SOCOM elite.
In Toronto, I decided I would go for the clip once this became available.
For a long time it would have taken whatever I could have gotten, which none of the combinations are bad.
They have three that have this, the Tonto, and then the tanto with serrations.
All all equally acceptable in my book, but I'm glad I have the clip point.
05:02
Just around round things out a little bit.
Really nice action on this though.
I have found that this T20 torx bit on the one side keeps loosening up so I do not have a T20.
I've been putting a a hex in there that's that fits nicely and just very gently tightening it.
I just have to get in there with some blue Loctite and I want to get a legitimate 20. Torx T20 torx bit before I really crank it down, but when you do tighten it you still have that same smooth, awesome bearing action.
Just a beautiful knife and I'm so glad it became available enough for me to get.
They are also now having rich they meaning micro tech is now also having Reich do the annex which is such a such a cool knife when you look at it.
05:54
It's got a big broad blade, sort of a clip point blade but with a very.
A relatively thin handle or shallow or a short handle, but it's integral so very exciting.
It's a cool and exotic looking knife, but also tactical and also an integral.
I don't have an integral so who knows, maybe that'll be my first one.
Maybe I'll chase one down next on me today for for usage.
And this is the only thing that got used like real use today was the laid back Jack by.
Jack Wolf knives.
06:29
One of my favorite of theirs.
But I mean, you know, there's five of them so far, and I know A6 one is on the way.
And I say they're all my favorites and they kind of are, but I've always loved the swayback Jack that's that curved back handle.
This one is little reduced compared to some of the other ones I have thanks to Ben Belkins, expert designing.
And then this one's got that nice M390 blade fully full height hollow ground, M390 blade, very thin, very slicy and this one very, very pointy.
Just an awesome.
Little utility knife.
07:09
Not so little, but just an awesome knife.
This with the black micarta now beginning to patina.
That is all legitimate through legitimate use.
Sometimes I hasten the patina, whether it's on a 1095 blade or on my card, and sometimes I just can't wait or just want the whole thing a uniform.
Dark.
Not in this case.
This.
07:33
This time I'm going.
I'm going.
Totally.
Natural OK, for emotional support today I had.
This was a surprising one, but it was one that I just grabbed because I've been thinking about it.
The Kaiser inversion.
This is a Dirk Pinkerton design.
07:50
First of all, look at that really cool terrorist concentric pattern on the titanium here.
Gives you really good grip, but it's also just pleasing to the eye.
You open it up and up.
Well, it looks inverted.
It looks like the blade is facing the wrong direction or is put on the handle backwards.
But indeed this is a sort of a pet call style, not even a sort of a. This is a pical style knife.
This is intended to be held in this reverse grip with the blade pointed down with the tip, I mean with the edge pointed in for defensive.
08:35
Type uses like this and a lot of gross motor motion you say?
But why in such a classy package?
Why would they make such a a a grim and gruesome tool and such a beautiful package?
Well, it just so happens that the Kaiser inversion, pick call style self-defense, luxury EDC if you will, is also an awesome utility knife.
I mean, look at, look at it like this if you hold it like a regular knife.
You get great tip orientation.
Excuse me, orientation for draw cuts and pull cuts and all sorts of utility cuts where you're using the tip cutting into boxes or cutting rope or cutting straps or whatever it is.
09:20
This backward facing blade makes for an excellent Oh yeah, if you if you whether you have it facing backward or forward, it makes an excellent utility knife.
So this, this is, you know, it's.
It's a stylish version of a really nasty weapon, but really, you're going to get a lot of utility out of this knife, the inversion very cool knife, and I know they did a blackwash version of it at some point, but this one?
Oh, and by the way, it also comes it ships with two thumb studs, one rather large like this, so you can open it up on your pocket seam and sort of wave it open.
This is my pocket tech.
This is what I was carrying today.
Let me know what you were carrying today and fill me with some ideas.
10:10
What are these things?
What are these knives I need to get next before we move on to the rest of the show?
I have a couple of really cool knives in from our good friend at jocks knives on Instagram.
He's over there in Great Britain.
Sometimes he buys knives over on this side of the world and I check him out.
I live with him for a little while, make videos, check them out, show them off, talk about them, and then send them over to him.
It's a it's a it's a nice little thing.
10:40
Excuse me, nice little arrangement there.
And I have a couple to send over and two of these they're both very very cool.
But one of them I'll show you this first one I thought maybe Jesus, was this a late night order that I don't remember.
Like was I out of my mind late at night and I ordered this thing and I must have and and I just sort of looked around and looked at all my emails and I I even went to Blade HQ and.
Logged in to see to check my purchase history, not trusting myself.
And no, indeed I hadn't ordered it.
It turns out Jock had ordered this for his wife and somehow I missed it.
11:21
So here it is.
This is a cool little thing.
This is the Savi elementum.
Desert Warrior Edition blade HQ.
Exclusive you got that beautiful.
What is that?
That's like a Robins egg blue cerakote to be like some sort of a glaze.
11:43
And then you've got the yellow liners and the pink top with the little spark sprinkles and the purple pivot.
I mean, it's really a charming knife.
I mean, for a minute there, for a minute, I thought it was mine.
I was like, yeah, I must have ordered this.
Like, that was a good idea because these are probably going to be worth something, you know?
And no, it wasn't.
It wasn't me.
12:04
So this is not mine.
But who knows?
Maybe there's a an elementum in the future for me after all.
So there's this one, and then another one I knew was coming.
This is awesome.
Actually, this is so worth the hype it was getting a few years back.
And this is my first experience something this is.
12:26
This is my first experience of it and it is the 2nd version or iteration I guess are run by these guys.
This is the North Arm knives scaha.
And wow.
Whoa.
This thing is really, really well built.
I mean, it is, I'm going to say this without reservation.
The smoothest knife on on, you know, the smoothest flipper I've ever experienced, bar none, including the Konig areas that I checked out at the Blade Show.
13:02
I don't, I don't know if this does it justice, but it it's.
It's comically smooth.
It's almost, you know, it's almost too smooth.
Very thinly ground blade, so nice.
I got to say this is a, this is another one that you really benefit from having in hand and seeing a person I was not.
I was kind of underwhelmed by the design of it when it was first out and people were raving about it, but the people that I really trust for their opinions on knives were saying it was great, so I should have just.
Gone with trusting them because Oh my God, this thing is amazing.
13:42
This is an amazing knife.
I'm going to do a close up video of it and then release it and send it over to Jack.
But it's the, the smoothness is is unreal and then the release of the.
Of the detent is almost feels two stage.
But so close, the two stages.
So close that it's one.
I don't know.
14:07
It's really, really, really hard for me to explain, but that's just the way it feels.
This is so beautiful.
This and the handle, the contouring of the handle.
It is so comfortable.
So jock.
Very nice purchase here.
N arms, not N arm knives.
14:24
A father and son team up in Canada, and I know they're real.
Bread and butter is kitchen knives.
But they need to do this more too, because this is these are just insane.
So very nice purchases.
Jock, thank you so much for letting me check these out.
I appreciate it.
I never really probably would have gotten my hands on the scaha without you, Sir, so it's greatly appreciated.
14:48
If you like the show, you appreciate the show, and maybe you want to help support it or see at least what what patrons are are getting.
Go over to Patreon and check out our three levels of support.
We got 3 tiers of support.
They include knife giveaways and exclusive material.
Whether it's exclusive interview material or you get to see me sometimes get beat up by my buddy Ian.
I got some more videos like that to upload and then lots of other good stuff.
So go over to Patreon and check it out.
15:21
Quickest way to do that is to go to the knife junkie.com/patreon again, the knife junkie.com/patreon if you're a knife junkie, you're always in the market for a new knife.
And we've got you covered.
For the latest weekly knife deals, be sure to visit the knife junkie.com/knives.
Through our special affiliate relationships, we bring you weekly knife specials on your favorite knives.
Help support the show, and save money on a new knife shop at the knife junkie.com/knives.
That's the knife junkie.com/knives.
You're listening to the Knife Junkie podcast.
16:02
And now here's the knife junkie with the knife life news.
Speaking of Dirk Pinkerton, as I was with the Kaiser inversion, he has another knife coming out with concept.
That's a great, that's a great combination.
I mean, you know him Pinkerton with concept and with Kaiser and with beyond EDC and other companies.
He's just, he's knocking it out of the park with all of his designs.
And there he does not have one specific style, but I feel like they're all.
And they they're all his style.
16:39
Here's this new one that he's teasing.
They're teasing with concept now.
This is a titanium frame lock folder in two different tontos.
The upper model there in the black and the Black Wash is a more Americanized tanto.
You'll you see the faceted tip with the secondary sort of sub tip down there.
I can't remember what the name for that is.
And then the one down below is more of a traditional Eastern style Tonto, something more.
17:08
Traditional to Japanese something to Japan, something that may have been carried in the sleeve of a kimono and only pulled out to Shiv.
You know, our Vanquish your foe will say, not sure about the steel yet, they haven't announced that or even kind of when it's coming out.
But I have to say I do like the look of the flipper and also having the the fuller there for.
Middle finger flicking.
You know I do like that style of knife Openedge here.
You see it in hand in in presumably Dirk Pinkerton's hand and and with this blade style, the eastern Tonto.
It reminds me of something and I can't think exactly what it is.
17:50
Maybe an early riat like around the hills or one of those knives in the early riot.
I don't know.
Whatever it is, I think it's beautiful.
And I think Dirk Pinkerton, I I love his designs and I also love that he does with his custom work.
He makes custom, affordable, custom fixed blade knives that are exquisite and they are oftentimes modeled on ethnographic weapons.
I love that.
All right, so that's coming up in 2023, new Tonto coming from Pinkard Dirk Pinkerton and Concept Knives.
18:27
Next up, the one.
This was surprising to me.
Actually, the one hatchet or axe in the K bar lineup.
Well, it's out now and it's, uh, it's got a. It's got a surprising blade seal.
It's called the Hatchet Hawk.
Kind of an on the news name, but hey man, you know, whatever.
You only have so many instances or instances.
18:51
Seconds to make an impression and Hatchet Hawk says it all.
Is it a hatchet is a tomahawk.
It's then kind of like a tomahawk, but it's a. It's also like a hatchet meant to do a lot of robust work after after hours of being humped into the Bush.
So yes, like I said before, this is the one acts in their lineup right now, a hatchet type thing and it's got a 4.75 inch blade and check this out.
This was an odd choice I thought, what do you think?
It's 5 CR 15 MOV 5 CR 15 MOV.
Now that's I think that's the blade steel that came on my my Walmart version.
19:34
Minimalist like not the most robust steel, but Ben Schwartz.
Over at knife news.
Does address that and says it's not great for edge life, but it is a very impact resistant and stain resistant steel so I guess with the right geometry.
Anything can be done right with the right geometry.
Uh, you've got something impact and stain resistant.
Maybe this actually is the right solution for a cheap under $100.
I shouldn't call it cheap and inexpensive sub $100 hatchet.
20:10
Umm, I think it's kind of handsome.
I I I definitely like the pommel area that looks like it's going to stay in your hand.
Really?
Really.
Well, I wouldn't.
The.
Yeah, I I wouldn't mind checking that out.
20:23
It looks like a pretty cool, pretty nice little hatchet thing, but you know, so many hatchets, so little time and money these days.
So, you know, maybe maybe this one.
You know, maybe this one will have to wait.
Alright, still to come on the Knife Junkie podcast, we're going to take a look at the state of the collection.
Those are some new knives in my possession, some of which are going to be given away, some of which are going to be auctioned away.
And others, I am keeping mine.
All mine.
20:48
And then we're going to look at some drop points that have won my heart recent, recent acquisitions.
And I'm like, wow, I'm always talking about how boring drop points are.
And yet I, I, I keep buying them.
So we're going to take a look at those right here on the Knife Junkie podcast.
And now that we're caught up with knife life news, let's hear more of the Knife Junkie podcast.
OK, so this first one comes to me from Murray Carter of Carter cutlery.
If you listen to the podcast of the interview show, which I'm sure you do, if you listen into this one, you probably listen to that one because that's that's the interesting show and just spoke with Murray Carter.
21:30
But if you didn't listen to the show.
Here's the quick and dirty he's a Canadian guy who had a fascination with Japan, went over there at 18, started apprenticing and after five years and then some more time became basically the village bladesmith.
Not basically, he became the village bladesmith at the 420th year of that position and the 17th generation.
So this guy learned bladesmithing.
In Japan and does it all.
Now he's in Idaho and makes amazing knives for car at Carter cutlery and this is one of them and it's he does.
He uses all old Japanese techniques.
22:18
This is his neck knife model.
And.
It has really nice carbon fiber.
It's extremely sharp, but I want to show off this end of the of the knife first.
So I'm going to leave it in the sheath because I don't trust myself with it.
It's so sharp.
But this handle, it's a, it's a taper Tang.
22:37
So as it comes towards the palm of the tank gets thinner and then it's got G10 liners, like 3 stacks of three G10 liners and then this beautiful smoothly rounded and contoured.
What red carbon fiber?
It's got a mosaic pin in the center.
Just Oh my gosh, it feels.
It's like it feels better to have it in your hand than not.
In a way, it just feels so good.
Great sheath.
23:03
Really awesome, she I like the way he used these rivets instead of grommets.
For other types of attachments, like, you have no choice if you want to use this sheath.
It's a neck knife Buster.
Let's take this really good and simple sheath off.
And then you gotta take a look at this.
If you're if you're only listening, what you're missing is a really, really beautiful Damascus.
That.
23:33
That Murray Carter made and then turned into this 3 1/2 inch cutting edge for full four finger.
Grip EDC, fixed blade.
It's just man, it is something else, he told me the value of it and we are going to be auctioning this knife off, unfortunately.
I I you know, I wish he said no, this is yours.
And you cannot do anything but keep it for yourself because you're just such a great guy.
But he didn't say that.
He said, I love.
24:06
I love what you do.
I think what you're valuable is I'm gonna send you this awesome knife and you can auction it off.
I was like, OK, all right, auction it off.
And so auctioning it off means, you know, someone will benefit from it.
And I think that will probably be a knife rights.
But Carter.
Ms That means Master Smith.
24:27
Mary Carter became a master Smith when he came back from Japan.
I think that was the very like 2000. Or maybe earlier.
I can't remember now, but this is just a beautiful knife and super wicked, incredibly sharp.
So thank you, Mr. Murray Carter, for this very, very generous donation to my channel.
Such a beautiful, beautiful knife.
I'm going to set this aside on a little red velvet pillow and continue.
OK, so I got some new off grid knives and you've seen my my story and I love this thing.
25:10
Holy mackerel, I'm going to put two out here at once.
All right.
OK, so this is the Stinger XL from off grid knives.
And I have to say I'm I'm really impressed with this knife on a number of levels, one of them being I'd seen pictures of the blackout version and I was like, oh, that looks cool.
But then when I got them in hand and got them in person.
Man, I I just think the first of all, let's just talk aesthetics.
I think they are absolute knockouts.
25:43
The Blades remind me a bit.
They're evocative of daggers.
They're also evocative of bayonets.
You know, the way they're ground with the with the flat coming forward, they have this great shape.
The this profile is very similar to the enforcer profile.
There's some difference up here, but basically the rest of it has a similar profile or almost the same.
As the enforcer, another knife I love but this one.
26:13
Is nicely contoured, it's slender, and it doesn't feel boxy.
The the enforcer has this, but it's it's a beefier, boxier feel to it.
This is contoured from the top, chamfered, then contoured, and then deeply chamfered here, so it just feels so good in hand, and it feels.
More refined, uh, than than some of my previous off grids.
I mean, they're all really excellent.
Excellent designs and excellently built by best tech, but this one?
To me, just having it and using it for for a week since I've gotten it, I've been carrying it nonstop.
26:54
Umm.
I think that this represents a a step forward for off grid knives.
I think they've gone from you know, really, really excellent to this is a step forward and I love it.
0154 CM Crucible, it says which leads me to believe that this is CPM 154 or.
Is that right?
Crucible being, Crucible powder metallurgy.
This one was just a one by a gentleman junkie and is going out as soon as I hear a response from him.
27:29
Very, very nice knife.
I am very psyched about this new off grid Knife, Stinger XL.
The other thing I'm excited about is I'm a I'm a I'm an intuitive guy and with a name like Stinger XL, well that just means there's got to be an L or an M or an S or something below.
Excel.
So I I believe maybe with that name.
Excel maybe he's.
Maybe carry of off grid is thinking of an EDC model?
28:00
That would be awesome.
Alright, Next up from off grid Knives is part of the rapid Strike series.
He sent me two of these to check out one of them we're going to be giving away.
And that's this one.
So this is the Warren Cliff version of the rapid strike.
Rapid strike.
Is there one assisted open knife and man alive, does it have power?
28:25
This, this has it's.
You know, I don't know if I really like it.
I I've grown away from assisted open, but there are some knives that are just assisted open and are still awesome, like the Kershaw Leek for instance.
And I used to like the I liked the cold steel when I tried it the.
Swift.
I thought it was pretty cool.
There are others.
28:51
Kershaw blur.
You know, uh, SOG makes some good ones, but I usually don't think about them.
But this rapid strike it it's a it's a different feel.
It feels like an automatic, but look at that Warren Cliff Blade.
A really impressive Warren Cliff blade.
It reminds me a little bit of their earlier model, the Black Stallion.
Just a little lower profile and.
29:18
On it on a different frame.
Here, the handle itself is really nice.
It's contoured.
So rounded in the hand.
But then it's got all of this 3D dimpling, these elongated hexagons interlocking.
Ohh, they feel really good in hand, especially with the rounded, the rounded nature of the whole whole package.
And then you've got a nice thumb Swale right here behind the spine of the knife, spine of the blade, I mean, and then you have some nice jumping up here if you're going to.
29:52
Get up there to do some power cutting and a nice tip.
Even though it's a rounded, rounded drop point here down to that straight edge, you still have a serviceable tip if you need to thrust, so very cool knife.
And then a version of that, a rescue version of that.
So here it is in safety orange.
Wow.
It's really blowing out the camera.
It's a safety orange.
30:17
Same hexagons, dimple, same hexic, hexagonal dimpling and contour G10 scales.
Nice chunky handle, like the zero 200. But this one's the rescue model, so it's got a row of wicked teeth here.
And to me, I I see that and I think a lot of life.
To those serrations, now serrations in general have a lot of life, but these are so long they're almost needle like audaciously long and thin.
And to me that just means through hard use those get worn down, but you're always going to have teeth, you're always going to have teeth there.
And then the front third, it's about 2/3 serrated and then the front third is straight edge.
Again that Warren Cliff so nice and this is great for getting under a seat belt.
31:09
So again you.
We use that as a. You know, you can use that tip to thrust if you needed to, but you can still get under a seat belt, say, or or something else without cutting your.
You know the person you're trying to rescue here, and you can use those serrations.
This also has a glass breaker on the.
On the pommel, but unlike the other off grid knives with the glass breaker, the Excel enforcer, this one is much more low profile and subtle.
But definitely will get the job done.
It looks a lot like a micro tech glass breaker there.
31:47
Alright, so these are the rapid strikes, Warren Cliff, blackout and rescue model.
And then lastly, this one is so adorable.
It's the off grid baby rhino.
Now you know the rhino.
Here, let's do this.
There's the rhino.
And here is the baby.
32:13
Baby rhino.
And then when you put them, you can really see the scale difference, but they are the same design.
I love these baby rhinos.
Now we have the Gray one.
I showed that off on the channel probably about six months ago, and my wife absconded with that knife and I get to see it every once in a while and I'm just so happy they now have a blackout version.
And so I like the Gray on Gray, but I also really like the blackout version and.
So they have this now, and what a great knife this is.
32:50
A true little big knife.
Highly, highly recommended, very sharp.
This one is in 14 C 28 and it's Big Brothers and 154. Same width, same thickness to the handle.
And that's what makes this tiny little three finger knife totally manageable and controllable.
It's the the thickness of the handle.
All right.
So that is the state of the collection.
33:15
Check out off grid knives.
We have a, we have an affiliate link.
It's one of the few knife companies here that we we have accepted affiliate links from because we believe in them and love them so very much.
OK, let's get to it.
Drop points sometimes.
Well I had found myself kind of looking askance at drop points, thinking, you know, they're nice, you know, nice, nice and serviceable.
However, you know, for some reason they don't seem to get my heart racing this and that.
33:49
You know, unlike a a nice big swooping recurve or or a dramatic straight edged.
What do you call it?
The Warren Cliff?
Like, with a big point?
That's dramatic to me, but not the drop points.
And then I realized, wait a SEC, I I buy drop points all the time and find myself drawn to them.
You know more than I like to give myself credit for.
34:15
So I'm going to, I'm going to roll these out here and show you what I'm talking about first.
This one just just came in last week or a week and 1/2.
Two weeks ago and I'm just smitten and I'm bitten.
And that's the Finch knives Buffalo tooth.
A modern interpretation of the of the sometimes called the elephant toenail or sometimes called the sunfish.
A big fat broad bladed spear point bladed slip joint, oftentimes equal ended.
Sometimes a sleeve board.
34:52
Sort of like this, but the guys.
Finch knives really, really killed this one.
And by that you know, I mean did a great job.
So maybe they birthed this one.
And what a beautiful job I I've traditionally I love the sunfish or the OR the elephants toenail.
I have a couple of marbles and some you know, rough Rider versions of it, but never really had one that was very special to me.
And this one, I opened it up and was shocked at how I immediately bonded with it and I know some of that.
35:25
Has to do with this beautiful Coco BOLO handle to me.
This really does look like a gentlemen's knife.
It's a it.
I'll put it on my dresser next to my nice, you know, Petina leather wallet and the keys and another knife and and a pen and it looks just, I don't know, classic and timeless.
I love it.
But besides just being cool and making me nostalgic for a time I never lived through this really awesome QSP made Finch knife has a really broad inch and 1/2.
A broad blade with a. A Sabre grind that goes about an inch and an eighth up, so it's very, very thin behind the edge.
36:11
The day I got this, my wife and I were cooking together.
And I was cutting up vegetables, salad, fixins, you know, all the vegetables that were going in the salad and and I just decided to use this.
I rarely use folding knives in the kitchen, but it was brand new and I was wanted to check out how that blade did and that big broad blade is so slicy.
Did a an amazing, amazing job.
It's 154 CM so it'll be easy to sharpen and it'll hold its edge and be stain resistant and all that so awesome knife.
I love this French knives Buffalo tooth.
And as you can see, it is a drop point, also a spare point.
36:54
And by spare point we usually mean the same amount of curve and belly above and below the tip, sort of in a symmetrical fashion.
All right, Next up, this this one came out years ago, but I only just keyed into it recently.
Because you know how I I mean, this is how I am.
I'm like if if everyone thinks it's good, it must not be.
But of course I'm almost always wrong.
This is the praxis by Savi.
And you know when the when the practice first came out it had those goofy like a gold liners and I don't know savis at first were were good designs, but they were doing some stuff that that I just couldn't get behind.
37:39
Mostly with the liners.
But anyway, so it's nice to double back on this design.
A lot of people have mentioned this again recently after years of this being out, like, uh, you know, remember the first couple of models of saviors?
Yeah, they're still they were amazing too.
And this is when I think a savvy, I usually think hollow ground, but I always think very thinly ground and thin behind the edge.
This is flat ground.
Again, that's a nice broad blade, this one, about an inch and 1/4 and.
38:08
You know that would that high height grind in that thin?
I mean this has a a thin blade stock.
It is so incredibly.
Sharp and slicy and with this finger groove here, I feel like you could probably sharpen it a number of times and it's going to remain really thin and keep very sharp edge.
So this is a 9 CR 18 MOV right?
Yeah, 9 CR, 18 MOV, which is a pretty nice deal, like substantially nicer than HCR.
OK, Next up.
38:45
For my good friend combo over in Poland and best tech knives.
This is the orneta and the orneta I believe.
What is it?
The Orneta G these are in G10.
They originally are like the original.
Orneta is a very nicely milled and sculpted frame lock.
Titanium frame lock.
39:07
I had one in my possession for a short time.
Made a video.
It was looks it was a very luxury knife.
This one is that but in the $60.00 price range so give giving you a much better chance of having one.
Or if you like the design but not that much, you can always get this version with D2 blade Steel and G10.
This looks tuxedo ish or or Stormtrooper ish.
I was really psyched about the white G10 when I first got it, but then it was appalled at how dirty my hands are like every day because whenever I carry this.
39:45
They usually have to clean it off.
At home because I don't want it to look in any way dingy, and it's maybe you can't see right here because the light is blasting down on it, but it's kind of dingy, a great drop point blade.
Again, very thin and slicy.
This one has a nice belly, a continuous belly and a fuller and the blade for very nice.
Flicking actuation.
Also nice flipper on bearings.
Very super smooth, very super smooth, very smooth and there's combos makers.
40:20
Mark, let's get that on there for great guy.
I've done a couple of shows with him, a couple of interviews.
He's an awesome dude.
He his.
Designs are exclusive to best tech, so he is the he is an exclusive designer for bustech.
All right.
Next up is the CJR B. Serious and CJR B is the more budget friendly line of artists and cutlery, but the CJR.
40:48
I have two CC JRB's and oddly enough, two of them in this list.
But.
They.
I mean, I have an artist and I've experienced a few artisans like the Centauri awesome knife.
I have that that, that sort of half switchblade, half balisong utility tool thing.
That's an amazingly engineered and built thing.
I don't have too much artists in in my life, but I got to say their budget CJR B line is awesome.
41:20
This is a rayla Conoco design.
Let's see his makers Mark.
There are laconic OI, always like it when?
When the spine is used for billboarding or makers, mark and there's the CJR B logo.
I don't know, is this an artisan?
This is an artisan.
Sorry, I think this is an artisan.
41:42
Anyway, it's they're they're the same.
Basically same company, but this has nicely contoured G10 handles and with a nice fuller scooped out.
Or nice groove.
I'm gonna stop saying nice any moment now.
Milled out of the G10 here someone your fingers wrap around they sort of Nestle in that trench.
Feels very good.
I love that sort of Strider esque shape of the sharpening notch.
42:13
Very thin blade stock as you can see here.
And then just thinly ground slicy as all get out.
This thing is awesome.
It also comes, oh, this is in a RPM 9. They're they're proprietary.
Powder metallurgy steel also comes in S35, VN, and MICARTA.
I wanted that version but not enough to double the price so I went with this one and I'm really happy I did this.
Was a great pool knife this year.
42:44
Nice and thin.
It fits in the trunks easily and but enough to remember that it's there before I jump in and did great with food all summer long.
Next up, this thing is I love this this this has totally won me over.
This is the Begleiter excel from Kaiser and this one is the White Mountain Knives exclusive.
This one in red.
My car do.
They have a couple of models of G10 now.
43:11
The original one had the 10 canvas micarta.
This red linen is beautiful.
It's going to take a long time, but that'll patina nicely.
This sort of darkened around the pivot.
That's where some oil maybe got out.
Beautiful blade.
Very useful blade.
43:33
Slicy.
Very robust, but slicy you got a nice swedge there on the tip.
Great tip, almost, almost a spear point, but a little little more belly down here than up here.
Very nicely terrorised thumb studs and great button lock action.
This is my one non automatic button lock.
I used to have this avivi cogent.
I traded that for the large my formerly once my large Voyager.
44:11
I wanted it back.
So the vacaro, but this thing right here, incredible.
Deep carry pocket clip.
Not sunken in, but the flat screws.
This is an azo design, and this is a great example of in in pictures.
I thought it was a boring blade design, especially when compared to other beg gliders that I had seen.
But having this in person, oh man, not at all.
44:38
This blade is is awesome, and that's four inches too.
I love a nice 4 inch blade.
So that's the Kaiser Begleiter XL made made by Kaiser, commissioned by White Mountain knives.
Go over to White Mountain knives and check out their their selection.
I don't know if they have any left, but they had a couple of new cool variations.
OK, Next up another they're all cool.
I'm going to stop saying that, too.
45:05
The vast steed nightshade.
Probably the most unique drop point here.
This one emulates a number of blades.
It it it overall is has a bit of a cookery thing because of the overall arch from pommel to tip.
But that blade is also very much like a barong, the famed Filipino short sword, with the leaf shaped blade used to devastating effect by the morrows and the South.
So to me, this this knife is very sort of Filipino and spirit, not only in the fact that the blade shape is like a barong, but the angle of the blade to the handle.
That downward angle is a very philippino feature in a lot of their blades, incidentally.
45:56
Not so much on the barong, actually, but on most of their other blades you'll you'll see that downward presentation.
It accelerates, slashes, it accelerates, cuts, and it puts the tip of the blade in such a position that when you're thrusting you don't have to count your wrist to get the point where you need it to go.
So a very efficient sort of design.
This is not a weapon though, this is an EDC knife.
This would be an awesome weapon if you needed to use it as such, but it is a really great.
Utility knife, for all of the reasons it would make a great weapon, you've got an accelerated cutting angle there.
So if, say, you're drawing this constantly or endlessly through cardboard on your work shift, having that downward angle on that belly is going to do you so right.
46:46
It's going to save you so much in in the way of your wrist because you're just going to push down straight.
That material is going to gather in this area and you'll be able to just push cut and push cut.
And so very efficient cutter.
I've used this one.
Uh, sorry about that.
I've used this one a lot and so the blade is a little nasty, but 154CM blade, steel, awesome action, and vasti just makes great, great knives, whether in the kitchen or in the pocket.
I'm digging their knives.
47:20
I have three of them now.
That's contour G10.
They did a great job with that.
The other Lt, this is the vast did.
Nightshade Lt I forgot to mention four light and light more in terms of the materials.
Instead of the original which had M390 blade steel and a micarta and brass handle, this one is 154 and G10 now.
They also have one with a Gray handle in the 154 CM.
47:50
Also a looker Next up.
This is gonna be a shock and a surprise, but it is a Gerber.
This is the saidulu and this knife is made in America.
It's a Gerber and it's really good.
It is really good.
It is very much in the spirit of a. A bench made with the with the GRN you know it's got, it's got the very utilitarian look.
It's not too flashy but it's got a very utilitarian look.
48:25
It's got a full flat ground drop point blade, very nicely ground, very good edge and consistent edge and made in the USA.
They have their version of the crossbar lock or the access lock and it's pretty good, especially on this model.
You've got really, really good and tight lockup here.
OK, so this is just a. This is just a great example and Gerber needs to do this all the time.
I have commented.
I think Gerber is on the way back here.
Look at that.
49:02
That's pretty nice clip there.
I like the way they do that.
I like the way they ramp it there.
Gerber is on the way back in the 70s they were awesome, you know, my and and beyond.
You know, my, my dad had a really cool knife in the 70s by Gerber that I loved.
And then I noticed in the 90s they were really slipping bad.
And, you know, they went down a dark hole for a while, but they've been listening and they're coming back.
49:28
The first I noticed of them recently was with the zilch, a great knife, a $20 knife that I just picked up because I had $20 rattling around in my pocket.
When I was in REI, I was very impressed with that knife.
I've talked a lot about it on this show that led to getting more of the new gerbers and being impressed.
But also just two weekends ago I got a Gerber.
I got that Gerber zilch for for a new friend of of ours in the neighborhood.
So I I knew him well enough that I knew he wanted or needed a knife, but didn't don't know him well enough, that I wanted to spend more than you know.
Then I had to.
50:08
So.
Got him this knife.
He seems to like it.
I saw him a week later using it and carrying it.
It was like, boom.
It's a great feeling, but yeah, so Gerber on their way back, and yes, I do love that.
Made in the United States of America, and this is S35 VN blade steel.
50:27
Really nice knife.
The sedula.
Next up, this one really, really does get my heart racing.
This is the Manticore.
SI think this is, but this is the heretic Manticore.
That's the four inch blade.
Look at that.
50:43
Recurve recurve drop point blade.
Just.
A lovely lovely curvy blade.
Umm.
If you look at the outer contours you know holding it up to the sky or something bright you'll see that that they have that has this nice sort of hump on top and then corresponding recurve on the bottom.
And then when you look at the at how the bevels are black and the flats are white and you get that Serpentine shape there.
Not white but raw metal.
51:14
It's just so beautiful.
It's such a nice blade to look at.
I I. It reminds me of a Walter Brend fixed blade.
A fixed blade knife.
I'd love to have some sort of Walter brand.
It's blade recurve but so very exciting knife.
And this was of course my.
51:35
My Andre into legal automatic knife ownership in the state of Virginia because as of July 1st there's a little nick in that aluminum and that's going to bug me now as of July 1st in in.
This state, I'm allowed to carry this.
So this was the first knife I I bought as an audit as a legal automatic owner in Virginia.
Next up this is a legitimate CJR be the first one was the artisan that I just missed labeled this is the CJR B scoria.
Another great pool knife.
This this one.
And the artisan.
52:11
Serious that I showed earlier spent a lot of time.
Alright.
We spent a lot of time at the pool this year.
Now we have a great neighborhood pool.
And.
Where I'm from, there are a lot of neighborhood pools and and ours is tucked away and really nice and it's kind of a best kept secret, whereas others are kind of overrun and we just spent a lot of time there this summer and had a lot of friends there and stuff.
So every time we go we bring food and we grill or or whatever, we're always noshing and so always bringing a knife.
52:44
This is a good one like the other one, like the artisan because it's in thin and so slicy and sharp.
The whole package is then the handle.
This is nice and thin and contoured and light.
You do have nested liners in there very expertly nest.
You can barely see them.
I mean, you really do have to kind of look inside there, but still lots of lightning holes in there, so it's not too bad.
This is the one with a RPM nine and.
53:20
Just a great knife.
Titanium clip.
Very nice clip, and I think it's a looker.
I think this is a beautiful knife.
I think.
Who was it?
Nick Shabazz thought it was a very awkward design and I I I don't see it.
53:33
I don't see it.
I think it looks like a shark, and I think it's graceful and purposeful and kind of simple.
Really like that C JRB scoria.
OK, now Next up is one that has been in my pocket right alongside the.
Finch Buffalo tooth ever since I got it and that is the Stinger XL by off grid knives.
This is a spear point, dagger point, bayonet ground.
Combat Knife looking folder.
54:04
That's that's really what this looks like to me, and it is an excellent, excellent knife.
Big blade.
It's a big knife.
Off grid is one of those companies that I love because they do a variety of sizes.
They have your small EDC size things you saw the size of that, that little baby rhino, it's tiny.
And they do other more EDC table sizes, but they also.
Veer up into the four inch and you know what, Kerry?
54:34
Mr Orifice, if you're listening, I would go with you into that five and five and 1/2 inch blade realm and I think you could take it there, especially with this sort of construction you did with this, with this nice, thin, slender contouring.
It's so nice and comfortable and it feels light but solid.
Not, not too light, but you know, nice and solid and a little bit lighter than some of the others.
So I am just digging this Stinger XL.
You know, way more than expected and pretty much more than most other knives right now.
This is just just just one of my personal favorites right now.
Plus this is the First off grid knives knife that has a. Plate for the.
55:18
For the clip on the off side, so kind of a nice little little touch.
All right, this next one.
You've seen me carrying a lot since ever since I got it, and I still still in the honeymoon Phase I love this thing.
This is the resco instruments goose works Mekong Delta combat folder.
This is the knife that I thought was American made, and only because I thought it was American made, not because anyone said it was and.
Or not.
Not anyone from the company anyway.
55:53
And then I found out it was best tech made and for an instant I was like, oh, it took some of the mystique away.
I thought it was made by some salty old frogman in a basement in North Carolina near Fort Bragg or something like that.
But man, best tech.
I'd never complained about best tech making a knife and they did such a beautiful job on this.
Now their their whole thing that I know them for.
Best tech is super modern.
Caged bearings and flipper action and super luxurious smooth kind of well this is like that, but all washers.
56:31
This is a washer style.
This is like sort of a US style knife in the in the Spartan harsey tradition.
In the sebenza tradition.
In that it's it's a smooth washer knife that since I've gotten it has just gotten dropped shut smooth, still on phosphor, bronze washers and just robust as hell.
I love this knife.
I really, really do.
I kind of wish I had bought NAV sergeants version also.
57:04
That was a bolster lock.
With my car that would have been cool for me to own, uh, Next up and penultimate in this list is yet another one I've been carrying quite an awful lot, and this is the canine Jack from.
Jack Wolf knives.
And look at that drop point knife.
Now this is a spear point and but it has that beautiful swell towards the tip where the belly is.
And I just, I just to me this blade shape is the only kind of spear point I want from now on on a slip joint knife because.
Similar reasons as mentioned earlier.
57:49
First of all, that swelled downward even in the most neutral position that swelled downward presents the blade at A at an angle that will accelerate cutting by gathering material behind that downward angle.
Excuse me?
And then you add the add the the ergonomic factor of having this dog leg shape.
It presents that blade down even more.
So you can use that tip without much of a canting of your hands, and it fits nicely in the palm like that, but also you.
You're.
You are accelerating that already accelerated downward angle because of the ergonomics.
58:29
So awesome knife.
Just a great knife.
And coming from a great guy and designer, that's bell, Ben Belkin and his great company, Jack Wolf Knives.
That's the canine Jack.
That was the August 2022 release.
OK, last up this one.
A big one.
58:50
This one did win my heart and has done a lot of work for me since I got it.
This is the cold steel Voyager Excel drop point and this one, I like to call it the barong because again, it's it's like that Filipino short sword that I love so much that I know Lynn Thompson also loves.
I'm pretty sure he had that in mind when he designed this great great bellied blade.
You got a tip right near the center line.
So you you you know where that tip is most of the time, but you still have a continuous belly.
And a tall.
Sabre grind.
59:30
So this thing just just glides through vegetation.
I've used this mostly like a machete just around the house when when clearing vines and doing my my weekly clean up here at the house.
So that's the Voyager excel in drop point, a knife that has really won my heart, just like all of these others.
The Finch knives, Buffalo tooth, the Savi praxis, the best tech orneta.
See.
The artisan serious.
The Kaiser, Begleiter XL, Devasted, Nightshade, Gerber, Saidulu, heretic, Manticore, CJR, B scoria, off grid knives, Stinger XL, the resco instruments, Mekong Delta combat folder, the Jack Wolf knives, canine Jack, and the cold steel Voyager XL drop point.
01:00:20
Don't forget your drop points, ladies and gentlemen, and don't listen to me when I say they're not interesting.
And they don't get my heart beating everything we've shown here today.
Almost.
Almost everything except for the clip point that was in my pocket today.
Everything was a drop point and they're all awesome.
So don't listen to me when I say that.
Do listen to me when I say check out Sundays interview show and also be sure to check out Thursday Night Knives.
01:00:47
Join us again and join the conversation for Jim working his magic behind the Switcher.
I'm Bob DeMarco staying until next time.
Don't take dull for an answer.
Thanks for listening to the Knife Junkie podcast.
If you enjoyed the show, please rate and review and review thepodcast.com for show notes for today's episode, additional resources and to listen to past episodes, visit our website theknifejunkie.com.
You can also watch our latest videos on YouTube at the knife junkie.com/youtube, check out some great knife photos on the knife junkie.com/instagram and join our Facebook group at the knife junkie.com/facebook.
And if you have a question or comment, e-mail them to Bob at the knife junkie.com or call our 24. Having listener line at 724-466-4487 and you may hear your comment or question answered on an upcoming episode of the Knife Junkie Podcast.
Share This With a Friend >>>
For early access to The Knife Junkie podcasts and YouTube videos, receive Knife Junkie stickers and be entered into the monthly knife drawing giveaway, join The Knife Junkie's Patreon group of awesome supporters.
Knives, News and Other Stuff Mentioned in the Podcast
Pocket Check
Microtech SOCOM Bravo
Jack Wolf Laid Back Jack
Kizer Inversion (ESK)
On Loan from Jocks Knives: North Arm Skaha II and the BHQ Exclusive Dessert Warrior Elementum (Civivi)
State of the Collection
Carter Cutlery Neck Knife (stay tuned for details on the auction for this knife)
Off Grid Stinger XL
Off-GridRapid Fire Blackout & Rescue
Off-Grid Baby Rhino Blackout
Drop Points That've Won My Heart (A Baker's Dozen)
Finch Knives Buffalo Tooth
Civivi Praxis
Bestech Ornetta
Artisan Cutlery Sirius
Kizer Begleiter XL
Vosteed Nightshade
Gerber Sedulo
Heretic Manticore
CJRB Scoria
Off-Grid Knives Stinger
Resco Instruments MDCF
Jack Wolf Knives K9 Jack
Cold Steel Voyager XL Drop Point
Let us know what you thought about this episode. Please leave a rating and/or a review in whatever podcast player app you're listening on. Your feedback is much appreciated.
Please call the listener line at 724-466-4487 or email bob@theknifejunkie.com with any comments, feedback or suggestions on the show, and let us know who you'd like to hear interviewed on an upcoming edition of The Knife Junkie Podcast.
To watch or listen to past episodes of the podcast, visit theknifejunkie.com/listen.
Today's podcast in sponsored in part by the Get Upside App, your way to get cash back on your gas purchases. GetUpside lets you search your area for savings on gas, claim your discount, fill up your tank, then just take a picture of the receipt with your phone. And that's it… you've just earned cash back! Get the app right now at theknifejunkie.com/saveongas. Get the app and start saving money on gas — and help support The Knife Junkie podcast! Again, that's theknifejunkie.com/saveongas.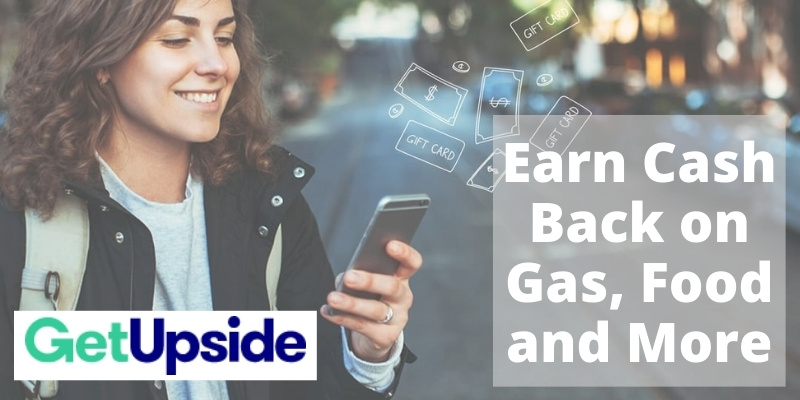 Shopping for a Knife?
Support The Knife Junkie Podcast and YouTube Channel by Buying Through My Affiliate Links
Bamba Forge
eBay
Field Supply
James Brand
Knives Ship Free
Off-Grid Knives
Vosteed Knives
WE (Civivi) Knives
Other Products and Services
Podcast Hosting
Website Hosting
Groove (Free Account) – Replace 17 Apps/Services in Your Business
Knife Books
Rakuten (Cash Back for Shopping Purchases)
GetUpside App (Cash Back for Gas Purchases)
TubeBuddy (Free Browser Extension and Mobile App for YouTube Creators)
Follow The Knife Junkie
Visit The Knife Junkie website
The Knife Junkie Listener Line — 724-466-4467
Email The Knife Junkie
Follow The Knife Junkie on YouTube
Follow The Knife Junkie on Instagram
Follow The Knife Junkie on Twitter
Join The Knife Junkie Facebook Group

Affiliate Disclosure
In the name of full transparency, please be aware that this website contains affiliate links and any purchases made through such links will result in a small commission for me (at no extra cost for you). If you use these links, I might be rewarded credit or a small commission of the sale. If you don't want to use these links, no problem. But know that I truly do appreciate your support.