Knives 2022 — Order Yours Today
Throughout history, knives of untold numbers of styles, materials and designs have been carried as tools, weapons and adornments — and each knife has a distinct attraction all its own. That allure has helped custom knifemaking evolve, and continue to grow and thrive today.
The pages of "Knives 2022" (42nd Edition) gives you the most elite crop of knives and makers that the world of blades has to offer.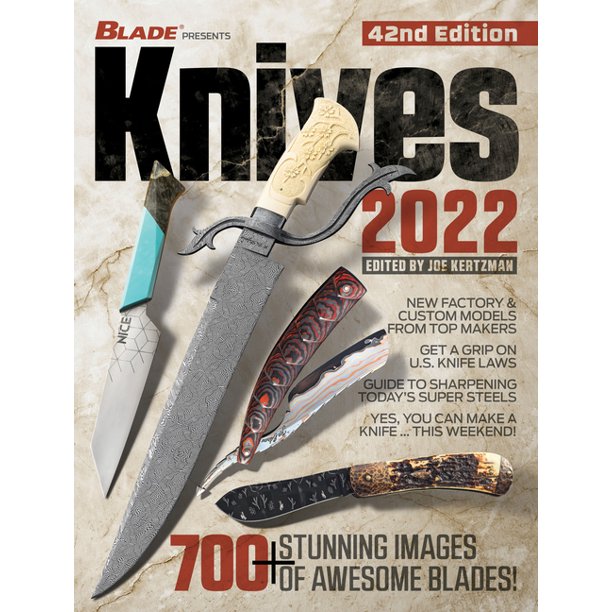 A celebration of knifemaking and knife collecting! Now in its 42nd Edition, KNIVES 2022, from the publishers of BLADE Magazine, is the annual showcase of the most remarkable custom and factory-manufactured knives in one remarkable collection. This year's edition features more knives than ever, with more than 700 full-color photos of creations from across the globe.
In addition, KNIVES 2022 brings you entertaining and informational feature material that immerses readers even further into the vast world of fine blades. A few of the topics covered in this edition include:
How to sharpen today's "super steels"
Understanding U.S. knife laws
How to make your own knife in a weekend
A look at some of weirdest knives ever made
Insight into the minds of serious knife collectors
For the custom-knife enthusiast, KNIVES 2022 shows off the incredible craftsmanship that goes into the work of top makers who spend weeks, months or even years producing their functional art.
KNIVES 2022 also dives deep into coverage of trends in factory knives. The next time you're trying to make a buying decision, you'll have a better understanding of what's available and how to get your money's worth.
A knife isn't "just a knife." There's a whole world of knives out there waiting for you, and KNIVES 2022 is your guide. Jump in!
The KNIVES 2022 is your go-to resource for all things knives, blades and edges. Dive into the world's greatest knife book and discover the wonderful universe of custom blades.