Levon from the Knife Nuts Podcast [The Knife Junkie Podcast Episode 128]
Levon, one of the hosts of the "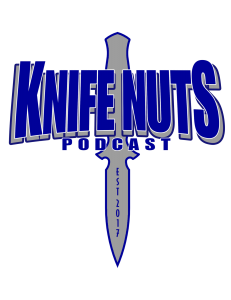 Knife Nuts" podcast joins Bob "The Knife Junkie" DeMarco on episode #128 of The Knife Junkie podcast. Bob and Levon cover a lot of knife ground in this great, stimulating conversation, including the speed round of questions at the end of the show.
Levon also dropped the news of an exclusive Knife Nuts knife so listen in for details.
What fun I had chatting with Levon from the Knife Nuts #podcast. He always seems to have the latest and greatest knives and I loved sitting down and talking knives with him. I think you'll enjoy!
Click To Tweet
Follow Levon and the knife nuts on Instagram and keep up with the latest knives and episodes of the podcast.
Let us know what you thought about this episode. Please leave a rating and/or a review in whatever podcast player app you're listening on. Your feedback is much appreciated.
Please call the listener line at 724-466-4487 or email bob@theknifejunkie.com with any comments, feedback or suggestions on the show, and let us know who you'd like to hear interviewed on an upcoming edition of The Knife Junkie Podcast.
To listen to past episodes of the podcast, visit theknifejunkie.com/listen.
Subscribe, Download or Leave a Review
Get The Knife Junkie's E-newsletter
Subscribe to The Knife Junkie Newsletter
Past Episodes
Catch up on past episodes of The Knife Junkie Podcast.
Subscribe to the podcast in your favorite podcast player or by RSS so you automatically receive each new episode.
Join The Knife Junkie community and we'll email you when a new episode comes out so you don't miss anything.

Shopping for a Knife?
Support The Knife Junkie Podcast and YouTube Channel by buying through my affiliate links
Shop on Amazon
Shop on eBay
Shop on Blade HQ
Shop on Field Supply
Shop on Knives Ship Free
Follow The Knife Junkie
Visit The Knife Junkie website
The Knife Junkie Listener Line — 724-466-4467
Email The Knife Junkie
Follow The Knife Junkie on YouTube
Follow The Knife Junkie on Instagram
Follow The Knife Junkie on Twitter
Join The Knife Junkie Facebook Group
Affiliate Disclosure
In the name of full transparency, please be aware that this website contains affiliate links and any purchases made through such links will result in a small commission for me (at no extra cost for you). If you use these links, I might be rewarded credit or a small commission of the sale. If you don't want to use these links, no problem. But know that I truly do appreciate your support.