Welcome to the introductory show of The Knife Junkie Podcast, the podcast for knife collectors, knife lovers, knife newbies and "knife junkies."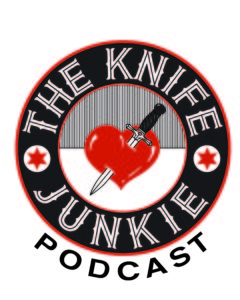 Each week your hosts Bob "The Knife Junkie" DeMarco and Jim "The Knife Newbie" Person talk knives. Everything about knives! Types, styles, how to maintain your knives, collecting them and lots more.
On this episode, show #00, the introduction, Bob and Jim cover:
Pocket Check
Jim has his red Victorinox Swiss Army Knife
Bob has several knives

His beloved Hinderer XM24, Warren Cliff Blade
GEC #14
Cold Steel Pink Broken Skull
Segment 1 – Ships in the Night
Main Show Segment
Who are Bob and Jim
Why collect knives
Why another knife podcast
Segment 2 – Maintenance Minute
Carbon vs. Stainless Steel and how to maintain them
Show Wrap-up
Taking your calls – what knife do you want this holiday gift-giving season? Call The Knife Junkie listener line at 724-466-4467 and let us know.
Key Moments in the Show
[1:05] – Jim is ready to open a lot of boxes
[1:20] – Bob's pocket check
[2:05] – Why does Jim have a Swiss Army knife
[3:00] – Jim's side hustle and how The Knife Junkie helped him make some money
[4:27] – Show structure
[4:41] – Bob explains the Ships in the Night segment
[5:55] – Ships in the Night (Featuring the GEC #14)
[9:30] – Why another knife podcast
[9:50] – The Knife Junkie explains his knife passion
[10:48] – Bob's grandfather had an influence on his passion for knives
[11:44] – Swords
[12:20] – Always an artist, Bob loves the aesthetics
[13:29] – Bob discusses the show's special segments
[14:08] – Bob's Slip Joint Phase
[14:36] – Why collect knives
[15:23] – Knives as weapons
[16:07] – Filipino martial arts
[17:12] – Bob's a knife maker too
[18:30] – Who should listen to The Knife Junkie podcast
[18:48] – Other subjects and who should listen
[19:34] – Maintenance Minute – high carbon steel vs. stainless steel
[22:26] – Victorinox
[22:52] – The 24/7 Knife Junkie Listener Line (724-466-4487)
[23:03] – The question of the month
[23:51] – Call the listener line with any questions
[24:07] – Show wrap-up
[24:55] – Visit the website, theknifejunkie.com
The Knife Junkie
Visit The Knife Junkie website at theknifejunkie.com
The Knife Junkie Listener Line — 724-466-4467
Email The Knife Junkie – bob@theknifejunkie.com
Follow The Knife Junkie