On Episode 19 of The Knife Junkie Podcast, Bob "The Knife Junkie" DeMarco speaks with Adam Porras, an Army veteran with 20 years of service in the U.S. Army — in 18 countries — about the healing power of making knives at Recovery Forge in Lorton, Va.
Porras was diagnosed with PTSD in 2011, and around the same time, a traumatic brain injury, and a broken back. "Blade Therapy" or forging provided an outlet.
Recovery Forge uses the art of bladesmithing, to teach military personal (active, retired, reserve, National Guard, wounded, injured, ill), police, fire and rescue, their families and caregivers, through the use of fire, anvil and hammer.
Recovery Forge teaches anyone that would like to learn the art of bladesmithing and provide all the tools that are needed to achieve this goal, free of charge. Donations are welcome, but not asked for or required.
For more about Recovery Forge, visit them on Facebook at www.facebook.com/recoveryforge/.
To listen to past episodes, visit theknifejunkie.com/listen.
Don't forget to call the listener line at 724-466-4487 or email bob@theknifejunkie.com. And to subscribe to The Knife Junkie newsletter at theknifejunkie.com/subscribe.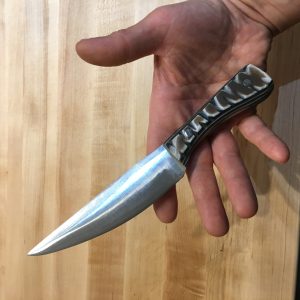 Follow The Knife Junkie
Visit The Knife Junkie website
The Knife Junkie Listener Line — 724-466-4467
Email The Knife Junkie
Follow The Knife Junkie on YouTube
Follow The Knife Junkie on Instagram
Follow The Knife Junkie on Twitter
Join The Knife Junkie Facebook Group
Affiliate Disclosure
In the name of full transparency, please be aware that this website contains affiliate links and any purchases made through such links will result in a small commission for me (at no extra cost for you). If you use these links, I might be rewarded credit or a small commission of the sale. If you don't want to use these links, no problem. But know that I truly do appreciate your support.