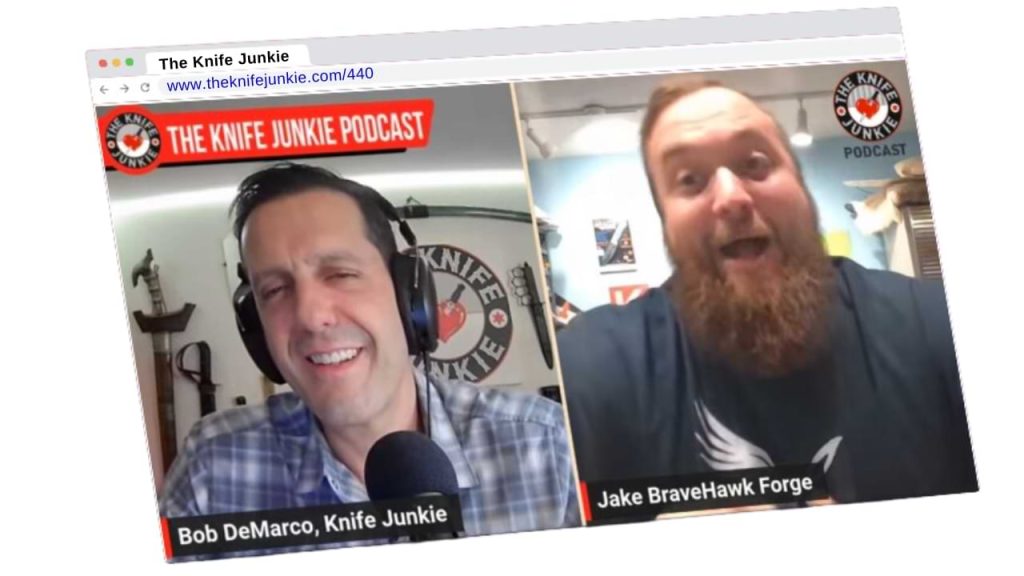 BraveHawk Forge – The Knife Junkie Podcast (Episode 440)
Jacob Sewell of BraveHawk Forge joins Bob "The Knife Junkie" DeMarco on Episode 440 of The Knife Junkie Podcast.

BraveHawk Forge preserves the age-old tradition of hand-forging tomahawks and knives for the tech-saturated world.
Jacob grew up with a passion for making things with his hands and began blacksmithing at the age of twelve. In 2018, he decided to turn his hobby into a capital venture and officially created BraveHawk Forge.
Jacob was a finalist on Forged in Fire (FIF), Season 6, Episode 15 — the challenge weapon was a Naganata. Today, BraveHawk Forge is proud to offer the finest competition throwing, utility/camping, spiked tomahawks and knives to the public.
BraveHawk Forge also produces the Texas Custom Knife Show in Conroe, TX, which started as a tribute to former contestants of FIF, but is growing into a much larger, more comprehensive show.
Find BraveHawk Forge online at bravehawkforge.com, on Facebook at www.facebook.com/BraveHawkForge, and on Instagram at www.instagram.com/bravehawkforge.

Be sure to support The Knife Junkie and get in on the perks of being a Patron — including early access to the podcast and exclusive bonus content. You also can support the Knife Junkie channel with your next knife purchase. Find our affiliate links at theknifejunkie.com/knives.
Jacob Sewell of BraveHawk Forge joins Bob on Episode 440 of #theknifejunkie #podcast to talk about his 'Forged in Fire' experience, forging knives and tomahawks, and the Texas Custom Knife Show in November!
Click To Tweet
Read Full Transcript
The Knife Junkie Podcast is the place for knife newbies and knife junkies to learn about knives and knife collecting. Twice per week Bob DeMarco talks knives. Call the Listener Line at 724-466-4487; Visit https://theknifejunkie.com.
©2023, Bob DeMarco
The Knife Junkie Podcast
https://theknifejunkie.com
Transcribe Your Podcasts and Videos: https://theknifejunkie.com/magic (affiliate link)
Announcer:
Welcome to The Knife Junkie podcast, your weekly dose of knife news and information about knives and knife collecting. Here's your host, Bob the Knife Junkie. DeMarco.
Bob DeMarco:
Welcome to the Knife Junkie Podcast. I'm Bob DeMarco
Bob DeMarco:
On this edition of the show, I'm speaking with Jake Sewell of bravehawk Forge. I first saw Jake and his work on Forged in Fire Season Six, Episode 15, where he and three other makers squared off with their skills in the forge, culminating in a nagamaki build, which we'll get to see. Jake's bravehawk Forge specializes in some of the most sought after tomahawks for camping, fighting, and throwing, and he has a solid lineup of outdoor and kitchen knives. Jake and bravehawk is also the producer of the Texas Custom Knife Show in Conroe, Texas, a show that I will be attending in November, which I'm very much looking forward to. We'll talk all about how Jake got into making tomahawks and the Texas Custom Knife Show. But first, be sure to like, comment, subscribe, and share the show with a friend. And also, as always, if you want to help support the show, you can do so on Patreon. Just head on over to theknifejunkie.com Slash Patreon and check out what we have to offer. Again, that's the knifejunkie.com slash Patreon. Discover how you can run your own six, seven, or even eight figure business entirely on this one simple platform, theknifejunkie.com Slash demo.
Announcer:
Visit theknifejunkie@theknifejunkie.com to catch all of our podcast, episodes, videos, photos, and more.
Bob DeMarco:
Jake welcome to the show, sir.
Jacob Sewell:
I appreciate it. Thanks for having me on, man.
Bob DeMarco:
Oh, it's good to have you. Good to have you
Bob DeMarco:
So I mentioned up front that you've been on Forged in Fire, and that's an interesting thing we'll find out about, but that's only the surface of your career in forging and in making cool edged things. And we'll find out all about that. But I want to find out just from the get go where you started. And this has been a lifelong passion, knife and building stuff.
Jacob Sewell:
So my grandfather is the one that got me into blacksmithing. I was twelve when I went to my first Haba meeting, which is the Houston Area Blacksmith Association. I kind of took to it like.
Jacob Sewell:
A duck on water, and the guys in the association said that I had a skill and I've been doing it ever since. Shortly thereafter, I made my first knife. It was, I think, out of a horseshoe. I'm pretty sure I still have it around here somewhere, but it's a low class prison shank at best. But hey, I was twelve.
Bob DeMarco:
Well, what was it about? Okay, I was a little pyro when I was twelve, and I always love knife. Was it the combination of fire and steel and all that?
Jacob Sewell:
I don't know how to explain the passion. Either you have it or you don't. I like making things with my hands. I do woodworking and all kinds of stuff. I've built a lot of furniture in my house. I just have a passion for building stuff. I can't sit behind a desk all day. I need to work with my hands. So that has a lot to do with why I do it as an adult. But I've always just enjoyed hammering on steel. It's great when you're a kid and you're frustrated and you're angry. You can hammer out your feelings.
You know what I mean?
Bob DeMarco:
Yeah Knives. You could go into a blacksmith shop, and you could make endless amount of hooks and tools and little doodads and things. But why was it knives?
Jacob Sewell:
I mean, I was a young teenage boy. What kind of boy doesn't like to have a knife? I mean, I like whittling on sticks and throwing them. My real thing was I'd make it and I'd throw it at stuff, trying to stick it and everything. And that got me into making throwing knives.
And now tomahawks. But who doesn't like cutting things? I've cut myself so many times, I don't even remember.
Jacob Sewell:
I don't get stitches. I just superglue it.
Bob DeMarco:
That's what it was invented for. My mom sort of hit me to that, and, yeah, my mom showed me that little trick. I love that.
Jacob Sewell:
See, my mom is a 30 year veteran of nursing. She's a CEO now of a hospital here in the Texas area. But when I grew up, it was are you bleeding? Can you stop the blood? Is your bone broken? Can you breathe? Okay, you're fine. I grew up in that rough and tumble childhood, and I had many a bottle of superglue.
I have a scar on my eye.
Jacob Sewell:
I've got all kinds of superglue scars.
Bob DeMarco:
That's funny. My dad was a physician. It was the same thing. If we hurt ourselves, we'd go to our mom. She'd give us sympathy. Our dad would be like, yeah, you're fine. You wouldn't believe what I saw today at the office.
Jacob Sewell:
Dude. He's just under two years old, and I'm constantly trying to get my wife. He's fine, he's fine. He'll be okay. It's the motherly thing.
My mom was just different. Yeah, right.
Bob DeMarco:
Okay, so you're learning how to forge. You're twelve years old. I have a daughter who just turned 13, so I'm familiar with the age. At that age, you're either pretty responsible or horribly irresponsible. So if they were handing you fire and these kind of implements, I'm sure you were on that side. When I went to your website and was checking out your work, there is a preponderance of Tomahawks that really seems to be your bread and butter. How did that happen?
Jacob Sewell:
My website, I mainly sell my tomahawks. All my custom knives are just people reaching out to me, wanting to make knives. I make a lot of custom knives, but my bread and butter is definitely tomahawks. I can make anything. I can make swords. I've made many swords for people in Canada, and all over the country. But tomahawks. Before I started my business, braypach forge, I was looking into starting a company. And knife makers are a dime a dozen, meaning everybody makes a knife, or most people make knives.
Jacob Sewell:
And I got in touch with my stepdad's friend Dana Turner. He used to own forge turner tomahawks in northern California. He was wanting to essentially quit the business. He was getting too old and wanted to sell all of his stuff and teach somebody how to do it.
Jacob Sewell:
So I bought all of his equipment, had him come down, stayed with me for a month, which having a house. guest for a month that you don't know when you're just about to get married with your wife is kind of rough. But it was an experience. I spent every day of every week, about 8 hours a day in the forge, learning his method of making tomahawks. So we're talking 160 plus hours. And in that one month, I made about 60 or 70 tomahawks.
Jacob Sewell:
I was talking to a friend of mine before I started the business, richard epting. He's out of college station. I can't think the name of his company. I'd give him a shout out. But anyways, he was telling know, everybody makes knives, but not everybody makes good tomahawks. And so I took that to heart and know, not trying to pat myself on the back or anything, but there's only two companies in the United States that I really compete with as far as production and quality.
Jacob Sewell:
So a lot of smiths make tomahawks, but not a lot of smiths make as many tomahawks as I do, especially like production models like I do.
Bob DeMarco:
Well, what makes a good tomahawk, and what's the difference between that and an axe?
Jacob Sewell:
Okay, so I get this question all the time. What defines a tomahawk? And I looked it up. There's no real definition. If you look it up, I look at it as a tomahawk is supposed to be lightweight, and it could be easily thrown. So if you go to, like, an axe place where they do all the axe throwing, those are your standard hatchets that you buy at home depot or harbor freight or whatever. They weigh about three to four pounds. All of my tomahawks that are thrown, even the ones with the hammerheads on the back, weigh under a pound and a half. My throwing tomahawks specifically weigh under a pound, handle and all.
Jacob Sewell:
So, I mean, I can throw these things all day long and never get tired. And they're more accurate because of the weight distribution. Also, another feature of tomahawks, I don't have one with me because I sell them.
Jacob Sewell:
All I have, the only one I have is a pipe tomahawk, but is the friction fit. So rather than having the tomahawk go on the top and then wedging it, you do a friction fit on a Tomahawk where if you break the handle, you can pop the head off, put a new handle on it, and you're back to work. So that's one other aspect of a tomahawk that I try to explain to people.
Bob DeMarco:
So really the tomahawk head is the important part, obviously, and the haft is somewhat disposable. And so you might expect, since you're throwing it or you're going into combat with it, you might expect to break that.
Jacob Sewell:
I personally have broken hundreds, and my wife is the master of Robin Hood and handles, so she'll throw one and then throw another one in Robin Hood and split the handle. And I'm like, well, now I got to replace that. Those are, like, $8 apiece, right? And when we do our shows, like the Texas Custom Knife show that we do, we always have a tomahawk throwing competition. I have people come in, they pay $10 to play. They get five practice throws, which I can teach anybody to throw a tomahawk in five throws, as long as they're not a complete moron, let's be honest.
Jacob Sewell:
And then they get ten throws for points, and then person with the highest score at the end of the day wins one of my tomahawks. So it's like, you pay $10, you might win $120 tomahawk if you have any kind of skill.
So it's always a good fun. And we only let those people throw one because they're notorious for hitting the handles and messing them up.
Bob DeMarco:
So I'm going to start practicing now. I want to go back. I want to talk a little bit about tomahawks and why this day and age? Why do people because I have a bunch of them.
Jacob Sewell:
Not a lot.
Bob DeMarco:
I have a few really great tomahawks that I love. Like this one right here. I have a spike hawk there from Elmer Rouge, and I prize it. I love tomahawks, and you're right to me, they're light, they're fast, they're for fighting and secondary kind of tools to me, 100%.
Jacob Sewell:
And that's what I tell people. If you're wanting to buy a tomahawk to chop wood, you're looking for the wrong tool.
I mean, plain and simple, you can use it for, like, kindling and stuff, especially like, the camp style tomahawks that I make with the hammerhead on the back. You can drive your tent stakes. They're lighter, so they're easier to carry in an outdoor bag. But as far as chopping down trees and stuff or chopping big branches, it's not made for that. It's made for, like you said, lightweight, fast work.
Bob DeMarco:
Yeah, and I noticed you offer a spike hawk, and I'm a big sucker.
Jacob Sewell:
For a spike hawk.
Jacob Sewell:
I offer a couple of different versions of them.
Bob DeMarco:
Oh, you do? Oh, tell me about them.
Jacob Sewell:
So I have four base models for my tomahawks. I have the Valkyrie, which is a Norse design. I have the Buck Tomahawk, which is a frontier 17th century design, a Francesca Tomahawk, which is a fourth century Frankish design, and then the Iroquois, which is like an 18th century, 17th to 18th Century northeastern Iroquois nation style Tomahawk. For the spikes, I offer the Rogers Rangers, which is, if anybody knows any history about United States lieutenant Colonel Robert Rogers probably butchering that I'm sorry, was in the Revolutionary War, and he revolutionized the guerrilla warfare for the United States, and they used tomahawks.
Jacob Sewell:
So he designed a tomahawk after him. And it's one of my favorites. It's under. The spike talks.
Jacob Sewell:
The Rogers Rangers are and then, you know, a Valkyrie Spike Talk and an Iroquois Spike Talk, just because they're cool designs and they look cool, especially with a spike on them.
Bob DeMarco:
Yeah. The Spike is a feature that I love. Part of me imagines this as a combat weapon. It would be a great way to shock and breach helmets and breach armor and that kind of thing. And then you turn it around, you throw it, but if you're throwing it, it seems like the spike can also stick. Is that right? I'm not much of a thrower. I can throw knives a little bit.
Jacob Sewell:
So in the proper hands, yes, the Spike can stick. And you just got to know show to throw it, because since it doesn't have so much cutting surface, you have to pretty much stick it at a 90 degree angle on the target, which, like I said, the proper hand with training, you can do it. And as far as the helmet breach, my predecessor, Dana Turner, sold a lot to the military. I sell a lot to the military, and they've been battle proven to go through a Kevlar helmet.
Bob DeMarco:
Really?
Jacob Sewell:
Yeah. And I keep trying to get all these Rangers and stuff to buy them from me to take a video or something. Come on, do something cool for me. So I can promote it. Obviously, I don't really want to put like, blood and guts all over my website, but I want the video for myself because I think it'd be cool. But I've smashed my Rogers, my personal Rogers Rangers, in the concrete with the Spike and chipped away the concrete and had no damage to the spike. It's a formidable weapon, let's just say that.
Bob DeMarco:
So weapon being the key term, because a lot of I feel like Tomahawks became popular recently. Recently meaning, like, say, in the last eight years or something.
Jacob Sewell:
Ten years.
Bob DeMarco:
Or maybe even longer, actually, due to all the military action we had going on in the Middle East. A lot of people breaching doors and vehicles with, like, RMJ Tomahawks. Big, full, tang slabs, though thin and beautiful. They're kind of different from a Tomahawk in that they are heavy and large and you can pry and breach and do different things than you would say with what you make.
Jacob Sewell:
Yeah, agreed. Like I said, it's a light weapon, but in close quarters combat, in the right hands, it's a very deadly weapon. And I have video of Doug Markaita using mine, and he'll actually be at our show again this year. At the Texas Custom Knife Show I presented him with one of my first full frame tomahawks. A little bit heavier, but it's more of a specifically made for battle and it's not really much of a thrower. I call it the Reaper is what it's called and I'm pretty sure I do somewhere. I think I have one left from that batch that I made. But I gave it to Doug Mark Kaida and watching him use that thing was impressive and scary because he is a martial arts weapon master.
Bob DeMarco:
No doubt about that. And don't get me wrong, I think the RMJ would probably make an amazing weapon, but it is heavy. It is meant for to me you could almost call it like a battle axe because it's kind of meant for something a little more different. Yours is anti personnel. This is one of those is a little bit more of a prying tool.
Jacob Sewell:
Or something, I don't know, break down tThe door kind of thing.
Bob DeMarco:
Break down the yes, exactly.
Jacob Sewell:
Bust a hole in a wall so. You don't have to use the door kind of thing.
Bob DeMarco:
So how did it come to pass that you came onto Forged In Fire and how did that come about?
Jacob Sewell:
Well, when I first started my business in 2018, me and my wife religiously watched the show and I was like, oh, I'll wait a couple of years, I'll get really good, get the business going really good and then I'll apply. And then I watched an episode where they made railroad spike knives. I made hundreds of railroad spike knives. And I was like, I could have done that way, cocky blacksmith. And then I think another episode shortly after that was Tomahawks and was like, I'm applying because if they're doing stuff like this, this is in my wheelhouse. And I applied and went through the whole interview process.
Jacob Sewell:
They picked me and then was waiting and waiting and waiting and then finally. I needed the advance notice before I could go on because I have a regular job too. And they called me on a Wednesday and was like, hey, we had a Smith drop out, can you come on Saturday? Mind you, this was the first year of the Texas Custom Knife Show. I wasn't affiliated with it yet as far as hosting it, but I was already paid up and was going to the show. It was my first time doing the Tomahawk throwing. I had invested a lot of money. And I was know, I asked my.
Jacob Sewell:
Wife like, look, this is an opportunity, are you going to be able to handle the show by yourself? I can help you set up and stay for a couple of hours. But then I got to fly out around noon and that's exactly what I did. So it was one of the best decisions I ever made. So I loved it.
Jacob Sewell:
It was awesome. I made a lot of good friends from it. Kyle Reese was on my episode with Meltdown forging Company. He's one of my best friends. He comes down once a year to my show and stays with us and we all talk, buy their kids stuff. We're like a family.
Bob DeMarco:
What was that interview process like?
Jacob Sewell:
So you have to fill out a questionnaire and then we do a Skype interview. Kind of like any Skype interview.
Jacob Sewell:
You have to present X amount of things that you have forged, including something greater than 15 inches, I think is. What one of the requirements was. Background check, stuff like that. I believe it's been five years, so I forget. But it wasn't too difficult. I mean, if you're a bladesmith and you think you want to get on there, they're always looking for fresh meat.
Bob DeMarco:
Yeah, I was curious how they could assess your work.
Jacob Sewell:
So I hadn't made anything really 15 inches or greater yet. Now, mind you, this has been sitting in my office forever and rusted. So I made this mini little pirate sword and I did like a snake guard on it. It was really rough, but like I said. I kind of rushed it so that I could get it for the episode. And I just showed him this and was like, look, I have forged something this big and I have the capability to do it. In all honesty, this looks better than some of the stuff that comes out on the show. Man, I'm not even going to lie. Those time restraints are no joke.
Bob DeMarco:
So you got on the show and it was kind of an exciting kind of spur of the moment thing. But explain kind of describe the experience, because my wife and I have been loyal watchers forever also. And sometimes we'll catch ourselves saying, quenching water. Like, have you never watched the show before? But what's it like working under those constraints? It looks like a very nice forage it looks like you've got all sorts of materials at your reach, but what is that experience like?
Jacob Sewell:
So it's always different working in somebody else's forge. You don't know where anything is and that's like a big thing. Right now, my forge is a hot mess, but it's a chaotic mess and I know where most things are and I know the capabilities that I can do in my forge with the tools that I have. Being on the show was surreal because everybody always asks me, do they ever stop the clock? No.
Jacob Sewell:
Once that clock starts, it does not stop. And you're kind of running around your other smiths that you're competing with. But what people don't see is the camera crew, the production staff that you're. Trying to step around and then right when you're about to quench your blade and I think even on my episode. I was going to quench, and he comes up to start talking to me, and I was like, I'm about to quench. Get out of my face. Or something like that. And he's like, no, we want to talk to you about it right now. What are you doing? Tell us what you're doing. I'm all like, well, I'm quenching the blade. This is crucial. Please get out of here. You're distracting me.
Jacob Sewell:
So it's surreal. I mean, we spent a lot of time in a big wooden box called the green room, you know what I mean? We can't see what's going on on set. So we spent a lot of time in there and all the Smiths had signed their names. The whole walls were all plywood and everybody's written on there on their forge and where they're from. That's when I got a lot of opportunity to talk with the other Smiths. And we all bounce ideas off each other and got to know the guys. So, yeah, we're in competition against each other. But it's one thing about the blacksmithing community is we're all really tight knit. So when we meet somebody like minded like us, crazy enough to stand out in 100 and fire degree temperature with a 2000 degree forge on and just sit there and sweat and get burnt and cut and all that stuff, great minds think alike and they attract to each other.
Bob DeMarco:
So it was great on your episode. They uncovered a big stack for that first round. They uncovered a big stack of exercise equipment and you had to use salvaged barbells and that kind of thing to make your knives. Is that a legitimate way in your opinion? I know you can make a knife out of a lot of different things, but is this how you came up? Is this what people do before they can afford to buy the steel from New Jersey? Knife bearing, that kind of thing?
Jacob Sewell:
Yes.
Jacob Sewell:
So, 100% I was a steel scavenger for years. I went to the scrap metal yard pretty much until I started my company. I would buy axles and leaf springs and a lot of coil springs. I've still got a bunch of railroad coil springs that I use all the time still to this day.
Jacob Sewell:
You just got to know what you're looking for. I mean, not all steel is hardenable. And if you know what you're looking for and you have it kind of an idea of, okay, well, that's made to hold a lot of weight and be strong, or that's supposed to have some spring to it, then you kind of get an idea of what the steel is made of and what itcan be capable of.
Bob DeMarco:
But when you're on that show and they do something like that, obviously you got to roll with those punches. Those are not ideal circumstances. And that's the whole point to see how you adapt.
Jacob Sewell:
Guys that get to do like the stacked layer damascus and oh, you have to do a twist pattern. Damascus. In 3 hours. I teach classes and my Damascus class; the twist pattern Damascus class.
Jacob Sewell:
So I can stack a billet myself and twist it and do all that stuff in no time. If I can teach somebody to do It, I can do it like three times as fast as.
Jacob Sewell:
So I'm always envious of those guys. Canister Damascus is a trick, but it's not impossible. I've done quite a few and enjoy doing them. They make some beautiful patterns.
Jacob Sewell:
This pipe tomahawk that I made here is actually canister ball bearing Damascus. I don't know if you can see this, you can kind of see the pattern in there.
Jacob Sewell:
This is a canister ball bearing pattern Damascus. So what drives me crazy about the show you mentioned it when we first started talking about forge and fire is have you ever watched the show? You're coming on here and you've never done that, you've never done a canister or you've never done this type of Damascus. What are you thinking? You're applying to be on a competition show that is supposed to be extremely hard. Yeah, me and my wife do the same thing. We're like, what are you thinking?
Bob DeMarco:
I have never made a canister billet before. I've never forged a knife, but I know how I would do it. I've never welded before, but I know how I would do it. And I certainly wouldn't use white out.
Jacob Sewell:
You can use white out. I use white out all the time on my canisters and they peel just fine. You just have to be patient enough. To let it dry.
Jacob Sewell:
Yeah, that's what that clock never stops ticking. So people are like, I got to put the powder in there. It's not dry yet. Just let it chill. Because the thing is, if you can.
Jacob Sewell:
Put that white out in there and peel that can off in 510 minutes like I do in the shop here, no big deal. It's real quick, but as soon as you get impatient, it becomes very difficult, very quick. So patience is key and it's so.
Bob DeMarco:
Hard to be patient. When you see that clock running, I bet everything in you wants to just sprint. So what's it like testing? Obviously you have a condensed period of time. You're not in your ideal situation, but that's the whole point, obviously. So you're making a knife that is, to your standards, substandard, but everyone wants to see how good substandard can be in 3 hours, basically. So what was the knife like for that first challenge and what was it like having it tested?
Jacob Sewell:
So I got a little overzealous on the press. I was making a straight back sax knife and I had to do a sandmai. So I do sandmai with all my Tomahawks, so I'm really comfortable with it.
Jacob Sewell:
The metal was really thin on the outer layer for my mild steel, so that was something I was not used to. I'm used to having equal thicknesses forge. Welds much easier. So I had a little bit of like, oh, crap moment. This isn't welding right? And I just fluxed it. I dumped the whole thing of flux on there. Everybody laughed at me. But then I got overzealous with the press and made it really thin and very narrow, like from top to bottom. For a chopper, we were going to be chopping into 45 pound plates. Now, I was always the last to go through testing, even in the final, which I get it.
Jacob Sewell:
I want to see the other guys break before mine does. So my buddy Kyle His broke on the second or third. I just watched the episode the other day and I can't remember.
Jacob Sewell:
I think it broke on the second or third. Maybe it was the first. The first strike whenever Ben Abbott smashed.
Jacob Sewell:
The club into the back of his blade where he forge welded his San Mai and the handle was created a stress fracture and broke the handle. So I only had to survive whatever his didn't survive. So I felt lucky. I felt bad for him because his blade was beautiful. And in all honesty, if his wouldn't have broke, he probably would have went to the final over mine just because.
Jacob Sewell:
They liked his more. And if they all performed the same. Because of the thinness of mine, and It's supposed to be a chopper and the fact that it was narrow, they would have probably preferred his over mine. But it was lightweight and thin. Lightweight blades are very strong if you do them right.
Bob DeMarco:
And thin, lightweight blades are what everyone wants these days. I mean, at least from my perspective. There was a long period of time where everything was very thick and overbuilt. Now people want thin and slicy. People want to cut again, which is nice. But before we get off of Forged in Fire, I want to ask you about making that Nagamaki. Can you show that off like you did?
Jacob Sewell:
Stand back a little bit.
So this was my Nagamaki from my episode. This was the second one that I made. I don't know if you can hear me kind of yelling. It's made from 1095 steel. It's got so much flex to it. I don't want to do it too much if I don't want to cut myself. And I haven't done anything to this blade, and it'll still shave in the right spot. When I got it back, it still had fur from the hog in it.
Jacob Sewell:
But one thing they didn't really talk about or show, and I didn't get any extra credit for it is I made a mokumugane with mokumagane guard and Tabaki, so I didn't get any extra points like I thought I would.
Bob DeMarco:
But what's mokumugane?
Jacob Sewell:
Mokumagane is pretty much nickel, copper, damascus. So it's a Japanese method of pretty much forge welding nickel and copper together. And it makes a beautiful pattern like the mastiffs, and you can manipulate it just like you do to the MASTES. So it's extra accents like that that make a blade to me.
Bob DeMarco:
So you said that you made two of them?
Jacob Sewell:
Yeah.
Jacob Sewell:
So the first one I broke and they edited it to where it was like an accident. So the first day I had 5 hours, I forged out the blade and had it ground.
I made it from W One Steel.
And I was kind of hesitant about using that steel because I know it's super brittle. Well, when I heat treated it the next morning, it came out like a wave and it was bad. And I was like, I don't think I'm going to be able to use this. And I said that, but they didn't put that on camera. I was like, let's go try it out. And I went over and tried it out on a limb and snapped in half about six inches down. So I was like, well, crap, here we go. So I just started another blade and by the end of the day, I had that thing forged out. So that time crunch is probably the reason I didn't win that episode, because.
Jacob Sewell:
I didn't have enough time to do. As much finish grinding as I wanted to on the blade and get it really looking as good as my competitors.
Bob DeMarco:
So this was by far the largest thing you had made up until this point, correct?
Jacob Sewell:
Yes, it was.
Bob DeMarco:
So what was that like? Did you have to I've seen some people take two forges and put them together.
Jacob Sewell:
I had two gas forges, two burners each, put them back to back and worked it in and out to get my heat. Even now, I actually have like a five burner forge, gas burner forge that I stand upright whenever I'm heat treating a long blade like that. And it works a lot better because gravity doesn't try and make your blade.
Jacob Sewell:
Go like this if you're from the end and heat treating it that way.
Jacob Sewell:
So I learned lessons from doing all that. And I've actually made a customer out of Austin, Texas. He saw the episode and requested that I make him a Nagamaki because he's been wanting one and couldn't find anybody that would make one. I was like, well, look, I just made one. Here you go.
Jacob Sewell:
And I spent, instead of four days, 35 hours total, I spent, I want to say, like nine months making that blade.
Bob DeMarco:
Wow.
Jacob Sewell:
And I had a mirror finish on it and had curly maple. He didn't want the ito wrap or anything like that. He wanted it all natural wood, Texas wood. So actually, I made this at the same time, Dusty, because I haven't used it in a long time.
Jacob Sewell:
Obviously I haven't finished it, but I made this at the same time. I was going to try and upsell him with another little hey, look, I made another little mini sword just the same way, little Tonto for you.
Jacob Sewell:
Obviously, I still got to finish the handle and everything, but it had a mirror finish just like this right here and on a 36 inch blade. That's hours and hours and hours of hand bending.
Bob DeMarco:
Yeah. And giant Popeye forearms from just but this gentleman is a fool because everyone knows that a Nagamaki needs a companion. Tonto right.
Jacob Sewell:
Well and I didn't even offer it because I didn't have time to finish it. If I finished it and hit him up, he'd probably be all over it.
Bob DeMarco:
And this probably goes without saying, but sir, if you are listening, of course you are a gangster. That's awesome. Every household needs a Nagamati, and I'm glad that he got on that. So how would you say that being on Forged in Fire helped your career or affected your career, I guess, is the way I want to put it.
Jacob Sewell:
So the show airing has helped my career or the business, because people liked my work and got an opportunity to see me that they normally wouldn't find me. So I have people still to this day that, hey, I just watched your episode. I want to buy something from you. So, I mean, even now that it's on, like, Netflix or Hulu or allthese streaming, I still get business from it.
Jacob Sewell:
It's not as much as whenever it first aired. When it first aired, I had an influx of orders when I was like, yeah. And at that point, I was in business for just about a year, so it really helped my business make leaps and bounds rather than the slow route. So it was very beneficial.
Bob DeMarco:
So were people asking you for swords or knives or tomahawks?
Jacob Sewell:
People normally go on the website and see what I'm good at. I mean, I like to say I'm good at it all, but they see what I make the most of. And tomahawks is up there. But I've made a rapier for a customer, a broadsword for a customer out of Canada. That same customer has purchased, like, I don't know how many items from me. Two tomahawks and a broadsword.
Bob DeMarco:
It's pretty impressive.
Jacob Sewell:
I've made countless items ranging from warhammers. This is actually a warhammer that I oh, God. I'm coming out with a line of these on my website. It's going to be a little different. Rather than the pointy needle spike, it's going to have going to be more like a dagger style point on the back of it. But this is, yet again, another battle weapon. This isn't made for driving nails, that's for sure. This is made for ending fools. Okay.
Bob DeMarco:
Let me just say, Jake, I am so excited to see someone. We have an increasing amount of tomahawk makers out there, which warms the cockles of my heart. But to see you making a warhammer I love warhammers. And there's only one reasonable warhammer on the market that's not like a medieval sort of repro, and it's Cold Steel's warhammer, and it comes and goes out of print, and I have it. But I love that you were planning on doing that. I think that's awesome.
Jacob Sewell:
I plan on having some available at the show. So when you come down, stop by my booth.
Bob DeMarco:
Right on. And then I also wanted to say that just in looking at your website, it seems like your tomahawks, it seems like you can produce a good number of them and that they're reasonably priced. So if you are someone who throws but it seems like you would probably want a couple of Tomahawks at once, so you're not walking back and forth a million times to the target. You might want three or four in your belt. And it seems like the way you make them, that's doable. And if you split it like your wife write down the half, you can buy a new one off your site.
Jacob Sewell:
Yes, we sewell all the handles and everything, so we do like to keep our prices reasonable. I mean, obviously the more you want, the more it costs. So we offer metal engraving and all kinds of stuff, which ups the price a little bit because I got to put more time into it.
Jacob Sewell:
But I make tomahawks in batches. So like when I'm making a custom knife, unless I'm making a pair, I start on that knife and it takes me a while to finish it, right? But tomahawks, I'll start ten Tomahawks at the same time and I'll forge them out, get them all forged out, get them all ground out to the shape. That I want and then heat treat.
Jacob Sewell:
Ten of them at the same time. So that keeps my cost per unit down because it keeps my hours per unit down. And it's a manufacturing mindset. I don't want them to be stamped out on a machine because they're hand forged Tomahawks. But I got to try and think like a machine in order to make good business, you know what I mean?
Jacob Sewell:
Sometimes I'll make a single Tomahawk if I'm running late or if I break one in the heat treat. If heat treat doesn't go right, I can make one in about 4 hours from start to finish. Now, for a batch of ten, I can make ten Tomahawks in about an eight hour period. So from start to finish and I break that up into 2 hours this day, 2 hours that day, 4 hours this day, whenever I have the time. Because I do have a full time job, a wife and a kid, and I got to try and put the balancing act. But I can make about ten and 8 hours depending on their level of complexity.
Bob DeMarco:
So this whole experience and then starting the business has led to your participation in the Texas Custom Knife Show. And it's a pretty interesting show. I'm very excited about it. Tell me about the birth of that show, kind of how it started and what it's going to be like this year.
Jacob Sewell:
So Mike Thomas my partner, the co-host of Texas Custom Knife Show, and a guy named Guy Harris, who was actually on the pilot episode of Fortune Fire. He's passed away. He passed away a couple of years back. But him and Mike got together, Guy Harris and Mike, and started the first Show, and they had it at the Lone Star Pavilion where we're having it this year. And it went pretty good. I mean, for the first show, it was a pretty good turnout.
Jacob Sewell:
And then the next year I got with Mike and I was, you know, I want to sign up for your show. He's like, well, I'm not doing it this year. Me and Guy kind of had a falling out. And I'm not a knife maker. I don't know the people. So I was like, dude, I'm your guy. I got you. Let's do this together. And that was shoot five years ago.
Jacob Sewell:
And we've been doing it every year ever since. So we've been doing it at Southern Star Brewery, who is a big time sponsor of ours here in Conroe, which is always sharp, sharp things and alcohol. But they gave us their big field with the stage and everything free of charge. And obviously they made money because they had beer cells. But we kind of outgrew the field. And last year we had a bit of bad luck with weather. Doug Marquita came out and it was about 40 degrees and raining.
Jacob Sewell:
We had to seriously reconsider. Okay, well, we got to protect people from the rain so that all these makers don't come out and don't sell anything because nobody's here.
Jacob Sewell:
So we went back to the pavilion, which is a big it's outdoors still, but it's a know arena style pavilion where they have like, livestock shows and stuff. And we're really excited about it this year because we've got Doug Marcaida coming back. He's going to be doing meet and greets. He's going to do blade testing. And we're in talks of him doing some of his Kahle martial arts on Sunday, like a demonstration so that he can promote his other know, not just forge and fire, but he has a martial arts business and he can demonstrate. With some of his people and that'll be awesome. We also have Jay Nielsen coming.
Jacob Sewell:
Last year, Jay Nielsen made a surprise visit, and a very select few people knew that he was coming. And I knew like the day before because somebody was like, oh, I have a secret. And I was like, it's Jay, isn't it? Because I had saw posts about him being in Texas, and I knew him and Doug are buddy, so I was like, I figured it out. But with him coming, I got an opportunity to invite him to this year's show and he's coming out. So it's super exciting because not only are they going to be there, but they're going to be testing our blades annually. We have a knife build competition where I have three to four Smiths compete. Like they do on the show.
Jacob Sewell:
And each year we up the ante. And last year, Don Halter with Cragax Armory out of Houston, Texas was our winner. And he got this huge wrestling belt because I try and get him a cool reward for winning. And man, I got him the coolest wrestling belt in every show he's gone to. He's worn it over his shoulder or walked around. You can't have he's he's getting all crazy with belt. A new belt is going to be up for grabs this year. And I got four Smiths, three of my veterans, all on Forge and Fire, some of them champs, some of them finalists. And then all three of these Smiths have either won at our show or have competed in our show. I'm sorry. All of them have won at least one year. Now, my fourth guy is a newcomer, so he's my underdog, and I'm going to promote him like that. His name is Corey Yates Ministries. I'd have to look it up, but.
Jacob Sewell:
He's coming in as my underdog, trying to take out the big dogs. So it's going to be a good promotion and it's going to be a lot of fun.
Bob DeMarco:
So that's the blade making competition a lot like Fortune Fire. But as I understand, they'll be starting with billets already made. They're not starting from so that it's not a full eight hour event.
Jacob Sewell:
In past years, for like two or three years, we had to make railroad spike knots. We got to be realistic. We only have so much time in the day, and we can't draw it out. Forge, two days, because people aren't going to want to come two days. Most of the time, only the truth ends.
Jacob Sewell:
So we try and keep it into a four hour window. This year they have three and a half hours. I was provided steel from Texas Knife Maker Supply here in Houston. They provided me with two bars of 1082 bars of 15 and 20. With those two bars, I created four billets of 139 layers of maskets. So I left the billets thick at about a half inch, and they're about ten inches long, eight or ten inches.
Jacob Sewell:
Long, depends on which lady you're talking to. So the Smith will have the opportunity to do whatever kind of pattern manipulation they want. They can do a ladder pattern or raindrop pattern or some of these Smiths are very creative, and they can figure out rather quickly what they're going to do with it. So it's pretty exciting to watch them do that.
Bob DeMarco:
Well, that'll be cool to see knives come. If you've watched the show and you enjoy that process, it'll be cool to see it live in a somewhat condensed version. But we didn't say this up front, but this show has an obvious the Texas Custom Knife Show has an obvious link to Forged In Fire. Is that an official kind of thing. Is that how it started?
Jacob Sewell:
Unfortunately, no. We actually were in talks with the production cast of Forge and Fire this year because we were trying to get them on board as a partner sponsor.
Jacob Sewell:
If you look through our website, nowhere on our website does it say Fortune Fire. Because of legalities Fortune Fire finally came through and copyrighted their slogan or I guess their brand.
Jacob Sewell:
So we had to scrub our website of everything that said Forged in Fire website and Facebook or social media in general. So there's no affiliation except for Doug and Jay. But they're doing it on their own time. So you know. It's a gray line. We say Forge and Fire all the time. We talk about it and they can't keep me from talking about it, but. I can't post anything like their sponsors or anything like that.
Bob DeMarco:
Well, actually the real reason I asked that question is because I love Blade Show. I love knife shows in general and I love knives and a lot of my viewers love folders. Does the custom Texas Custom Knife Show, does it have a range of makers or is it just the forgers or how's that playing out?
Jacob Sewell:
Right now we're at about 35, working towards 40. It's kind of my responsibility to get knife makers and with my full time job and everything, it's difficult. Some of these blades are very big on procrastinating. But yeah, we have a range of makers that make everything. So we've got guys that specialize in boulders, guys specialize in everyday carry knives, and guys specialize in swords and all kinds of stuff. So it's a very good show and a very big show with a lot of variety. So we're working on getting up to that Blade level. But that's a big show.
Jacob Sewell:
I have yet to go to Blade. I'm actually going to be testing for my ABS Journeyman license at my show. I'll do the performance test at my show and then the following year I'll probably be going to Blade to do My review of the three knives that I have to submit to get my journeyman.
Bob DeMarco:
It's a cool experience. I mean, I haven't done the journeyman, obviously, but being there is a cool experience. Amazing.
Jacob Sewell:
I love it.
Bob DeMarco:
It's a lot of fun. And I haven't been to the Texas Custom Knife Show yet, but it seems like it's a different vibe. Blade Show is Blade Show, but you go to other shows. Like, I used to love to go to the New York Custom Knife Show when I lived in New York, and then it moved to Jersey and then it moved to Tennessee and it's like, why are we still calling it this? But the New York Custom Knife Show I used to like to go to for the reason that it was in a ballroom of a hotel in Times Square for years and years. It was not a huge show, but it was select. It had a lot of really great stuff to look at in those days. I could only look at that. That's kind of something that's very appealing to me about this show and what I know about it so far. The Texas Custom Knife Show is the knife and axe throwing contest, the foraging contest, all the sort of interactive stuff. And I know that that exists at Blade Show, but it's so huge and overwhelming that stuff gets buried unless you're there specifically for that.
Jacob Sewell:
So it's not a small town vibe exactly, but all the guys that are coming, I've talked to personally. So Blade Show, from what I hear, is very, like you said, overwhelming, but It's also very corporate.
Jacob Sewell:
So this is where me and my partner, he wants to make it more corporate. And I'm like, no, we need to keep it family oriented. We balance each other out. It is very small town, not small time.
Announcer:
I shouldn't say that.
Jacob Sewell:
It's very humbling and awesome to be with all these people because when I get there, I'm going to be cracking jokes and making fun of Jonathan Sibley, who's one of my good buddies from East Texas. And I'll be cracking jokes with another guy and everybody gets the people that come to the show get to see that and the camaraderie that we have.
Announcer:
And they always enjoy.
Jacob Sewell:
So and we have customers come back annually every year from the know, they're out of Willis or they're here in Conroe and they come every year. We come every year because we love to watch the show and it's fun.
Bob DeMarco:
I've spoken to a lot of knife makers in Texas. What is it about Texas? Why am I speaking to so many of you guys coming from there?
Jacob Sewell:
You know, I'm not sure. Texas has also had the most contestants on Forge and Fire by Landslide from my last check. I don't know. Maybe we're all just crazy and we like weapons, obviously.
Bob DeMarco:
I think there's something about the independent. It seems independently minded. I don't know if that's real or not, but what's that?
Jacob Sewell:
I said home of the buoy knife. I have no idea.
Bob DeMarco:
Right now, you got to understand, I'm talking to you from right outside DC. So everywhere else seems a little bit yeah, but yeah, Texas definitely pushes that. So we were talking before you mentioned your wife and how she is a part of your business. How does she integrate in?
Jacob Sewell:
So when we first started, my wife was in the shop with me. That woman can grind a tomahawk. And she is like the best apprentice I've ever had in my life. And I'm not just saying that because she sleeps next to me and probably stab me in my sleep. She's real good about doing what I ask her and she does it. And I don't have to tell her twice. I've had some other apprentice that younger kids, I've got to tell them how to do it multiple times, and that annoys me. I have short views for that kind of thing. But she would help out in there, and then we had our son, so she doesn't get to hang out in the shop anymore. She brings them out every now and again, but she also runs the book, so she runs the numbers side of our business, which is great because I can do math really well, but I ain't trying to cook. I'd be cooking the books left and right. The government would think I didn't make any money.
Bob DeMarco:
I think, obviously, men and women go well together. Obviously. But I've heard a lot of knife makers talking about how their families work into the business, and it always seems like the knife maker's wife, and I'm no knife maker, and this is how it works in my household, too. But there's a certain attention to detail that women have. Naturally, for lack of a long explanation, it will make your business better, because she's going to see the things and think of the things that you're not. Because you're thinking about how cool Tomahawks are and how you're going to make an even better one and how you got to make eight of them in the next 10 hours and all of that. And she's going to be thinking about the stuff that's going to keep your business going.
Jacob Sewell:
She's my quality control, so all of my Tomahawks are viewed by her. So if I miss a flaw or if I'm like, hey, can you tell that this is I mean, can you tell about this little issue right here? And she's like, well, not really. If you wouldn't have pointed it out, I wouldn't have known. I'm like, well, it's driving me nuts. So she balances me out on my want to be perfect. And also, hey, you mess this up, you got to fix it before we ship it out. Oh, I didn't even notice that. Thank you. And then sometimes I'm like, Babe, come on. But that's nothing. Why are you busting my balls about that? It works out. So she has a great eye for detail, and I couldn't do it without her.
Bob DeMarco:
Could she throw also? Oh, you mentioned that she's a dead eye.
Jacob Sewell:
Yeah.
Jacob Sewell:
Me and my best friend, we'll play here and drink a bunch of beer. She would always beat him, and he'd get so mad. I mean, I always beat him, but every once in a while, I let him win so he wouldn't get so mad. But he's super competitive, and she had just spanked him up and down the Tomahawk course I have in the backyard, and he'd be so pissed about it. She's like, well, shouldn't suck because she's very competitive, too.
Bob DeMarco:
So how do you see bravehawk forge growing? Or how do you see it in the future? What do you want the company to be like in ten years?
Jacob Sewell:
So in ten years, my son's going to be old enough to be in the shop. And I grew up with house chores. And all that stuff and didn't get an allowance as part of my room and board. So my son's going to have the same thing. He's going to have house chores and stuff in the house, but I'm going to try and teach him, if you work, you get paid.
Jacob Sewell:
So he's going to work in the shop and either he's going to love it or he's going to hate it, but he's going to have to do it until he moves out of my house because it is a family business and I hope I don't push him into it so much that he hates it. But right now under two years old, and every time he comes out there, he's wide eyed and wants to touch stuff, and I'm hoping that that sticks because I could use a little hand in the shop, especially to beat up the floors and all the rust and stuff.
Bob DeMarco:
I think you got him early. And also he's a boy, so knives, axes, that stuff comes naturally.
Jacob Sewell:
Yeah, I've just got to keep him from chopping his fingers off. That's the only concern, him hurting really bad in the shop. But I just see our business staying steady and growing small, and as my son gets older, we can expand the business more.
Jacob Sewell:
Make more product, be able to sewell more. Like right now, I probably sell about 70 to 80 tomahawks a year. That's on the website. In person, we probably sell about 40 or 50 at shows. So if I can keep that going, that's a good spot for me now, especially with how much I work and with the family and everything. So I just want him to get in there so he can help me or him to get old enough to where he can play outside and she can come back and help me.
Bob DeMarco:
I don't want to say tomahawk and I don't want to say knife, but what is the thing that you want to build that's kind of your grail build before you hang up your spurs?
Jacob Sewell:
Oh, man, that's a good question. I mean, I really... That's a really good question. I've made so many different types of things that I would love to make. Sword. I can't think of the name of the sword, the one from Braveheart.
Jacob Sewell:
I'm sorry, I'm having a brave heart.
Bob DeMarco:
Claymore.
Jacob Sewell:
Is that what it's called? Claymore? Thank you.
Jacob Sewell:
I would love to make a claymore. Because I just think it's a beast of a sword out of some sweet Damascus. And I always push myself, so that'll change next year. I'm constantly doing something new. It's how I stay passionate, because after making so many tomahawks, it does lose its luster, let's say that. So I'm always constantly making something new and trying something new out. Like the Warhammer, I've made two of them and now I'm going to make a line of them and see how they do on the website. And if they stay good on the website, then I'll put it permanently on the website. But it's really just down to what crazy thing I dream up next. Sometimes my wife's like, you obsess over this. And I do.
Jacob Sewell:
If I have an idea, I have to put it on paper. Or I'll lay in bed at night. And I won't sleep because I'm thinking about different designs. Oh, I can take the maskets and manipulate it this way and make this pattern. It's crazy. It's an obsession.
Bob DeMarco:
Well, we're all glad you're obsessed on making Tomahawks. Obsessed with making tomahawks. I mean, that's how it should be. And you keep us all in this crazy hobby. How can people get in touch with you? How can people get their hands on your work, tell people the best way to get in touch with you and.
Jacob Sewell:
That kind of thing. So you can visit us@bravehawkforge.com. You can hit us up at Bravehawkforge@gmail.com. On our website is our phone number. I don't know. It off the top of my head. You'll probably catch our answering machine, but we'll give you a call back. The best way to go about it is email us. Facebook, social media. We got Facebook, Instagram, and YouTube. I do have a YouTube channel. It's just not know. I don't have a whole lot of stuff on it because it takes more time to edit a video than it does to make a video. And I don't have that kind of yeah, just reach out and I'll make.
Jacob Sewell:
You whatever you want. Within reason. Within reason. Some people come up with some crazy ideas, and I'm like, dude, you want a bubble level in the middle of your blade? What are you talking about? No, I'm going to pass on it. Both things within reason. I like to challenge myself. So if you have something crazy, hit me up. I'm more than willing to give it a try, and I'll give you the best price I can on it. That's one thing I'm really happy about is I'm not at the level to where I can charge $2,500 for a four inch Damascus knife. I feel like my stuff is quality, but those guys that have that prestige are at another level, and you'll get a high quality blade from me at a very fair price.
Jacob Sewell:
Before we get done with everything, I got to give some sponsorship shout outs. So I was told to do this.
Bob DeMarco:
Okay, before we do, I was just going to ask to wrap that up too, and tell people before you get to those where people can find out more information about the Texas Custom Knife Show, how best way to do that.
Jacob Sewell:
Okay.
Jacob Sewell:
So you can visit us on Texascustomnifeshow.com, facebook, Instagram, same thing. Texascustomnifeshow. We're really excited about the show. It's going to be November 4 and fifth at the Lone Star Pavilion. In Conroe, Texas. It should be from nine to both days. We are going to have a bladesmithing competition, tomahawk throwing competition. We are going to be having a live auction on Saturday, which benefits Operation Red Wings, which is Marcus Latrell's Foundation. It helps wounded soldiers get the help they need.
Jacob Sewell:
And it's our fourth or fifth year pairing up with them. We're really happy to help them out. We've raised probably about $40,000 in the past couple of years to help them out in their project.
Jacob Sewell:
So we have a live auction and the blades that are made during our bladesmithing competition are actually auctioned off. So not only do you get to watch the Smiths make them, you get to watch Doug and Jay Nielsen test them, but I'm going to put them in a shadow box with a photo of the Smith that made it and the two judges.
Jacob Sewell:
And I'm going to auction it off. So you can help us by raising money. Will have on Sunday, we're going to have Battleship I'm sorry. We're going to have Blade Sports there doing their Texas championship for their blade cutting. We'll have Doug Marcaida doing his combat demonstration. Jay Nielsen will be doing a Canister Damascus demonstration. And we'll have some various other things going on throughout the day. Battleship Texas Foundation will be there both days. They're actually helping restore the Battleship Texas that is in dry dock right now in Galveston Harbor. I'm part of that effort. I got some steel from them and I'm in the process of making a couple of blades to give to them for their auction at their gala next year. So there's going to be a lot of stuff, and it's just going to be a fun, good time.
Jacob Sewell:
So we hope everybody can visit us. And come out and see us november 4 and fifth at the Lone Star Pavilion in Conroe, Texas. The Texas custom knife show.
Bob DeMarco:
So you wanted to mention some sponsors.
Jacob Sewell:
I got a couple of sponsors here that are going to be helping out, that have helped out with not only the show, but with the bladesmithing competition.
I've got cold steel. They're one of our sponsors. Broad breck, ironworks and jant supply. Texas Knife Maker supply. Clark iron Forge Press. I'm probably brutalizing that. I'm sorry, I should have written that one down.
Jacob Sewell:
Anyways, we've got multiple sponsors and I don't have a full list here, but it's all on our website. Go to our sponsors page. If you're looking to sponsor us, hit us up. We could always use more money. The more money we get, the more people we can get to come and the cooler the event can be.
Jacob Sewell:
So there's a tab under our website labeled Sponsors. So we're always looking for more sponsors.
Bob DeMarco:
Well, that's great. Mike has got me very excited about it. And then speaking with you has got me even more. I'm really looking forward to it. And we have a lot of viewers and listeners in Texas. I hope over the next few weeks, next couple months, I'll be talking about it. I hope I see some of our fans there and really looking forward to it. Jake, thank you so much. Jake Sewell of bravehawk Forge, thank you so much for coming on the Knife Junkie pod.
Jacob Sewell:
I appreciate it.
Bob DeMarco:
It's been a pleasure.
Jacob Sewell:
You too.
Announcer:
Ever visit the knives online in the hopes of satisfying your need to possess them in the real world? Then you have a problem. And you're a Knife Junkie!
Bob DeMarco:
There he goes. Ladies and gentlemen, jake Sewell of bravehawk Forge. Very much looking forward to meeting in person. Meeting him in person, but also hefting his awesome Tomahawks in person. I have my eye on the Spiked. It's the one the Northeast Iroquois style. Well, I have my eye on all of them. I am a Tomahawk lover, just like I am a knife lover. I just have fewer of them. All right, ladies and gentlemen, be sure to join us again next Sunday for another great interview, another great knife personality right here. And then on Wednesday for the midweek supplemental, join us then Thursday for Thursday night Knife, 10:00 p.m.. Eastern Standard Time, right here on YouTube, Facebook and Twitch. For Jim, working his magic behind the switcher, I'm Bob DeMarco saying until next time, don't take dull for an answer.
Announcer:
Thanks for listening to the Knife Junkie podcast. If you enjoyed the show, please rate and review@reviewthepodcast.com for show notes for today's episode, additional resources, and to listen to past episodes, visit our website theknifejunkie.com. You can also watch our latest videos on Youtube@theknifejunkie.com. YouTube. Check out some great Knife photos on thenjunkie.com Instagram and join our Facebook group@thenjunkie.com, Facebook. And if you have a question or comment, email them to bob@theknifejunkie.com or call our 24/7 listener line at 724-466-4487. And you may hear your comment or question answered on an upcoming episode of the Knife Junkie podcast.
Share This With a Friend >>>
For early access to The Knife Junkie podcasts and YouTube videos, receive Knife Junkie stickers and be entered into the monthly knife drawing giveaway, join The Knife Junkie's Patreon group of awesome supporters.
Let us know what you thought about this episode. Please leave a rating and/or a review in whatever podcast player app you're listening on. Your feedback is much appreciated.
Please call the listener line at 724-466-4487 or email bob@theknifejunkie.com with any comments, feedback or suggestions on the show, and let us know who you'd like to hear interviewed on an upcoming edition of The Knife Junkie Podcast.
To listen to past episodes of the podcast, visit theknifejunkie.com/listen.
StreamYard simplifies the process of live streaming and recording videos. It allows you to create content seamlessly from your browser. With its versatile features, you can multistream to various social media platforms, host regular shows with guests, conduct webinars, record podcasts using local recordings, and create videos with ease. StreamYard has become a popular tool among live streamers, video creators, YouTubers, and podcasters. Its impressive array of features includes live streaming, webinars, local recordings, screen sharing, and more, ensuring that you can produce professional and polished content every time. Get $10 in credit on StreamYard with this link! (new customers only)
Shopping for a Knife?
Support The Knife Junkie Podcast and YouTube Channel by Buying Through My Affiliate Links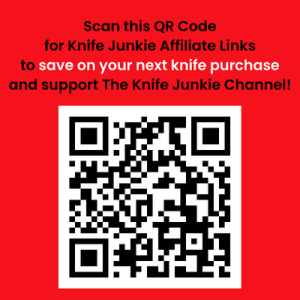 Bamba Forge
eBay
Field Supply
James Brand
Knives Ship Free
Off-Grid Knives
Vosteed Knives
WE (Civivi) Knives
Other Products and Services
Podcast Hosting
Website Hosting
Groove (Free Account) – Replace 17 Apps/Services in Your Business
Knife Books
Rakuten (Cash Back for Shopping Purchases)
Upside App (Cash Back for Gas Purchases)
TubeBuddy (Free Browser Extension and Mobile App for YouTube Creators)
Follow The Knife Junkie
Visit The Knife Junkie website
The Knife Junkie Listener Line — 724-466-4467
Email The Knife Junkie
Follow The Knife Junkie on YouTube
Follow The Knife Junkie on Instagram
Follow The Knife Junkie on Twitter
Join The Knife Junkie Facebook Group

Affiliate Disclosure
In the name of full transparency, please be aware that this website contains affiliate links and any purchases made through such links will result in a small commission for me (at no extra cost for you). If you use these links, I might be rewarded credit or a small commission of the sale. If you don't want to use these links, no problem. But know that I truly do appreciate your support.