Show Highlights
Just in times for the holidays and the gift giving season, The Knife Junkie presents his Holiday Knife Giving Guide.
Looking for the perfect #knife to give to a loved one this Christmas? Check out The Knife Junkie's Holiday Knife Giving Guide on Episode #07 of The Knife Junkie #Podcast. #pocketknife
Click To Tweet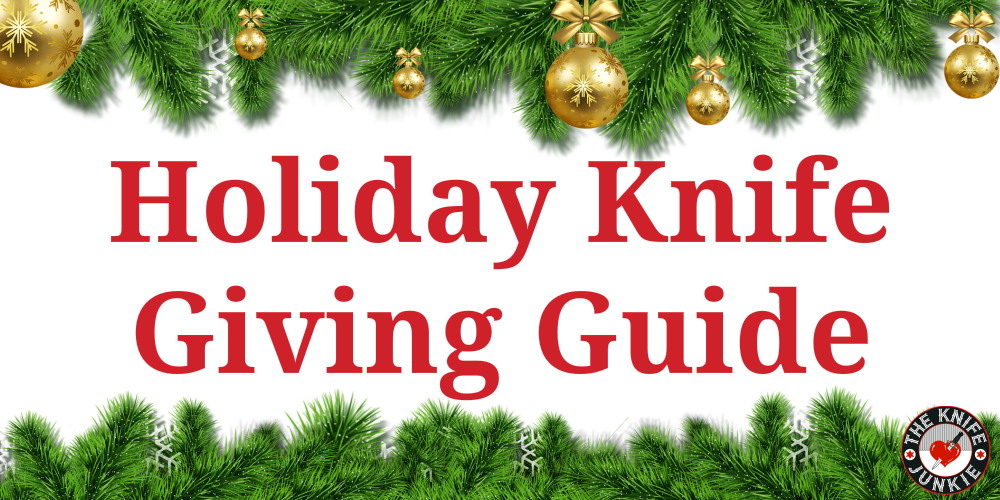 The guide features four categories of knives — five in each category — that are perfect to give your special knife junkie. The categories are:
$40 and under – No Strings Attached
$40 – $120 Category – The Going Steady Category
$120-$240 – Skin in the Game Category
$250 and Beyond – Marriage Material
And what makes The Knife Junkie's Holiday Knife Giving Guide different from any other knife guide is that each of the knives is vouched for by The Knife Junkie through personal use and ownership. Give the show a listen to hear about all of the knives that you can consider as the perfect gift this holiday season — or the New Year or any gift giving occasion.
BONUS: And if you'd like to have a physical copy of the Holiday Knife Giving Guide, grab your free PDF – just click here to download your copy, no strings attached.
Grab your free copy of The Knife Junkie's 2018 Holiday Knife Giving Guide -- no email required! https://theknifejunkie.com/07 #knives #pocketknives
Click To Tweet
Pocket Check
Jim has the Buck Canoe that he picked from six knives that Bob presented him on last week's show. Bob meanwhile has three knives (again). This week he's carrying:
Reate Horizon B
Case Swayback Jack
Cold Steel Broken Skull, pink handle (his usual)
Segment 1 – Tip of the Week – Make Your Own Kydex Sheaths
All you have to do to make your own Kydex sheaths (and by extension holsters, etc.) is make a press, buy the materials and have an oven, a drill and a hammer.
Making Kydex sheaths is a relatively quick and easy craft to learn, and like any craft you can become great at it with practice.
I started making my own Kydex sheaths when I first considered carrying an EDC fixed blade but was unhappy with the lame sheathes that were coming with the cheaper knives I was trying out.
Segment 2 – Knife Laws (Virginia): Carrying Concealed Weapons
In the inaugural Knife Laws segment, The Knife Junkie reads Virginia's 18.2-308. Carrying concealed weapons; exceptions; penalty.
We're not lawyers and are not providing legal guidance or opinion, just providing the law so you will be aware and make your own decision about how the law might affect you. This week's show is about a law in Virginia, the home state of The Knife Junkie.
Give a listen to The Knife Junkie Podcast for the Holiday Knife Giving Guide. #pocketknife #knives #edc #everydaycarry
Click To Tweet
Past Episodes
Catch up on past episodes of The Knife Junkie Podcast.
Subscribe to the podcast in your favorite podcast player or by RSS so you automatically receive each new episode.
Join The Knife Junkie community and we'll email you when a new episode comes out so you don't miss anything.
Follow The Knife Junkie
• Visit The Knife Junkie website
• The Knife Junkie Listener Line — 724-466-4467
• Email The Knife Junkie
• Follow The Knife Junkie on YouTube
• Follow The Knife Junkie on Instagram
• Follow The Knife Junkie on Twitter
• Join The Knife Junkie Facebook Group
Affiliate Disclosure
In the name of full transparency, please be aware that this website contains affiliate links and any purchases made through such links will result in a small commission for me (at no extra cost for you). If you use these links, I might be rewarded credit or a small commission of the sale. If you don't want to use these links, no problem. But know that I truly do appreciate your support.