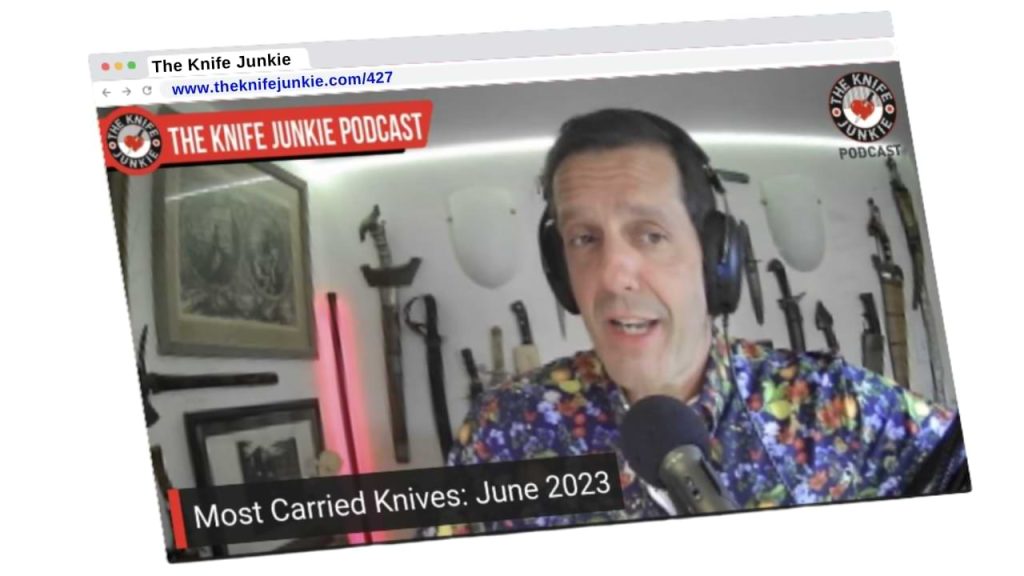 My Most Carried Knives: June 2023 – The Knife Junkie Podcast (Episode 427)
On the mid-week supplemental episode of The Knife Junkie podcast (episode 427), Bob "The Knife Junkie" DeMarco looks at his most carried knives in the month of June (2023), including the Pinkerton Fire Ant, Divo Knives Growler, and the ABW Model 2 among others.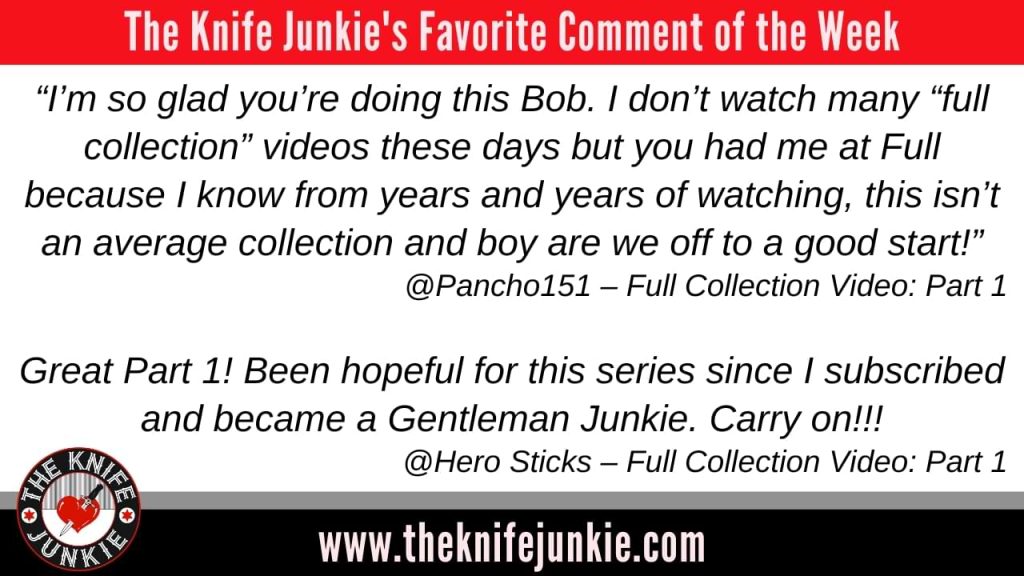 Bob starts the show with his favorite comment of the week, followed by his "pocket check" of knives — the Spyderco Spydiechef, JWK Venom Jack, TOPS Felony Stop, and the Wingard Wearables Quill (Emotional Support Knife).
In Knife Life News:
• Ethan Becker's New Smaller Ka-bar Folder
• Poltergeist Works and Bestech Team Up on Wicked Tanto
• Dirk Pinkerton's New XL CJRB Folder
• Sweet New Flipper Coming From Spartan Blades
Meanwhile, in his "State of the Collection," Bob looks at the Artisan Xcellerator, Bestech Skirmish, Bestech Keen and the Ocaso Knives Solstice and Ocaso Leather Case.
Find the list of all the knives shown in the show and links to the knife life news stories below.

Be sure to support The Knife Junkie and get in on the perks of being a Patron — including early access to the podcast and exclusive bonus content. You also can support the Knife Junkie channel with your next knife purchase. Find our affiliate links at theknifejunkie.com/knives.
On this week's midweek show, Bob looks at his Most Carried Knives in June 2023 on #theknifejunkie #podcast (Episode 427). What did you carry in June and why?.
Click To Tweet
Read Full Transcript
The Knife Junkie Podcast is the place for knife newbies and knife junkies to learn about knives and knife collecting. Twice per week Bob DeMarco talks knives. Call the Listener Line at 724-466-4487; Visit https://theknifejunkie.com.
©2023, Bob DeMarco
The Knife Junkie Podcast
https://theknifejunkie.com
Transcript
[0:00] Welcome to the Knife Junkie podcast, the place for blade lovers to learn about knives, and hear from the makers, manufacturers and reviewers that make the knife world go round.
I'm Bob DeMarco and coming up a very patriotic O-Knife giveaway, the Akaso Knives Solstice, and my most carried knives of June 2023.
Welcome to the Knife Junkie podcast, your weekly dose of knife news and information about knives and knife collecting.
Here's your host, Bob the Knife Junkie DeMarco. Welcome back to the show.
My favorite comment from this past week, they were both from my full collection video, Modern Folders Part 1. And this first one is from Pancho151. He says, I'm so glad you're doing this, Bob.
I don't watch many quote unquote full collection videos these days, but you had me at full because I know from years and years of watching, this isn't an average collection, and boy, we are off to a good start.
Well, to you, Pancho, I say thank you very much, and also thank you for being patient and waiting around for this. I do appreciate it, and I'm glad people are liking this.
[1:14] It's cathartic to get it all out there, and I'm only one part in.
Hero Sticks, good friend of the show, says, great part one, been hopeful for this series since I subscribed and became a gentleman junkie.
Carry on, he says, well, he raises an interesting point, you might want to subscribe. If you're here and you like and, like knife content, subscribe. But also, you can be a gentleman junkie by going to the knife junkie.com slash Patreon and checking out the different levels of support. But we'll get into that a little later. First, having said everything there, I I think it's time for a pocket check.
In my front right pocket, a knife that does not get enough attention is the Spyderco Spidey Chef.
This one was modified by Mike Emler, Crazy Sharp. He's got a great channel, by the way, you need to check him out.
But he's also an excellent sharpener of knives.
He learned that great skill in Japan. He lived in Japan for a long time, and I believe it was Okinawa.
And he was stationed there.
[2:27] He's also a martial artist, big dude, and really knows how to sharpen a knife with a stone.
He's got a very interesting technique that he outlines in the interview we did with him quite a while ago at this point.
But I had him take the sort of boring blade of the Spidey Chef.
Know, I'm sorry, I shouldn't say boring, but the unpointy blade and make it pointy. I saw a video of a fisherman Bye.
Who was very courageously sea kayaking, caught some giant fish, and pulled out his Spidey Shep, and had a nice tip, a modified blade, and he gutted it, and I thought, that's what I want.
So that's what I was carrying. One that, like I said, I don't carry often, love this knife, though, by the way, don't carry often, but recently refreshed the edge with a 600-grit Spyderco stone, and it is, it's crackling, very, very nice.
Okay, next up in my pocket slip joint today was the, I'll do it by the mic so you can hear the walk and talk.
That's closed, that's open, the Jack Wolf Knives Venom Jack.
[3:38] I'm going to really fight hard the instinct to say one of my favorite Jack Wolf Knives because they're all awesome, I love them all.
But I do have to say that the Swayback Jack the wharncliffe, this style of knife is one of my all-time favorites, therefore that does legitimately make this one of my favorite jackwolf knives.
But as you know, if you have any history with this channel, whenever I have a jackwolf knife in my hand, that's my favorite, because they're all awesome.
But this one, I just keep coming back to. All Things Said and Done, his version of the Viper, I think that's why he calls it the The Venom Jack is the one I keep coming back to.
Viper is the number 47 GEC, And that's sort of the nickname it got.
So, Venom Jack is very fitting, okay.
[4:31] On my waist, in my waistband, right up front, in the appendix position was this Topps Knives Felony Stop, designed by Lacey Zabo, former Marine and law enforcement officer, martial artist, designs these very cool tactical-style knives for self-defense and combat and that kind of thing.
But this one is one of my favorite designs. It's audacious, it's a dagger, sort of, fighter, definitely.
Big finger choil with really nice jimping. And when I saw this, first time I saw this, I was hot and heavy in the Filipino martial arts, and I saw a reverse grip trapping.
[5:16] What do you wanna call that, scoop. So in other words, in reverse grip, there's a lot of, in Filipino martial arts, There's a lot of trapping of the other person's appendage, like arm, with the blade against your own hand and arm.
And this serrated scoop there, or jimped scoop, just seemed perfect for that.
Of course, totally esoteric. Chances of you pulling that off are, I don't know what they are, but I don't think they're good.
But it's still there for your thumb, and great, great pistol grip orients that blade in such a way that if you're punching it, If you're thrusting, you don't have to reorient your grip, much to get that point where you want it to go.
So really love this felony stop.
A great, great knife.
But that's tops, always doing great stuff. All right, next up and last for emotional support.
[6:07] The quill, I love the quill from Wingard Wearables. After I recently spoke with Zach, he's been on the show a number of times and I always love talking to him.
He's a wealth of knowledge about weapons, about history and the history of weapons and the reasons behind them and all of that.
He designs such cool stuff. This was actually designed, conceived of by his wife and refined by him, the quill.
This is the original, there's a smaller one, and a larger one, and this I recently jute-wrapped, and it has taken this to the next level.
[6:46] It really fills out the hand for the different grips you might use this thing for, and I also think it looks good on there. So that's what I had in my pockets today, and in my waistband.
What were you carrying? Please let me know, drop it down below.
I always love hearing about what you all are carrying, because it gives me ideas, also lets me know that I've got a classy group of audience out there, and I just like, I'm a snoop, what can I say?
Like J.J. Gittes.
All right, next up, I wanna talk about our July 6th giveaway.
July 6th, Thursday Night Knives, tomorrow night.
By the way, happy 4th of July. I forgot to mention it up front.
Happy Independence Day.
Be grateful you live in the United States if you do, And do all you can to help preserve her, for she is a fine nation.
And I say that without any irony. I mean it to the core of my being.
And in honor of 4th of July and summer in the United States.
[7:49] We're giving this away. This was given to the channel by O-Knife. We did a little video on it and now we're giving it away. O-Knife, O-Light. O-Knife is of O-Light, an awesome light company, by the way. They sent me this recently and this I am keeping, this Arkfeld, and I am figuring it out. I'm really soaking it up and I can't wait to review it. It'll be my first light review. Very exciting. But anyway, Oh knife gave us this package here. So it's an EDC organizer pocket organizer here.
On the back, it's got pockets on the front, it's got pockets and this cool Velcro so you can put all sorts of little patches and stuff on there. But also in it, you may have noticed there is a light the I five t right o light here. And it's beautifully anodized with old glory, proudly emblazoned in the aluminum there.
And you've got a pocket clip and also a hat clip, so this fits on the bill of your hat, and becomes a headlamp in a pinch.
Love that feature on flashlights.
And then this beautiful blade. This is the O-Knife Rubato II.
[9:08] And it's got a 154CM blade, sheep's foot blade, beautiful with a very, very gentle belly there, and an excellently thin grind.
Just a very nice slicer. I carried this one day and did not mar the clip.
That's always the big danger of carrying a knife that's not yours.
But I wanted to check it out, you know, I wanted to make sure I wasn't giving away faulty goods.
And let me tell ya, this thing is fidget heaven.
These guys at O-Knife, I'm not sure who OEMs their knives, but they have that axis lock, that bar lock, really locked in and is very comfortable.
Very fidgety and fun to use and has a great sound. Let's see if that translates.
[9:55] You know, I don't know, kind of aluminum knives have have a nice sound in general, I find anyway, July 6 2023. Join us at 10pm Eastern Standard Time right here on YouTube, Facebook or Twitch and we will be giving this away to anyone who can type hashtag knife in the comment section. It's pretty easy. So join us that still to come on the Knife Junkie podcast, we're going to take a look at four new exciting knives on release now or very shortly. Right here on the Knife Junkie Podcast.
Don't take dull for an answer. It's the Knife Junkie's favorite sign-off phrase and now you can get that tagline on a variety of merchandise like a t-shirt, sweatshirt, hoodie, long-sleeve tee and more. Even on coasters, tote bags, a coffee mug, water bottle and stickers. Let everyone know that you're a Knife Junkie and that you don't take dull for an answer.
Get yours at theknifejunkie.com slash dull and shop for all of your Knife Junkies merchandise.
[10:58] At theknifejunkie.com slash shop.
You're listening to the Knife Junkie Podcast and now here's the Knife Junkie with the Knife Life News.
So new from K-Bar and co-author of the Joy of Cooking and outdoor expert and Knife Extraordinaire Ethan Becker is the BK 41. What is the BK 41? You say there are so many BKs in that K bar lineup of Ethan Becker design knives? Well, rightly so because they are amazing knives. I used I used to have one a long time ago.
[11:32] Pardon me and gave it to a great guy neighbor in New York. He needed it more than I. But this is the BK 41. It's the small version of the BK 40 the very first folder that Ethan Becker designed for Ka-Bar with the beautiful signature clip point blade which reminds me I must say a bit of the clip point blade on the Recon not the code for by Cold Steel. I love that very stout clip point blade, and the contoured GRN handle.
But this time in the BK-41, that 3.6 inch blade is now 2.84 inches.
And so the whole overall package is smaller. You got that wire clip, contoured GRN.
Again, I think this thing is a very handsome knife.
Makes it legal in more places as you want from a smaller knife, but if I were to get one, I'd go for the BK-40.
But it is an upgrade in blade steel here. On the smaller model here, you're looking at D2, and on the old one, you're looking at Aus8. Either way, we know that Ka-Bar makes a killer knife.
[12:47] We know that Ka-Bar makes a great knife. And so, however, whatever steel they use, you know it's gonna be done well.
Looking forward to this one, And there is no hard release date on this one, but it should be here pretty soon because they've already started talking about it.
Okay, next up from poltergeist works out of Poland, such beautiful knives. I remember first seeing poltergeist works on various custom custom knife only purveyors on YouTube, like Arizona custom on the internet, like Arizona custom knives and other places, and then started seeing them slowly.
Terra fanatic also used to collect them, but seeing them pop up from production companies has been very exciting.
I believe Real Steel and also Bestec. So Bestec here, teams up with Poltergeist Works, Jacob over there to come up with this beauty.
This is a four inch Americanized tanto with a very uniquely compound ground blade.
You have that titanium bolster with either that wicked cool swirly carbon fiber, that they have there, or micarta, four inches on that blade.
Just a beautiful, beautiful knife, and something Jared's always talking about, the plunge grind, and it looks great here, if I'm not mistaken.
Looks like he could sharpen that thing till the cows come home, and you're not gonna get that smile.
[14:17] What is this thing called? This is called the Bestech Cetus.
[14:22] Which is an unfortunate name.
I love the knife, and I love Bestech, and I love Poltergeist-designed blade ones, But there is another Cetus that just dropped by Orion Knives.
Also a very unique and beautiful knife. This one is a great, great user, and I will say self-defense knife.
But people might think I'm crazy for that, but I think so.
And it is also called the Cetus. So it's unfortunate that in the same model year, like within a month of each other, two knives have the same name.
So, hope it doesn't get confusing.
I really love the look of this best tech and...
Best of luck to everyone involved. All right, next up from a friend and favorite designer, or one thereof, designer, knife maker, Dirk Pinkerton. His new XL folder for CJRB, it is beautiful.
[15:20] In a very utilitarian way, but also in a sort of, well, if I know Dirk, he's always got some ethnographic influence in his designs. And something about this reminds me a little bit of the Russian Yakut.
We have not discussed this, so I'm not sure if that's the case, but I did have a chance to fondle and hold onto this knife for a short while, the one with the black blade and red handle, at Blade Show, because I spent some time with Dirk, and he had that with him, and he asked my opinion.
So I held onto it for a short while, and opened and closed it, and enjoyed.
It's 4.25 inch ARR PM9 blade. I'm very excited about the size.
This is, but it's not a big menacing weapon. I mean, it could be, you could use it and have it be menacing, but it doesn't have a design that screams like combat or tactical.
It's like a big utility knife. And man, it feels great in hand.
This is just all my personal experience with the prototype, feels great in the hand, and that big blade opens like.
[16:32] You just nudge the thumb stud and it flies open, and then it falls shut, it's just an awesome thing.
And I love the fuller, by the way.
Fuller is awesome.
So, check this out, what's it called, Bob? This is called the Resource, and when is it coming out?
Not sure, but it will be coming out shortly. I know that, I know that just.
By the by, so look forward to that. All right, lastly, in knife life news, another great house of knives, atelier of knives, is Spartan Blades.
I absolutely love Spartan in almost everything they do, and the stuff that I'm not fond of, it's not my taste, but it's still amazing, and I do know that.
So here's one that is my taste, and it's also in my price range.
This is the Poros, and this one is a folder designed by Curtis Iovito himself, co-founder of Spartan Blades.
This one has a nice long slender, and I'm calling it tactical, drop point blade.
But if you can see in this picture here that's up on screen, if you look from the, look from the filler tab on the pommel where the pocket clip should be.
[17:55] And then you look up to the pivot and then back down to the point.
You will see that the point, though it looks centerline, is below centerline.
So this is gonna be great for utility use. This is gonna be great for those pull cuts and draw cuts and all the stuff that you like a wharncliffe for.
However, it's got a different blade shape, and that blade shape is, this long slender draw point, is slightly canted downward. And we know that that accelerates a cut.
So you get the belly here, you get the benefit of a belly, but you also have the benefit of a downward canted blade.
So you get material pulled into the cut. This, I think it's beautiful too.
All of that mumbo jumbo I just said, it's a beautiful, cool looking knife.
3.75 inches of 154CM, which lets you know this is field grade, meaning it's not one of their fancy pants knives that you have to save up for.
It's gonna be less expensive and it's gonna be one that you can take out into the field without worry.
[18:58] All of them are field capable, of course, but not all of us want to take our knives out and bang around with our $400. So that's what I'm getting at.
G10 or carbon fiber G10 laminate. I don't know why they bother with that.
It should be G10 or micarta.
No one likes the carbon fiber G10 laminate.
[19:16] Sorry, it's just true, and 5.2 ounces. It is available now, which leads me to believe that when I recover from the bills that are coming to you from Blade Show, I am all over this.
It looks like a great daily carry.
All right, that does it for Knife Life News. Also, while we're here, just don't forget to head over to Knife Rights and join in on the Ultimate Steel because it's good for all of us.
That's their annual fundraiser. And man, Philly, Philly, good things happening there. So thanks to knife rights. Okay, coming up on the knife junkie podcast, we're going to take a look at some new knives coming across my desk, a couple of them are mine, a couple of them are loaners, and then the most carried knives of June 2023. If you're a knife junkie, you're always in the market for a new knife, and we've got you covered. For the latest weekly knife deals, be sure to visit theknifejunkie.com slash knives. Through our special affiliate relationships, we bring you weekly knife specials on your favorite knives. Help support the show and save money on a new knife. Shop at theknifejunkie.com slash knives. That's theknifejunkie.com slash knives.
And now that we're caught up with Knife Life News, let's hear more of the Knife Junkie podcast.
So this little beauty here is actually kind of a large beauty.
This is the Artisan Accelerator.
[20:46] And this one is mine, I bought this recently, I got it off of Amazon.
The story here is Artisan reached out to me, they've given me a couple of knives in the past for review and then we've given them away and the like, but they wanted to know if I wanted to check out the Accelerator, I was like, the Accelerator?
By Mike Snody, who's kind of an old school tactical knife, custom knife maker, kind of an interesting dude, he was down in Florida, I'm not sure where he is now.
I tried to get him on the show once.
But anyway, very interesting guy, interesting designs, and oh man, I jumped at the chance.
[21:24] And then that trail went cold. And they never, you know, I sent them my address.
Yeah, send it my way, whichever one, I don't care what dress, you know, what color way.
And anyway, they forgot or whatever, you know.
You can't always get too excited about that stuff. But I was so excited that I ended up buying it myself because I think it's just rad.
And yes, I said rad. That is a nearly four inch blade. That's AR RPM-9, the proprietary steel from ArtisanCutlery.
Look at that incredible drop point blade with the harpoon, both utilitarian and menacing and biological, or I should say, not biological, zoological at the same time.
It looks like some sort of a creature, animal, dinosaur, I'm not sure what, But with that lozenge-shaped hole, opening hole, or comet-shaped hole, it just, it looks incredible.
I have to say, the looks are there.
But also utility-wise, that's there too, because that harpoon, which I normally harp on, Not crazy about harpoons.
[22:27] I like the way this one looks and also when when used with this supplementary guard slash, forward shelf and thumb in the in the swale or in the harpoon there you get a lot of real estate there you get a lot of cutting there a lot of cutting edge and a lot of um what am I trying to say here hand room so this this knife offers you a lot of different grips I could have said that and spared you the last 30 seconds. You can choke down here and get a little bit of chop, you know, kind of a la cold steel with the different grips they have. You can be here, you can be up here, and you can also use your finger like put your forefinger in that harpoon and use this as a nice draw cutting knife. So using that belly that is. So just a really great knife. I love I love the way it looks again, and it's large.
It's in my wheelhouse in terms of size. And it's got a great sculpted clip here, titanium clip with the, let's see, let me back up there. There you see that dollar sign.
That's always been Mike Snody's logo there.
If you don't know Mike Snody, S-N-O-D-Y, do an image search and check out some of his very cool work.
[23:49] Very nice drop shot action on this. I thought for a while, I think for a while he was out of knives and doing other cool products and then came back to knives.
But anyway, there you go. That's the Artisan Accelerator. I highly, highly recommend it.
Okay, next up, the Bestech Skirmish. Now, the skirmish, these Bestek knives were sent to me from Bestek to check out.
Oh cool. Well, they came to me via Tri-State. They've been going around and thank you, Cole, appreciate it. But these are the two here, a field grade version, if you will, and then a dressed up version. Let me start with the dressed up version. You've got the 9CR, what do you call 9CR Stainless Domesticine Blade Steel.
[24:42] And then you have this cool swirly, cellular looking biological, again that word popped up, looking white G10. Very cool liner lock here.
You got a sort of off the shelf clip.
But that blade shape is just wicked, isn't it? I mean to me that looks like Demon Barber Fleet Street.
That's like straight out of Sweeney Todd.
Let me give you a shave here. And then you have the proprietary pivot keeping words off of the blade, which I like.
You have an excellent opening hole for reverse flicking and such.
But when you get to the handle, that's where you lose me a little bit.
Here, I'm gonna put this down and I'll continue this conversation on the field grade version, which I like better.
[25:27] Because you can really see the grinds on that beautiful blade.
Here, let me do a little ADD wiping down and then bring it up close.
And if you indeed are ADD, I am not in any way besmirching you.
So you can see the grind lines there, and then you can also see the bevels.
And it's beautiful. This is D2, and I like it better than the Damascus blade.
And then you've got G10. It's kind of a handsome combination there with the black and green.
I like all that. This one, they couldn't resist putting their logo on the blade, don't like that, but it's not a deal breaker.
What kind of is for me, and the reason I wouldn't by this knife is the ergonomics.
[26:13] Your hand is either here, in which case your pinky's kind of hanging off the end and you're an inch and a half from the cutting edge, or you're up here, and this seems at best a secondary consideration, this landing area for the forefinger.
So really, what this knife needs, it already has a great opening hole that you can reverse flick, and you can thumb flick, and you can slow roll, et cetera, et cetera.
What it needs is to not be a flipper.
Get rid of the flipper, and if you get rid of that flipper, you won't need all of this forward guard to accommodate and hide the flipper, and you could actually have this be usable space and have this whole grip be something that you wanna grip, and you'd have extra room at the end.
But right now, I think to have it be a flipper and to have numerous ways of opening, which, you know, it's starting to get out of hand, people.
No, I'm sorry, that's my curmudgeonly side, but in this case, it is.
In this case, it does not need the flipper. In this case, it would benefit from a flipper delete and total re-sculpting of this forward portion.
Because there is a lot of real estate, it's just not usable.
[27:32] It's swamp land, if you will. All right, but that's the Skirmish, a really cool blade in a not so favorite handle.
But thank you for sending it my way. This could definitely be someone's cup of tea.
I'll tell you what Best Tech is my cup of tea, that's this.
I was trying to be cool and it didn't work. This next one designed, this is a Conescraft design from Canada. He makes incredible fixed blade knives.
Our good friend Dave, this old sword blade reviews He has a number of his custom knives.
Go check those out on his channel.
But this is one of Mr. Cohen's, Cohen's, sorry, one of Mr. Cohen's folding designs.
Sorry, I cannot open this one with my left hand. Certainly not on camera.
It's called the Keen 2 and it is fantabulous.
It is gorgeous. I love this thing.
It is, I need one. When they come out, I need one of these because it is a four inch plus, that's like four and a quarter. I'm liking this trend towards large knives.
4 1⁄4 inch S30.
Yeah, S35VN blade. Clip point, at least an inch of a flat grind, very slicey, very sharp.
[28:56] Thin behind the edge. This one actually needs a little touch up. I might strop it a little, even though it's not mine. Just like two or three times, just to see how it responds.
But oh man this handle is just awesome it's contoured from top to bottom it's, very thin very light and beautiful pocket clip everything about this this I was afraid of the way the pocket for the lock bar is right under the clip really why don't we just put the pockets on the inside every time there's this concern that it's slightly more strong, having it in the center.
I mean, come on, let's be real. None of us really need that much, you know, that minimal amount of more strength, if you know what I mean.
It's just to have, just put the pocket on the inside, people.
Said the guy who never made a knife in his life, Folder. But right here, it's perfectly set up for reverse grip.
I love that, the way the thumb lands there and hooks over the bottom.
Just a great, great knife. And also this Fuller works for a reverse flip.
[30:10] So just a great knife. Very excited about this Keen 2. I looked it up on Blade HQ.
I wasn't sure if it was out yet or not. It's not out yet, and I think it's gonna be expensive, but might be one worth saving your shekels for.
All right, last up in State of the Collection, let me show you this sent to me from Rick Valdez, gentlemen and scholar of Okazo knives, Okazo knives, this beautiful, first before I open it up, look at this, this is leather and the word that keeps coming to mind is sumptuous, like soft and supple, and it's got this red stitching.
It's just beautiful.
A little clasp here with a magnet.
[30:54] And what it opens and reveals. When I open it, I reveal four Ocaso Solstice knives.
This is the first release of the new Ocaso knives company and if you didn't listen to the podcast interview with Rick Valdez, you have to, it's excellent.
He's a very interesting and charismatic guy and he spent 20 years working at Cold Steel and when the GSM sale went through, he left Cold Steel and started his own company, based on his own tastes and his own lifestyle and he is a guy that has great style.
I met him in person at Blade Show and he's just a dapper Dan, man. What can I say?
He's a dapper dude and he appreciates style and it comes through in his knives.
These are gentleman's knives And the first one is designed by Andrew Demko.
He has other designers lined up making others like Mike Wallace and, oh my gosh.
Well, watch the interview.
[32:01] But this is the first one and man, it is a gentleman's knife.
It is a gentleman's knife, but at 3.6, What is that? That's more like...
That's 3.75 inches on the blade, long and slender, and titanium.
[32:19] This thing is robust. So it's a gentleman's knife, long and slender.
It has all of those characteristics.
Easy to carry, relatively light, and gorgeous to look at.
Look at that, you've got the pivot is their logo.
Pocasso knives, Solstice S35VN, liner lock. liner lock. It has everything you want in a gentleman's knife plus robustness. That's not a an adjective that comes up often when we talk about when we talk about gentleman's knives robust.
Here is another one this these are four different dresses for the solstice. This is black anodized with black handle that black anodizing looks pretty bronze to me. So maybe maybe I'm talking out of school. This might be called bronze. I got to look it up. I haven't done the review on this yet. Just I mean, it speaks for itself. It's beautiful. It's sleek. It is stout. It's got a nice weight to it. In the titanium, the carbon fiber is much lighter. And as you see, they have this cool, ambidextrous pocket clip that locks into a pocket on the opposite side. As you can see, if or maybe you can't see maybe you're just listening, but under the pocket clip, they have these little disc protectors.
[33:44] This is brand new to me. I have not even carried these knives yet, but I really look forward to it and I'll be carrying all of them to check them out. There is that and then here Here it is in carbon fiber, and man, yeah, these are much lighter.
Fiber.
[34:01] You satin, carbon fiber black, satin, and black. Look at that package.
[34:06] Thank you to Ocaso Knives. Thank you Rick Valdez, this is awesome.
I'm gonna carry these knives and check them out and really, really live with them.
And they're touching a number of different parts of me and I love knowing that Demco designed them.
They're built rock solid.
They're like tanks, but they're also graceful, gentlemanly, handsome tanks.
And that's what I want to be graceful, handsome, gentlemanly tank. I'm not much of a tank, but you know what I mean? I want to be a force to be reckoned with. But I also want to, you know, look like James Bond doing it. That's the ideal anyway, for me. Maybe I've revealed too much. All right, I'm going to set these aside. And who knows they're so thin and light, they might, they might join this next list. But more towards the end of the summer, we shall see. This list, what I want to talk about is June and my carry this June. These are the most carried knives of June 2023 and it's different because I've been carrying smaller knives in the front right pocket position and I've felt the confidence to do so because my fixed blade game is so strong and regular, consistent. So knowing that I have a fixed blade on me, I don't know, liberates me from feeling like I have to have a large knife.
Now that is my taste, a large folder, but my taste is also for some of these smaller ones.
[35:32] So I want to show them all. Also, notable is that the month started off with Blade Show, so a lot of what I carried was new, because I honeymoon phase and excited.
Okay, first up, from Jack Wolf Knives, the absolutely stunning Gunslinger.
Gunslinger Jack here in the beautiful carbon fiber, that blue arctic storm carbon fiber.
[35:59] Just a side note here, I'm thinking you could start doing a drinking game and take a shot every time I say beautiful, you would not make it long on this show. I do realize I repeat myself, but what can I say?
I'm enamored with this knife. There, there's a new word.
Enamored with this knife, Ben Belkin took all of his knowledge in creating some of the greatest slip joints in the last many, many, many years, and then just sort of learned how to make a bolster lock and designed a damn awesome bolster lock. I have one micro gripe if I had to and that would be the access to the lock bar only because only because I feel like all I do is rain praise on these and it's hard not to because they're perfection.
So this one is 3.25 inches in blade length.
That's S90V blade steel. About 10 knives in, they switched to S90V from M390, which is cool, that's an American steel. That's a cool change, too.
Blasted titanium bolsters. You got that triple threaded bolster up front.
So all of these hallmarks of a traditional knife, traditional knife geeks geek out about, even giving it a full backspacer to look like a slip joint.
[37:24] Also matching the anodization on the clip. So one reason this thing got a lot of pocket time, besides just being addictive in terms of the fidget factor, lots of ways to open this guy.
But because it's light and it's got a pocket clip, you know, a lot of the Jack, none of the other Jack Wolf knives have pocket clips.
And sometimes I don't feel like having something in my pocket, especially in the summertime and it's been getting hot.
But this Jack Wolf knife has been making it it into my front right pocket a lot. Let me just drop it shut here and give it another flick. You can you can do that. You can, do that. You can do flick you can slow roll it with your thumb.
This knife is awesome. Okay, next. I mentioned the Cetus earlier and here it is. This was a gift from David cam of Orion knives. I'm very grateful. Thank you, sir. Because this thing is awesome. It's a great EDC, you can tell from that hump back, it's got an overall arc, taking that very, very straight cutting edge and putting it a downward cant, putting that tip down low and making this a great utility knife, a great utility cutter point driven, but also say you're cutting straps pulling towards you or, or cutting rope pulling towards you. I also say this is a great self defense knife, because it It is a wicked, wicked slasher because of that downward-hanted blade.
[38:52] To me, it reminds me of the Southern Filipino sword, the ganunting, that is a hawk-billed sword, one I've shown off many times on this show.
And to me, this is like having that in the pocket. Steel frame lock, 14C28N, sorry, left-hand deployment.
This fuller is great for middle finger flicking.
[39:13] Better than the opening hole, though you can bury fat of your finger in that opening hole and it'll fly open. I opted for the black with this beautiful amboya wood. I love the way that looks.
Cetus, by Orion Knives. That is available now, go check it out.
Okay, so I was waxing poetic about my love of Pinkerton Knives earlier, and well, this has been getting a lot of waistband time, this summer because it's such a thin, light package, but damn, is it menacing and capable, if need be.
And that is the triple-edged fire ant, a wharncliffe, or sheep's foot, or dare I say reverse tanto with a triple edge.
You got an edge right up here, an edge here, and an edge here.
They're all wickedly sharp, and they're at the end of bevels that are perfectly hand ground.
Dirk Pinkerton is a master at hand grinding, and he makes a lot, he's responsible for a lot of designs in the production world.
We have many of them, but he also is responsible for these, really, really nicely made, handmade knives.
I have three of them and I want that to be more, and that will be more, because I will get more.
But again, you've got a downward canting to the blade.
[40:38] And knowing Dirk, he does, he puts a lot of thought into self-defense as well as utility.
This is the only triple edge I saw at Blade Show.
He had a number of fire ants with just the primary edge sharp.
[40:56] And that would make a great, great EDC. You know I'm me, and I like triple-edged or double-edged, you know, however many edges I can get.
So I opted for this one. But if you like the design, but not so into the triple-edge, he makes these, all of them, like most of them, without that triple-edge setup.
So a great utility EDC and very easy to carry.
I carry mine appendix and again I have that rubberized inner tube there to stop it from changing angles, especially if I have thin pants material that this discreet carry clip is attached to.
Next up, from our friends at Devo Knives, that's Lefty, that's Kevin Johnson.
[41:44] And Colin Maison-Pierre of CM Designs.
They came together and produced Devo Knives. They have a number of knives out there, but this is probably my favorite. This is the Growler.
You saw this earlier on this channel, months ago when it was a prototype and was doing the rounds, and I bought this one at Blade Show, and I just love it, I love it.
The blade is about 3.6 inches of 14C28, and to me, I used to call it a clip point.
This is a bowie and you don't even know it. But I was wrong.
It's not, it's a Hudson Bay knife, and you don't even know it.
Hudson Bay knife, like the famed trapper's knives used by the Hudson Bay Company and trappers in Canada, you know, in the 18th and 19th centuries.
That's what this reminds me of. Beautiful blade, I like the way it is stepped down from the handle, it really gives your hand and your knuckles a lot of clearance when cutting.
[42:44] What's the clearance, clearance? And when you come up onto this little choil area, this is very comfortable, unlike that little area of that Bestek we were talking about.
Nice carbon, not carbon fiber, micarta, stained right there. When I went out to lunch, I was playing hooky one day not too long ago, and went out to lunch with my wife. She took a break from work. I sat this down on the table after cutting some pork. That stain stay there. I will always remember that romantic afternoon from that pork stain right there on that my car. That is the Devo growler a great knife. All of their knives are themed after drinking no after beer like growler is a jar jug thing that you bring back to the brewery and have your get refilled.
So, they also have a lot of other very cool knives out there.
Okay, next is from American Blade Works, one-man band, Michael Miller, I'm sorry, Michael Martin, and great dude.
[43:51] I have his American Blade Works Model 1, version 5 that I've shown off many a time.
Well, I got this one at Blade Show as a loaner, and it turned into mine when I offered to buy it, and he insisted I keep it.
This is the Model 2. And to me, it's a beautiful design. It reminds me of something from the 30s, Art Deco, like an Airstream, or like an old car or something.
The Chrysler building.
[44:22] It even looks good closed. It is a thing of beauty. One man band, like I said, titanium liner lock.
He's really, really taught himself well how to make knives.
This is my one and only so far MagnaCut blade. And just anecdotally, probably the sharpest folder, in my collection, it seems like it.
I've used it quite a bit since I've gotten it and even before it was mine.
And it just, man, it's like a laser beam slipping between the molecules.
So he did very, very, very well on the geometry of this blade and on the sharpening of this blade, but also on the hardening of this blade. At 63 to 64, that's how magna custa be hardened.
That is the range it's supposed to be hardened at.
And I know a lot of people so far have been squeamish about that.
And I guess that's understandable in a way, but not Michael Martin and American Blade Works.
This thing is awesome.
Go check him out. By the way, I'm going to have a Model 1 wharncliffe coming to me because after he so generously gave this to me, I figured I had to give it to him.
[45:40] I had to buy something from him to, you know, one good turn deserves another A and B.
I really like the look of the Wharncliffe blade he's now putting on the Model 1.
And I feel like I need to have it.
It is kind of aggressive, which I like. All right, next up, again, another fixed blade knife, getting a lot of carry this summer since I got it at Blade Show, from Michael Jarvis and Auxiliary Manufacturing out of Reno, Nevada.
To check out my interview with Michael Jarvis.
Really great guy, former chef. He makes incredible chef's knives, by the way.
But most of what he makes are EDC leaning towards EDC self-defense, but they certainly don't have to be that way. But this certainly is.
This is the Pocket Rocket three-inch dagger, in a great sheath, by the way.
And I just wanna show it in the sheath for a second because this is great appendix carry, because of a small amount of it.
It's a small blade, so a small amount of it is down there poking you south of the border.
So this is a really comfortable carry, and then when you draw it, it is a very effective carry.
A really, really sharp and super pointy dagger blade, three inches here with a medial ridge here that comes to about a third down the blade.
So very stout, but also very, very pointy.
It's not so stout that it's not a good cutter, though.
[47:09] So I feel like this could go through pretty much, with the appropriate amount of force, you could really get this into a lot of, a lot of things you're trying to get it into.
And with a beautifully faceted handle, faceted and sculpted and swaled handle here.
[47:29] It just locks in. It's octagonal and cross-section and really locks in.
It's edge oriented forward or edges oriented sideways. Say you grab it like this, it's still locked in. And then if you want to use it in forward grip, in this sort of spade or shovel grip, that's what I call it because it reminds me of a shovel hook punch, it locks in. Same thing in regular saber grip orientation and it's because of all of these finger grooves.
And that angle. Sometimes angle is better than contour. Sometimes contour feels, you know, so nice, but sometimes you want something angular so that it's not going to turn in your hand and so that it gives you something hard like an angle to brace against. And I think Michael Jarvis and auxiliary manufacturing has really nailed it with this this handle, this pocket rocket handle.
It comes with a pick-all blade you can get, and you can also get it in different size daggers.
So, yep, check it out. Auxiliary manufacturing out of Reno, Nevada.
And this is a great way to get into custom knives, by the way, is going for new-ish makers.
[48:53] Doing fixed blade knives. and you can really get some great stuff.
It's like when I was in art school, I always thought that people who were just out of art school and were starving to, or you know, struggling to survive, either quit making art or made the most intense artwork of their lives because they're, you know, they're burning with passion and also, like this is the option I've left myself.
And I'm not speaking about auxiliary manufacturing, I'm just speaking about new-ish knife makers who are not established by years and years and years and decades of, you can get some very interesting work for, you know, less, I guess, than in the folder realm.
[49:38] All right, next up, speaking of the folder realm, and very un-custom, the Savivi Cynesis.
I've been carrying this one a lot.
I got this several months ago, And what draw me to it was that nice big clip point blade.
It reminds me a little bit of the Waxahachie fixed blade that I have, Waxahachie.
And that's by Sencut, but same family. You know, this is Sabivi.
Tell by the branded pivot, and that's the only writing on there, which I really like.
14C28N, you've got your burlap micarta slab there. No line, oh, I'm mistaken.
There is a liner in there, but you can see it right there, but it feels very light for a steel frame lock that's why I thought it was linerless for a second there, but I like the way they did the three cutouts there and, Nice and thin that makes this steel frame lock light and easy to carry it is big It's a 3.8 inch blade and that blade is blasted, but that doesn't bother me. I know a lot.
[50:42] I know a lot of people don't like blasted blades. Sorry, I thought I cut myself there.
I did, but it didn't break all the way to the skin.
A full belly there, going from full finger choil to tip.
And you get a little bit of that belly pointing downwards, so you can trap some material in the cut right there.
I know with trailing points and such, people don't want to lose the cut, and I understand that.
Here, you've got the point right at the center line, though.
Look at the look at the pocket clip holes here for the left side to the C to the tip and you'll see that that tip is low slung even with that belly so you can get your drag cuts and all that pull cuts done easily. Excellent action and fun to use is this Civivi Cinesys Drop Sheddy. Great, chimp. All right next up this one from our good friend KC at Tempest Knives and Knives Fast.
[51:39] The Knives Fast channel here on YouTube.
He's been knocking it out with his designs. He's got one coming that I am swooning for.
I'm looking forward to that one so much.
But this one stole my heart, and unexpectedly.
Again, I had the prototype of this one about a year ago or so, and man, I fell in love with it immediately. I gotta say, when I saw the looks of it, I was like, oh, you know, not as aggressive as I like, but buh-buh-buh-buh.
And then I got it. and like I said, fell in love with it. You got this grip right up here.
This is a utility beast, by the way.
Got this grip here, you got this grip here. You've got micarta contoured very nicely with the wire clip that accepts the linch clip version of the wire clip.
And you've got awesome action. 14C28N, tall, sheep's foot, nice belly up towards the front.
[52:34] So you get the use of that tip for all these kind of utility cuts, but you also get a more forgiving blade profile there for rocking cuts.
And, you know, sometimes a straight wharncliffe with a super straight blade, you know, is not so good for a certain kind of cutting.
Anything where you need to rock at all. So this is a very accommodating design and a little charmer to me.
And it's got the proprietary pivot.
[53:06] That looks like a racing car wheel there. Tempest knives, check them out.
I know that these, I bought this from KC at Blade Show, and I know that these are on sale now, and you can get other replacement scales for it too, with a different milling pattern, or with a milling pattern.
Okay, penultimate knife in this list is one that I carry a lot, and it's an unexpected knife.
One that I wasn't gonna get myself, and so glad it was given to me, thank you very much, Tim Kel, by Tim Kel Knives when I ordered the Combatant, one that I was really psyched about getting, thought I was gonna carry it all the time.
I like it, I don't carry it as much as I thought I would, but the one that he dropped in the box, in addition, this one here, the Night Stalker, I carry all the time.
Now, by the way, it does not automatically ship with this Discrete Carry slash TKL Knives clip, clip, but you buy it, it's a secondary thing, and it's awesome, it's worth the 11 bucks.
[54:09] Tecal Knives Night Stalker just fits on the belt perfectly, it's so low profile, it doesn't print under a t-shirt, that's why I carry it so much, it is so low profile.
But then you draw it, and it draws really well. I keep it so that my right hand draws it in this grip, And by the way, that ring is perfectly positioned and designed to get a full fist, a full tight fist without putting your knuckles in wacky alignment like many ring knives do.
But then it also has an attitude adjuster here. And then I can draw it just like this.
And I rarely use that ring in left, in forward grip.
[54:56] I like the ring as an extra wide pommel, really locks you in. That's how I like ring knives in forward grip. This is the AEBL, one of the first stainless offerings by TKL Knives, and it's got that slick nickel boron coating that not only makes it, it's not only like a solid lubricant making the knife slicker, borrowed from the gun world, but it also adds a Rockwell hardness, I believe. If maybe, maybe one or two, I can't remember, but again, a great interview with Tim Kel, he reveals that.
You got the forward jimping and replaceable scales, that's what's so cool, there's so many different scales that you can get from them, from cheerful, bright G10.
[55:47] For a little bit of cognitive dissonance to these sort of swirly camo style G10s that I'm very, very fond of.
I love this TKAL knife, it carries like a dream in cross draw, or straight front scout, whatever you want to call it, right at the belt line, horizontally.
And now, last one, this might not be a surprise to you, but I carry this all the time because it carries so well.
That's why I co-designed this version of it.
This is the Knife Junkie slash Hogtooth Knives Nova 1, and this is based on the EDC Tanto by Hogtooth Knives.
[56:27] That has the very same length and the very same handle.
All I did was design the blade and organize a building of this knife, and so there are 25 of these that are being made right now for a late August delivery, I believe.
I'm saying late August to hedge my bets, but things are going well.
He's been sending me pictures.
And it's hollow ground, you know, recurve bowie.
That recurve is meant to be sharpened out over the years so that you maintain that bowie shape.
But what makes this so comfortable in appendix is that, like the auxiliary manufacturing, it's not too long, so it doesn't pokey-poke when you sit down.
And if you need to reposition it, you just angle it, and then the rubber that I put there holds it.
But you got the discrete carry concept clip, and then that overall shape is just perfect.
That length is just perfect.
And then this right here, the pommel of this really nice polished my car to handle, that pommel just, it melts into my belly, you know?
It's very comfortable in, you know, pressed into the flesh. I don't know how else to put it, but you know, if this is riding right against my body under a t-shirt, I forget it's there, it's so comfortable.
And then when it's on top of a t-shirt, same thing.
[57:56] Now, mind you, it's oriented this way in my belt. This is the appendix, and then the curve of my, the side curve, you know, my belly's right here.
[58:08] But, you know, it kind of comes out a little bit, and this feels really good.
It just melts into the belly, that's all I'm trying to say. So that's what I had, this is what I've been carrying most fixed blade wise.
That was difficult to finish. But let me just tell you, this knife is exciting and so are all these others and I'm really happy that I'm opening myself up a little bit to not being so rigid, rigidly in my wheelhouse. It's got to be a 3.5 to 4 inch blade for me to carry it in the front right.
[58:39] Or, alternatively, it doesn't. All right, well thank you for joining me on this most carried Knives of June 2023 listing. It was great to have you here with me and yelling at the screen telling me what you've been carrying. Please leave those comments down below. Greatly appreciated. Be sure to join us tomorrow night for Thursday Night Knives and if you're listening on the day this is released tomorrow night is June 6 2023. We are going to be giving away this very patriotic Oh Knife Oh Light package to one lucky winner who can type hashtag knife in the comments. Also, be sure to check us out on Patreon, you can go to the knifejunkie.com slash Patreon, or scan the QR code on your screen. For Jim working his magic behind the switcher. I'm Bob DeMarco saying until next time, don't take dull for an answer. Thanks for listening to the Knife Junkie podcast. If you enjoyed the show, please rate and review at review the podcast.com. For show notes for today's episode, additional resources and to listen to past episodes, visit our website, TheKnifeJunkie.com.
You can also watch our latest videos on YouTube at TheKnifeJunkie.com slash YouTube.
[59:51] Check out some great knife photos on TheKnifeJunkie.com slash Instagram and join our Facebook group at TheKnifeJunkie.com slash Facebook.
And if you have a question or comment, email them to Bob at TheKnifeJunkie.com or call our 24-7 listener line at 724-466-4487 and you may hear your comment or question answered.
[1:00:11] On an upcoming episode of the Knife Junkie Podcast.
[1:00:14] Music.
Share This With a Friend >>>
For early access to The Knife Junkie podcasts and YouTube videos, receive Knife Junkie stickers and be entered into the monthly knife drawing giveaway, join The Knife Junkie's Patreon group of awesome supporters.
Knives, News and Other Stuff Mentioned in the Podcast
Pocket Check
• Spyderco Spydiechef
• JWK Venom Jack
• TOPS Felony Stop
• Wingard Wearables Quill (ESK)
State of the Collection
Artisan Xcellerator (affiliate link)
Bestech Skirmish
Bestech Keen
Ocaso Knives Solstice & Leather Case
My Most Carried Knives: June 2023
• JWK Gunslinger Jack
• Orion Knives Cetus
• Pinkerton Fire Ant
• Divo Knives Growler
• ABW Model 2
• Auxiliary Manufacturing Pocket Rocket
• Civivi Sinisys
• Tempest Knives Microburst
• T.Kell Knives Nightstalker
• TKJ/Hogtooth NoVA-1
Let us know what you thought about this episode. Please leave a rating and/or a review in whatever podcast player app you're listening on. Your feedback is much appreciated.
Please call the listener line at 724-466-4487 or email bob@theknifejunkie.com with any comments, feedback or suggestions on the show, and let us know who you'd like to hear interviewed on an upcoming edition of The Knife Junkie Podcast.
To listen to past episodes of the podcast, visit theknifejunkie.com/listen.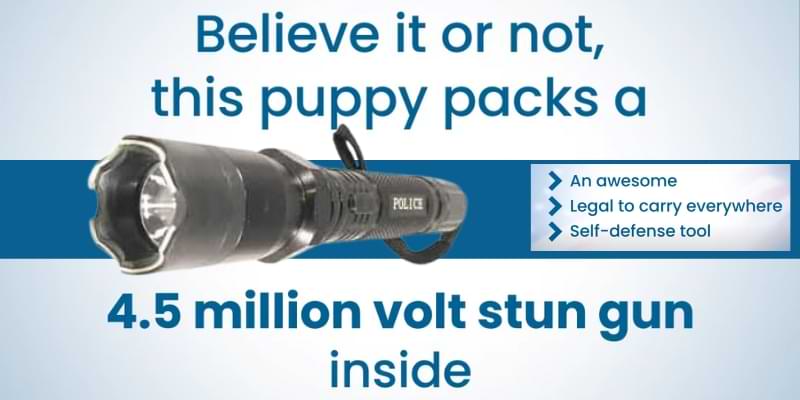 Shopping for a Knife?
Support The Knife Junkie Podcast and YouTube Channel by Buying Through My Affiliate Links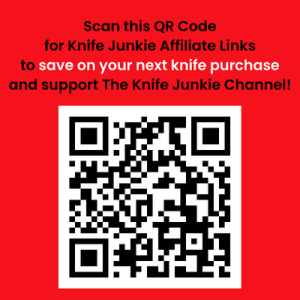 Bamba Forge
eBay
Field Supply
James Brand
Knives Ship Free
Off-Grid Knives
Vosteed Knives
WE (Civivi) Knives
Other Products and Services
Podcast Hosting
Website Hosting
Groove (Free Account) – Replace 17 Apps/Services in Your Business
Knife Books
Rakuten (Cash Back for Shopping Purchases)
Upside App (Cash Back for Gas Purchases)
TubeBuddy (Free Browser Extension and Mobile App for YouTube Creators)
Follow The Knife Junkie
Visit The Knife Junkie website
The Knife Junkie Listener Line — 724-466-4467
Email The Knife Junkie
Follow The Knife Junkie on YouTube
Follow The Knife Junkie on Instagram
Follow The Knife Junkie on Twitter
Join The Knife Junkie Facebook Group

Affiliate Disclosure
In the name of full transparency, please be aware that this website contains affiliate links and any purchases made through such links will result in a small commission for me (at no extra cost for you). If you use these links, I might be rewarded credit or a small commission of the sale. If you don't want to use these links, no problem. But know that I truly do appreciate your support.