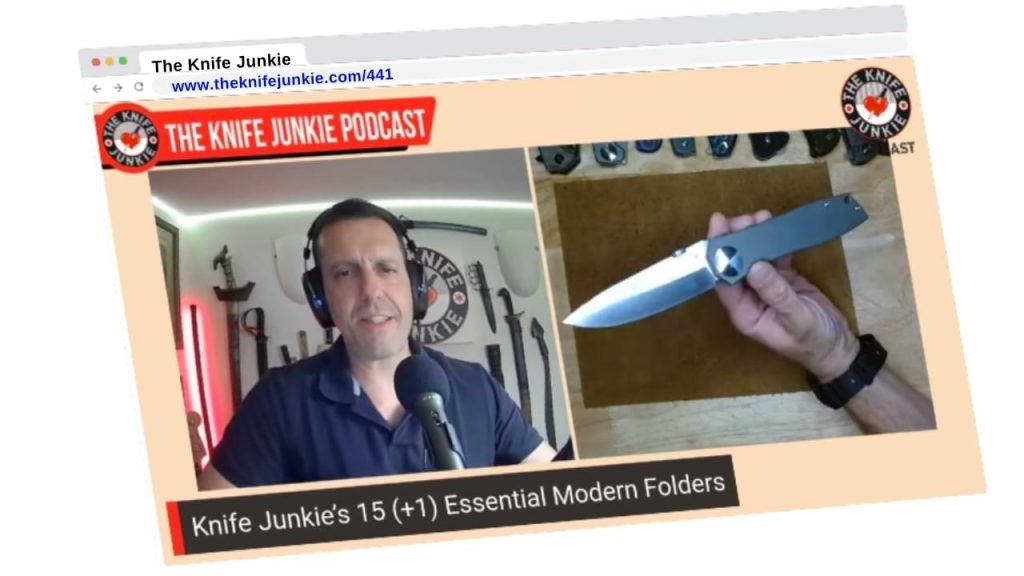 My 15 (+1) Essential Modern Folders – The Knife Junkie Podcast (Episode 441)
On the mid-week supplemental episode of The Knife Junkie podcast (episode 441), Bob "The Knife Junkie" DeMarco looks at his 15 (+1) essential modern folders, including the Emerson Seax, George Knives VECP, and the TRM Atom among others.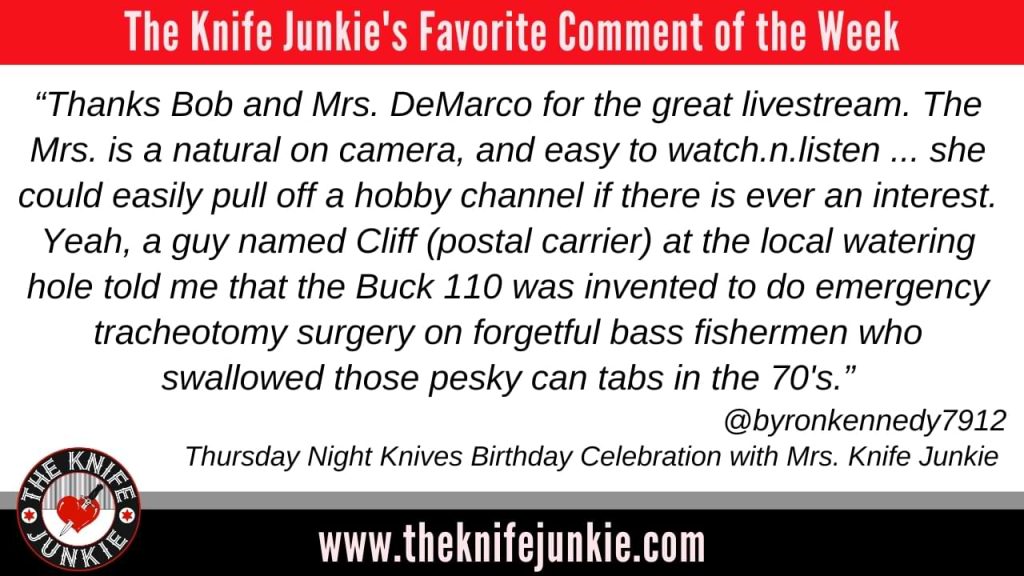 Bob starts the show with his favorite comment of the week, followed by his "pocket check" of knives — the ABW Model 2, JWK Laid Back Jack, Hogtooth EDC Tanto, and the Divo Growler (Emotional Support Knife). He also provides an update on progress on the NoVA-1 collaboration knife with Hogtooth Knives.
In Knife Life News:
Dr. Who Inspired Knife from Bestech and Ostap Hel
New Civivi Sentinel Strike is a Budget We Ziffius
We Knife Coming Out with New Limited Edition Knives
USN Gathering Starts at the End of the Month
Meanwhile, in his "State of the Collection," Bob looks at two notable non-knife acquisitions: the Seiko SNJ025 "Arnie" (watch) and a Zippo Butane Insert.
Bob also provided an update on the NoVA-1, with an expected delivery date in early September.
Find the list of all the knives shown in the show and links to the knife life news stories below.

Be sure to support The Knife Junkie and get in on the perks of being a Patron — including early access to the podcast and exclusive bonus content. You also can support the Knife Junkie channel with your next knife purchase. Find our affiliate links at theknifejunkie.com/knives.
This week on episode 441 of #theknifejunkie #podcast, I'm showing off my 15 (+1) essential modern folders. What do you think of the list? What are your essential modern folding knives?
Click To Tweet
Read Full Transcript
The Knife Junkie Podcast is the place for knife newbies and knife junkies to learn about knives and knife collecting. Twice per week Bob DeMarco talks knives. Call the Listener Line at 724-466-4487; Visit https://theknifejunkie.com.
©2023, Bob DeMarco
The Knife Junkie Podcast
https://theknifejunkie.com
[0:00] Welcome to the Knife Junkie podcast, the place for blade lovers to learn about knives, and hear from the makers, manufacturers and reviewers that make the knife world go round.
I'm Bob DeMarco and coming up a doctor who inspired best tech in knife life news. We're going to take a look at two non knife acquisitions notable indeed. And then the knife junkies 15 essential modern folders.
Welcome to the Knife Junkie podcast, your weekly dose of knife news and information about knives and knife collecting. Here's your host, Bob the Knife Junkie DeMarco.
Welcome back to the show. My favorite comment was on Thursday Night Knives last week when my lovely wife joined me for the live stream. It was my birthday and she helped me celebrate.
This was from Byron Kennedy, great friend of the show, and he says, thanks Bob and Mrs. DeMarco for the great live stream.
The missus is a natural on camera and easy to watch and listen to.
She could easily pull off a hobby channel if there is ever an interest.
[1:08] Yeah, a guy named Cliff, postal carrier at the watering hole, local watering hole to me, told me that the Buck 110 was invented to do emergency tracheotomy surgery on forgetful bass fishermen who swallowed those pesky can tabs.
Now, he's, two different things here. I love this because he's, of course, mentioning my wife and how lovely and charming she is and how much he enjoyed that show, which I did as well.
But also, he's mentioning this thing that I found and I mentioned on that night, my birthday night.
And this thing I found on my birthday day, walking around with my girls, made me feel really old.
Some of you may know what it is. Some of you, maybe not so much.
But this is a pull tab from the top of a soda can or a beer can or something back in the day.
I think they changed this in the very early 80s or late 70s, whatever it was, I remember, when they went to the current fashion of tab on soda cans.
[2:09] You would pull this thing off and a lot of people who didn't really have it going on between the ears would drop it in the can and drink. And this is what Byron was referring to.
So he's not only in one breath, he's complimenting my wife and in another breath, agreeing with me that I am old.
Those tan tabs are pretty amazing. I can't believe I just found it, just kicking it in the stream.
So thanks one and all for watching, commenting, liking, and subscribing.
Be sure to do that and also share videos, share these videos, these podcasts with friends. That helps the show.
And also, some people might not know that we're here, so you could be helping.
Of course, there's also the podcast apps.
All right, well, all of that being said, yes, I think it's time for a Pocket Tech.
In my front right pocket today, I had the most beautiful and well-engineered.
[3:09] American Blade Works Model 2. Model 2. This is, of course, the second model from American Blade Works, as you can tell by the name. A company headed up by Michael Martin, who is not only, someone who taught himself how to make knives, but really paid attention to the people whose hands he got them into, and really perfected that Model 1, taking it through six iterations and landing on version six for his regular production model. Well, he went through some similar R&D for this, but, maybe not as much as he learned something along the way making the model. One this model to this was my first Magna cut blade. I just got a second one like moments before we started rolling here. So I'll show that on next week's show and on, Thursday's show, a very nice surprise knife that showed up in Magna cut but this being my first Magna cut. I'm so thrilled because American Blade Works runs their MagnaCut at 6364 Rockwell hardness, which is the sweet spot, according to Laron Thomas, the man who invented this stuff.
So that being said, this blade here is an exquisite work because I know that it's heat treated, right, and it's in this great steel.
[4:30] That's all stuff I'm taking on faith. What I'm not taking on faith is how incredibly sharp this thing is.
I love cutting with this knife. It's like an effortless effort.
It just glides through material. And that sheep's foot blade is about as blunt as I'm willing to go, of course.
It's got a nice point there and great for utility. But you know I'm always thinking of the secondary weapon aspect of a knife. And this one is just barely there in terms of thrusting, but you can make that work.
Of course, that's not something that comes up day to day for me, so I'm not really serious when I talk about that, but that's more of an aesthetic thing.
Here, speaking of aesthetics, just an absolutely stunning knife closed.
In my opinion, this knife is evocative of 1930s design, Art Deco cars and trains and airplanes and buildings and all that stuff. I always say it reminds me of the Chrysler building, my favorite building on the New York skyline.
Okay, next up I had, as you may guess, the new laid back jack in my pocket.
This one has acquired a snail trail on that big, beautiful, blasted, Barlow, um...
[5:44] Bolster. Lots of B's there. Uh, yeah, just got a snail trail I noticed the other night on Thursday Night Knives.
Gotta say, that bums me out a little bit, but hey, it's not the end of the world for sure.
Uh, the, the, um, gunslinger, which does not come with a slip, which I do not keep in a slip because it's got a clip, that's the one that I'm I'm looking forward to watchin' get weathered.
All these other, uh, jackwolf knives that live in their comfy little leather sheaths.
I don't want them to get messed up.
That is not messed up, that is just a tiny snail trail that I can see.
This, by the way, I was just looking online today.
[6:27] And that's two days ago. If you're listening to this the day this drops, there are still some of these available in the two titanium versions and this wood version.
One of them is sort of a blasted plain Jane, quote-unquote titanium, the other one is a nicely patterned, sort of rock-patterned titanium, or jigged titanium.
I'm surprised that those haven't sold out immediately. I'm not surprised the wood didn't, but because a lot of people, I don't know, they're not so crazy about the natural materials, but this wood is exquisite.
If you have a love of guitars, or basses, or fretted instruments, you might take to this in a special way, because that's rosewood, Oftentimes guitar fret boards are made of rosewood.
It's got a warm, beautiful look and feel.
And on this knife, with the hand satin blade, which is just exquisite, and the incredibly, insanely sharp blade, The wood is very very nice.
[7:29] Touch, I love it, and I love it on a modern slip-joint. I think it's an awesome addition there.
Okay, so in the waistband, oops, sorry about that. In the waistband today, I did not have the Nova 1.
I had its cousin, its older cousin, the hogtooth EDC Tonto, great sheath.
I always show this with the sheath. This is the one that got me interested in designing the Nova 1, which is.
[7:57] Which is Matt Chase's of hogtooth knives. It's his platform, this platform, with a different blade.
Same length on the blade, just a blade of my design. But again, his incredible hollow grind, 154CM.
We got this razor, this knife is razor sharp. It is so damn sharp.
And it's robust. 154CM we don't think of necessarily as an outdoor steel.
Well, we think of it as an all-arounder. It's a great all-around steel.
But this was, this is one of my best feather stick makers, at least that I've tried.
And I discovered that once when I was taking a bunch of my hollow ground folders out, and seeing how they would do making feather sticks on that sort of nasty kiln dried wood that you get outside the grocery store.
And they all felt like they were gonna snap.
And this one just went to town.
I love this dagger. This is a regular design of Matt Chase's, except usually it's got a handle that has the scallops in the center.
The reason this one does not is because I got this one with that rubberized G10.
So it's thin layers of rubber, punctuating thicker layers of G10, and when the rubber is presented, when you sand it, it's just ever so slightly grippy.
But anyway, he doesn't put that pattern in this handle material.
[9:24] Just a great knife. If you like the Nova 1 but missed out on that, by the way, that is shipping to me at the end of the month and shipping out sometime in September.
I'm gonna say, you know, first week of September, I wanna get them out as quickly as possible.
But if you missed out on that and you like the form factor and the size, check out Hogtooth Knives and the EDC Tonto.
This is one of his standard models.
[9:54] Who knows, the Nova 1 maybe someday might become that as well.
All right, and lastly on me for emotional support, where did it get to?
Uh-oh. Haha, well, I had it out and I guess I used it.
Yeah, sorry. Well, anyway, we're nothing if not authentic here on the Knife Junkie podcast.
I did have the Devo Growler on me, and that was my emotional support knife.
Just imagine that cool growler in my hands close up, and I would be telling you about how amazingly thin and slicey that blade is.
I would also be telling you about how, when I initially assessed that knife, I thought it was kind of like a clip point, but now, now that I'm older and wiser, I think it is more like a, the fur trader's knife, the Hudson Bay knife.
Some subtle differences between that and the Clip Point, but it reminds me of that, just a modern folding version of it.
That thing is so broad, thin, and slicey, it is one of the best cutters I have in my entire collection, and that's Kevin Johnson, LeftyEDC.
[11:04] And Colin Maison-Pierre of CM Designs coming together to make Devo knives.
That's what I had in my pocket today. Tell me what you had, drop that in the comments below.
Of course, for me, fixed blade, slip joint, modern folder, and then some sort of gratuitous carry, for just pure appreciation. So, in a way, that's kind of my art knife of the day.
[11:29] Wow, that was something else. Okay, well, speaking of the Nova 1, let me tell ya, I got a couple of pictures from Matt Chase.
This is the Nova 1, if you don't know. This is the knife I was just referring to.
We made 25 of them. We.
Matt is in the process of making 25 of them. And here are some of the, here they are right here.
He sent me some pictures. They are beveled, you know, with their hollow ground bevels.
They are heat treated. They now have the micarta handles. This was a couple of days ago.
And so I'm presuming at this point he's begun shaping those handles.
And all of this while finishing 30 knives for his old sniper platoon.
Platoon is probably not the right word, but a bunch of 30 sniper knives that only, he only will give to snipers, he doesn't sell them to Marine Corps or Scout snipers.
So he did that and this all on a broken leg. So he's crushing it, he's also doing his forging work and stuff like that.
Matt is a wonderful guy and he is a tough mofo. He walked his 700 pound motorcycle home after wiping out and breaking his leg.
So knocking out a couple of Nova 1s ain't nothing.
[12:54] So don't worry, the Knife Junkie logo will not be that large.
[13:00] All right, still to come on the Knife Junkie podcast. Let's take a look at a few stories in Knife Life News. Then after that, two notable acquisitions that are not knives. And then we get to my 15 plus one.
Ultimate Essential Modern Folders. If you're a knife junkie, you're always in the market for a new knife, and we've got you covered.
For the latest weekly knife deals, be sure to visit theknifejunkie.com slash knives.
Through our special affiliate relationships, we bring you weekly knife specials on your favorite knives, help support the show, and save money on a new knife.
Shop at theknifejunkie.com slash knives. That's theknifejunkie.com slash knives.
You're listening to the Knife Junkie podcast. And now here's the Knife Junkie with the Knife Life News.
Okay, Knife Life News. Here's an interesting one from our good buddy Ostop Hell from Poland and Bestech.
This is a Doctor Who inspired knife. Sorry for the voice crack, but it was unusual.
This knife is called the Tardis. And this article on Knife News doesn't mention any, makes no references to Doctor Who, but if you know Doctor Who, he gets around the universe and slips through time, in a British phone booth called the TARDIS.
[14:26] And when this thing is closed, it kinda looks like it. But it's a budget-minded, high-concept knife, I would call it, high-concept. It is a cleaver, but it's a very modern-looking cleaver.
That's a D2 3.15-inch blade with a nice big fuller there. Looks totally inaccessible for flickage, but I can't, of course, I can't quite tell without having it in hand.
Sometimes, even though you can't, you can barely see, a fuller, you can wedge your finger in there.
So looking at this view that Jim has up on screen, you can see how it looks like a phone booth.
And then when opened, we can see from that handle contour how much this is an O-stop held design. That just looks like the, um...
Any number of his handles kind of widened out. But interesting blade shape, you know I don't go in much for the cleavers, I'm not too keen on anything that you can't stab with.
Just because it seems like half a knife.
But this one is really kind of cool to look at. And Ben Schwartz of Knife News mentions, This is like the perfect little office knife for opening packages, opening up boxes, opening up mail, you could do with this.
And it's charming and 100% not intimidating.
[15:54] So that is the Doctor Who inspired TARDIS knife from Ostop Hell and Bastek.
Okay, next up, this is a knife, this is old news at this point, but I wanna talk about it anyway because I wanna talk a damn thing.
A bunch of you guys have it already, that is the Civivi Sentinel Strike.
It is a budget Wee Ziphyus, if you will. The Wee Ziphyus came out and sold out immediately. Immediately!
I think it was only two, 500 or 280 pieces, I don't know. One of the two, you choose.
But doesn't matter because you don't have one and 280 or 500 others do.
And the cool thing about that knife is that it's a wharncliffe and it had a, we're talking about the Ziphyus now, and it had this amazing Timascus backspacer.
[16:44] That is sort of integral. So it's not a backspacer, but it's an overcap, for the back of the handle, an integral backspacer.
Cool as hell, well, they decided to bring this to the budget market, the high-value market.
I don't want to say budget, because everyone's budget is different, but this is definitely high-value.
This is about 110 bucks now, through Civivi, so you know it's going to have that incredible Wee Civivi SenCut build, this one just has lesser materials.
You're dealing with K110, that's analogous to D2, that's a 3.7 inch blade, that's a nice big knife there.
And then you have aluminum scales with a GRN backspacer, integral backspacer, so it's doing the same thing just in lesser materials.
So that is available now. I'm sure a bunch of you guys are flipping it as I talk about it, saying, Bob, you're always late to the party, Bob.
Well, you know, there are lots of parties to go to, so I will get there eventually.
That is the Sentinel Strike from Civivi. Okay, next up from Wii.
We like Wii knives here. Even though I don't have too many Wii knives, you know.
I think I tend more towards the Civivis. But in any case, they have a new one coming out called that.
[18:07] Nexuja? Nexuja is what I'm going with. Nexuja. And it's a limited edition knife. Nice shape, but I gotta say, that's not exactly something brand new from WE.
I feel like I've seen this before, but no doubt a luxury knife.
You've got this really nice sort of flame anode handle, titanium frame lock.
Nice sculpted titanium pocket clip. You have the three little relief cuts instead of one big trench in there for the lock bar.
And then the real USP of this is the big 20CV blade. It's not big necessarily in overall size at 3.48 inches, but it is broad and it has a big giant fuller.
So it has the impression of size. The Nexusia, again, this is another limited one.
I think they're keeping it to, what did we say here?
I think 405, 405, something like that.
You can see right up at the tip, it looks like a flat, like a bit of a flat grind there, and then a hollow grind on the main.
[19:19] So, neat, neat. You can tell I don't like it, because I called it neat.
It's cool, it's, it's a solid offering by Wee Knives, I'm not crazy about those holes, the holes on it remind me of some late 90s, early 2000s Kershaw's, and well, too many notes.
[19:40] But there you go, that's my take on the Nexuja, also an unwieldy name, let's be honest, the Nexuja, but I know that's a struggle, the name thing.
So Wee Knives, keep your eyes on them, they're always doing something cool.
Alright, last up, I just want to say that the USN gathering, this is number 14, is coming up at the end of the month, and the gathering is something that actually started in the Knife forums, I don't know which one.
This is before the Usual Suspects Network started.
The Usual Suspects Network started from a bunch of Strider and Emerson enthusiasts originally, I believe.
Anyone who wants to correct me in the comments can. That was the basis for it. I think that they were in one of the forums and then they broke off, started their own forum, and then eventually started doing this meetup, the gathering in Vegas every year at the end of summer.
And the cool thing about the gathering is that...
They have this concept, I think they call them quadrants, where a table will have four different makers.
[20:54] At the four different quadrants.
Two of them will be sort of in the prime of their career, and then two of them will be up-and-comers.
So the up-and-comers are getting exposure from the more seasoned makers, and the more seasoned makers are getting infused with some of that new energy.
The energy that a new artist brings to anything is infectious and awesome and they're willing to take chances and some of that rubs off on the older guys.
Now that is my own assessment, I don't know if that's actually true, but I could see how a seasoned person being around someone young and enthusiastic, you can get just as much out of that as vice versa.
Anyway, so that's a cool way to set up the show. And then it's also known for The Cove.
And the Cove is, I used to belong to the USN, the Usual Suspects Network, which is kind of like a forums thing.
And I used to belong to it to buy and sell. And I just didn't end up getting much traction there, so I didn't.
[21:57] But the place that I went to buy and sell was called The Cove.
That's what it is on the website.
So at the gathering every year, they have a real live Cove. So you can come there with your knives and trade and sell and buy from other enthusiasts are at the show. So it's kind of like the pit at blade show, but you're also buying, selling and trading from one another. So it just sounds like a really awesome thing. One of these years, I got to get my butt out there. But man, I'd love to go to every one of these shows. But that's not gonna happen this year. But one of these years, it will. All right, that's it for knife life news. Coming up, we're going to take a look at two notable non non night acquisitions right here on the Knife Junkie podcast. Website and blog hosting, email marketing, e-commerce stores, video hosting, live streaming, and more. Theknifejunkie.com slash solution.
And now that we're caught up with Knife Life News, let's hear more of the Knife Junkie podcast. If you were here on Thursday for Thursday Night Knives, August 17th, my birthday, you saw this. I couldn't stop talking about it. This is my new watch that my wife got me. This is the Seiko SNJ025, otherwise known as the Arnie.
This is the reissue of the watch that Arnold Schwarzenegger wore in some of my favorite movies in the 80s, Commando, Predator, Raw Deal.
[23:24] Another, I think there are a couple of others where he was wearing this watch just being a badass and I always loved it.
First from Commando where they took this watch and they actually tweaked it a little to make it more dramatic for our screen I guess where they kept the digital but they made two dials on there instead of one dial.
Anyway, it was the same watch, same sort of turtle, um, uh, not shell, but same, uh, turtle case from Seiko.
That's like a metal case here, dive case with this plastic shroud.
This is a solar watch, solar quartz. So, uh, it's going to last for a long time on that solar quartz battery system.
And there's a lot to this watch that's very cool, but I wanted to show it off because I'm very proud of it.
I love it. I'm very excited to have it. I've wanted it for 40 freaking years, and my awesome wife got it for me for my birthday. So I feel a little bit like John Matrix.
Okay, other than that, oh, well, what watch do I have on me here?
Let me just show this really quick.
This thing, this is a $20 Casio.
It looks just like a Luminox Seal watch.
[24:44] This is a great banger, too. $20, it looks great, that bezel works.
The only problem with it, well it's super accurate, the only problem with it is not much loom.
So, an interesting thing. The last thing I wanted to show off, you know I talk about cigars every once in a while, I'll smoke a nice cigar.
I have these Zippos from when I was a smoker back in the day in college and high school and I had Zippos, my brother got me this one.
It's a Vargas girl, a Varga girl.
Varga was a pinup artist, painted all these, you know, gorgeous pinup girls.
And this one, so I got a Zippo butane filler, finally.
[25:29] So you see that jet flame there? That is the perfect flame for lighting a cigar.
So I don't know why it took me this long to get one of these things to put in my Zippo.
But if you don't like the taste of Zippos, Now, when I smoked cigarettes, I actually liked the taste of the Zippo fluid when you lit a cigarette and you tasted that and inhaled it and it tasted good.
I don't like that taste with other things. Well, cigars, for instance.
I don't like that taste, so that butane filler is cool because now I get to be cool with the Zippo.
Oh, that wasn't cool. Neither was that. All right, well, just pretend I was just being cool with the Zippo and I get to enjoy it as a piece of kit without having to use a plastic disposable.
So, definitely, definitely a cool thing to check out. All right, so another cool thing to check out, we're gonna get into are, I was thinking about what are the essential knife, knives out there.
Now, I recently did one where I was talking about timeless knife designs.
[26:32] And I was really going for designs that you cannot argue with.
These things are timeless and classic and there is no arguing that matter and end of story.
This is more what I consider my 15 essential modern folders.
Basically, what it comes down to is if I had to get rid of all the other modern folders, heaven forbid, because I have a lot that didn't make it onto this, these are the ones that I think are essential.
So let's start out with the big one. This is the Demko Knives 8020s.
And this is the big boy. You know, this is a machine ground 8020.
You can get the machine ground.
[27:17] Which is a less expensive knife, or you can get the hand ground if you're made of money. No, I'm just kidding.
But if you have good timing and are tenacious, you can get a hand ground model of this.
But this is essential to me because it is Andrew Demko, arguably at his best, because all of the things that have come before this, incredible accomplishments in design, innovation with locks, and everything he did with cold steel that propelled him forward, but all of those things came out of his custom knife work.
And to me, this lock really is the one that.
[28:04] That wins the day. Now, the triad lock, who knows? It might be stronger, This one has a string.
Pretty awesome strength, plus it's got flexibility, it's got charm, it's got that X-factor, that je ne sais quoi that we get from flipping and closing and driving our wives crazy.
And you know what? If you don't have the desire to save up to get one of these machine ground 8020s, or yeah, 8020s, or you don't have the desire to save up to get and wait around and do the work to find a hand ground one, you can always get a very awesome and Taiwan made 8020.5.
It's gonna be smaller, it's gonna be slimmer, it's gonna be easier to carry, but it will have the same great design and you'll love it.
[28:58] This is a chunk to carry, I gotta say. Something I've always loved about this is the wampum PA right there. Well, Demko knives there and wampum PA on that side.
Proudly made in Pennsylvania, which if you've never been there, is an absolutely beautiful state. just drive through it, but I love Pennsylvania.
Okay, next up, Spyderco. You know everyone's thinking PM2, but I'm not.
I was thinking this right here. This is the Yojumbo.
Now, the Yojumbo has some of what the PM2 has, i.e. it has the compression lock, and it's got this thing going.
It's got the awesome deployment and closing and fidgetability and all that, But what it has is this big, four-inch, broad, hollow-ground wharncliffe, which is an amazing utility blade.
[29:57] It also happens to be an amazing tactical blade. So those two things put together, I think, make this an incredibly versatile knife, maybe even more versatile than the PM2.
Though, this being hollow-ground and having a dainty tip, there are things you wouldn't want to do with this, that you would do with the PM-2, but all things being equal, which they aren't, admittedly, I would still say that this is the more versatile knife if you're someone who goes utility EDC into possible weaponry.
[30:32] And why the Yojimbo? Well, because it's the jumbo one. I love the Yojimbo, and actually, I think the Yojimbo II has better lines. It's a better-looking knife than the Ronin.
It's a better looking knife than the Yojumbo or the Microjumbo that's coming out.
It's better looking than all of the other knives, that's the Yojumbo too, but it's still not the one I would choose because I might be superficial, but people, I'm not that superficial.
That's only got a 3.25 inch blade and I need more.
So that's what I would choose. This, of course, this Yojumbo, I took that G10 partition off of the handle there, smoothed it out, and man I love this thing.
[31:16] Probably my favorite Spyderco. Okay, next up, this one is the Riat K2.
This is still the knife I go to when I want to talk about Riat.
It also might be the knife I go to if I want to talk about an exquisite Tanto blade. I absolutely love this Tanto blade, to use and to look at. It's got this very very nice thinly ground hollow straight here and then of course you've got that Riat satin machine finish it's so beautiful and then you've got the flat up here and a nice belly on that forward portion. Beautiful to look at that handle contouring the titanium everything about this but the action this was the first knife I had that had drop shut action besides the SOCOM Elite, but I didn't really understand the nature of dropshot action when I got that, one. This one has versatility. I mean, it's a charming, good-looking knife. You pull this out, obviously you know about knives. There's some menace there if you need it, but if you just need to use it, I mean, I could be in my own echo chamber, but I think this thing.
[32:37] Eh, it's pretty threatening, alright, I'll back off of that.
But yeah, with the dragon scales and the bronze handle, I'm so happy.
This was the only one they had left when I bought this.
I really hemmed and hawed because of the price when they came out, but I had to have that blade. I just thought that blade was so beautiful.
And when I finally moved and saved up enough money to buy it, the only one they had left was the bronze with the sort of dragon scale.
And so I got it. I'm so glad this is the one I ended up with because they had these other ones that I thought were cool, I really wanted at the time, that were anodized blue, like a light blue, and then they had these silver diamonds that were supposed to evoke the Tsukamaki wrap on a samurai sword, and I liked that.
But now, the bronze, oh yeah, the bronze is so nice. But a Riat, nonetheless.
I have a few Riats, and this one is the one I think of when I think of the consummate Riyadh knife, and they just make incredible things.
Next up, speaking of the Microtech SOCOM Elite, I'm gonna show you the Microtech SOCOM Elite.
This, of course, is my road trip knife.
This knife was a lot of firsts for me. This was my first knife, an S35VN.
It was my first Microtech.
It was my first knife for the glass breaker.
[34:06] This was my first knife with bearings and I didn't even know it.
I just thought it was so excessively, oddly smooth. I was like, what, I don't, why is this, how can it be?
And then, you know, this was made in 2013, and in 2013, that's 10 years ago, they were not such a big deal. People were not like, it was not the cost of admission.
[34:30] Most knives were still on washers, so the smoothness of this was spooky.
But now in modern age, it's par for the course, and I gotta say, it still has some of the best bearing action out there.
Got some schmutz on there. This thing has done it all, because every time I take a trip in the car that's longer than like two hours, I put this in my pocket, because I originally started doing that because of the glass breaker, and just in case.
These make excellent unopened weapons, like this is hand, this is like perfectly made for a hand in this position, but you can break glass with that.
So this became the road trip knife. So this has cut all manner of things.
This is like opened up oil, taking the seal off of oil things and windshield wiper fluid.
It's cut waffles in all manners of breakfast and burgers and meals and stuff.
This has done it all.
And it's been in my pocket. tip down the entire time. That's how great this knife is.
This and the military get the pass on the tip down, but now that there's the military too, That pass is going to go away.
[35:45] Great knife, so why is this one of the essential modern folders, well, because I like to get in the car and drive for longer than two hours.
Next up, I had to have an Emerson on this list, and I really hemmed and hawed over which one it would be, and initially I was thinking the Commander, it's gotta be the Commander, but that's not the one I carry all the time.
This is the one I carry most of the time, and I absolutely adore this knife.
I think it's one of the best they've ever done that I've gotten my hands on.
And I'm surprised they have not done more Sax-style blades, considering Ernest Emerson is a proud Norwegian.
[36:28] Or proud, is he Norwegian?
I don't know, he's got some proud Nordic blood, ancestry in him, and you'd think he'd, and this knife was so popular, you'd think he'd do more of these sort of Sax-style blades, He seems totally devoted to the Bowie, and I cannot blame the man.
It's an amazing blade shape. But this one, when this came out, just won my heart.
I had to do a couple of things, though, because the clip, if you know the Emerson clips, meets that standard.
They call it Benchmade Clip, I guess. But it was starting right here, so audaciously high, rides up ridiculously high. Had to get, the loop over pocket clip here, this is an MXG gear clip.
This is one that I keep thinking I'm going to send off to Vantage Bladeworks to have Tom Engelson make new handles for this.
I just haven't yet, because I love it, how it is, so much. The blade is so incredibly sharp.
Of course, it's a chisel, ground edge, and a V-ground blade.
Those bevels are V-ground.
[37:36] I didn't like the ergonomics when I first got it compared to most other Emersons, but now I really, I don't even think about the ergonomics. They're just natural to me.
And that blade is just incredible.
Once before CM, nice big, generous wave feature there. So it waves out perfectly.
You have to have a wave knife, a waved knife in your collection.
Whether it's an Emerson wave like this, or a Kershaw Emerson, or a ZT Emerson with a wave, or any number of other companies that have bitten off that concept, like Cold Steel with the thumb plate, or you know, whoever else.
You gotta get something that you can tear out of your pocket and immediately deploy, just to have an essential, it's gotta be part of your essential modern folders collection.
Okay, next up, an absolute beauty is the Sinkovich designed zero tolerance 0452CF.
[38:41] 0452CF, the big one. That's a 3.25 inch, no, that's a 4.125 inch blade, five inch blade so four and an eighth inch s35vn blade and just I can't say enough how beautiful I think this knife is. And many of the Sienkiewicz designs just are naturally, they just touch me in a way that other designs don't.
I don't know, something about this knife is so perfect. And there was a whole series of this, there was a ZT limited edition that came out first, you know, with the jigsaw blade.
[39:23] With the different steels and stuff.
I don't need that fancy pants stuff, I just need this blade profile.
Much like the Socom Elite, something that I love about this is the downward thumb ramp with the jimping.
So it's like you're pulling back and it keeps the knife locked in hand really well.
And this knife has that same thing.
The 0452CF was for a while my smoothest knife.
I don't consider it that anymore, but look at the beautiful shape of that.
[40:05] Just perfect. It's big, but it's slender. Same thing with the clip, though.
Bad clip. It had this really cheesy Kershaw clip, and so I replaced it with an MXG gear clip to fit this knife.
Titanium sort of interferes a little bit with the scoop out there but not too badly it's long enough that the tension on it isn't so bad if this is too too big for you check out the zero tolerance 0 450 that's the smaller one and just a gorgeous design very useful design all right that was a big one at 4.125 We're going to narrow it down a little and bring it down for these next two because these are essentials, but they are not front right pocket knives and the rest of these really are.
[40:58] First is the Jack Wolf Knives Gunslinger, a stellar bolster lock, look at that thing.
This thing is just a beauty to look at with that Arctic Storm blue carbon fiber, the blue blue anodized titanium backspacer, and then the blasted titanium bolsters, triple fluted.
[41:24] Up here at the front bolster, single fluted back here. And then Ben Belkin, after designing 13 really awesome slip joints, just up and designs an awesome front flipping bolster lock.
So, I mean, the man can design a knife. And he's versatile.
This is really, really good at what it is.
[41:46] And he has gotten really, really good at doing slip joints. So it's cool to see that the moment he steps out of that, he's successful with this thing.
Over the summer, this has gotten a lot of shorts carry, and I've carried this a lot.
That's a 3.4, eight inch blade, so it can ride in the front pocket, and this has gotten a lot of shorts carry this summer, especially if I'm going to a restaurant or a party or something.
It hasn't happened, but I'm imagining someone saying, anyone have a knife?
And I pull this out, and they're like, oh my god, so beautiful I didn't know knives could be so cool and then I kind of bring them into the world this would be a great knife to do that with not only with that action which is front flipper and and reverse flick and even thumb flick so, not only the action but just the beautiful looks and the incredible cutting here that s90v blade is just it's so thin it's like paper thin behind the edge so you get incredible performance from this knife as well as just stunning looks and an overall super cool package.
[43:02] Okay, this one, this next one is fulfilling a lot of roles here, because this is the only Axis-style lock knife we have. And that is not an Axis lock, that is an Able lock, ambidextrous bar lock enhanced by Hogue. Hogue was one of the first companies to legally post, post-patent expiration of the axis lock to make an axis lock.
Of course, Sanrenmu and all those Chinese companies were doing it long before and kind of getting an illegal or unethical jump on the axis lock.
But this is the Hogue version of the Ritter RSK Mark I knife.
And that is fondly known and formerly known as the Benchmade Ritter grip.
[43:59] Doug Ritter, he's the guy who started knife rights and has continued to be plowing through state, from state to state, changing laws, changing antiquated laws, allowing us to carry knives we never could before.
For instance, me here in Virginia, two years ago, I couldn't carry or own an automatic knife.
Now, thanks to Doug Ritter and the efforts of Knife Rights, not only can I own, buy, sell, make, and export, an automatic knife from the state of Virginia, and carry it concealed.
What do you know so doug ritter i mean every time you buy one of his knives which happened to be just amazing you're you're also putting money in his wallet so that he can stay alive because my friends is not a money making venture it is a freedom venture and freedom costs.
Has cost and for him it's, you know, living.
[44:59] So making these knives and selling them through KnifeWorks, this is a KnifeWorks exclusive, that's how he can keep the lights on and keep fighting for our knife rights.
All that said, that's not what makes this knife make the list.
This knife makes the list because it is incredible. With the 20CV blade, the original concept of the Ritter Griptilian was a high-performance blade in super modern high-performance steel in an affordable handle, so that the package is overall affordable.
So those early ones had GRN and now with Hogue, it's G10.
Little bit longer handle, some changes, contouring, beautiful, this beautiful G-Mascus.
[45:45] It's just a great overall package. This is the mini.
I had the large. I gave that one to a friend in need and then Doug Ritter sent me this one.
So one good turn deserves another.
Next up, the Spartan Blades Harzee Folder. Spartan Harzee Folder.
This thing has the build of a Sebenza and a Strider and a Hinderer, but it's got its own special vibe.
It is stout as the day is long, but it's got that beautiful, those beautiful lines, that you expect from Bill Harzi.
I mean, I feel like I can pick a single-edged Bill Harzi knife out of a lineup any day, and probably most of his daggers, too.
I just think his style is very, very emblematic and unique.
[46:40] And this, of course, is, I think, the greatest sort of folding.
Iteration of his, what am I trying to say? I love this knife, that's all I'm trying to say.
I think this is the best folder so far.
He did a bunch of stuff early on with Lone Wolf knives that had these similar lines, and then we've seen his Gerber design has similar lines to this.
Doesn't matter, but the fact that Spartan Blades made this is what pushes it over the edge.
So you take the workmanship, the made in North Carolina aspect of Spartan blades.
[47:19] And then you put all that in a Harzi design and you get this amazing knife.
This one of course has my logo etched in it, thanks to Curtis Iovito, very, very nice of him, and S35VN blade steel.
This is one I vacillate back and forth about getting reground.
All right, next up, gotta have a kukri in the collection. This is, this was a gift from my wife a number of years back.
This is the Knight Elements MK Ultra.
This is made by Fox Knives, designed by Jason Knight. You know him from maybe his stint on Forged in Fire as a judge.
But he makes these incredible forged knives. He's an incredibly talented guy who makes these beautiful kukris.
And he also has a company making small EDC-type items, like this perfect Folding Kukri knife, and then he's got some OSS-style lapel knives and those kind of things, which are really cool too.
But this, to me, is 100% essential, at least for my collection.
Yes, you have the wonderful Rajah II Cold Steel Folding Kukri, but let's face it, most of us can't carry that thing around. It's huge, it's heavy, it's girthy.
[48:42] Intimidating as all hell. This is substantially shorter at two and a quarter or four and a quarter inches on that blade. Carries smaller. It's got the very thin frame lock here titanium frame lock with linerless micarta on the show side. So thin, light, relatively and then of course N690CO blade steel because it's made in Italy and heaven forbid they use any other steel than N690 but N690s. But that beautiful Fuller, this thing is required owning. You can still buy this knife though, I don't think they sell it with my card anymore. I think, it's G10 only. So the Knight's Element MK Ultra. Next up, a newish addition, is the, the Mekong Delta Combat Folder from Goose Blade Works.
[49:40] Who is associated with or a subcompany of Resco Instruments.
Resco Instruments is a company started by some former frogmen.
I call them that because they call themselves that. I think that's Navy SEALs before they were going by Navy SEALs maybe. But a couple of frogmen started a company making luxury adventure tool watches, if that's a thing.
And they started a nice company, and this was their second design.
I just love this thing. I wish I held out and got one with a hollow grind and my Ricarda on the handle, but I didn't, and those are sold out.
So I have this with a saber grind and plain Jane, titanium and it's still just one of my absolute favorite knives of all time.
I tell the story every time, uh...
I thought that this was an American-made knife, but it's not, but it doesn't matter.
This is a Bestech-made knife, and Bestech knows how to make a damn knife.
And this thing is on washers, and I want more washer knives.
I like bearings, but not every damn knife has to have bearings.
And this one really, oh, it's got that luxurious Sebenza feel to it.
That close and open.
[51:04] That's 20CV blade steel and also, let me see, I think I have it, yeah, I have this in my pocket right here.
Wasn't planning on doing this but look at how similar all the contours.
Alright.
Okay, so that's the Mekong Delta Combat Folder, I love that.
Very similar to the 0640 by Emerson and ZT and of course that is from the old, from one of the very early Emerson knives, whose name now I'm spacing.
Okay, next up in this list, the V-Sep from Les George Knives.
This is a mid-tech version. This was his mid-tech knife, and this to me was the first knife I can ever remember hearing that term mid-tech used for.
What's a mid-tech, Bob? that's when a maker has the pieces cut out by someone else, like say these titanium slabs and the blade cut out by someone else, and then the maker, assembles them, puts the bevels on, sharpens them, does all the finishing work and assembly work.
Now that's kind of like a standard operating procedure and so we don't use that term so much anymore, but it was kind of a bridge between custom knife and production knife.
And this thing is just so, gosh, man I love this knife.
[52:30] The moment I saw the design I fell in love with it. They were calling it a sebenza killer at one point and I thought absolutely, way better looking than a sebenza.
Now my taste and eye for sebenza has matured, but this thing was a grail for a long time.
Finally got this one from a guy in Singapore.
I always talk about it, it took forever to get this and I thought I was being ripped off and then it showed up one day, so happy.
But again, on washers, super luxe, smooth oiled glass style action, XHP blade, beautiful drop point blade with that thumb ramp, just has a classic look.
You can see this Rockeye pattern in Pro-Tec's knife lineup.
[53:17] They do a SBR, the small version of this, and then the larger Rockeye Auto, which was how I got first behind the wheel of this design.
That handle is so comfortable.
It's, you know, you got nice ergonomics with that thumb choil and such, but it's very neutral and just a pleasure to hold.
That is the V-Sep by Les George. All right, next up, when most mere mortals would say an XM18, three and a half inch, I say XM24 with the four-inch blade.
Because my assessment is just partially visual, I gotta say the four-inch blades by Hinderer Knives truly express.
[54:02] The idea best. And what I'm trying to say is when you see the three and a half version of this, which I also have, the blade seems truncated. Here it's beautiful, long, graceful. It has the full length, full opportunity to express itself. Kind of like a Ferrari Daytona has that nice, long front hood for all of those cylinders, you know? That's kind of how I feel about this knife.
Just a absolutely stunningly beautiful titanium frame lock with, you know, all of the bells and whistles you expect, i.e. the Hinderer invented travel, over travel.
No lock bar insert, this is an older model.
[54:51] And it still flips amazing, it's on Teflon washers and flips amazingly.
You've got incredible action on this. M390 blade steel, you know, I've used it a bunch over the years, but never hard enough to discover whether the M390 is, you know, how it's heat treated or anything like that, but to me, just a beautiful looker, a great one to carry, and then just an incredibly useful blade shape there.
All right, three more here, three more. Next up, the opposite in carry.
[55:30] This thing is so light, thin, and precise, and thinly ground and beautiful. That's the TRM Atom.
[55:39] I have a bunch of different scales for this, including G-Carta, including G10, and also a regular micarta, but this one I keep coming back to.
This is that wing milled pattern.
It's hard to make out in the background noise of the micarta, but that's a burlap micarta.
You see that nice, loose weave, and then you see there's a section here that's got a feather-like milling in it, and it just feels great in the hand.
Nice and thin, super sharp and thin, slicey 20CV blade.
This one was a factory second because of that little blemish there.
Just a gorgeous, gorgeous knife. And the cool thing about this, one of the USPs about the TRM Adam and other TRM knives is that all you have to do is remove those two screws and you can change the scales lickety-split.
You don't have to disassemble the whole thing.
At 3.6 inch blade and less than a half inch thick, this is a great way to carry a nice amount of very, very sharp super steel.
All right, second to last, this one you were probably expecting, this is the Chris Reeve Knives Sebenza, a knife that I bought out of a feeling of obligation and have absolutely fallen in love with.
It's like an arranged marriage in a way.
[57:07] And so this one is the titanium, black titanium micarta. I like to talk about how when this showed up, the micarta was the same color as the titanium.
And then after like a week of carrying this, it went totally black. Love that.
Nice hollow ground blade as you know on the Sebenza. This is the 21.
The 31 has some updates, but this 21 is absolutely perfect in my book.
I dropped this one and broke off the tip, had it reprofiled and sharpened by Jared Neve.
He put a screamin' sharp edge on this knife.
And this is one of the ones that I judge everything by.
And I'm not alone in that. I do have the Um Num Zahn Tanto, and I adore that knife, but this one still trumps that one.
That is the S35VN 2016.
[58:04] This was made in 2016 on leap day. So this one doesn't have a birthday too often.
That is the Chris Reeve Knives Sebenza 21. And now last up, that was number 15, my plus one, I'm calling this a plus one because I'm, sure many of you, uh, your mileage will vary, but my collection would be nothing without and Excel.
[58:28] Cold steel folder. And in this case I'm going to go with the cold steel Espada because it does a lot of things here. First of all, that's a five and a half inch clip point blade that's stunning and beautiful. And then you've got the bolster, the aluminum polished bolster, and the polished.
[58:48] G10 handle. So everything about this looks beautiful. Functionally speaking, it's got It's got the triad lock, it's got all these different hand holds, different ways to hold this.
Incredibly sharp S35VN cold steel is known for their amazing heat treats.
But the other thing that this knife in particular does in a lot of the XL cold steels is that it takes a design from history, puts a modern twist on it, and perfects it through modern materials and engineering.
And this is a modern version of the Navaja, by Spanish, folk once they could no longer carry swords to settle their scores, they carried around very large folders, hence the name espada here, which means sword in Spanish.
So though this is not one that will fit in many pockets, a lot of people will not want to have this one around, probably a lot of the knives in my list are a little large for some people, but again, this is my 15 essential modern folders.
I'd love to find out what yours are, by the way. But most definitely, as part of that, I would have to have an XL Cold Steel, and I think when it all comes down, it would have to be this one.
The fancy dress is spot-on large.
[1:00:06] Alright, ladies and gentlemen, those are my 15 plus one essential modern folders.
What are yours? Let me know.
Drop them in the folder in the comments below and let me know what you think.
I always like finding out how people value their knives and how they rank, order them.
I always find that interesting.
Alright, if you like this show, be sure to like, comment, subscribe, hit the notification bell, become a patron.
You can do that by going to theknifejunkie.com slash Patreon or scanning the QR code. And be sure to join us on Sundays for our great show. We talk to a lot of interesting people here. Then tomorrow night, Thursday night knives 10pm Eastern Standard Time right here on YouTube, Facebook and Twitch. For Jim working his magic behind the switcher. I'm Bob DeMarco saying until next time, don't take dull for an answer. Thanks for listening to the ninth junkie podcast. If you enjoyed the show, please rate and review it review the podcast.com. For show notes for today's episode, additional resources and to listen to past episodes, visit our website, the knife junkie.com. You can also watch our latest videos on YouTube at the knife junkie.com slash YouTube. Check out some great knife photos on the knife junkie.com slash Instagram and join our Facebook group at the knife junkie.com slash Facebook. And if you.
[1:01:24] Have a question or comment, email them to Bob at the knife junkie.com or call our 24 seven listener line at 724-466-4487 and you may hear your comment or question answered on an upcoming, episode of the Knife Junkie Podcast.
[1:01:38] Music.
Share This With a Friend >>>
For early access to The Knife Junkie podcasts and YouTube videos, receive Knife Junkie stickers and be entered into the monthly knife drawing giveaway, join The Knife Junkie's Patreon group of awesome supporters.
Knives, News and Other Stuff Mentioned in the Podcast
Pocket Check
ABW Model 2
JWK Laid Back Jack
Hogtooth EDC Tanto
Divo Growler(ESK)
State of the Collection: Notable Non-Knife Acquisitions
Seiko SNJ025 "Arnie" watch
Zippo Lighter Butane Insert
Knife Junkie's 15+1 Essential Modern Folders (Your Mileage May Vary)
Demko AD-20
Syderco Yojumbo
Reate K-2
Microtech SOCOM Elite
Emerson Seax
ZT 0452 CF
JWK Gunslinger
Hogue Ritter Mini RSK Mk1
Spartan Harsey Folder
Fox/Knight Elements MK Ultra
Resco Gooseworks MDCF
George Knives VECP
Hinderer XM-24 Wharncliffe
TRM Atom
CRK Sebenza 21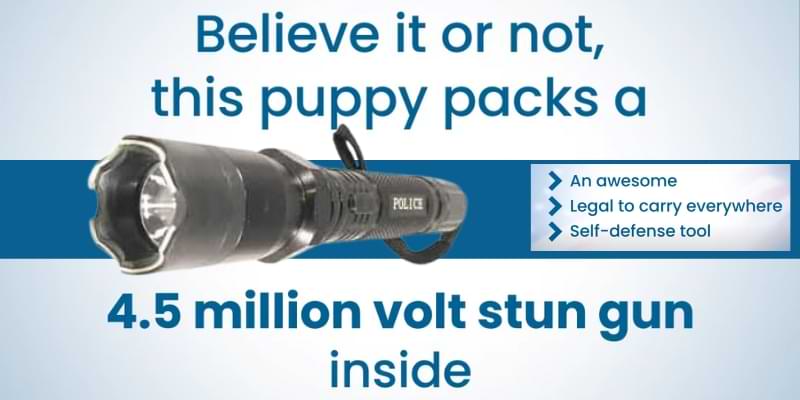 Let us know what you thought about this episode. Please leave a rating and/or a review in whatever podcast player app you're listening on. Your feedback is much appreciated.
Please call the listener line at 724-466-4487 or email bob@theknifejunkie.com with any comments, feedback or suggestions on the show, and let us know who you'd like to hear interviewed on an upcoming edition of The Knife Junkie Podcast.
To listen to past episodes of the podcast, visit theknifejunkie.com/listen.
Today's podcast in sponsored in part by the Upside App, your way to get cash back on your gas purchases. Upside lets you search your area for savings on gas, claim your discount, fill up your tank, then just take a picture of the receipt with your phone. And that's it… you've just earned cash back! Get the app right now at theknifejunkie.com/saveongas. Get the app and start saving money on gas — and help support The Knife Junkie podcast! Again, that's theknifejunkie.com/saveongas.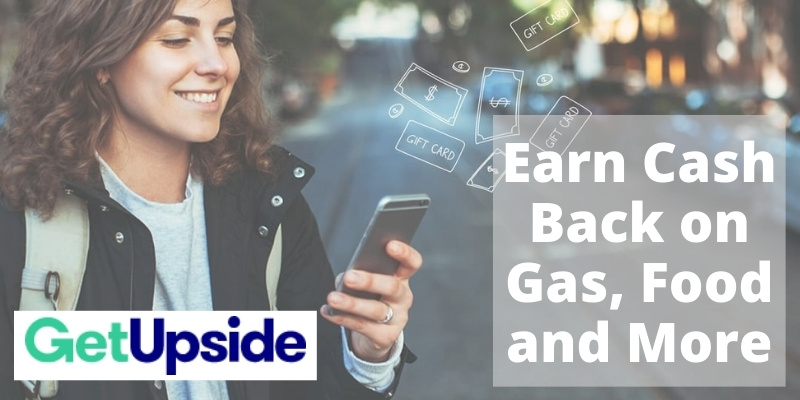 Shopping for a Knife?
Support The Knife Junkie Podcast and YouTube Channel by Buying Through My Affiliate Links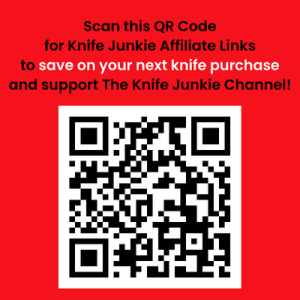 Bamba Forge
eBay
Field Supply
James Brand
Knives Ship Free
Off-Grid Knives
Vosteed Knives
WE (Civivi) Knives
Other Products and Services
Podcast Hosting
Website Hosting
Groove (Free Account) – Replace 17 Apps/Services in Your Business
Knife Books
Rakuten (Cash Back for Shopping Purchases)
Upside App (Cash Back for Gas Purchases)
TubeBuddy (Free Browser Extension and Mobile App for YouTube Creators)
Follow The Knife Junkie
Visit The Knife Junkie website
The Knife Junkie Listener Line — 724-466-4467
Email The Knife Junkie
Follow The Knife Junkie on YouTube
Follow The Knife Junkie on Instagram
Follow The Knife Junkie on Twitter
Join The Knife Junkie Facebook Group

Affiliate Disclosure
In the name of full transparency, please be aware that this website contains affiliate links and any purchases made through such links will result in a small commission for me (at no extra cost for you). If you use these links, I might be rewarded credit or a small commission of the sale. If you don't want to use these links, no problem. But know that I truly do appreciate your support.