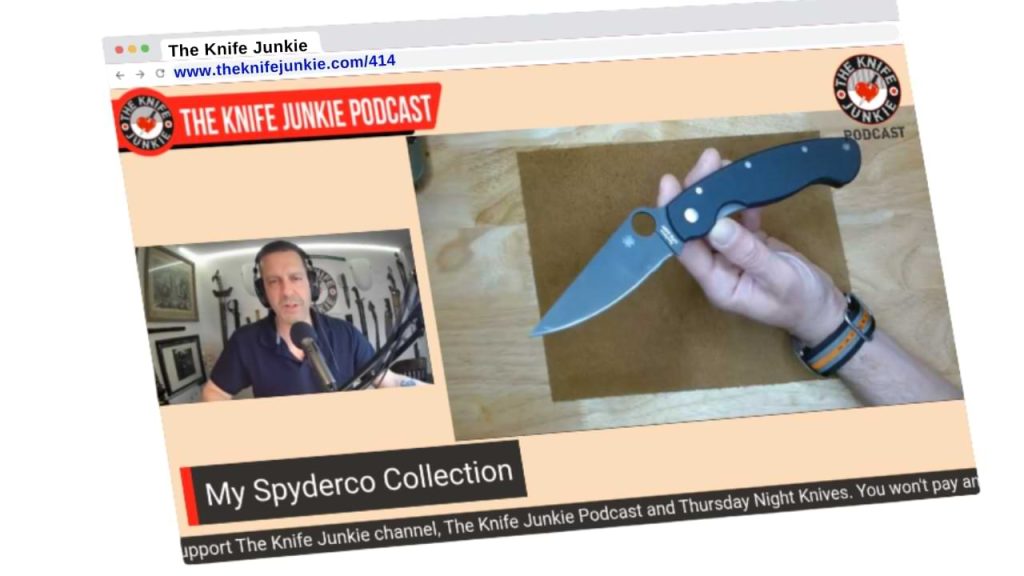 My Spyderco Collection (Most of It) – The Knife Junkie Podcast (Episode 414)
On the mid-week supplemental episode of The Knife Junkie podcast (episode 414), Bob "The Knife Junkie" DeMarco looks at his Spyderco collection (at least most of them), including the Paramilitary 2, the Military, Yojumbo and Yojimbo among others.
* Looking for a Spyderco? Use our affiliate link and support The Knife Junkie channel — at NO additional cost to you!
Bob starts the show with his favorite comment of the week, followed by his "pocket check" of knives — the ZT 0620, Jack Wolf Knives Big Bro Jack, SPK Shark, and the Petrified Fish Victor (Emotional Support Knife).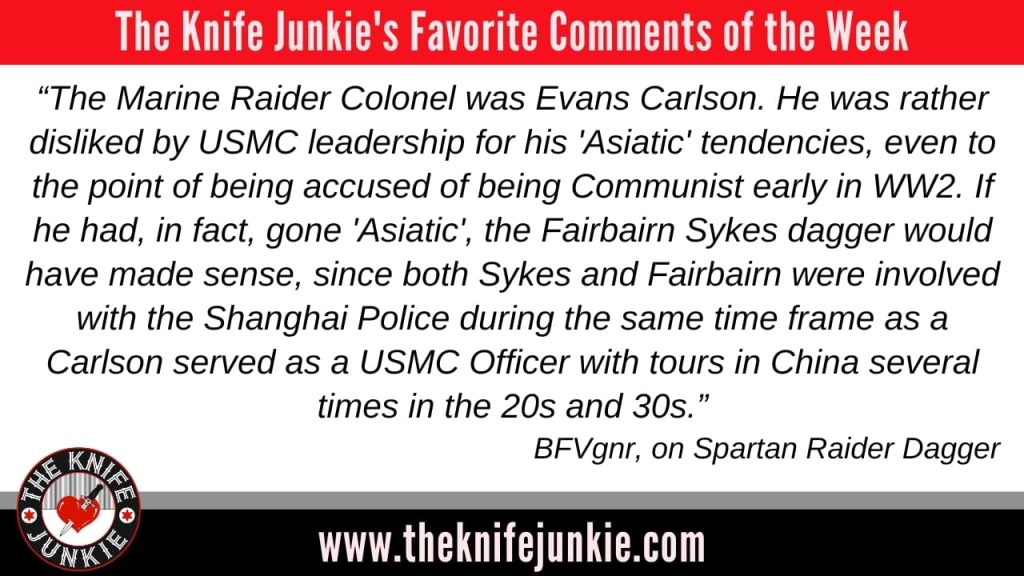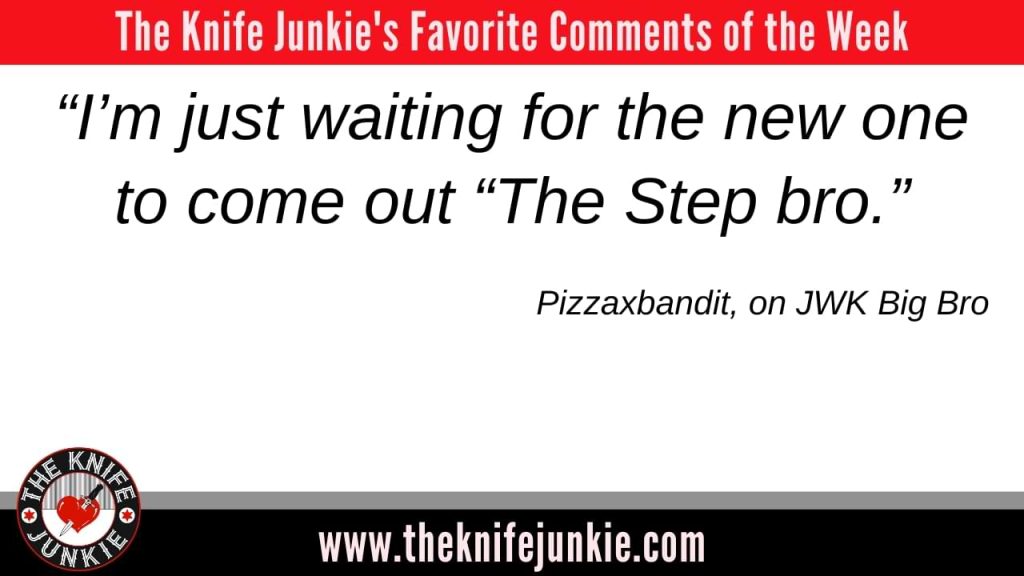 In Knife Life News, Emerson Knives Makes Collaboration Knife with Tim Kennedy, Kukri Nick Knife is Back – This Time with Civivi, Justin Lundquist Makes Custom Fixed Blade Feist, and Nebraska Constitutional Carry Including Knives Signed by Governor (cont. from last week).
Meanwhile in his "State of the Collection," Bob looks at his new Odenwolf Sowcatcher (WOW), the Petrified Fish Viking, T.Kell Knives Combatant, and the T.Kell Knives Nightstalker – in AEBL coming soon (Thanks Tim!).
Find the list of all the knives shown in the show and links to the knife life news stories below.

Be sure to support The Knife Junkie and get in on the perks of being a Patron — including early access to the podcast and exclusive bonus content. You also can support the Knife Junkie channel with your next knife purchase. Find our affiliate links at theknifejunkie.com/knives.
On the mid-week supplemental episode of #theknifejunkie #podcast (episode 414), Bob looks at most of his Spyderco collection -- most of them anyway.
Click To Tweet
Read Full Transcript
My Spyderco Collection (Most of It) - The Knife Junkie Podcast (Episode 414)
The Knife Junkie Podcast is the place for knife newbies and knife junkies to learn about knives and knife collecting. Twice per week Bob DeMarco talks knives. Call the Listener Line at 724-466-4487; Visit https://theknifejunkie.com.
©2023, Bob DeMarco
The Knife Junkie Podcast
https://theknifejunkie.com
Transcript
[0:00] Welcome to the Knife Junkie Podcast, the place for blade lovers to learn about knives and hear from the makers, manufacturers, and reviewers that make the knife world go round. I'm Bob DeMarco and coming up Emerson Knives collaborates with Tim Kennedy. I hit the motherlode of TKL knives and we go over my entire, Spyderco collection. Coming up on the Knife Junkie Podcast.
Welcome to the Knife Junkie podcast, your weekly dose of knife news and information about knives and knife collecting. Here's your host, Bob the Knife Junkie DeMarco.
Welcome back to the show. I had a couple of comments, favorite comments from this past week, two this week.
The first one was from BVF Gunner.
[0:49] Now he was on Thursday Night Knives and introduced himself and we had a great interaction there.
But I was talking about the Spartan dagger, Spartan Raider dagger and talking about its birth and how it was originated by a Marine colonel and I couldn't remember the name.
And so he chimes in and says, The Marine Raider colonel was Evans Carlson.
He was rather disliked by the United States Marine Corps leadership for his Asiatic quote unquote tendencies, even to the point of being accused of being communist early in World War II.
If he had in fact gone quote unquote Asiatic, the Fairbairn-Sykes dagger would have made sense and he's talking about as an influence to his own raider dagger.
Since both Sykes and Fairbairn were involved with the Shanghai police during the same time frame as Carlson served as the United States Marine Corps officer with tours in China several times in the 20s and 30s. And yep, that brought it all back. And BVF Gunner, BFV Gunner, sorry, I really appreciate that. I love to get the little historical bits and facts filled in because oftentimes.
[2:04] I'll find myself just talking, and I realized maybe I don't know all the facts here.
So it's really good to have someone in the know fill us in. So thank you, sir.
Greatly appreciated.
The second comment that just sort of tickled me was from PizzaXBandit.
It was on the Jack Wolf Knives Big Bro, which is a follow-up to the Little Bro.
And he says, I'm just waiting for the new one to come out, the Step Bro.
And yeah, it made me LOL. Indeed, I did.
All right, so all that being said, I think it might just be time for a pocket check.
[2:44] Today in my front right pocket, I had the Zero Tolerance 0620 designed by Ernest Emerson and.
[2:53] Created by Zero Tolerance in such a beautiful fashion. They did such an awesome job on these Emerson collaboration knives and this one is a Tanto, beautiful Tanto. One of my favorite folding Tanto designs out there. This up there with the Socom Elite and the and the Riat K1 or K2, I'm sorry, some really beautifully ground and faceted. Um.
[3:26] So yeah, this was in my front right pocket. I haven't carried this heavy duty chunker in a little while.
It is pretty heavy at this point.
And I mean at this point because nowadays, I guess this is probably about 10 years old, nowadays they're doing all sorts of lightening on the inside of these slabs of titanium when they make titanium frame locks.
When I say they, I just mean pretty much everyone, including ZT.
And this is a solid slab, so you really do feel it. I replaced the generic black G10 handles that come with this, or handle scale that comes with this with a nice olive drab canvas micarta.
Really changed the quality of this knife. Gave it a beautiful militaristic look.
I do love a black blade next to a green handle. So carried this today.
It's brother, the 0630, which looks a bit like the CQC8.
[4:26] Is the one of the pre-Amherst collab nerfs that I've used the hardest.
I used it to cut carpet, do all sorts of stuff when we were doing renovations here years ago.
And I will tell you, these zero tolerance knives are built like the proverbial tank.
So it was great to have that in pocket after a while today. Also in pocket was the, here, I'll show off how it's been patina-ing and changing ever so slightly.
The Jack Wolf Knives Big Bro Jack. I show the leather slip because each new leather slip, is a new leather slip to break in.
And they are made of very stout leather and it takes some time to break them in.
By break them in I mean I like to get a little patina on the leather and I also like them to kind of get notched out with the shape of the blade.
There it is, with the black canvas micarta, one of the last, well I should say the last model in the Jack Wolf Knives lineup to feature micarta on the handle.
The beautiful carbon fibers that they use have been the real big sellers, so he made a financial, Ben Belkin made a business decision.
[5:43] To phase out the micarta, and he was a gentleman and gracious enough to send me one of the last, well, the last model with my card, and I do appreciate that. He is a gentleman and a scholar, as I like to say. Okay, let's see, what else did I have on me? On my belt, and literally it was on my belt today, was the Steingraber Performance Knives Shark. Beautiful little sheath. I have a top spring clip on the back, and this is one of of the few knives that I really prefer to carry Scout style on the front and I had this on me we were doing I was going over to my mother-in-law's and doing a little bit of just sort of R&D stuff over there and I knew it was going to be some cardboard breakdownage so I had this with me this is an amazing knife for doing that I always talk about the off-grid knives as being excellent cardboard processors, which they are.
But the hall of famer, the all-time great, is this right here.
This thing is amazing. This is in crew wear, and it is so thin and slicey, it is unreal.
[6:59] And has that great handle. It is the perfect size for EDC. You can get a full finger, full four-finger grip on this knife, And then you have that three-inch, very capable blade.
So I had this one on me. Oh, yes, also, of course, with the fixed blades, I'm always imagining how you would use it tactically.
And yes, in a pical-style grip, it fits the hand. It's so easy to hold like this.
And yeah, you could use it to devastating effect. But I know that's not what the Steingraber Performance Knives Shark is all about.
Last up on me, and this is a little bit of foreshadowing to the state of the collection, But I had this petrified fish Victor on me wearing those beautiful blue jeans.
I love that blue jean micarta very, very nice and talk about beauty.
That clip point Bowie blade there is just man. It's one of the best looking out there.
It's up there with the buck 119. It's up there with the recon one lot of great.
It's up there with the yes, I'll even say at the CQC 13, which it kind of resembles a bit with that very swooped.
[8:10] Just a beautiful knife. Amazing action on this knife. Just fall shut action. Really, really nice.
Cool thing about this knife is that they accommodate the Spidey Flick with a milled-out pocket on the clip side of the blade. And you can see if you look around the pocket clip here, which is a little shiny, but it's inset. Actually, it's slotted down in the handle there, but it's a little shiny for my taste.
But anyway, if you look around it, you can see the darkened micarta and how it has seasoned it with usage.
I really, really like this knife a lot, the Petrified Fish Victor, and today it was on me for flipping and general emotional support.
[8:55] What did you have on you today? Let me know, drop it in the comments below.
Love hearing what you guys carry. Always, well, it puts, it's food for thought.
I have a limited knife budget, as we all do, and it's good to hear endorsements from those who know out there about great new knives.
Okay, I wanna show you the knife we're gonna be giving away for the May Gentleman Junkie Giveaway.
This comes courtesy of Dave. This old sword Blade Reviews came in the big box of knife giveaway knives.
Excuse me, my voice is changing. And that is the Kaiser Roach.
This is one of the new Kaiser Roaches.
I have one of the original ones in N690 and contoured G10.
They kind of re-released them maybe about a year and a half ago in, no, this is N690.
And my Karta, and it is so nice. I mean, the action on this is incredible.
By comparison to my first run Kaiser Roach, it's like a different knife.
Total drop shot, crazy awesome ergonomics.
[10:08] Yeah, and you don't hear me say crazy awesome too frequently, but yeah, it is really got great ergonomics.
You got a little finger choil, a little pinky choil down there at the end.
Feels really good if you choke up.
Also, just a great knife. Mine, I kind of marred the blade a little bit.
I went to town on a whole bunch of cardboard after I first got it.
It was a gift, I believe, from Hilltop EDC, thank you, BJ.
[10:37] And I've used it quite a bit, and I have the gray coating on my blade, and it's all scuffed, and it looks cool, and sort of world-weary.
This knife could be yours, if you're a gentleman junkie, when we do the drawing at 10 p.m. Eastern Standard Time on YouTube, Facebook, and Twitch on Thursday Night Knives.
Very, very nice. I'll be showing it off between now and then, just to remind you of what you stand, here, look at this, of what you stand to win if you're a gentleman drunk.
Disappears in the handle without any resistance. Okay, still to come on the Knife Junkie podcast, we're going to talk about knife life news. It's got a couple of stories I want to show you, ... ... ... ...
And then we're going to get to the state of the collection. Coming up right here on the ... ... ... ... ... ... ... ...
Knife Junkie podcast. If you're a knife junkie, you're always in the market for a new knife, and we've got you covered. For the latest weekly knife deals, be sure to visit the knifejunkie.com Through our special affiliate relationships, we bring you weekly knife specials on your favorite knives.
... ...
[11:41] Help support the show and save money on a new knife.
Shop at theknifejunkie.com slash knives. That's theknifejunkie.com slash knives.
You're listening to the Knife Junkie podcast. And now here's the Knife Junkie with the Knife Life News.
Our story in Knife Life News tonight is from one of my favorite, favorite knife makers slash designers. It's Emerson Knives, and they are doing a collaboration with Tim Kennedy.
If you don't know who Tim Kennedy is, he's a retired mixed martial artist, UFC fighter, real badass.
But what, I mean, what really makes him pretty incredible is his service to the nation as as a Special Forces dude, and I say Special Forces dude because honestly, I can't remember if he's a Green Beret.
I know he's not a SEAL. I believe he was in the Army and just has an incredible.
[12:38] Career serving with the United States military.
As a matter of fact, I think he's still active and he's, you know, he's not a spring chicken, and he's younger than I am, if that's any indication.
In any case, he is a really amazing guy and he's been on a lot of podcasts and you can hear about his service, and other things he's done.
But anyway, he's got a collaboration knife with Ernest Emerson, and I think it is very cool.
First thing you'll notice is there is no wave on this. So this is one of the few waveless, from the start Emerson designs here.
You've got a nearly four inch, so I love that that's where they usually sit their blades and I'm glad that this one is nearly four inches.
Long, aggressive clip point with a little swale in front for your thumb and then there's that little thumb ramp.
And it's a V-ground blade, and like a lot of Emersons are these days, V-ground, but if you look at that handle, it's got the ergonomics similar to the CQC-8.
[13:50] With that big, with the big finger guard up front, and then the overall curved handle.
This thing just looks like an awesome knife. I'm curious as to why they opted for no wave.
I always wonder why you make an Emerson with no wave, especially one, I mean they're all pretty tactical, but especially one that is like really tactical.
Anyway, 154CM G10, the usual titanium liners.
There is a fixed bladed version of this in the works. That's news from Ernie Emerson himself.
Awesome looking knife, very excited to check that one out.
[14:30] Okay, next up, another one that I've really wanted to check out and probably have a chance of getting now that Civivi is picking it up and it's back on the market is the Vaquita.
This time, the Vaquita II from Civivi. This was originally a Wii neck knife, beautiful little Kukri neck knife.
Kukri neck knife, you say, but a Kukri is for chopping. But yeah, you look at this thing, it is a beautiful little thing. And I never ended up getting one.
They were always hovering around like 110 bucks when they were first out from we you know, you know, so now that it's out with Civivi and will cost less, I no doubt we'll be getting that that's a that's a neck knife. And it's a it's a small knife, but that's a 3.2 inch nitro v blade. So very capable, you know, that's that's bigger than a Delica blade, but you'll notice the blade to handle ratio because it's fixed it can be like that g 10 in a variety of colors comes with that chain beaded necklace and you'll notice that the two grommet holes at the bottom for for easy neck hang and I like the way that they've contoured the sheath too. I think it's a winning package and I definitely want to get my hands on a, Vaquita. Since I've lost so many neck knives over this past year maybe it's time.
[15:55] Okay, next, Justin Lundquist, a very prolific designer, we've seen a lot of his work.
He just has a brand new one out with Boker, an automatic that's really graceful, nice looking knife.
Well, he's very well known for his Kaiser, Feist, and the various iterations of that.
And he, in his own shop, has created a fixed blade version of that.
Two of them, actually, you can see there.
These are prototypes, and these are gonna be knives that you can get made by Justin Lundquist.
You gotta pretty much get on his mailing list to find out when he's gonna do little drops of these, but I love it. You know me and the small fixed blades, and I'm very much in a fixed blade phase.
[16:45] That's not going away.
Anyway, this is very appealing to me because they look like they will ride appendix very well.
[16:58] I'm finding that, I thought at first that for me to be comfortable with appendix carry that it had to be an overall curved knife and that is just not the case.
And the Feist has a really nice looking blade. I love that the point is center line, but it still has sort of a modified wharncliffe vibe to it.
[17:17] If you look at the top version in this picture, he's got the scales letterboxed, or not letterboxed, what do they call that?
Well, anyway, the tang of the blade stands proud, letterboxed, I don't know if that's what they call it, of the scales, and then in the bottom one, you see the scales come all the way to the tang.
I think I like the top one, and plus you get a fuller, and Fullers make things better, just like cheddar.
All right, so Justin Lundquist, if you're a fan and you wanna get a custom version of his feist in a fixed-bladed format, just go to his website and jump on his email list, and that's how you'll find out.
All right, last up is sort of a continuation, or I should say a follow-up from a story we did last week, on Nebraska's constitutional carry bill.
This is a Knife Rights effort, and man, they are just taking the world by storm, luckily for us.
I'm just going to read from their website, Knife Rights supported Nebraska constitutional carry bill LB 77, which covers knives and includes knife law preemption.
That is being able to go from county to county or municipality to municipality without having to worry about knife loss changing.
[18:39] That was my little parent, has been signed by Governor Jim Pillan. Governor Pillan said, this bill fulfills the promise I made to the voters to uphold our Second Amendment rights and the ability of all law-abiding Nebraskans to defend themselves. So this was a constitutional carry bill that included knives and I'm very happy to see week after week that I can keep going back to the Knife Rights website and see a new story, a new victory. And like we all know, victory happens in steps. And this is another step to total victory for Knife Rights.
[19:20] Don't take dull for an answer. It's the Knife Junkie's favorite sign-off phrase and now you can get that tagline on a variety of merchandise, like a t-shirt, sweatshirt, hoodie, long-sleeve tea and more, even on coasters, tote bags, a coffee mug, water bottle, and stickers.
Let everyone know that you're a Knife Junkie and that you don't take dull for an answer.
Get yours at theknifejunkie.com slash dull and shop for all of your Knife Junkies merchandise at theknifejunkie.com slash shop.
And now that we're caught up with Knife Life news, let's hear more of the Knife Junkie podcast.
So you may have seen a couple of the shorts I did last week of this beauty This is the Odin wolf sow catcher that name it kind of makes me queasy I have to admit it is a pig hunting knife a, wild boar hunting knife yes, there are.
[20:17] Courageous individuals out there who go out with their dogs and And corner pigs, wild pigs, and then go up and stab them to death and then probably make some really, really delicious food out of them.
But this is the knife you might do for that job. This is the Odin Wolf Sow Catcher. That is a really beautiful, in my estimation, recurved, double recurved dagger.
I mean, it's a dagger with nice big belly, but you're getting some recurve action in there as well.
So a great slasher as well as it is thruster. Now there are a couple of great videos up there, by some of my favorites, like Legion Tactical and We All Juggle Knives, who take these and do cut tests with them.
[21:10] Whether it's into pressure-treated wood or doing bottle cut testing, and all indications are this thing is awesome.
So I have yet to use it. I have only pawed it and shown it off so far.
So my only indication is what other people use their knives harder.
D2 blade steel, I have very much scrutinized this blade. It is, I'll say it, it's like perfect.
Beautifully symmetrical, beautifully ground. The edge is like perfect.
It's D2, it's got this nice acid stonewash or some sort of stonewashed coating, and a very comfortable injection molded handle.
I dare say that if you are a pig hunter, wild pig hunter and you do it with a knife, first of all, I want to congratulate you on a very cool hobby, but second of all, I would say that this Odin Wolf sow catcher will probably do the job.
Maybe with a lanyard, going over the back of your hand, maybe a glove, but this big coffin-shaped handle is big, knurled, grippy, and you'll be holding onto this knife, and that blade, I'm gonna measure that blade.
I keep saying it's eight inches, but I think it might be.
[22:27] Yeah, this is a nine inch blade, so it's big. It's big. So, Odinwolf Sowcatcher.
Do you like daggers? Do you like big knives? Are you a wild pig hunter?
I might turn you in the direction of this Odinwolf Sowcatcher.
It was $60 on Amazon.
I don't know anything about Odinwolf. I guess I have to look into them, and see what they're all about and where they're from.
I know they're made in China, but I'm not sure if they're based out of China.
Okay, Odinwolf's Sowcatcher. Just, you know, just to make sure that the dagger thing keeps going.
Oh wait, let me show you something about this sheath real quick before I move on.
Very nicely done sheath in that it, the contours remain close to the contours of the blade, so it's not too big, especially for a pancake sheath.
They can get out of hand sometimes.
Uh, but this knife is, the retention here is not that great. I can shake it out.
I think all it will take is another grommet here and another grommet here, and it will be tighter.
It will snap in tighter. But also, it comes with this dangler, nylon dangler, that cannot be removed.
It's grommeted to the sheath.
But that retention strap there is necessary with this knife.
[23:51] Until you make alterations to the mouth of the sheep to tighten it up.
All right, next up, this is a beauty, and I must admit I wasn't looking for it, but like many love stories, it just fell in my lap.
Okay, so this is the Petrified Fish Viking. I was just looking around on Amazon at Petrified Fishes, and this one popped up, and I hadn't seen anyone do a video on this, and I think it's beautiful.
To me, it's rather Quake-like, it's rather Japanese-y, but they call it the Viking, so hey, they know.
Who are you gonna believe?
[24:37] So this is their Viking knife. Two ways to open it. Either with the front flipper, which works great, although you know it because I'm doing it with my left hand.
I'm going to transition over to my right.
[24:52] Or you can use that fuller to Spidey-flick it out. And I guess you can pinch and slow roll as well.
So that's a K110 blade, a very thin, very extremely slicey and thin blade, and full flat ground, and it's as if the grind terminates at the, it's like thinner at the bottom part, of that fuller than it is at the top, which A, makes it easy to use the fuller to deploy the knife, but B, also belies the fact that the blade itself is just, it's even thinner than what you would see from the spine.
Really beautiful sort of hunter green micarta. I love the color of this micarta.
It's a little more luxe than OD green. This is like the color you get your Jaguar or your Range Rover.
You know, it's got a little, it's olive drab, but with some blue in it to soften it.
And I think this thing is a beauty. I did use this, I busted it out at the school talent show last night, to help a father with a wardrobe issue on one of his daughters.
Worked perfectly and discreetly, even though it's a big shiny knife.
So, really nice knife. I love this thing. Petrified fish, $40.
[26:13] I don't know. They're one to beat, I'd say, from the Chinese manufacturers.
They are definitely one to beat here.
So, yeah, check it out.
[26:24] It also comes in that really nice denim micarta with a black blade, which looks really cool.
But I wanted to have some of this forest green micarta in my life.
I just, all of the green micarta I have is that military OD.
[26:41] And I just wanted a change. All right, next up, these next two, Let me just say, I'm so thrilled.
So after I got this knife from Tim Kell, this is the Guardian, with the sentry grip on there.
It doesn't come with the ring, but I added that. Anyway, I had this knife, I had him on the show, talked to him a lot offline, and really dig him.
After the interview with him, I ordered another knife from him, and it just came in.
And it is the Combatant. Now this one is optimized for front scout carry, I mean any kind of carry.
It is really small, he went to great pains to make this 3 1⁄4 inch knife, a fixed blade, small and discreet and, This sheath is about an inch and a half wide, so about the width of a belt.
So this thing just kind of, you put it on, and it melts right on.
Whoa, shot the sheath right off the table.
All right, so here is the blade, a beautiful three and a quarter inch ADCR V2 blade.
[27:55] With that nickel boron, protects from corrosion, but is a very very hard and solid used in firearms and is great for blades.
It's something that he does over there at T-Kell Knives that no one else seems to be doing.
Incredible ergonomics on this just about four finger grip. My hands are medium sized, so I can get a full four finger grip on this. If you've got giant paws, your your pinky will will nestle up against this slant here on the pommel.
[28:31] So just a perfect sized EDC fixed blade knife, extremely sharp, very very sharp and you've got that wood grain G10 that I really like. It's got a dark brown, a coyote tan and black all mixed together and I'm just really really thrilled with this knife. I've already carried it, I just got it, carried it a full evening. And then he put my logo on there, which I greatly appreciate, the knife junkie. And yeah, I'll take the billboarding, I love it. This combatant has been changed from the original in that he removed some of the belly to, make the point a little more acute, a little more stabby. He accentuated the a swedge and then maintained that grip.
Those two finger wells, they're kind of like, they act kind of like sub hilts.
So here, I'll show you in this main camera with my right hand, it's really, your fingers just fit right in the wells like that.
For such a small blade and a small handle, it fits, it fits the hand, it's locked in there.
So great, great knife, utility, self-defense, what have you.
I was looking for the sheath, it's on the floor.
I'll put this over here so I don't accidentally cut myself.
So, in the same package that that came in.
[30:00] Tim said, oops, a Night Stalker fell in there. So I'm gonna show this Night Stalker off.
It is beautiful. This is their most selling knife, the Night Stalker, and it is now being featured.
Actually, it will be debuting at Blade Show 2023 in AEBL steel.
So again, you've got the amazing, very, very thin profile sheath that just basically matches the width of your belt.
And then you've got this beautiful knife. Oh God, I love this thing.
I'm so excited about this. And Tim, thank you, thank you a million times.
Thank you for just putting this in there.
[30:45] I really, I'm blown away. And not only by that gesture, but how awesome this knife is.
AEBL steel is pretty amazing.
And I think it's the first time he's offering it.
Definitely it's the first time he's offering it in this model, but look at some of the details of this knife.
Look at that sort of half scooped out jimping on the thumb ramp and in the finger choil, and it is really thin and slicey, and that's a tall edge there, and he has added a sharpening choil, which is something new.
He didn't always have a sharpening choil on this knife.
And he basically listened to the crowd who said, King, give me a sharpening choil.
As you can see, there's a ring on this knife.
And as you know, I'm not the biggest fan of ring knives because of how they often pull your fingers and knuckles out of alignment when you make a fist with your finger through there.
But in this case, it works great.
I love it. a little attitude adjuster on the top there, just in case.
But yeah, you can put your hand in there, make a fist, and it's natural, it feels natural.
Got an incredible drop point blade there with a full swedge going all the way up the length.
[32:10] Of that knife. You should check out Tim Kel, TKel Knives, their YouTube channel.
He is, first of all, just kind of a very personable guy.
He's funny, he's got some of that Marine Corps gallows humor to him.
But also he does, there are a number of videos on his channel where he tests his knives against pork men, basically.
[32:35] A pork loin wrapped in Sran wrap with a stick running through the middle, and how devastating these knives can be against a target like that.
All right, so that is the state of the collection and very, very, very good.
Pleased with the state of the collection. And now, speaking of collections, I want to talk about my Spyderco collection.
Because when Shane Gables, you know him as Edgy American, sent me the gift of a Mannix II Lightweight with S110V, it totally re-sparked my interest and love for the brand.
Which, you know, has never gone away, but has hot flashes, and I'm in a hot flash right now.
So, I won't bore you with too many details with each one.
But this one was given to me by my brother-in-law.
This is the Serrata.
This is a pancake sheath that has gone way out of control. That is something that Spyderco is known for.
This is not my full collection. Damn! All right, so, I'm just remembering some other Spydercos I have that are not included here. Oh well.
But this is a sheath that has gone out of control. You can see how broad it is.
[33:55] So, but it's got a great, the knife itself is great. You can see it is a full quarter inch thick, and then it has a distal taper all the way to the point.
It is cast 440C and made in one of their Taiwan plants.
In one of their Taiwan plants. I think it has a beautiful profile.
This is a great knife in the woods. Talk about awesome for batoning.
This is a great knife for that. But also, I can see this being used in a tactical way, too.
And it might be because it's called Serrata, like Serrata Escrima.
All right, next is the Spyderco Temperance II.
This was also a gift from my brother-in-law, And the thing about gift knives that are cool is that you get for yourself or wouldn't get for yourself, wouldn't think to get for yourself.
And this is one of them.
It's got a very thin, fully flat ground VG10 blade and a really ergonomic handle.
The handle just feels good in the hand. It's like, it's not comfortable and accommodating.
It actively feels in the hand.
And so yeah, that's canvas micarta. This would be a great knife for the general outdoorsman.
We've got a beautiful leather pouch style sheath here.
[35:24] Quirky looks, right? That's not a traditionally a pretty knife, but hey, I'm not a traditional guy.
Well, yes I am, but I do like this knife. Man, all right, I'm going to set this aside and just know there are a couple of Spydercos missing from this list. I'm going to jump into the main, portion of it, which are the folders. All right, first up, these are in the order that they appear in my drawer, so no specific order other than that.
And it's basically how they fit in terms of size with other knives in that drawer.
So first is the Sage II, Spyderco Sage II.
That is the titanium frame lock, Chris Reeve knives.
[36:12] That's what the Sage knives are, they're all odes to different knife makers who have innovated with knife design and locks, knife design and locks, so this is the frame lock.
Just an awesome knife, S30V, this one was a Christmas gift 2014, I remember because it was right after my younger daughter was born, and my wife was like, just send me the link of whatever you want for Christmas.
I was like, okay, and I sent her the link for this.
So, great knife, love it, great back pocket knife, but I've stopped doing that, I've stopped carrying this in my back pocket, because I don't want to lose it.
All right, next up is a Spidey Chef. Such a beautiful knife, and even beautifuller as it has been modified by Mike Emmler of Crazy Sharp.
First I want to show it up close, because I love all of the snail trails and action you've got happening in the titanium there.
[37:14] So that's a blasted titanium, And then it takes on that character once you start carrying it and you get those snail trails.
This blade was sharpened. I could never get this knife adequately sharp, so he put an incredible edge on it, almost a convective kind of edge.
And I asked him to clip the point and give me a point that I would use for thrusting.
So I kind of sharpied on there the angle I want, and he took care of it.
And then he put this really nice finish on the blade, kind of a gray wash, just a nice beautiful blade.
I love this knife. This is a Sleash design, I believe, Martin's Sleash, I'm not even going to pretend to know how to pronounce it, but I dig it.
All right, next up is from the Ethnic series. This is the Patata. .
And I won't make any jokes. This is the Patata and and it is based on the traditional folding knife of.
[38:21] Oh my gosh on the tip of my tongue Italian Island, Sardinia and it's got a 4 inch N690 SEO blade. This is one of their knives made in Italy, It's got beautifully contoured and comfortable G10 handles, and that blade is just stupendously beautiful.
About four inches. It doesn't look that long because of the interesting shape and taper of it, but it is.
And it's got incredibly buttery action on washers.
[38:58] You get a nice reverse flick. Really acute point.
This is one of those knives that I carry rarely and when I do, I'm nervous.
So that tip is just magnetically charged to the concrete floor, you know?
It's just so thin and dainty.
I shouldn't say dainty. That's not the right word. So thin and deadly.
Great handle to hold and a clump of wire. That was a weird sentence.
I'm gonna fold this one up and put it away. But it has that nice hydraulic feel that you get from washers.
Next up, one of the most used in my collection, this is the PM-2, this is one of the originals with the S30 label.
Now one of the most collectible knives out there.
It comes in all manner of steel, all color of G10, exclusives from all sorts of, not manufacturers, but purveyors out there.
Just a great, great work knife.
I totally get why people are infatuated with the knife and why they collect it.
It is imminently collectible.
Great ergonomics. Everything about this knife is great, except for how it looks.
[40:25] To me, uh, the handle to blade ratio is just...
I don't know. It's just upsetting to me. And it would, you know, admittedly, right?
It's a weird looking knife. I mean, we all love the knife. That's not the question.
But it is weird, right?
It would benefit from a sharpening choil, I think. And I will never get rid of this knife because it is great.
It is great. But I will say, I'm going to go to Nkema, because I can't do this under the knife pan.
But I will say that this has never been a good specimen or a good compression lock fidget.
[41:07] It never has been drop shuddy or without having to loosen the body screws or loosen the pivot screws.
So this is all business for me. There's very little pleasure about this knife except the usage of it.
Actually using it is a pleasure but there's no second kind of cool with this knife for me. Okay next up now this one I'm waiting on v2 and they've announced it and I've put a dollar down order or a down payment on, it with Blade HQ but that's the Spyderco Military 2. I absolutely Absolutely, I love this knife.
So, the story goes, Sal Glurr was asked how he would design a folding knife for his son Eric if his son Eric had to go into the military.
And so he designed this knife and called it the Military. And it's got a four inch S30V blade.
It's got this nice big handle with, you know, access to the lock all day long.
And a lot of people, such as myself, the fact that it is a tip-down only blade.
Until now, the Mary has been announced.
[42:34] And is supposed to be in the next reveal, I think. And it will have a swappable clip, up, tip down, left, right, and uh...
Which is a big, big improvement. And then it will have a compression lock, which will make this a very gratifying fidget knife.
Yeah, so that is the, this is the Military, and it is one of my favorites.
My brother has one exactly like it, and my father has one exactly like it.
So we have a little society of Black Military to own that going on in the family.
Okay, next up, this is a big one for you, and is the opposite of what I was saying with the paramilitary. This one has a compression lock action.
One is the Spider Yojimbo.
[43:30] And this one, as you can garner from the name, is the larger version of the Yojimbo, designed by the man behind Marshall Blade Concepts.
He's an interesting dude, oh my god. He's like a former spy, former operative-type guy, and intelligence, and yeah, he's a brilliant dude.
You talk to him, and you know you're talking to a guy who was hired for the intelligence for a reason.
Smart dude. And a great, great fighter. He's got backgrounds in Filipino martial arts, and many others, and he designed the ojimbo, which will be the next knife we show off, for self-defense, for fighting.
Look at that straight blade. He is very much a proponent of that straight wharncliffe blade, because that straight edge means in a slash, which is a motion we very naturally go for, the tip is never glancing away from the target the way an upswept or curved blade curves away from the target.
It continues to bite in until you get to the tip, and then you get a nasty slash with that tip.
Also, that wedge-like triangular shape up front.
[44:48] On a thrust creates a very, very wide wound channel. Mmm, love that word.
And so that is the point behind this blade. People look at it, they think it's all a utility, because it looks like a utility knife or something like that.
But man, it makes an incredible EDC and utility knife, but an incredible weapon and there are many, many cut tests of this knife out there on, YouTube you can check out.
Plus you got the nice compression lock which makes it fidgety and fun.
I deleted the little partition in the middle, there was a little peak there that, you know, your fingers are supposed to fall on either side, I didn't like that, removed that.
There's no liner underneath it, so it was a clean modification.
And then I also put an MXG gear clip on there because...
Because deep carry, that's why. All right, that's the Yojumbo. Really fun knife.
[45:49] A big, big knife. And it does bear a lot of resemblance to, but is not quite as graceful a design as.
[45:59] The Spyderco Yojimbo II. I am a huge fan of this knife.
[46:05] I've had a number of them, and I wended my way just down to this one.
I've had three of them and I've gotten rid of two, obviously.
I kind of wish I kept the M4 one that I sold to Nick Martino.
Nick, I hope you're taking good care of it.
But I still have this 20CV, this was a DLT exclusive a few, like a number of years back now, 20CV blade steel and carbon fiber. I dropped this one on the tip, Jared Neeve sharpened it out.
It is incredibly sharp as you might imagine and the tip is restored.
I have this 5x5 Tactical Solutions Pocket Pick, I think they call it, Pocket Pick on there.
So as you can imagine, you can wave this out of your pocket.
I also have a DLT Deep Carry Pocket Clip on this one.
Love, love, love the Yojumbo family. family and now the yo junior what the hell is it called Yojimbo Jr. or something, like the smaller version, is now going to be at Bellagio. I think they announced that at shop.
But just great, great, great action. Fun to play with. But great to use. And great as a utility and gives you confidence in pocket.
And by the way, that pickpocket gives you a nice place to rest your thumb. If you don't have one, you still have a nice place to rest your thumb.
[47:30] All right, that's the Michael Janich designed Yojimbo II.
Next up, designed by Heinrich Uhlrich of Germany.
[47:42] Has a former German policeman turned knife maker. This is the Uhlrich.
I believe this was his first ever production knife. He went on to do several others, including the Kaiser T1, a much-loved knife. But this knife falls loosely in Spyderco's police line-up.
But in this case, it is that beautiful recurve knife and recurve blade.
Got this overall arc that is stunning to me.
[48:15] This was the first expensive folder I ever bought, and I remember when it was released, thinking it looked like a knife that I designed.
Because it did a design reminds me of a Filipino sword and it is graceful that is a G and blade the frame the the what do you call this the back lock on this, hasn't quite broken in properly I feel like I may have gotten a lemon or a dud, out of this one but when it's open it works great and once closed it stays You know, you don't necessarily buy a knife for its action.
I wouldn't get rid of this, right? And that is the large Persian designed by Ed Schempp.
[49:05] This is another one of the Taiwan made knives, makes the most amazing there.
This is VG-10.
I think this is out of production at this point.
I think when my brother got this for me, it was new old stock.
Incredibly contoured handles.
Like this is how I feel about Ed Schempp's designs. They feel better than they look.
And this one also works very well.
His designs are just strange. I said that this is Taiwan, this is Japan.
Sorry, this is Japanese-made.
And actually, you should be able to tell by the G10 and the domed screws.
And the G10 is very thin and very micro-textured. Really nice back lock.
[49:53] Very thin and slicey. This is a great user knife.
I remember, this is just a random thing about this knife, I remember right after I got it watching a Jeff Blauvelt video of Tough Knives and Tough Thumbs, and at the time, I don't know if he still does this, he would have one EDC all year long and just use the hell out of it, and Spydercos were often his knife, and this was it at one point.
Okay, if Jeff likes his, I'll like mine too, and true enough I did. I love that downward angled blade from the handle. You can see how that accelerates the cutting. The tip is right about where the knuckles are. So I have no doubt this would be, I know it's a great EDC knife, I have no doubt this would be a fearsome, you know, fighting knife in a pinch. And that is the Spyderco Persian, Love, Large Pershing, Ed Sheeran.
[50:53] All right, now we're getting into the delicacies. Next is the serrated wharncliffe.
This was a gift by, this was a gift to me, a stew of stone and steel up in Vermont.
Beautiful, beautiful knife.
He carries one, he, at the time anyway, was carrying a serrated Endura in his duty belt, as a law enforcement officer.
He said he relies on it, that wharncliffe with the Spyderco Serrations is incredible.
He asked if I wanted one and I opted actually for a Delica knowing that it would end up in my back pocket more.
And then I did end up getting aftermarket titanium scales from Smoky Mountain Knife Works, just to kind of make it a little more special.
And then I put that deep carry MXG pocket clip on, but I don't know why that didn't come out.
Really, really great knife.
I do not like changing the scales on Spydercos, whether it's a Delica or a PM-2 or whatever, I just don't like disassembling Spydercos very much.
But this one, once I had it on, I was like, there it goes, that's how it is, from here to eternity. What a great cutter.
I love serrations, though I usually opt not to have, but a fully serrated blade just really gets my motor going, and this Wharncliffe is definitely that.
[52:21] This would be a good one to get one of those 5x5 solutions on there, because it is, to me, even though it's a small 3-inch knife, it's very tactical.
This one is a gift from my daughter, my first daughter, before my second daughter was born.
She wanted to get me a purple knife, I pointed my wife in the right direction, and this is what I got.
And I love the purple on this, this is your standard Spyderco Delica VG10 in the purple.
She named it Sleepy Bear, Eden named it Sleepy Bear.
She is, even to this day, she'll see a knife and she'll name it.
I'll show off a knife. What do you think of this?
That's great. That looks like Claude. I'm like, Claude? Really?
[53:10] And this one, she named Sleepy Bear. She was into the Care Bears or something at the time.
So a bear's name it took on.
What a great back pocket knife this has been. I mean, I've carried this so much over the years.
And has come and gone with lanyards and fobs and stuff. Right now, it's in this, as you can see, lanyard-less state.
And I just love it. There's no arguing with the Delica. They're just incredible knives.
And so this is Sleepy Bear. Sleepy Bear, take a bow. Alright, next up is my Endura.
And this is one of my legitimately most used folders. Because this is one that I grab for all sorts of home tasks.
Especially painting. This is my dedicated painting knife. Yes, there have been others that have rotated.
Such as my Pro-Tec R2, which accidentally rotated in, and then it's got some paint on it that just won't come off.
And that's fine.
It will always remind me of that frustrating time painting my bedroom.
[54:23] But this one, yeah, it really does, has gotten a lot of action.
This recently got dusted off and taken into action at my mother-in-law's house where painting was happening, and I was a part of it.
This does have that multi-directional texturing as per all, and like Sleepy Bear before it, it is just a run of the mill Endura with the colorful handle and the VG10, and it's just one of the best knives ever.
Just an awesome knife, and that 3.75 inch blade, I love the size of it.
[54:59] You know, I got no, nothing I could say about it. It does have some gunk and some grime in the texturing that will just never come out.
And that's fine.
It's a living history. Alright, penultimate folder here from Spyderco is the knife I was talking about before, a, gift from Shane Gables, edgy American, and man I love this knife.
This is the lightweight Manix II with S110V. I have not pushed the S110V anywhere close yet, but I've used this knife for a lot since I've gotten it because Shane put an incredibly sharp mirrored edge on it, and I'm very interested about the S110V, and it's just a pleasure to hold in hand.
This is like the temperance that I was talking about. It just feels good in hand.
Not for a knife, just in general.
But I think I've discovered that I really like a knife while having it, is that it's.
[56:06] You've got a point, it's almost a spear point, if you move the axis a little.
It's a little bit more comfortable. It's a little bit more comfortable.
It's a little bit more comfortable.
[56:10] You know, if you go down the center line of the knife, it's not a spear point, but if you if you angle your axis more like this, it's a bit of a spear point.
[56:20] And I like how it's angled that way and puts the tip down low.
I never really realized it. I'd look at pictures or videos of Manix 2s and think, yeah, it's a leaf-shaped blade.
But the orientation of the leap shape blade in relation to the handle puts the tip way down low so you get the utility sort of of a wharncliffe but you still have that curved edge, and uh yeah this is a great great knife if you haven't tried a uh manix 2 i i recommend it, and if you want to save some scratch get the bd1 version it'll look exactly like this i think the blue handle is a little brighter on the BB1 version. And just try it out, see what you think. And then, if you like it, there is a world of Manix 2s out there, maybe not quite as many as PM2s, but there are many many options for this knife. I do not find it with the ball lock quite as fidgety as, say, an axis lock, because the spring is stronger, but Once you get used to the stronger spring, yeah, you can fidget with this all day long.
So thanks again, Shane, for this beautiful knife.
I love it.
As a matter of fact, I might continue the day carrying it. Okay, last up is an ugly duckling.
[57:42] But some might argue that all spider cubs are ugly ducklings.
But this has started life as a resilience and I did some modifications to it.
I wanted to see this as a clip point.
And I also wanted to see it wavable.
So as you can see, I took a grinder to it and took a little bit too much, but I liked the idea.
Here it is.
So, I gave it sort of the Mac V Sog treatment with that high peak here, but if I were to, redo this, I would not take so much meat away right here.
I would still open up the hole and have that wave there, but I would not take away as much.
And that's strictly a looks thing, obviously I'm not going out and prying anything with this. which is a down and dirty, at this point, a down and dirty, like, self-defense kind of thing.
I got my Dollar Store lanyard fobs there. It's the two nuts on a paracord.
[58:53] And yeah, man, it's ugly, but it's mine, and I did it. So, if you hate your resilience, and you want to do something to it, change it up.
You can do that. Another thing I did on this knife was stone wash the blade and the clip, and the clip turned out pretty well.
[59:15] All right, that does it for my Spyderco collection, minus a couple that I didn't get to, but I'll show those off.
I really am excited to get that military, too, whenever that happens, because I really like Spydercos.
I take them for granted. They are amazing knives, amazing tools, great in hand.
Some of them look really good, and the ones that don't, you kind of learn to love.
But as many out there will readily say, they do the best heat treat in the business, and the widest range of steels.
[59:52] All right, thank you for joining me on this version of the Knife Junkie podcast, Midweek Supplemental, and checking out all of my Friko's and new knives.
You can join us tomorrow night, Thursday Night Knives, 10 p.m. Eastern Standard Time, right here on YouTube, Facebook, and Twitch.
And then of course, join us again on Sunday for a great interview show.
For Jim working his magic behind the switcher, I'm Bob DeMarco saying until next time, don't take dull for an answer.
Thanks for listening to the Knife Junkie Podcast. If you enjoyed the show, please rate and review at reviewthepodcast.com.
For show notes for today's episode, For additional resources and to listen to past episodes, visit our website, theknifejunkie.com.
You can also watch our latest videos on YouTube at theknifejunkie.com.
Check out some great knife photos on theknifejunkie.com. And join our Facebook group at theknifejunkie.com.
And if you have a question or comment, email them to Bob at theknifejunkie.com or call, our 24-7 listener line at 724-466-4487 and you may hear your comment or question answered, on an upcoming episode of the Knife Junkie Podcast.
[1:01:03] Music.
Share This With a Friend >>>
For early access to The Knife Junkie podcasts and YouTube videos, receive Knife Junkie stickers and be entered into the monthly knife drawing giveaway, join The Knife Junkie's Patreon group of awesome supporters.
Knives, News and Other Stuff Mentioned in the Podcast
Pocket Check
ZT 0620
Jack Wolf Knives Big Bro Jack
SPK Shark
Petrified Fish Victor (ESK)
State of the Collection
Odenwolf Sowcatcher
Petrified Fish Viking
T. Kell Knives Combatant
T. Kell Knives Nightstalker – in AEBL coming soon (Thanks Tim!)
My Spyderco Collection (Most of It At Least)
Serrata
Temperance 2
Sage 2
Spydiechef (modified by CrazySharp)
Pattada
Paramilitary 2 (affiliate link)
Military
Yojumbo
Yojimbo 2
Ulize
Persian
Delica – serrated wharncliffe
Delica
Endura
Manix 2 LW S110v
Resilience (modified by me)
** Get a Spyderco Knife (of knives) with our affiliate link and support The Knife Junkie Channel at the same time! Same price!!
Let us know what you thought about this episode. Please leave a rating and/or a review in whatever podcast player app you're listening on. Your feedback is much appreciated.
Please call the listener line at 724-466-4487 or email bob@theknifejunkie.com with any comments, feedback or suggestions on the show, and let us know who you'd like to hear interviewed on an upcoming edition of The Knife Junkie Podcast.
To listen to past episodes of the podcast, visit theknifejunkie.com/listen.
Today's podcast in sponsored in part by the Upside App, your way to get cash back on your gas purchases. Upside lets you search your area for savings on gas, claim your discount, fill up your tank, then just take a picture of the receipt with your phone. And that's it… you've just earned cash back! Get the app right now at theknifejunkie.com/saveongas. Get the app and start saving money on gas — and help support The Knife Junkie podcast! Again, that's theknifejunkie.com/saveongas.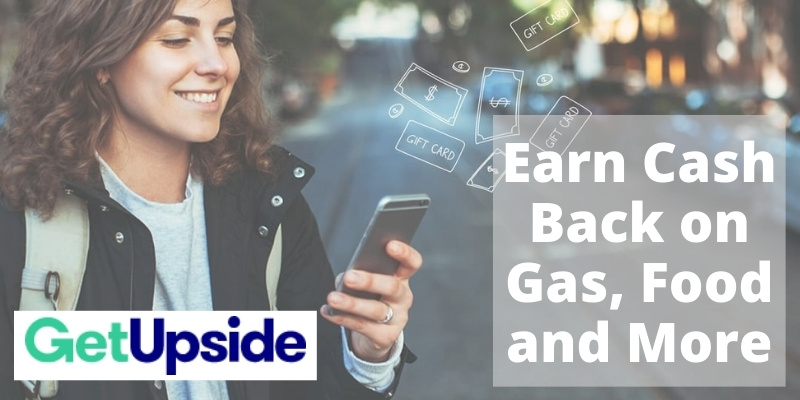 Shopping for a Knife?
Support The Knife Junkie Podcast and YouTube Channel by Buying Through My Affiliate Links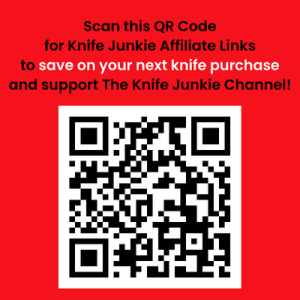 Bamba Forge
eBay
Field Supply
James Brand
Knives Ship Free
Off-Grid Knives
Vosteed Knives
WE (Civivi) Knives
Other Products and Services
Podcast Hosting
Website Hosting
Groove (Free Account) – Replace 17 Apps/Services in Your Business
Knife Books
Rakuten (Cash Back for Shopping Purchases)
Upside App (Cash Back for Gas Purchases)
TubeBuddy (Free Browser Extension and Mobile App for YouTube Creators)
Follow The Knife Junkie
Visit The Knife Junkie website
The Knife Junkie Listener Line — 724-466-4467
Email The Knife Junkie
Follow The Knife Junkie on YouTube
Follow The Knife Junkie on Instagram
Follow The Knife Junkie on Twitter
Join The Knife Junkie Facebook Group

Affiliate Disclosure
In the name of full transparency, please be aware that this website contains affiliate links and any purchases made through such links will result in a small commission for me (at no extra cost for you). If you use these links, I might be rewarded credit or a small commission of the sale. If you don't want to use these links, no problem. But know that I truly do appreciate your support.