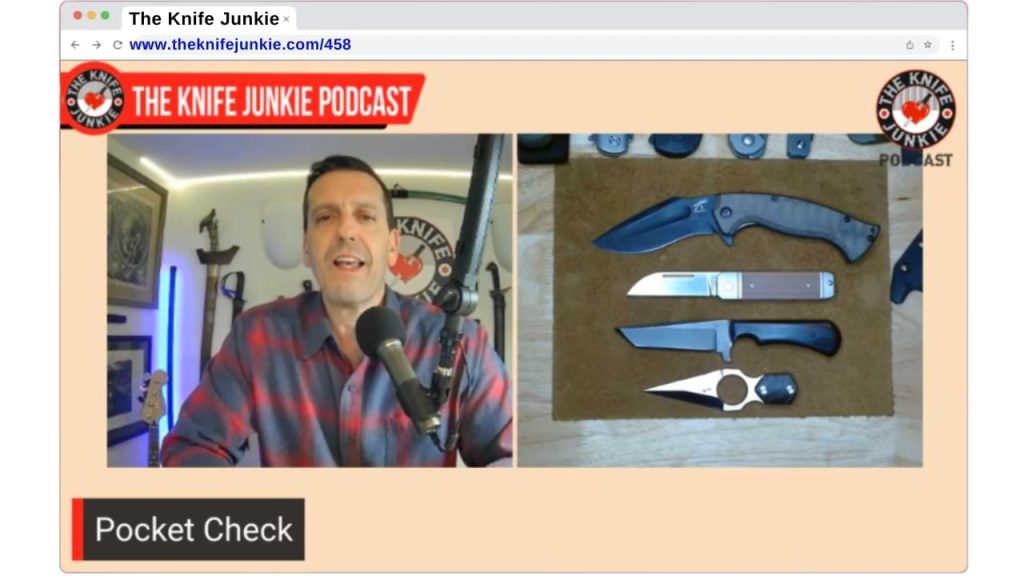 Nine Rapid Knife Reviews – The Knife Junkie Podcast (Episode 458)
On the mid-week supplemental episode of The Knife Junkie podcast (episode 458), Bob "The Knife Junkie" DeMarco reviews (rapidly) nine knives, including the C. Reisner Cutlery Lake Champlain Barlow, Jack Wolf Knives Vampire Jack, and Civivi Synergy 4, among others.
He also promotes the Texas Custom Knife Show in Conroe, TX, upcoming Nov. 4-5. Bob will be there as a judge helping out the show and he looks forward to meeting you there in person!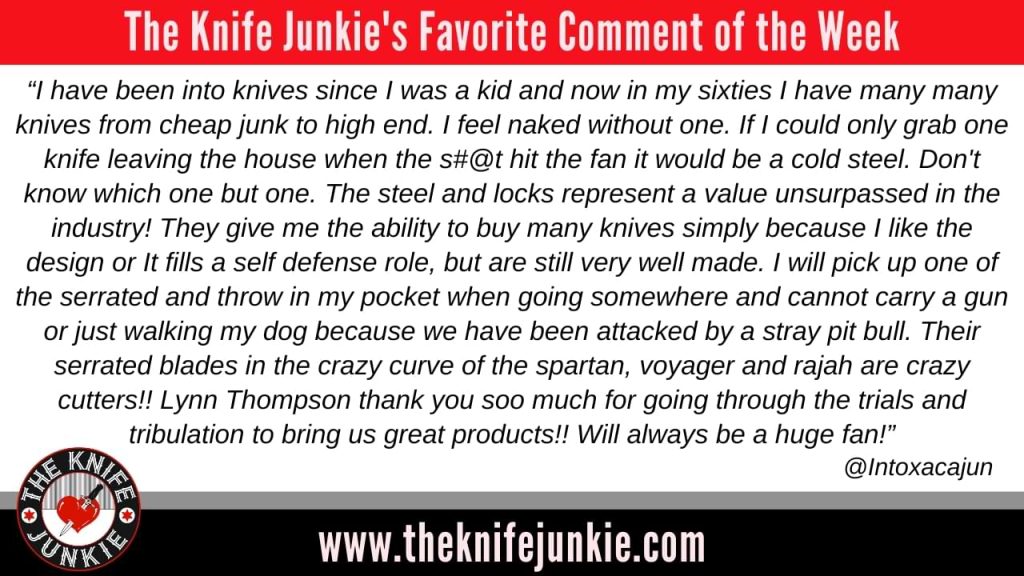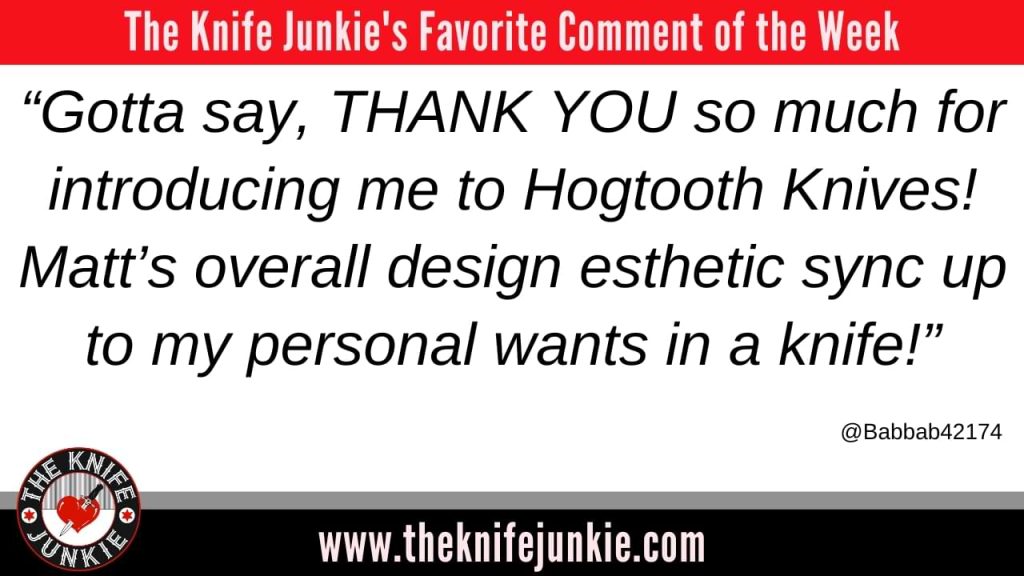 Bob starts the show with his favorite comment of the week, followed by his "pocket check" of knives: the Fox/Knight Elements MK Ultra, C. Risner Cutlery Ohio River Jack, Hogtooth EDC Tanto and the Pinkerton Broadhead (Emotional Support Knife).
In Knife Life News:
• Spyderco Reveal 14 Features New Sal Glesser Design
• New Fixed Blade Line at Case Established by Longtime Outdoorsmen
• Boker's New EDC Kukri
• Tashi and We Collaborate on the Way Cool Speedliner
Meanwhile, in his "State of the Collection," Bob looks at the Olight I1R2 Pro EOS.
Find the list of all the knives shown in the show and links to the knife life news stories below.

Be sure to support The Knife Junkie and get in on the perks of being a Patron — including early access to the podcast and exclusive bonus content. You also can support the Knife Junkie channel with your next knife purchase. Find our affiliate links at theknifejunkie.com/knives.
Bob has nine rapid knife reviews, plus comments of the week, his pocket check of knives, Knife Life News, and more on episode 458 of #theknifejunkie #podcast. Check it out!
Click To Tweet
Read Full Transcript
Automated AI Podcast Transcript
The Knife Junkie Podcast is the place for knife newbies and knife junkies to learn about knives and knife collecting. Twice per week Bob DeMarco talks knives. Call the Listener Line at 724-466-4487; Visit https://theknifejunkie.com.
©2023, Bob DeMarco
The Knife Junkie Podcast
https://theknifejunkie.com
Transcript
[0:00] Welcome to the Knife Junkie podcast coming up Spyderco reveal number 14. That's the last one of the year. I get a replacement o light and nine rapid reviews.
Welcome to the Knife Junkie podcast your weekly dose of knife news and information about knives and knife collecting.
Here's your host Bob the Knife Junkie DeMarco. Welcome back to the show. This first favorite comment from this past week was from Intoxicajun.
Great name, by the way. He says, I've been into knives since I was a kid and now I'm in my 60s. I've had many, many knives from cheap junk to high end. I feel naked without one. I think we all know how that feels. If you could only grab one knife leaving the house when the shit hits the fan, it would be a cold steel. I don't know which one I would choose, but it would be a cold steel. The steel and locks represent a value unsurpassed in the industry. They give me the ability to buy many knives simply because I like the design or it fills a self-defense role, but are still very well made. I will pick one, up, the serrated, and throw it in my pocket when we're going somewhere and cannot carry gun or just walking my dog because we've been attacked by a stray pit bull.
[1:22] They're serrated blades in the crazy curve of the Spartan, Voyager, and Raja are crazy cutters.
Lynn Thompson, thank you so much for going through the trials and tribulations to bring us great products.
We'll always be a huge fan, and that's IntoxicAgent, and you will have to excuse that awful read, but we get the point, and I feel that really resonated with me.
I've pretty much said something very similar over and over and over.
I love cold steel knives, and it's great to see someone appreciating all the effort that went into making that great company, and we like seeing it continue after he has left that main role.
So, thanks, IntoxicAgent. And then the second comment was from Babab42174.
[2:09] And he said, gotta say, thank you so much for introducing me to hogtooth knives.
Matt's overall design aesthetic synced up to my personal wants in a knife.
And I like hearing that a lot, not only because Matt's a friend of mine, but I like getting people together.
Someone who likes this kind of knife, someone who makes this kind of knife.
Getting those people together, that brings me great joy. It's like when I used to fix friends up in college and see them go off into flourishing relationships.
That happened once, but it made me feel great. All right, all that said, let's get to a pocket check.
If you search Google for the best knife podcast, the answer is the Knife Junkie Podcast.
Today and for the past couple of days, I've been carrying this.
I love this knife. This is the Knight Fox Elements MK Ultra designed by Jason Knight.
One of the hosts of Forged in Fire, not a host but a judge, if you will.
He was a guest judge when Jay Nielsen had a pretty big surgery and he was loved.
[3:22] Everyone loved him, really put him on the map beyond the people who knew him and loved him for his custom work.
He's known for his kukris and to me, this is custom forged kukris, and to me this is the creme de la creme of Folding Kukris, this is my favorite Folding Kukri design and it got a lot of use this past weekend throwing a big party for my wife.
It was doing a lot of different duties and it never got kicked out of my pocket.
[3:52] Not necessarily because I really just wanted this but I was moving the whole time and I didn't have time to peruse my knives and labor over what to carry, so this just kept going in my pocket because this is what I started the weekend with, and stayed there, and what a great knife this is.
And I gotta say, yeah, that Kukri cuts amazingly. That recurve is incredible.
This is N690CO, a very, very common steel used by Italian knife makers over there.
Next up, in my front right pocket, that's where I've been carrying slip joints lately.
Front right pocket was the beautiful C. Reisner Cutlery Ohio River Jack.
This in the single-bladed wharncliffe came in a double-bladed that had the wharncliffe, this blade, and a spear point.
You can get the spear point and an additional, a third blade, the sheep's foot, all in single-bladed variants.
And I think they have a few left, but they are now focused on a new knife, which I'll be showing off a little later in the nine quick reviews.
This thing is got amazing action. It's a really great cutter.
This also has gotten a lot of use.
[5:12] It's been in my pocket quite a bit with this beautiful Kevin Doody made, that's Doody Daggers, leather slip. I'm gonna get into that later and show that off and show how it's really taken on the shape of this knife.
But this is such a great knife. This was on baguette duty. That's my thing these days, baguettes.
It's more economical to get a baguette and have it last 2 or 3 days than to get bagels every day.
Plus, I just love them. They're delicious. So that makes a great baguette cutter.
[5:45] Make no mistake.
[5:47] The Ohio Ruby Jack. Speaking of hog tooth knives, I had the Tonto in my waistband today.
This is the other knife that just did constant duty for the past, I don't know, five days at this point.
And not out of a desire not to carry other knives, but just because this is what I had out, and I've been in a grab and go mode.
[6:10] And love this thing, of course. This is the knife that made me fall in love, with the hogtooth knives and carrying fixed blades all the time, this was basically the one that broke me into that concept.
And then of course the one that the Nova 1 was built off of that handle.
And then for emotional support, again, in a grab and go manner, this is just so easy to grab and throw in the pocket.
It's the Pinkerton Broadhead.
It was my emotional support knife today.
And this, I've been carrying it a lot. I love just dropping this in the pocket.
It's very quick and easy, and sometimes you kind of forget it's there, and then you reach in your pocket, and there it is.
Of course, a bunch of different grips, but really a great fondle toy, if you will, or a worry stone, let's call it that instead.
But a great sort of worry stone, you can confidently have it on the finger without worrying about dropping it on that incredible, acute tip.
And you can just kind of impregnate that G-carta with your oils.
[7:17] Oh, that's just gross. All right, well this is what I had on me today.
The MK Ultra, the Ohio River Jack, the EDC Tonto by Hog Deep Knives, and the great and powerful Dirk Pinkerton.
So two custom fixed blade knives on me by two awesome fixed blade knife makers.
Or I should say just awesome nightmares.
So very excited about that. I'm a lucky man for sure. Okay, I just wanted to drop a little promo here to remind people, anyone.
[7:45] In Texas, Oklahoma, or anywhere, anywhere. Come to the Texas Custom Knife Show in Conroe, Texas.
I'm gonna be there, that's November 4th and 5th. I'm so excited.
I've been invited there. I'm not just going for fun, but I am going for fun.
But I was invited to go, and I'm honored.
I'm gonna help Judge in the knife-making competition. I'm gonna be meeting people like Jay Nielsen, who I have met and had on the show, but it's nice to be in person with people, right?
And I also get to meet Doug Marcaida, and that means if you come to the show, you too can meet them, and also, I'd love to meet you too.
I know we have a lot of listeners and viewers in Texas, so I'd love to, if anyone's there and you see me, introduce yourself, otherwise, if you hadn't heard of it, the Texas Custom Knife Show in Conroe, Texas was born from contestants from Forged in Fire who wanted a place to show off their work and continue the sort of camaraderie that they celebrated during that show.
And it, over the past five years, it has turned into a bigger and bigger and bigger show, and Forge and Fire people will be there, like I said, Doug Marquette and Jay Nielsen and others, and then a bunch of contestants, and then there's a live forging contest.
[9:05] There's axe throwing, or tomahawk throwing contest, there's blade sports gonna be there, and table after table of custom knives for sale, of course.
[9:16] And then you can learn how to forge, all this kind of cool stuff.
So I am so pumped up and excited. I love it.
I love fall. I've never been in Texas in the fall. I've only been there just driving through in my 20s.
So it's been ages, and I have a thing in my mind for Texas. I'm looking forward to checking that out.
[9:34] So I will be there, and I hope to see you there.
All right, still to come on the KnifeJunkie podcast, we're going to take a look at some KnifeLife news, some great and exciting stuff emerging out of Blade Show West. Still to come on the show. Among this week's specials at Kniveship Free, if you haven't handled a Jack Wolf pocket knife yet, they are everything you want in a modern slip joint, super snappy with materials like CPMS 90V and integral titanium liners and bolsters, and a new run of their Vampire Jack are now available.
From Spartan Blades, the USA-made Alala features 1095 Cro-Van carbon steel and is ready to get to work every time.
The molded sheath features an active retention lever and securing strap.
You can't go wrong for $149.
And a Bark River Knives exclusive, the Little Creek II in MagnaCut.
It's convenient to carry at under 2.5 ounces and the blade is a slicing machine made from MagnaCut stainless steel.
Get these deals and other great specials from our friends at Knives Ship Free.
Just use our affiliate link, theknifejunkie.com slash Knives Ship Free.
That's theknifejunkie.com slash Knives Ship Free. Support the show and get a great new knife at the same time.
Theknifejunkie.com slash Knives Ship Free.
You're listening to the Knife Junkie Podcast, and now here's the Knife Junkie with the Knife Life News.
Spyderco just announced its reveal number 14, the final reveal of the year.
I've been liking this reveal system and I'm probably.
[11:03] I'm pretty sure that a lot of Spyderco collectors like it too because anticipation isn't built as long and as disappointingly.
[11:13] But this reveal shown off at Blade Show had a couple of really cool things in it and we're gonna stop on this first one here.
This is a Sal Glesser design. Sal Glesser, the founder of Spyderco, you know, He is the elder statesman of the company and his son, Eric, has taken over and taken over a lot of the designing of...
[11:37] He does a lot of the, some of the signature designs, but this is Sal coming back out, and he's the guy who started it all, so it's kind of exciting, and it's really cool to see this 3.4 inch S30V leaf-shaped blade.
I think it's a beautiful, beautiful blade. It's a nearly full-height hollow ground S30V blade, but I really like seeing it on this style handle.
Now, you don't frequently hear me say that I like not having a finger guard.
This has an extremely minimal finger guard.
And I think that that is what makes the overall package of this small.
So it's got sort of an overall, smaller overall size, which I think is kind of cool.
But you still have that big, broad, and I gotta say, beautiful leaf-shaped blade.
So this is definitely a highlight of this reveal. And of course, you see his own invention there, the compression lock.
So it's gonna be a fidget king, no doubt. This is a Spyderco I would not mind having, but I feel burned, I don't know why. It was Blade HD's fault, I'm gonna stop it right there.
Okay, so next up, Para 2.
Yes, in MagnaCut, and this is part of their Salt series, which I gotta say is a huge tip of the hat to MagnaCut.
We all know MagnaCut is, and I'm gonna say the flavor of the moment.
[13:00] And that's usually sounds negative, but it's not. It's just so good that everyone wants it.
And it has so many applications, it can even go into the salt lineup, which has traditionally used H1 steel or LC200N, which MagnaCut, if it can be on these knives.
[13:22] If it can hang with those other blade steels, but it's also MagnaCut, that just shows you how good that steel is.
I know that sounds ridiculous, but we all know at this point the qualities of that steel.
So, you know, tough, high toughness, high corrosion resistance and, and high edge retention.
And a high Rockwell hardness. So it's all, it's hitting all of the magic numbers.
But this, in that peanut butter and chocolate handle, they're calling it, I love it, sounds delicious.
I don't like the way it looks, but I like what they call it.
Anyway, that's in the salt series, so MagnaCut making its way there, which is cool.
And then we scroll down, there's the Spy Mito.
This is one of those real limited, no, we're gonna go down below that.
That's another assault model, very cool, the Stretch 2, the large, that's beautiful.
But down here, this next one here, that's a collaboration with Lionsteel, and we've seen them do that before with the SR-11, I think it was, and they turned it into the Spy Opera.
Well, this here is, this here is based on the Lionsteel Mito, which is a popular flipper from them, but it's getting the Spyderco treatment with the hole and all of that.
So you got Micarta there, you've got M398.
[14:47] So eight better than M390, I'm not sure what M398 is like, but Micarta, TIE, FrameLock, a cool one, I like it when they do collaborations with companies like LionSteel and they do the build, and I think it's a cool sort of, cool thing to do, cool kind of collaboration.
And then last, the last thing I want to show here is the Mule Team, a fixed blade down at the bottom.
This is a, always been a test bed for new steels. When Spyderco gets a new steel, they get, they put it in the Mule Team.
We saw MagnaCut, we've seen all sorts of steels, and now this one is in the high-impact ceramic.
Zirconia Fortified.
[15:29] So I think that is tremendously cool. I think it's cool that they do this, period.
I also like that it ships like that, so you can put your own handle on it or cordage or whatever, but I think that's kind of cool.
And I love that they're doing zirconia fortified high impact ceramic, because, you know, why.
[15:50] Not? But very, very cool.
So that is the Spyderco Drop No. 14, the last one of the year.
Well done, Spyderco. Next, a fixed blade line by Case Knives.
Now, this is pretty cool, especially this first knife, I find especially cool.
It's the Case Pro Series of fixed blades, and these are designed by professional outdoorsmen.
Both of them happen to be hosts of TV shows. Laramie Miller, who designed this first knife, this recurve that's just tremendous to look at, he's the host of an outdoor show on the Sportsman Channel, a couple, I think, and this one is lovingly called the Sasquatch Bowie.
I like the name, obviously. I like Bowie, I'm gonna say Bowie right now because people have been yelling at me, and I like Sasquatch. Put them together, you get this beautiful knife in 1095 blade steel.
That's a 7.63 inch blade, and that recurve is just gorgeous, recurve clip point.
I love that knife, just from looking at it. It's got a nice wood handle there.
Laramie Miller also designed a Skinner for the same lineup, that's a four inch.
And then if we scroll down, we'll see one from Roland Welker and he is made famous from histories alone.
[17:10] And he's got this really cool Hunter 6.5 inches. Another beautiful knife.
It's got a, you can see a slight recurve there.
It's got a straight blade with a belly, but it's got an overall arc on the back, which is pointing the edge down a little bit. So you're gonna get really good shearing and cutting with this knife.
And it's also in 1095, and Mr. Welker also designed a 4.13 inch Skinner, these are all in 1095.
And I gotta say, they're handsome, and I feel like Case Knives has done some sort of awkward knives, like I don't find their flippers particularly compelling, they have that very classic, classic naval buoy that everyone loves.
So I like seeing them come out with this real, I don't know, to me it seems like a pretty legit line up and I love the designs that I've seen so far.
So looking forward to that.
Okay, next up, I want to talk about Boker's EDC Kukri. We were just talking about EDC Kukris here with the MK Ultra.
[18:14] Well, these are from a self-described welterweight semi-pro knife designer called Cornel Kiss from Hungary.
And these sort of kukri-oid blades, and that is a term I could hear my dad say, but it is actually borrowed from Ben Schwartz of Knife News, I will say, kukri-oid here.
Two of them in different sizes. The first is the Macri, and that's what we're looking at right here.
A little Kukri 2.8 inches D2 full tang G10, nice red liners, a beauty.
Actually, this is the larger one, sorry.
And I can tell because there's a swedge on this one. And I know that it's the large one with the swedge.
And that's called the Mikri, M-I-K-R-I.
And that's a 3.11, 3.11 inch D2 blade. Everything else I rattled up before still stands.
Full tang, G10, red liner, very nice looking.
Comes in a couple of finishes.
[19:13] And Jim, if you don't mind scrolling down, I think there might be the small one represented down below in the picture, if I'm not mistaken.
But I love the Kugri. I love you're gonna get some incredible, no, that's it, my bad.
Well, you're gonna get some incredible cutting power with that small, with those small blades, with that recurve.
And I gotta say, also, just on an aesthetic level, I think they're also pretty handsome blades.
Last up, this, speaking of, God, speaking of good-looking knives, this is from Tashi Barucha, who is just the consummate artist, man.
He is like the consummate artist designer.
And I know design was his main job. What a cool dude, man, really.
Living in Paris, has a family, designs incredible knives, has a really cool career, that's his other career, and he's doing this with Wii.
It makes me sick, it's so beautiful. I shouldn't put it that way.
It's called the Speedliner, and it's, I don't know, this might have to be the TASCHI design I actually acquire, because I could never quite justify or afford the CKF TASCHIs, and this one just really, This one just really, really seems to be, it is beautiful.
Look at the handle on this.
Anyway, the Speedliner, it's sort of...
[20:37] What would you call that? A trailing point? Maybe flirts with tanto slightly on that beautiful curved handle. Looks like it just nestles right in the palm. It's going to be great for thrusting, but it's also going to be great on a pull cut or a slash or anything like that because of that arched handle. It's going to position the point down low and that edge in such a way that it, acts essentially like a recurve because of the triangle behind the edge.
Beautiful, comes in a stonewash, a satin, two black bladed, and one damasteel, and then it comes in three different titanium, or two different titaniums, a gray and a bronze, and then, and a black, so that makes three, and then two carbon fiber.
I just think the thing is gorgeous.
Blade, steel-wise, that's 20CV, inline flipper, so, you know, this is one of those Tashi Barucha of flippers that you barely see and I love them, I think they're really cool, but when.
[21:37] You grab onto it and you pull it, it rockets out. So it sort of negates the need for a flipper protruding out like that. So yep, five finishes available shortly. So look forward to that shortly, whatever that means. Alright, coming up on the state of the collection, I have one thing, I've got a couple of things coming in, but I have one thing to show and And it's not much, but I want to talk about how awesome it is.
Coming up on the next Junkie Podcast. Looking to amp up your self-defense skills?
Meet the Shockwave Tactical Torch. It's your ultimate tactical flashlight for safety in any situation.
With a long-lasting LED bulb, this bad boy also packs a whopping 4.5 million volts.
Picture the confidence of having this by your side. A quick flash stuns any threat.
Best part?
It's easy to use. Just one click and you're safeguarded. Don't risk it.
Get the Shockwave Torch now and embrace ultimate protection.
Get yours now at bit.ly slash shockwave dash tactical dash torch.
That's bit.ly slash shockwave dash tactical dash torch.
And now that we're caught up with KnifeLife news, let's hear more of the KnifeJunkie podcast.
The humble keychain light.
Well, I didn't realize how much I rely on it, and I really do.
I recently got my car fixed. It's at 126,000 miles.
[23:00] Roxanne, you are my baby. I love you. She's a big old pilot, and she's the family truckster that keeps on going. But I did have to have some maintenance.
You know, 125,000 miles will take it out of you.
So while it was in, I took the key off, and at some point I lost my blue Olight, my favorite, the I1R2 Pro EOS.
[23:27] It doesn't roll off my tongue, but it's the little one that I love. And so here it is.
My old one was blue and it got so nicely marred, that anodization wore off so nicely being on the keys.
So I'm sure it will not take long for this.
But this light, if you need, And this, I swear, I think this would make a great EDC pocket flashlight.
I know a lot of people are really into their flashlights and they have to be a little bit bigger and a lot more powerful and have more options and stuff. But this has two brightnesses.
All you gotta do is turn it and you get one light, where you don't wanna blow your eyes out in the dark, in the total dark, and you just need to find something.
Or when you need to light up the lawn, you've got, what is this, 186 lumens, I think.
[24:23] It gets really bright for this little sucker, and it's handy and small, and if I were to carry a flashlight in my pocket, I do carry another Olight, I can't remember which one it is.
I always talk about it, the 3T, maybe?
The one with the spiral pattern. I do carry that in my pocket sometimes, But really, if I were to do it all the time, it would be this.
I would drop this little guy in there because I don't need much more than this on the regular, unless we're talking about self-defense, which we're not.
By the way, here, let me show you my keys.
I used to keep a knife on here. I don't anymore. But I do keep this awesome titanium toothpick, which Jim has seen me pull out at Chipotle before.
It's a great, it's a great little toothpick. and also a titanium clip, and that's all.
I don't need all that weight hanging on my transmission, or on my key, you know, on the keyhole thing.
So I keep it light, all titanium and aluminum. But check out Olight, they're always having sales, and they've sent me some free, well, knives too.
We've given those away, and lights, we've given most of those away.
I did keep the Ark build, pretty sweet. But check them out, their lights are awesome. I don't, I don't.
Put recommendations down below. You might say Phoenix, you might say something else.
[25:51] But I think they're pretty awesome, at least for my needs.
Anyway, that's enough about Olight.
Check it out if you need a keychain light.
Plus, that thing's rechargeable through USB. Yes, Bob, we know that.
Okay, next, let's talk about nine rapid knife reviews. And, well, actually, eight rapid knife reviews and one review of something else. And the reason I'm doing this, it's a guilt trip.
It's, I feel guilty because I have a couple of knives that I've been meaning to share with you a little bit more than just in a pocket check, and I have yet to make a close-up video.
But I aim to do so real shortly, where I will get very up close and talk about it and do size comparisons, but until then, let me show you some of these pretty sweet knives here.
So, for reviews, I guess I just blew it. I like them all, but let's start here with the C. Reisner Cutlery Ohio Riverjack.
[26:46] So, jackwolf knives are the slip joints I've been carrying pretty much all year.
Every month I had been getting a new one and they're amazing.
You know how much I love jackwolf knives.
And so it kind of kept my interest in, you know how I go through phases.
Well, it kept my interest warm with slip joints. And when this came out, I had to have one, but I held off because I was buying other things.
This is the Ohio River Jack by C. Reisner Cutlery, designed by Austin Jackson, whose grandfather started this company, and he keeps it going.
He's been doing some really, really cool stuff.
But the knife itself, this is made by, this is OEM by QSP, OEM by QSP, and really, really nicely done.
There you go, that's M390 blade steel, fully flat ground, super sharp, very nicely shaped.
I love the long machine pull there, that milled pull is great.
You have enough to pinch here, but that really adds to the grip.
And I'm not sure if you're hearing it there, so I'm gonna put it next to the mic for a sec, so you can get a load of this walking talk.
[28:09] It's really good. They do fantastic slip joints, I'm discovering, because I have another one here I'm going to show in a second.
Titanium bolster and liner here, really nice strong back spring.
[28:27] I like the squared off handle. This is kind of a heavy duty slip joint knife.
I mean, you could do some pretty heavy-duty tasks with this, at least for a slip joint, I would say.
I really like the micarta on this one. Really nice micarta, not too, you know, you definitely have, that is canvas, and you definitely have the texture of the canvas, but it's not too fuzzy.
It's not too flannel, if you will. Sometimes that bothers me.
But this knife I find to be flawless, I'm really loving it and this is a great, so I've been steeped in Jack Wolf knives for over a year and they are perfection.
And it's very nice to find another modern slip joint that is right up there with it.
I mean to me this knife is just great.
It's got all the hallmarks of a modern knife. You can take it apart, you can do all these things, but it's a really, really outstanding tradition.
[29:33] So I'm gonna put this down here, and then the second thing I'm gonna show off, is closely related. If you watched Thursday Night Knives last week, you saw this.
This is my custom-made leather slip by Kevin Duty of Duty's Daggers, I'm sorry, who was on the show recently.
He made this for me out of this beautiful hunter green leather and it has really taken on the shape of the blade without or of the knife without much without much doing. Though I do like to sit on these to put them in my back pocket when I first get them. The leather slips to sort of press them into shape you know the old-fashioned way if you will and it really took the form very very nicely. I love that he has handmade in USA stamped in the back and he put my initials here BD which is so cool I didn't ask for that I mean he he made this for me for free so thank you so much Kevin but I I got right back on and ordered a slip for the next knife I'm gonna show you so this thing I really really like this slip I'm gonna have to get more and I want a maroon one at some point because I think but to me this color combo, he nailed it. I said, your choice, you choose the leather, and I think he nailed it. Those colors look so good together.
[31:02] Yeah, classic sort of hunter colors. All right, so next up, also from C. Reisner Cutlery, and oh, so like if I'm reviewing this, if we're gonna call this review, yes, excellent.
Really, if you've been on the fence about the Ohio Riverjack, they are actually on sale right now for a song for what they are.
So I would go check it out at traditionalpocketknives.com and I will say this, When they're done, they're done, at least we think so far.
When they're done, they're done, and there are a few left, so go check it out.
All right, next up, this is his newest one. This is the Lake Champlain Barlow.
[31:47] Also designed by Austin Jackson of SeaRisner Cutlery. This is a big daddy.
This is a three and a half inch full height hollow ground M390 blade.
In my case, clip point, a beautiful clip point blade. It also comes in a sheep's foot, if that's more your pleasure.
And then it comes in five different handle covers.
But let's see, one of them, the green iguana fat carbon or camo carbon, I'm not sure what it is, is sold out.
But there are three sort of exotic carbon fibers that you can get this in and, or no wait, I think it's two carbon fibers, two different titanium finishes, one a jigged and one a saw cut, looks like saw cut titanium, really cool.
And then green or black micarta, I think that's what it breaks down to.
[32:42] But I saw the green micarta and was totally smitten right off the bat.
I love the gray next to the green And it's it's walk and talk is amazing I'm going to bring this over to the to the mic so you can hear it, This also is.
[33:02] OEMed over a QSP, so nice. And a cool thing about this is that it's a Barlow.
So not only is it big and beefy, but it's a Barlow. So that means it's got this real long bolster, which adds strength.
This, this, usually the bolster on a Barlow is about one third of the handle.
This is like, I'm going to say that's more like, I don't know.
It's a little bit more.
I like it. It's a very big and single fluted bolster, and I really like it.
The reason that makes it heavier duty is you have more of this strength up front, and that also means they frequently have a longer tang to fit in the longer, so you're going to get just less wiggle back and forth, side to side, or more stability, I should say. There's no wiggle whatsoever, but it's super strong.
Very nice, very nice pull here.
So I will be getting a Kevin Duty slip for this. I'm not sure what color.
If he can get maroon, I guess maroon would look beautiful with that green, no doubt.
[34:12] Just look at the Nova 1 handle. Speaking of which, Nova 2 design is gonna be bouncing over to Matt Chase shortly, and we're gonna start thinking about that.
Okay, so I just wanted to show this really quickly. this is the ship that Austin Jackson's grandfather served on.
It's the USS Lake Champlain CD 39. And it is a last generation aircraft carrier. I'm not sure what that's called. But you know, before these big nuclear powered supercarrier, it was this Korean War.
[34:51] Essex class, sorry, Essex class. All right. Next up, Another, speaking of jack wolf knives, another beautiful slip joint here.
I'm gonna show that, but I was talking about how awesome Kevin Duty's slips are.
I still love the jack wolf knife slips too.
Really, really nice. I guess I'm just a sucker for leather in its many, many different incarnations.
Leather and steel put them together.
E-gads, but look at how this has started to take on that swell center, coke bottle shape.
I really love that. Again, this is one that has, you know, put this in the back, in the, back pocket and you forget about it and you sit on it and it presses it nicely and then, it form fits and it belongs to the knife. But let's talk about the knife. This is my very first all titanium slip joint from Jack Wolf Knives. The only other one I have is This is a Medford, gentleman Jack.
[35:53] And here it is, this is the Vampire Jack, the redo, not the redo, the second release of the Vampire Jack.
And there are some subtle tweaks to this design besides the covers.
Now of course you see here, the jigged titanium cover has such a, oh my gosh, the feeling when I first took it out was almost startling.
Oh my gosh, I'm so startled. No, but it has an aggressive texture.
And some of it is that chalky feel you get from anodized, hard anodized aluminum or blasted titanium.
[36:31] And it has a rawness to it. And then it starts to very nicely and quickly sort of, I don't want to say soften, I mean it's titanium, but it starts to, I don't know, I don't know how to say this, feel nicer to the touch.
It was a little, at first, it was a little aggressive, and I was like, this is tremendous, tremendous grip.
It's like, it's almost like wet micarta.
And then being in the leather a little bit, and using it, and kinda getting my skin oils on it, now I'm not struck by that feeling.
[37:09] But I'm a huge fan of the jigged titanium. Man, that's just so cool.
Now that is an S90V blade and it is hand rubbed satin in that direction as you can see.
Very thinly hallowed ground like it's brother here.
Older brother by a year, also has a very stout pull. This is the first run of the Vampire Jacks from a year ago.
And you can see some subtle changes. In the new one, the sharpening choil is much deeper.
In the new one, you've got two different offerings in titanium, one's all black and the other is this jigged, and then you have a couple of two tree carbon fibers.
And then here you got the single fluted bolster. Here you have a double fluted and a triple fluted, just aesthetic, but you have the same incredible lockup or I should say walk and talk and action.
On this one, you can see those grind lines. You can see, you know, going north to south, you can see how dramatic that hollow grind is.
You have that same thin hollow grind on this one, just sanded in that direction by hand. Pretty amazing.
This also has signature amazing walk and talk, which I'm gonna put in front of the mic here to see if you can hear it.
[38:38] And one thing I love, I mean, not one thing, one of many things I love about Jack Wolf Knives is that the half stop, it stops like Wile E. Coyote.
It's like, psh, it like stops with a real authority. I don't know how else to put it, but, or maybe not like Wile E. Coyote, because he kind of flops back and forth.
This doesn't do that, it snaps out to the half stop and stays there because I'm pretty, I don't like closing slip joints one-handed.
And when I have, I've had other knives, and you've seen it happen here live, flip and kind of go beyond the backstop just enough to nick my stupid finger which was hanging out there, ready to get cut.
This doesn't do that, but I wouldn't know because I don't close my slip joints with one hand.
All right, so this is available now. I'm gonna do a close-up video that's gonna post this week.
But this one is available now at many of your favorite purveyors of knives and probably some you've never heard of.
He's got Ben Belkin of Jack Wolf Knives has a really pretty varied and cool distribution roster.
So check out, you can find these now, so go for it. Oh, as a matter of fact, you can find them at Knives Ship Free.
You just saw the liner showing these off. Go there and you can go to theknifejunkie.com slash Knives Ship Free and buy this very knife.
[40:07] There it is, very nice. Okay, next up, this is a knife, one, well, this is something awesome.
You've heard me talk about it and it is requiring a close-up video, but I will tell you the review right now. So I've carried it a lot since I've gotten it, and I love it.
This is the Civivi Synergy 4, based on the, it is a Jim O'Young design.
It is a pretty old design that has seen a resuscitation or a resurrection through Wii Knife and Civivi, and this is the big one, four inch blade with a tanto.
You can also get a four inch blade with an upswept, Upswept blade. Very thin, extremely thin blade, very extremely sharp at the edge. Pretty broad.
[40:58] Nice broad tanto with a high flat grind and that chisel tip is flat also. And like I said, like deceptively sharp. You can just see from the blade stock there. That is Nitro V blade steel and I like Nitro-V. I have a handmade Pinkerton EDC blade that's Nitro-V and I really like it. This has G10 handle scales. Well, first of all, the contour of the handle is incredibly comfortable. This is a big knife. You can choke up on it. You can kind of choke back on it if you need to reach out like that. So it's a big enough knife to do all that.
You can even hold it in Pakal very comfortably if that's your wanting at the time.
But what I especially love about the handle of this, which makes this great as a tactical knife, because obviously a big four-inch tanto like this is, it's kind of tactical knife, right?
This radiating pattern that comes from the pivot of concentric circles, we've seen it on, You see it in a way on the RSK Mark I, but it just really gives great grip.
It's like the unidirectional.
[42:17] In essence, from Spyderco, even though that's a totally different pattern and it's a bunch of little nubs and, this has the same effect. Kind of no matter which way you're gripping it, no matter which way you got the pressure.
[42:32] It's gripping you some way. Look at that blade.
[42:36] It's an incredibly beautiful tanto blade to me. But it's still, okay, so you've got a sweep and you've got a belly, but the way the blade is angled you still get a tip just right at the top of the pivot so you're still going to get a lot of utility usage out of this knife.
I think this thing is awesome. I highly recommend it. It's got great action. It's getting greater every day. I bet the I bet the satin finish or the stone wash finish ones have better action right up front. That always happens with coated blades. It takes a little bit longer to get them super smooth but everything about this knife is awesome. They even are nice enough to flatten the landing spot right under the clip. That G10 right under the clip is nice and flat. They know that this would shred your pocket in no time. So, very nice. Also, an inconspicuous flipper tab that really rockets that blade out. That is the one and only method of deployment on this gorgeous If you like the design, but four inches is too much blade for you, you can seek out the Wii version.
And I think Civivi may have done a small version of this also before releasing the large one.
[43:52] Okay, another one that's gotten an awful lot of pocket time, but sadly not a review yet, not a close-up video yet, is the Kaiser Mystic by Paul Munko and Kaiser Knives.
Now this thing has gotten a lot of pocket time.
A beautiful harpoon-shaped blade inspired by the maritime culture and the whaling culture of Paul Munko's hometown, Mystic, Connecticut.
[44:18] Really beautiful. To me, the design is evocative. It sort of looks like a whale with that arching shape, but it also sort of looks like a piece of whale-hunting kit, let's say.
That harpoon, not to be too on the nose, but the harpoon on the blade blade really lends itself to that kind of a tool, or you might call it a weapon.
You've got really nice linen micarta, you can tell it's linen from the fine weave, and you also have a collar around that pivot.
A bolster lock, which I love, I love bolster locks, probably my favorite kind of lock, just because you get the strength of the.
[45:04] Frame lock but you don't have to mess with it when you're opening it you don't have to worry about applying too much pressure on that lock bar but if you are one of those people who think thinks, that one of the main selling points of a frame lock is that you you bolster the lock with your grip you can still be doing that here the bolster lock just by you know grabbing it like that you're still exerting pressure on that lock so that's rex 45 blade steel the first time i've ever had Rex 45 blade steel. It's a high carbon tool steel that patinas. It's patinaing beautifully here and the blade itself is very sharp and very thinly ground at the edge and just a great great cutter. Again you know I got this and the Synergy, the last knife I showed you, on the same day. I ordered them at different times but They showed up on the same day, and I've been carrying them both an awful lot the last month or so.
And they kind of have been competing for pocket time. Part of that is I love them both so much, I just kind of have been compelled to carry them.
Also, been busy and lazy and not feeling like rummaging through the drawer as much to agonize over a selection and being happy to just grab this or the Synergy or the next one I'm gonna show.
And just been carrying those three quite a bit.
[46:31] But this linen micarta is starting to show where my fingers wrap around there and the blade, you can see a little bit of patina.
I want it to happen naturally. I've cut some food with it, cut some garlic and onions with it and some meat.
And it's getting there.
But I'm not gonna rush it like I do most patinas.
The action is, Almost nerve-wrackingly awesome. It's it's so drop-shut it reminds me of the towser K, Where I'm constantly opening it up and then seeing if it's loose. No, indeed. It's not loose. It just has, amazing bearing action this as you can see has a.
[47:14] Front flipper here It is not The most grippy so with a lot of downward pressure I can make it work, with that jimping but the jimping here it seems like it maybe got tumbled so isn't as sharp and grippy where you might want it to be. Great on the reverse flick and maybe a little bit of menace to this knife you know the blade shape and everything it looks like it it looks like it could handle itself looks like it could be an intimidating knife maybe but I wouldn't know I've been bandying it about a lot recently, so loving it.
All right, next up, this is kind of in that same, actually, I'm gonna switch orders here.
Next I'm gonna go to the Artisan Hyperion, because this one to me kind of fits with the last two I was talking about, because it's a super smooth and luxurious knife.
This is the birthday knife, my birthday knife from this old sword, and it's got this beautiful 35VN clip point blade, which is evocative of an old school bowie, of a western bowie, with the downward sweep in the wide belly and the thinner at the ricasso profile.
And then of course you have this handle, which is also a bolster lock, which I've been loving, but it's evocative of a gunstock jack handle.
[48:43] I mean, yes, I know it is, but you can see what I'm talking about here, and then it's got this very cool clip, made by, designed by Daryl Caston, Daryl Castion, of D-Rocket Designs.
[48:58] He does a lot of very interesting stuff, and this one for Artisan, the Hyperion, is a little bit different, I gotta say, for his stuff, his design, a lot of them tend to be smaller, I don't remember seeing him ever do a clip point before since seen a lot of daggers He's got that new one out from with a CRKT, That's almost a 90 degree Front tip tanto that thing's really cool. So he does some very unique designs. This one was my fancy dinner steak knife, Couple weeks ago when we went out to celebrate Mari's 50th and and you got that titanium there.
This thing was so cool, so classy, and got some looks. Like, ooh, he's not your average Joe.
He's a special guy. Look at him cutting his steak. At least that's how I felt.
I did not actually hear anyone say that, but I'm sure they were saying that.
They were just keeping it down so as not to embarrass themselves.
Very buttery action. I love this knife. Yep, the Hyperion.
[50:07] I love Artisan Cutlery. I gotta say, CJRB and Artisan are very, very impressive to me for production knife companies.
Maybe, maybe I should get the CJRB.
[50:19] What is it, Scoria, not the Scoria, Echo. I need to get the Echo. That is a cool one.
Okay, next up, this one from Jimmy Slash in Cold Steel.
In cold steel.
I've shown this off a bit, but I'll tell you now, I've used it a little bit, and it is a monster.
It is a monster. I tried to clean, I cleaned up most of the, there's some, a little bit of sap on there.
Cleaned off most of it, but this, this damn paint, because I was chopping up an old table, is not coming off.
But anyway, a little elbow grease. I just don't wanna mar the nice finish.
So this is a blade sports approved chopper, competition chopper, designed by the great and powerful Jimmy Slash, who, well, I can't speak for everyone, but who doesn't love Jimmy Slash?
What a great guy, and this thing is wicked. This is number 11.
[51:16] I got a serial number, number 11, that's pretty cool. Very, very sharp, convex grind on this.
Convex grind can get very, very, very sharp, but it remains somewhat stout behind the edge.
That's why Bark River Knives uses them because their knives are outdoors knives and they're meant for hard wood tasks, woodland tasks, whether it's batoning or more likely carving.
But you're gonna be doing other stuff, cutting rope, cutting food, game and such.
[51:53] So yeah, that apple seed edge or convex edge is a really good choice with something like this knife, where if you don't know what cutting competitions or blade sports are, it is just what it sounds like.
You have a bunch of different obstacles that you have to chop through with a knife that looks just like this.
10-inch blade, no point, cleaver style like this. A quarter-inch thick at least.
No major weight reduction through fullering or swedging.
This is obviously not too much here, or it wouldn't be allowed.
It's gotta have one lanyard point.
This one has two. Oftentimes on competition choppers, they'll have a lanyard tube right up front near the Ricasso so that, I guess it just enhances grip or doesn't get in the way as much or something.
[52:44] But I like the option because I also like the idea of doing sort of a D guard lanyard where you're cinching it tightly from one loop to the other across the back of your hand.
Very nice kraton grip, checkered. You know, this is a beautiful cold steel production.
This is 3V blade steel, my only cold steel in 3V.
Just a classic, beautiful, um, kraton handle here that flares and is contoured on all dimensions.
And that wicked bird's beak, this thing is going nowhere.
And with the angle of the handle to the blade, you're getting an accelerated cut.
So, uh, really, really cool thing. Uh, this Jimmy Slash chopper, I believe it's a limited edition.
Um, maybe not, but it is numbered, so I guess it is.
Or at least this first release of it. Comes with a really nice leather sheath.
There's no attachment, this is not a sheath that you're gonna put on your belt.
This is a sheath, what happened?
Aw, I got a little scratch on my leather. Anyway, it's a sheath just to keep that gnarly blade from cutting you, but you could tuck it in your belt I guess if you were motivated.
[53:55] Very, very awesome knife. All right, and last up in my list is a knife from the Demko's, this is from Demko Knives, this is the Armiger, and I got the coolest one, they're all really cool, okay, they have the Armiger IV and then the II, the II's are the little keychain knives with the really small blades.
[54:17] But the Armiger IV, they have a clip point, and then they have a tanto, and then they have a serrated tanto, and then they have a drop point with a sharpened swedge, and then they have this drop point, With a serrated edge and swedge.
This thing is so cool.
This thing is incredibly cool. I'm really psyched that Demco Knives is producing, fixed blades as well as holders. We know how much designing he did for Cold Steel and all the great work he did there.
And for him, it's a matter, you know, for them, I should say, Andrew and John et al, it is a capacity thing.
They're not as big as Cold Steel, so they can't make as many awesome designs all at once, but I love seeing that their line keeps expanding and into an affordable realm.
This was 80 bucks shipped.
I got this one from KnifeCenter because it was sold out on the Demco website.
That's where I went first.
Look at that thing.
You could also get this in plain edge, but it's also sharpened up here, but I just figured that's so extra, I should just go for it.
And then if I'm really jonesing for it, I'll get the black version, you know, fully, with the plain edge, and get the Tonto.
[55:41] 80 CRV steel, now, you might have guessed, I haven't used this for anything, but I have watched Gideon Tactical's video, where he takes the clip point and runs it through its paces.
He's an outdoorsman and does some serious testing, and it shines, it shines.
So the Armature series, you know, flexes from fully tactical, like this, to the tactical-practical, like the Tanto, or the great-for-the-outdoors clip point. I mean, of course, you can use anything tactically, but the clip point seems like the most for outdoors chores, and this one seems like the most for other chores.
And very cool sheath, I have mixed emotions about it. Sorry, not emotions, mixed thoughts on it.
It's very cool because you can unscrew these Chicago screws here and take these off.
These green parts off and then you can open this up and clean it out if you're on some adventure and it gets filled with sand or crap you can always open it up when you get home and or in the field easily and clean it out so I think that that is a very very cool feature. One thing that.
[56:56] I haven't I can't probably speak to yet but it it seems awfully thick and I have a I have a feeling going to run into screw problems. I'll have to get new screws to make something like my discrete carry concepts clip work on the thickness of this. But maybe not. Maybe not. Maybe I just need some less wimpy screws to span that distance. The handle itself is symmetrical so they put this jimping on the top where the thumb goes so you can index it in the dark and you know exactly where that edge is, which on this one it's semi-double-edged so you could still get away with it if you were slashing, you could still get away with having it misoriented, but certainly not with the tanto or the clip point. So I like that the handle is symmetrical, but I also like that they give you this indexing, jimping, it's not just for indexing, it's quite grippy, but that'll tell you in the dark where your edges. They have jimping the same way on the pommel, so if you grab it in reverse grip, you can also tell which way the edge is oriented. Thank you guys! Like that is a really simple but thoughtful thing. I like things that are done for indexing. Features that are put on there for figuring out which way the, edge is oriented. If you can't look at it, you don't want to touch it.
[58:26] You have a flare in the center, or it's more, it's less a flare in the center, you have a dip towards the back and towards the front, and that gives you great grip even in that sort of sideways shovel grip, and then you have an extended tang, so this is a full tang blade with a little peekaboo back there for breaking glass maybe, or attitude adjustment or whatever.
[58:49] Armature 4, highly, highly recommend this knife in one of its incarnations and it might be a good, recommendation for a, this is my only fixed blade knife. If you're a full-on folder collector, and but thinks you should get a fixed blade knife or don't have many of them and want one, that one is worth the 80 bucks all day long and it will be an incredible capable knife for as as long as you want it.
So, thanks for coming and checking out the nine rapid reviews.
I will do close-ups of these, but until I do, I just wanted to not fall behind totally, and I also wanted to show you what I've been carrying an awful lot, so very happy to do that.
Be sure to join us on Sunday for a wonderful conversation.
[59:37] We will be talking to C. Reisner at Cutlery coming up here next week, so I'm excited about that.
Austin is a great guy. And if you want to help support the show, you can do so by scanning the QR code on the screen, or, going to Patreon. That's the knife junkie.com slash, for Jim working his magic behind the switcher. I'm Bob DeMarco saying until next time, don't take dull for an answer. Thanks for listening to the knife junkie podcast. If you enjoyed the show, please rate and review it review the podcast.com. For show notes for today's episode, additional resources and to listen to past episodes, visit our website, the knife junkie You can also watch our latest videos on YouTube at TheKnifeJunkie.com slash YouTube. Check out some great knife photos on TheKnifeJunkie.com slash Instagram and join our Facebook group at TheKnifeJunkie.com slash Facebook. And if, you have a question or comment, email them to Bob at TheKnifeJunkie.com or call our 24-7 listener line at 724-466-4487 and you may hear your comment or question answered on an upcoming episode of The Knife Junkie podcast.
[1:00:41] Music.
Share This With a Friend >>>
For early access to The Knife Junkie podcasts and YouTube videos, receive Knife Junkie stickers and be entered into the monthly knife drawing giveaway, join The Knife Junkie's Patreon group of awesome supporters.
Knives, News and Other Stuff Mentioned in the Podcast
Pocket Check
Fox/Knight Elements MK Ultra
Risner Cutlery Ohio River Jack
Hogtooth EDC Tanto
Pinkerton Broadhead (ESK)
State of the Collection
Nine Rapid Knife Reviews
Reisner Cutlery Ohio River Jack
Leather ORJ Slip by Kevin Doody
Reisner Cutlery Lake Champlain Barlow
Jack Wolf Knives Vampire Jack (affiliate link)
Civivi Synergy 4
Kizer Mystic
Cold Steel Jimi Slash Chopper
Artisan Hyperion (affiliate link)
Let us know what you thought about this episode. Please leave a rating and/or a review in whatever podcast player app you're listening on. Your feedback is much appreciated.
Please call the listener line at 724-466-4487 or email bob@theknifejunkie.com with any comments, feedback or suggestions on the show, and let us know who you'd like to hear interviewed on an upcoming edition of The Knife Junkie Podcast.
To listen to past episodes of the podcast, visit theknifejunkie.com/listen.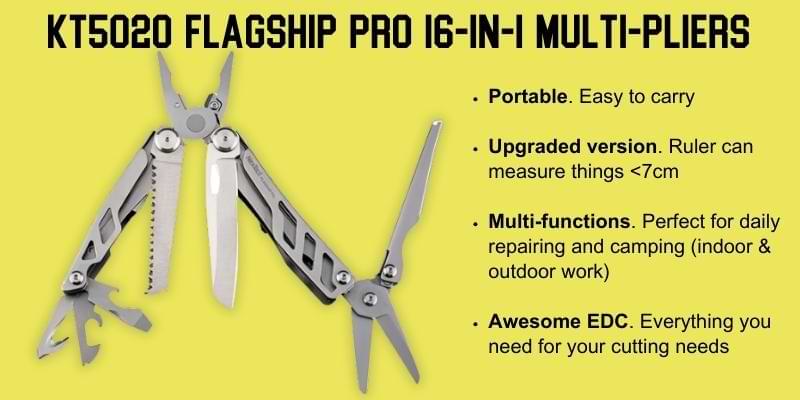 Shopping for a Knife?
Support The Knife Junkie Podcast and YouTube Channel by Buying Through My Affiliate Links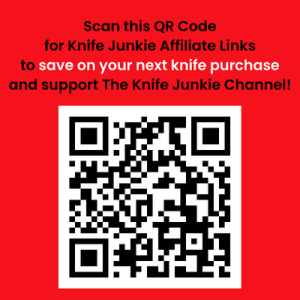 Amazon
Angle Pro Knife Sharpener
Artisan Cutlery
Bamba Forge
eBay
James Brand
Knives Ship Free
Off-Grid Knives
Vosteed Knives
WE (Civivi) Knives
Other Products and Services
1Password
16-in-1 Multipliers
Free Instagram Caption Generator
Podcast Hosting
Groove (Free Account) – Replace 17 Apps/Services in Your Business
Groove.ai – All-in-one AI solution
Knife Books
Rakuten (Cash Back for Shopping Purchases)
Transcripts (for podcasts and videos)
Upside App (Cash Back for Gas Purchases)
TubeBuddy (Free Browser Extension and Mobile App for YouTube Creators)
Website Hosting
WordPress Website Hosting
Follow The Knife Junkie
Visit The Knife Junkie website
The Knife Junkie Listener Line — 724-466-4467
Email The Knife Junkie
Follow The Knife Junkie on YouTube
Follow The Knife Junkie on Instagram
Follow The Knife Junkie on Twitter
Join The Knife Junkie Facebook Group

Affiliate Disclosure
In the name of full transparency, please be aware that this website contains affiliate links and any purchases made through such links will result in a small commission for me (at no extra cost for you). If you use these links, I might be rewarded credit or a small commission of the sale. If you don't want to use these links, no problem. But know that I truly do appreciate your support.