This week, we're honored to have as our guest, Rob Pena from Snaggletooth Tactical LLC to talk about his innovation, the SnaggletoothMF. And be sure to listen to the entire podcast for a special discount code for Knife Junkie listeners!
A tool and die maker from New Jersey, Rob got an early start on the machines working for his dad building tools and equipment for magicians to use in their magic tricks. Today, a full-time tool and die maker, Rob got the idea of the Snaggletooth from his nephew, a knife guy. And today, the Snaggletooth products are built at his kitchen table. A great story of a small, American business!
Give this episode a listen folks… it's a neat story of how Snaggletooth Tactical LLC got started, and what's ahead (wink, wink — new products) for the company.
Do you have any SnaggletoothMF products on your knives? If so, call The Knife Junkie listener line at 724-466-4467 and tell us about them. And if you have a knife shop, YouTube channel or other social media presence you want to promote, be sure to mention that when you call. We'd love to play your audio on an upcoming episode.
Pocket Check
Bob has several knives (again) — the GEC#6 Pemberton; Hinderer XM18 with custom RC Bladeworks Scale; Cold Steel Broken Skull with SnaggletoothMF (his usual third knife). Rob meanwhile, is carrying a Cold Steel American Lawman (EDC), also featuring the Snaggletooth.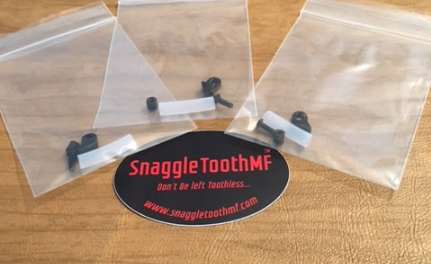 Also on this week's show, a quick look at some upcoming knife shows featured on The Knife Junkie Calendar of Events.
Follow The Knife Junkie
The Knife Junkie Listener Line — 724-466-4467
Follow The Knife Junkie on YouTube
Follow The Knife Junkie on Instagram
Follow The Knife Junkie on Twitter
Join The Knife Junkie Facebook Group
Affiliate Disclosure
In the name of full transparency, please be aware that this website contains affiliate links and any purchases made through such links will result in a small commission for me (at no extra cost for you). If you use these links, I might be rewarded credit or a small commission of the sale. If you don't want to use these links, no problem. But know that I truly do appreciate your support.