Who Will Win? Seven Knife Giveaway – The Knife Junkie Podcast (Episode 382)
On the mid-week supplemental episode of The Knife Junkie podcast (episode 382), Bob "The Knife Junkie" DeMarco conducts his "Lucky #7: Seven Knife Giveaway" random drawing from comments from last week's mid-week podcast to find winners for the Miguron Akri II, Petrified Fish Wing, Maxace Balance-K, Two Sun TS381 Tepe, Sixleaf SL-02, Kubey Momentum, and Daggerr Knives Vendetta. Find the list of all the knives shown in the show, and links to the knife life news stories, below.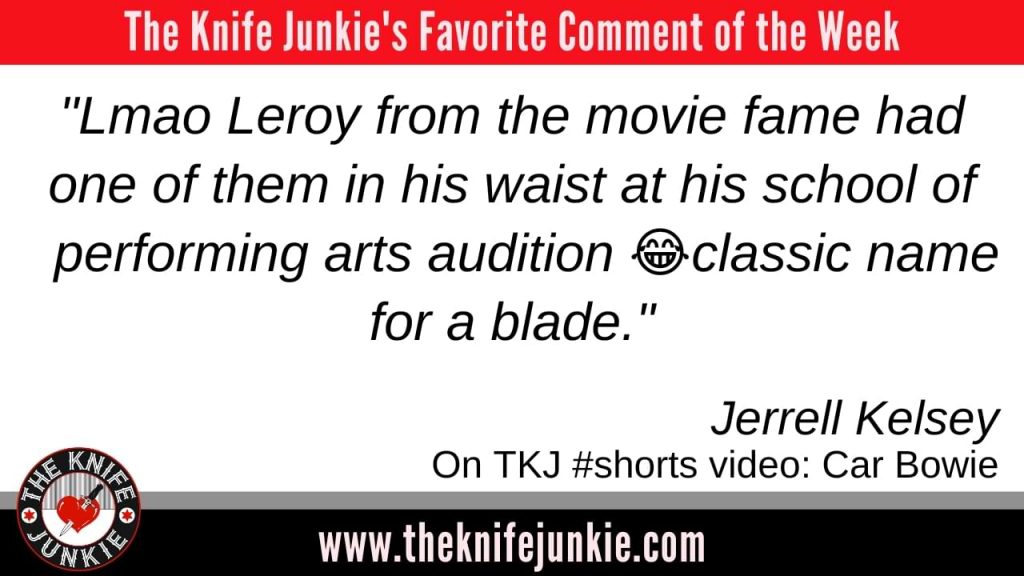 Bob starts the show with his favorite comment of the week followed by his "pocket check" of knives — the Resco Instruments MDCF, Jack Wolf Knives Low Drag Jack, the JB Knife and Tool Ditch Pick and the Orion Scorpio (Emotional Support Knife).
In Knife Life News, finally, exciting stuff from ZT and Kershaw and there's a collaboration saturated CRKT catalogue for 2023. Meanwhile in his "State of the Collection," Bob shows off a bunch of new knives, including a Steve Callari Custom 8-inch Chef's Knife and the Cold Steel Voyager XL Bowie, along with four knives from Off-Grid Knives — the Off-Grid Baby Rhino Coyote/Grey. Off-Grid Rhino V2 Coyote/Grey, Off-Grid Tracker X-2, and Off-Grid Tracker X-2 Blackout

Be sure to support The Knife Junkie and get in on the perks of being a Patron — including early access to the podcast and exclusive bonus content. You also can support the Knife Junkie channel with your next knife purchase. Find our affiliate links at theknifejunkie.com/knives.
What fun! Giving away seven knives to lucky listeners in my 'Luck 7 -- Seven Knife Giveaway' Plus lots of new knives in my state of the collection. Think you'll like this one.
Click To Tweet
Read Full Transcript
Who Will Win? Seven Knife Giveaway - The Knife Junkie Podcast (Episode 382)
The Knife Junkie Podcast is the place for knife newbies and knife junkies to learn about knives and knife collecting. Twice per week Bob DeMarco talks knives. Call the Listener Line at 724-466-4487; Visit https://theknifejunkie.com.
©2023, Bob Demarco
The Knife Junkie Podcast
https://theknifejunkie.com
Transcript
[0:00] Welcome to the Knife Junkie Podcast, the place for blade lovers to learn about knives and hear from the makers, manufacturers, and reviewers that make the knife world go round. I'm Bob DeMarco and coming up, finally, some exciting stuff from ZT and Kershaw coming your way.
We're going to take a look at some new off-grid knives, one a new model, and then a bunch of new coloration there, and then the lucky number seven knife giveaway.
[ANNOUNCER]
Welcome to the Knife Junkie Podcast, your weekly dose of knife news and information about knives and knife collecting.
Here's your host, Bob the Knife Junkie DeMarco.
[Bob DeMarco]
Welcome back to the show.
My favorite comment from this past week was from Jarrell Kelsey, and it was on my Car Bowie short, where I was showing off my Shrade.
He says, laughing my ass off, Leroy from the movie Fame had one of them, meaning a bowie knife, in his waist at his School of Performing Arts audition. Classic name for a blade.
So I don't know if any of you are, well, I know some of you are old enough to remember the TV show Fame.
I did not watch it, was not interested, but my sister did, my older sister.
[1:15] And so I'm gonna have to ask her if she remembers the character Leroy, and if indeed he was carrying a bowie knife in his waist.
Now, actually, I'm sure since Jarell Kelsey tunes into the Knife Junkie podcast, he probably knows better than my sister.
But still I love I love love love knowing that.
[1:36] Well, that fame had a Bowie knife in it because frankly, that was one of the reasons I didn't watch it.
I don't ever remember seeing a knife on anyone's belt.
So that is good news. Jerell Kelsey, thanks for keeping it real and taking me back to the 80s. Love that.
Love that little walk down memory lane. All right. Keep commenting and keep watching the videos. I'm loving the comments. They're actually very hard to keep up with because there are a lot of them now.
I've been gaining in subscribers, which is awesome. Thank you so much for spending your time with us here.
But at the same time, it makes it harder to read the comments. So this one really jumped out at me. Love it.
All right. I think it might just be time for a pocket check.
[2:25] In my front right pocket today, that's the position for the three and a half to four inch or bigger tactical folding knife because that's just my taste.
I had the Resco Instruments Mekong Delta Combat Folder. This was the knife that I originally thought was American made and then realized or found out that Bestech made it.
And well, who else?
Who better to make such an awesome thing from over there in China besides Bestech or Riyadh? Those are my two favorite manufacturers from over there.
Story behind this is Resco Instruments is a company made up of old frogmen. Those are Navy SEALs. That's what they used to call them anyway.
And they started a watch company, boutique tactical watches, perhaps. And then they started making knives and very, very limited batches. Well, this one is their most recent model.
And I believe they're third, if I'm not mistaken.
[3:24] The Mekong Delta combat folder and it just hits all the notes perfectly for me. It is a four inch blade. This is 20 cv blade steel. Very sharp but also a very stout blade in terms of grind. It's a
pretty steep grind actually. Kind of does what Microtex do. Kind of comes to the edge very steeply but somehow still remains razor shearing sharp. So really nice in that respect. Blasted,
titanium frame lock has a great feel. This thing is built like a tank. It feels like it's like a Subbenza meets a what the hell man a Harsey folder from Spartan Harsey. Sorry guys. I don't know. All
my knives just went out the window. But that's that's what I love about it. It feels like a classic on washers super stout American titanium frame lock. And a lot of that is true. However,
it's not made here in America. For some reason, I saw two old aging Navy Seals kind of barefoot,
you know, in a knife shop in their garage somewhere in North Carolina making these.
But that was, hey, that fantasy worked and it fed my love of this knife. And if you look at the contours of the handle, it looks a lot like the 640, the 0640. As a matter of fact, it's got all all the lines of the 0640 handle just kind of changed up just ever so slightly.
[4:53] Love that knife. Probably my favorite knife folder overall that I got in 2022.
[4:58] Okay, next up, a great amazing folder, but a slip joint is the new Jack Wolf knives.
I'm sorry, low drag jack. Low drag referring to its bullet end shape.
[5:15] This is a bullet end jack with such an extreme belly on that spear point blade. So much so that I guess we can't really call that a spear point blade. At this point that's a drop point. I just I love that blade shape. To me that I don't know.
See I've always had a little bit of a beef with that parallel line spear point blade that we see on traditionals where the spine and the edge are totally
parallel and then they come to a sort of nondescript spear point. To me that was always kind of the most boring and of course I'm being superficial and talking about its looks here for a second, but this will feed into the utility. To me this more bulbous ended spearpoint blade like on this low drag jack.
[6:03] Looks so much better. And you're like, yeah, but it's not about looks, it's about how it cuts. Well, guess what? It cuts so much better.
Look at how here I'm going to align the spine of this blade against that straight line on this grid here.
Well, why don't I just set it down? And you can see the angle. I should probably get a protractor because I'm always talking about angles.
But you can see the angle this edge presents going down to that belly.
It's incredible and it also puts the tip right on the bottom line of the handle here.
Right kind of at the bottom of that bolster. So the tip is down there at a utility sort of posture. And then you have this downward raked straight edge that bellies out in this incredibly fat belly.
It's an amazing blade and it slices so well. So for Christmas, I got my wife some Boudin sourdough bread.
[7:01] It gets delivered now because my wife's like, I'm the only one who likes sourdough bread. No one ever gets to, I never get to eat my sourdough bread.
So I got her some sourdough bread. It gets delivered. Obviously that's too much bread. We don't eat that much bread.
So I brought some to work today and I was slicing it up with this. Yes, it is a big loaf. I had to sort of pare it down to do so, but all it required was a simple drag.
[7:26] This thing is a really nice cutter. I also used it for an orange, and I had to be careful not to get the juice up into the works here.
That would have really bummed me out. This is brand new, pretty much. Thanks to Ben, thank you, Ben Belkin, sent this along. Beautiful micarta, of course, the usual titanium integral bolster liner setup.
Incredible walk and talk. Everything about this is the same in that it is outstanding and is basically ruining me for other slip joints temporarily.
[8:00] But the thing that is different is that it's got S90V blade steel instead of M390, which all the other jack-of-knives feature. Now, I think that might be a supply issue. I don't know, I have to talk to Ben about that.
I think it might be a supply issue because I've seen elsewhere where M390 is being replaced by S90V. And I think it might be an available thing. I'm not sure.
We'll find that out. But a beautiful knife. And go check this out. This is actually, this knife is going to drop in two days as you are listening to this, in two days.
So be sure, and that is, what's the date?
That would be the 13th.
So check it out, the 13th of January, 2023. These beautiful knives will be available at all the usual places. This is, he has gotten some really great distribution these knives.
[8:58] Okay, next up on my waist, in my waist at the three o'clock position, a knife I haven't carried in a long time for a reason that I finally remedy. And I'll show you what I'm talking about. I had the JB knife and tool ditch pick in my in my waistband double edge ditch pick.
And you say, why does this remind me of a delicious seafood? Well, I'll show you right here at the bottom of the sheath.
You'll see a little... it sort of looks like that muscle on a scallop that you have to tear off before you, you know, prepare it.
But that is not... that is a little piece of kydex that I had to superglue on there and then I sort of melted.
I've done sort of a slapdash job on it, I must admit. But it's there for a purpose.
This knife is so damn sharp that it was poking when you put it back in, even if you're careful, it will poke through the sheath and actually about that far, which is, you know, I would say about a sixteenth of an inch.
So that had to be remedied and I just didn't get around to it until last night.
So I was very happy to be carrying this today because it carries so nicely, so nice and thin. And what a wicked blade.
[10:10] I sort of bamboozle myself into thinking that something like this would be justifiably written off as a work or a utility knife.
But I showed this to my friend Ian, my buddy who's teaching me how to fight. And he was like, wow, this looks like a murder weapon.
I was like, oh, okay, keeping it real, that's good to know that when you carry something like this, and he's not an untrained eye, I mean, the stuff he shows me is horrendous, but still to the...
[10:44] To the guys who don't follow the JB knife and tool set, this might look like just something terribly devious. And of course it's meant for self-defense, but could be used for other things. Anyway,
had this beauty on me today at long last, and I'm glad I fixed that sheath issue. It's not going to poke through that, and if it does, well, I'll put another one on top of it because I love this knife.
[11:09] And then for emotional support today, which was was dearly needed, I had the Scorpio from Orion Knives. Love this little knife. Great little utility knife.
And I had this all set up to be my toy unboxing knife this Christmas or general purpose unboxing and tag removal knife for Christmas. And then I misplaced it during Christmas and I could not find it.
And I found it in the usual spot. I just didn't think of it on Christmas morning.
Maybe because we were up until all hours Christmas Eve night. Anyway, this was in the bottom part of my recliner.
You know how when you reach under most furniture and you kind of lift up, you can feel that soft layer they have under there, that piece of cloth that covers up the guts.
Well, if I lose a knife, that's the place to go check and you kind of feel it in there. and yep that's where it was. So this did not get to...
[12:07] Fulfill that glorious job first inaugurated by my Finch Runtley, you know, an official unboxing knife for Christmas.
But this would have been great emotional support as the day is long here, because you have all these ways of opening it. That's just please.
And a great lot and great looks.
And it just so happens that David Kam is a great guy. He's the one who designed and has this manufacturer.
Great knife. I love this. I love the audacious jimping on the clip that actually has a purpose. That's for gauging the depth of your tip cut if you're,
cutting through a box or something. Just a great knife. And like all great little big knives, as far as I am concerned, it's got the width of a normal sized knife.
When you make it this small or even smaller as we'll show later, but make it then it's virtually impossible to wield and open but when you keep the
handle nice and thick even if it's nice and even if it's short it will feel like a big knife that's why I call it a little big knife. Okay so this is what I had in my pockets today the Resco Instruments Mekong Delta combat folder the Jack Wolf knives low drag jack the JB knife and tool ditch pick double edge.
[13:27] And the Orion knives Scorpio. What did you have in your pockets? Let me know drop it in the comments below give me some inspiration I have not bought many folders recently I've been on such a Bowie and fixed knife fixed blade knife tip.
[13:47] 1990s is asking for their terms back Bob. I've been on a buying binge, whatever you want, I'll be honest about it, of fixed blades. So pretty much recently, so I could use a little bit of inspiration on folders. That's all I'm trying to say is just so difficult to say it. Alright, before we move along, I just want to mention that I'm back to my old tricks
and breaking tips.
Let's see.
This knife, the Night Horse that I love so much from Beyond EDC and designed by Dirk Pinkerton.
I practically made it a trainer by dropping it on the basement floor that is carpeted and it's really thick, lush carpet for warmth.
And then it's got very thick padding underneath that. And then underneath that, it's got something else. And then concrete. And this went through all of that with a mirror drop.
Wasn't even locked open. So it didn't land with the full weight behind it. And it bent the tip over like this.
[14:51] It was just like a U. And so I knew it would happen, but I took my pliers to straighten it back out and it snapped off.
So I answered this was a valuable thing. First of all, this is why I cannot have nice things. At least I cannot have tips this refined and expect to make it an EDC because I've been carrying
this since I'd gotten it because it's such a beautiful modern Navaja. But it did a valuable service to me. I've been really, really flirting with the idea of getting the S35VN and titanium,
frame lock version of it for almost 200 bucks. I'm not going to do that because I could just as easily drop that knife and mess up the tip and that would be a problem and that would really bum me out. Me, I actually really like this G10 version. It comes in three different versions,
for 30 bucks. So basically I can get six of them for the price of the titanium ones and drop them all day long and still have a couple in reserve. So I think that's what I'm going to do. I'm not I'm not going to get six of them, but I'm going to get, uh, maybe I'll get, uh, you.
[15:59] Know, two other, the, the two other colors, because I love this design that much. Uh, but that tip, look at that tip. What a bummer, man, that is such a buzzkill when, when you drop it and it does something like that happens. But since it's such a long and thin tip, it's,
actually not going to be too hard for me to reprofile that. Of course it will look slightly I know it will be, but the person that I'm dueling for my honor will not notice.
So that's what I'll do.
[16:30] Speaking of broken tips, I've also been throwing knives at my old desk. desk to great success. I'm very, very excited with the help of the book that.
[16:42] That I've featured here that Jim got me, that's over there under a couple of other books, that and a YouTube video or two has really helped me refine my throwing.
I'm getting better and better, though I have noticed that after a whole week of being on vacation and doing it kind of every day and then being back at the office and coming home and it's dark,
and not throwing until the weekend, I lost some mojo. So I'm not there, but I'm excited that,
I'm getting there. But look at the tips on these. These come very sharp and they are heavy.
So they thud and they really land with a nice thud. But they keep falling, like when they fall, when I miss, I swear to God they're like magnetic to the rocks we have right here.
And they keep, and I don't have a rocky lawn at all. I wouldn't tolerate that because I got to mow the damn thing. So it just keeps finding things to chip whenever I miss. So I'm really
trying not to miss. But I go out there, I bring my file with me and, you know, just try and file them sharp. They're hardened, so it's not so easy to do, but at least I can, you know, I can get it approximated. So I'm breaking tips. It's that season again,
in my life. So I got to just be aware of that and be aware of what I carry, where I carry,
it and how casual and nonchalant I'm being when I'm messing around with these things.
[18:09] Would probably do me good anyway just for safety. Alright, still to come on the Knife Junkie podcast, we're gonna take a look at some exciting stuff from ZT and Kershaw, which I haven't said in a while, and also CRKT and then after that,
State of the Collection and then the Seven Knife giveaway right here on the Knife Junkie podcast. Don't take dull for an answer. It's the Knife Junkie's
favorite sign-off phrase and now you can get that tagline on a variety of merchandise like a t-shirt sweatshirt hoodie long-sleeve tee and more even on coasters tote bags a coffee mug water bottle and,
Stickers let everyone know that you're a knife junkie and that you don't take dull for an answer,
Get yours at the knife junkie comm slash dull and shop for all of your life junkies merchandise at the knife junkie comm You're listening to the Knife Junkie Podcast, and now here's the Knife Junkie with the Knife Life News.
So in the past couple of years, my ZT sub collection has been winded down to the most essentials. One Sinkovich, one Onion, and three Emersons.
[19:18] And I thought maybe that was going to be it, unless I got a B in my bonnet for some other model and I needed to look on the secondary. I've just been seeing them come out with reiterations of past
models. Well, that has come to an end. For ZT, they have one new knife coming out that I'm aware of that is very exciting, as a matter of fact. And it's a fixed blade, which is also exciting because of the fixed blade terror I just described. Now, they're coming out with a rehash sort of.
[19:51] Of their old ZT9. This thing is the, this, it, the ZT9 was a bayonet that they made that was designed by Mick Strider. So expensive, exclusive, and hard to find. Well, now
they're coming out with a fixed blade, this more field knife, more camp knife.
[20:11] Version of this. I think it's beautiful and we know that it'll have that stout stout ZT build. I like the... this looks like a six... hang on, I should probably do
my homework here. I believe this is a six inch blade, right? And a five inch handle. I like the ratio there of the blade to handle and well it's a nice big full-size fixed
blade. It's got 3v as expected and then g10 od scales. Kydex sheath. This is called the triple zero six. The zero zero zero six. I have never owned a ZT fixed blade but I would I would very quickly.
Actually, I don't this one and like it quite a bit. I'm very excited about that.
But also from Kai, the umbrella company is from Kershaw. Look at this. This is this is exciting.
So they've had a couple of exciting things over the past couple of years. The Lucha, their their very nice Bally song and then their launch series and their and anything that they've made in America to me is exciting. Well, here we have the Livewire nine thousand.
[21:21] Great name. I've or 9000 and out the front automatic from Kershaw sharing that same beautiful drop point blade with the swedge that we see on the on the various new knives from Kershaw as a matter of
fact this is reminding me of the new lucha blade the drop point with that swedge very beautiful.
[21:42] Is this knife with it's got a 3.3 inch blade but look at the shape of that it looks
Well, if you can't see it, it really looks like it's going to stay in hand well, even on a thrust. That's one of the things about out the front knives that always seem a little bit sketchy.
[21:59] Especially if they're daggers and they're kind of begging to be thrusted. Do you have enough contouring on the spine of the handle and on the dorsal side of the handle to, or a pectoral side of the handle to keep that grip? And I believe this does it. They've sort of stepped it in such a way,
that's somewhat unusual for an out the front. Great looking knife, CPM 20 cv, that's exciting because you know 20 cv they're upgrading and then as we scroll down we'll see they have another
Launch 5 also sporting that spear point blade with the swedge this one a little more But also beautiful. This is in CPM.
Magna cut. Yes, ladies and gentlemen, Magna cut comes to Kershaw in the launch five.
[22:50] Now, I'm not sure if this is their very first, but May as well be. Look at it. And if you can't look at it, It's beautiful. It's evocative again Of the Italian stiletto like the launch 12 I think was or launch 11.
But this one, it has the double But this one, it has the double quillians, but it's a little bit broader.
I keep going to the pommel of this, which is an equal-sided sort of peak with chimpings on both sides. It looks perfect for holding in reverse grip and capping with the thumb.
The whole thing is nearly symmetrical, except for that swedge.
And of course the edge is not sharpened on the back.
[23:34] This one is a 3.5 inch magna cut blade so that means I can own this one because it's 3.5 inches.
[23:41] No, no, actually that means it becomes a moral imperative. Like the 3.3 inch livewire 9000 I don't have to get because even though it is very, very cool, it's still below my threshold. But this one is right there.
Going down the DuraLock, that's their axis lock. I'm just going to say it. That's their axis lock. This one is nice. It looks a little bit, it's got the profile a little bit of a ridder blade.
[24:08] But this is now in their more budget category. We've got D2 Blade Steel, the Dura Lock is what they're calling it, and this one right here is the Heist 3.2
inch drop point blade. Looks like a great little sort of EDC and then a couple of interesting looking things that are not too interesting to me. You've got a nice looking. We get on to the flyby. That's got a beautifully shaped D2,
wharncliff there, man. That wharncliff is beautiful, but three inches won't be going for that. And then this is nice looking, the conduit, 8 CR. So now we're going down a little bit the radar. So some nice knives coming out from Kershaw,
or as our good buddy... this one's nice. Oh, oh, oh, the lateral looks nice. I,
didn't notice this one before because I think I saw 8CR13. So some nice looking stuff here from Kershaw as Advanced Knife Pro would say. That is beautiful is it not?
Oh, sorry. I didn't mean my face. I meant the Kershaw we were looking at. All right. Next up, CRKT, their new catalog for 2023 has dropped and everything I'm seeing,
is a collaboration, which is awesome. I think that's really cool.
[25:38] Even if the designs are not exciting to me, I think that's cool. And the first thing we see here is their new follow on to the Evoque, Joe Caswell's masterpiece of kinetic art and weaponry.
The the provoke. Did I say the evoke? I meant the provoke.
[25:57] Oh, the evoke is the other one. So this is a straight bladed version of it, which is kind of cool. It's a drop point. So the the the mechanism just follows along. You know, if you like the ring and you like that format, this is cool.
This is cool. I used to have the evoke or the provoke. Now I can't. Now I'm totally confused. But I had the karambit version of it and it was really cool. And I kind of, you know, as I always
say, I regret getting rid of it because it was a really cool piece of engineering. But this one does not tempt me at all. If I were to get it again, I would get the karambit version again.
As we scroll down, we see a Lucas Burnley. Keep going. There's another Lucas Burnley. and we'll keep scrolling and and we got TJ Schwartz this is cool this is like a,
compacted version of the Overland the Overland that I Uden odd over and that's actually the fixed-bladed Overland is the knife that TJ Schwartz makes in-house in it literally in his house in the CNC that he built a garage around so this is is the compact version of that.
This new Pilar 4.
Looks really cool. It's got a clip point blade. It's that Voxnaise knife we all know and love, but it's got a clip point this time. John Graham, may he rest in peace, died this past year.
[27:21] Known for the razzle. They're doing a commemorative knife for him. This thing has a big sort of axe like handle on it. It's a big chisel ground affair. I mean, it's not big. It's a 2.3 inch,
blade but that handle to blade ratio it's a biggish kind of handle for that blade.
[27:42] Down here we see bamboo this is called the bamboozled by Ken Onion what a goofy name but yeah the bamboozled he had one called the shenanigan so I mean I guess it's not that that,
could be the spit by Alan Folt this is his follow-up on the spew two lovely names small pocket inverted tanto comes to spit but a really cool looking neck knife. TJ Schwartz with another
flipper beautifully beautiful lines on this reminds me of a poor beagle shark. Moving down we see more more collaborations more and more. I love it. This is CRKT's strength. I'm not sure who oh Ken Stigerwalt,
did that one. Here's a Richard Rogers, here's another Ken Onion. So, uh, nothing in particular really jumps out at me except the fact that these are all... oh the throwing knife perhaps.
[28:37] What really jumps out at me is that these are all collaboration knives and and they're all in a budget realm Because that's what CRKT accelerates at bringing knives from top top of the line designers designers whose whose,
Designers and makers whose knives cost a lot of money They bring it down so that we can all we the hoy-polloy can all enjoy.
[29:01] What they have to make so very psyched to see that I'm really excited about the Kershaw though the ZT fixed blade. You just might see it right here on the knife junkie podcast depending on how much.
[29:13] Okay coming up. We're gonna take a look at the state of the collection and then we're gonna get to the lucky number seven knife Giveaway, but before we go over there. I just want to mention and thank.
[29:23] Everyone viewing but especially the patrons. Thank you so much to my patreon members It's greatly appreciated It helps keep the lights on here at the Knife Junkie podcast.
If you want to help support the show in a monetary way, that'd be greatly appreciated. You can hit the QR code there right on screen or go to theknifejunkie.com slash Patreon. Again, that's theknifejunkie.com slash Patreon.
The Get Upside app is your way to get cash back on your gas purchases. Get Upside is an app you put on your smartphone and whenever you need to get gas, search your
area for savings, claim your discount, fill up your tank, and then take a picture of the receipt with your phone. And that's it. You've just got cash back. Visit the knifejunkie.com
forward slash save on gas to get the app and start saving. Again, that's the knifejunkie.com slash save on gas. And now that we're caught up with knife life news, let's hear more of the
knife junkie podcast. I realize sitting here that I was remiss in mentioning that I also had this on me today. This is the most I mean, I forgot about it. This is the most wearable. This is an incredibly.
[30:32] Wearable dagger slash neck knife. If if you like neck knives, the counter tack to it also comes with a really actually very good belt clip that goes
in this on this little sheet. I just removed it because I like it as neck carry. I'll carry it under the under there and if I feel in danger, which I
don't really all unbutton the shirt so I could reach in and grab it but a great knife the counter tack to interested wanted to mention that. Okay, so from Carrie at Off Grid Knives. I got some gems here that I want to show off. But before I do,
I got to show you this beauty. So have you listened to the interview podcast this week, the Sunday podcast? It's with Steve Kalari. You know him perhaps as Supersteel Steve.
Well, I bought if you did listen to that, you know, I bought one of his knives and man alive. It is awesome. Steve is a very outspoken guy in the knife community about well, he's just a very outspoken guy in general. And I like that you know where you stand with a person like that.
He is very outspoken in the knife world over the past years about geometry, the importance of heat treat, the importance of accurate HRC reporting, all this kind of stuff, and also Chinese manufacturing.
[31:54] He's a very outspoken guy. You may know him for that. Well, he has got a very, very refined hand when it comes to grinding blades. So he's in Georgia, and he's part of the Georgia Knifemaker's
guild, I think is what it's called. And, and he shops at, at.
[32:16] Papa's, you know, owned by, owned by Mr. Roy of fiddleback forge and a couple of other knife makers, and he's embedded,
in that community. It's very cool to see. He is using their proprietary steel 8760. And it's this amazing, flexible, super sharp high edge retention and somewhat low corrosion.
High carbon blade steel. And in this case, it is so incredibly thin. It is so wickedly thin that behind the edge it's five thousandths behind the edge. Very, very thin. So much so that you can
barely see the actual cutting edge there. But wicked, wicked sharp is this. It's a pleasure to cut produce, mushrooms. I did a whole bunch of shittakes the other day. They basically cut
themselves out of fear and anticipation of the cut. It rocks nicely. It's got a very gentle curve,
but it's got that somewhat Japanese profile. I love the downward tip because I do use the tip on my kitchen knives, especially when opening packages or food packages, that kind of thing.
[33:36] But you can use it for certain pull cuts through soft materials. I don't tend to do that because I tend to think worry about dulling the tip but you could do that to great effect with this,
It's got beautiful micarta handle scales that are antique micarta.
[33:55] Turned out chocolate. I asked for maroon and it kind of He said it was sort of a dark maroon. You can see it up here a little bit,
But with polish it kind of turned chocolate. He's like dude. I can make you another one I'm like, don't you dare. This is beautiful. I love I love chocolate. I love this brown antique micarta just fine. And,
if you look, there's a very thin white spacer and then a thicker.
[34:23] Black spacer. And it's very interesting. You got to listen to the podcast with him. And I'm going to be brutally honest, if he has turned you off in the past, with his well outspoken,
this, give him another chance and listen to him talk about his passion of knife making. It was quite inspirational, but also,
great to, to hear and and and to see what his strategy is. As a professional chef himself, he wants to get these in the hands,
of people like him who work in well, he no longer works in a kitchen, he now is a little bit higher up, but he wants it to be,
on lines in restaurants all over the place. So he will be making knives that are affordable like this one and then making knives that are less affordable more in special special drops you know small batches of special you,
know steals and handles and stuff like that I'm very excited about this my first custom.
[35:25] And handmade kitchen knife. So yeah, very excited. At first I thought I wasn't going to let my daughter, who's now starting to get into cooking, use it, but after talking to Steve, he made it for abuse too.
Knowing working in professional chicken kitchens, he tested it for abuse. So I'm going to let my daughter use it and so she can see what a knife should cut like. All right. Okay, so some off-grid
knives here. Let's check these out. These are awesome. So the first two are models that I have experience with have and these are just in a new coloration and man they are sweet. Let me show
these off. First one of my very very favorites. Definitely a house favorite. We have two of these,
and now we have three because I'm keeping this one. Thank you Carrie. This is the Baby Rhino And this is one of those knives like the Orion Scorpio that maintains its full width even though it's short.
Now this is the big one that it comes from which is a little wider, but this still is a full thickness knife and therefore feels great in hand.
And plus it's got a great profile to feel good in hand as well.
[36:51] This knife has the gray wash and the coyote tan and he's been putting out these knives with this coloration recently. I've been showing them off. I
love them. It started with the Stinger XL with that gray wash and tan, a coyote tan and then the Raptor, one of my favorite utility knives of all time, this design
the Raptor. I frankly thought it was ridiculous when I saw it. I thought he was just trying to design something different, but really it's a super utility knife.
And then also this.
[37:26] This back country which was not only given this coloration but modified in the handle to be even more comfortable, more ergonomic. So that's a great thing about off-grid knives is Cary Orvice,
the designer and man behind the company, keeps constantly improving, listening to feedback. All of his V2 models, for instance, have the sunken clip with the flat head screws. He listened and,
And I love that.
But anyway, this knife is awesome.
And since we have the black on black, the black out version and the gray on gray, we have to keep this one.
So my daughter has a name for a color like this. She calls it grayge.
When it's sort of gray, sort of beige. So this one has a grayge handle.
[38:16] Okay, next up, it's big brother. Now this is one of my favorite full size knives out there, flippers out there, but one of my favorite off-grid designs. This has always caught my eye.
I recommended my dad get one for my brother and then I immediately became jealous of my brother like an immature little brat. I didn't voice it but it was happening internally. And then I got the all black one which I love and I've used a bunch.
So this one I would keep but I have the all black one and I feel like it might just be too greedy for me to keep this just because I love the colors.
It is so nice but I'm going to give this one away. This is the V2 of course with the sunken screws.
The amazing action.
This is a best tech build I believe. If not built at best tech it's built in a Taiwan manufacturing. does some of his knives in a Taiwan manufacturer. That Stinger XL is made in the Taiwan factory,
and man alive, they'll give Bestech a run for their money, no doubt. So this is the V2, whoops.
[39:26] Hit the old camera there. That is a full-size knife, so might hit your camera if you're too close to it. 154 cm blade steel, nice and thin and nice and broad with a very high height,
flat grind giving you a super thin behind the edge cutting edge.
[39:45] All of their knives with one or two exceptions in the fixed blade category. Their knives are incredible, incredible slicers and cutters.
If you're talking about just going through like double walled cardboard, all of them zip through them. The one that I would say does the least in terms of a folder is this
one because of that relatively low height flat grind. All that being said, this one is still a monster with cardboard. So their knives, if you have any sort of utility tasks, their knives are
awesome. As a matter of fact, they are the one knife that I do, I have personally an affiliate link with. So if you want to buy any off-grid knife ever in history, you go to the knifejunkie.com
slash off-grid and they give me a shekel and I love it and it works out great. So yes, I do fully endorse off-grid knives. All right, next up, let me see. This knife is the new Tracker X2. Now,
I had not experienced this knife until now and I am very impressed with it. As I have been with all of their fixed blades, you know, some people accelerate at fixed blades, some people accelerate at folders. This company accelerates at both. They remind me of Cold Steel. They're kind of.
[41:07] Minus a lot of the marketing bravado, if you will.
[41:15] They remind me of Cold Steel in that they kind of have the fixed blade and they kind of have their folder formats down.
And it works for them and they can...
Work within those parameters and kind of knock it out of the park each time. This is an awesome outdoor knife, this off-grid tracker.
This thing is awesome. Here I have it in the blackwash and I am going to keep the blackwash but,
I have it in this stonewash and I will be giving this away as well. I haven't figured out when or what the circumstances will be.
I have, but I will be giving these two off-grid knives away at the two center ones. Very high, full flat grind.
[42:02] Pretty stout, I think this is 3 eighths, oh no, 3 eighths of an inch maybe.
[42:09] Very, still gets nice and thin behind the edge. I'm gonna take mine out and do some light batoning with it. By light, I mean thin batoning and see how it does.
This is Cryo D2 and Micarta. really nice contour handle with hexagonal milling for grip.
[42:28] Just an outstanding knife. And man, they have improved their sheaths too on their V2 versions.
They've improved their sheaths. They've gone to the pancake, which I appreciate, or the taco, the fold over, which I appreciate because it lowers the profile of the sheath itself.
But you can still use this sort of double-sided belt loop, whether it's this or a Tek-Lok or something like that. Still works fine, just fastened on the one side.
So off-grid knives, absolutely thrashing it with these new colors and with this tracker. I love this knife.
This is gonna get some use. This seems like a great, just sort of all-arounder that you're wearing on your belt the whole time you're on your camping trip, and it will do everything.
Food, camp chores, carving, It just seems like that kind of a knife, you all know.
Okay, so before we wrap the state of the collection and get to the lucky number seven knife giveaway, I gotta show you the last thing, I'm very excited.
My Cold Steel Voyager XL lineup is now complete.
[43:38] Complete minus one special edition, if I could ever find it, the Rawls.
[43:45] Tonto, I'll find it someday. But this is what I was waiting for and now I have all the blade shapes. I used to have this in the Tonto in Aus 8. I gave them away when I found the Recon XLs in Tonto and
Bowie and then regretted that almost immediately. So now I have all of the Voyager XL blade shapes,
most of them in AUS-10 and a couple in AUS-8 and one in XHP.
But this is the clip point as you can see. What a beautiful clip point blade. They just really, really have an affinity for that blade style at Cold Steel.
If you are curious, yes, they are that awesome.
[44:32] If you want one big folder, I highly recommend an XL Voyager. They do a great job with their AUS-10 blade steel as far as I know and as far as I've seen others test it.
And the build is just unbelievably sturdy and stout. Plus with a knife like this, you can do, I'm going to go to the main camera here, you can do things like light chopping because you have,
yeah, you can be all the way up here for close detail work so to speak. You can be right here. You can be back here. This is kind of my preferred.
[45:04] Area or you can come back all the way back in here and use it as a light chopper.
And it's got that triad lock which is arguably the strongest lock out there. So I do love the Voyager XLs and they're under a hundred bucks and they're five
and a half inches and you know you might not be comfortable carrying it but it's great to throw in your backpack because you have nearly fixed blade capability
nearly fixed blade capability in a folder that takes up a lot less space. So highly recommend a large folder for that reason. All right, let's give away some
knives. I'm very excited about this. This is our lucky number seven giveaway. The only reason I call it that is because we have seven knives to give away and I
have felt very lucky recently because people are tuning in and people are sharing their thoughts and my subscriber base is growing and the conversation is
growing and it's exciting and I feel very lucky for each and every one of you out there so I wanted to give you an opportunity to win one of these seven knives and what they all have in common is that they are all really cool. Some of them are more expensive than others,
but they're all they all have a second kind of cool as Nut and Fancy would say.
Don't know what that means.
[46:19] Look it up. Okay, so let's get to the first one. This is the Migeron Acre. So the rules behind this content or this giveaway are that last week, I gave you a week to comment down below saying,
I'm in. And that's all you had to say, you had to subscribe and say I'm in. So we are going to, to we have through the platform we are talking to you on now, there is a random generator
that will choose from all of the comments that say, I'm in. So that's how we're going to pick first knife on the block. This thing is beautiful. These knives, all seven of them
were donated by my good friend, Dave at this old sword blade reviews, you have to check out his channel. If you like this channel at all, you will love his channel. He's got incredible
knives and he calls himself old. He's older than I am, but the man, you need to see him with a sword and he's got a couple of videos on his channel. He's an incredible martial arts practitioner,
especially in Kali. Okay, so here it is, the Miguron Acre II, just a beautiful gentlemanly.
[47:33] Modern folder front flipper. You've got accents of gold on the liner, which actually I thought was really chintzy and horrible looking on the Praxis by Civivi when it first came out.
But on this with this beautiful contoured G10 black handle scale, the cool proprietary pivot, which is the only marking, and the nice sculpted titanium pocket clip, I say nice sculpted titanium pocket clip, I say that gold just looks like a touch of class.
It's like you kind of want to carry this when you're wearing a tuxedo, but you don't have to. This would look equally smart in a pair of jeans. you're in good stead here with this.
[48:16] With this MIG-ERON. Just beautiful. I think it's a very clean and lovely design. And it works very well as a front flipper. If you have any doubts, this thing is a great front flipper.
I am just terrible with my left hand. So I'm just gonna hold it. Open it with my right and hold it with my left. All right, Jim, let's do this. Let's pull it up and let's pick a winner. Who will win?
[48:42] And as he pulls up the thing I'm going to say, good luck to all of you.
I hope you all win. But since you can't, whoever does, I love y'all.
All right, let's do this.
[48:54] All right, the winner is Matthew Rust. Matthew Rust.
And actually, I'm gonna write this down as we go because I know how my brain works.
If I don't write it down, Matthew Rust may just get something else.
So let me put this down. So Acre, Matthew Rust. And you're all saying, Bob, you're so old.
You could just look at the video again. And yes, I could, but I'm gonna do it my way because this is my show. All right, congratulations Matthew Rust on winning this Acre. I will put it right in its box and get it out to the coast at least.
Okay, next up, the petrified fish wing. This one is cool. Look at this.
I guess I'll be saying that about each one of these knives. That was the one factor that it had to have like an X factor, cool factor. And this one has it in spades. Let's come under here.
Petrified fish, a weird name for a great company that just kind of burst down to the scene making very cool knives. Many of them very unique and some of them just classic like the Victor Bowie that I own. Very classic looking knife.
This one, I really love that blade shape. I'd love to see that blade shape.
[50:14] On a large fixed blade. I think it'd be a very cool fighter style blade. But this one on this wing blade, as you can see, the milling in the blade, if you can see, the milling in the blade
evokes a wing. And so I'm guessing that's why they call it that. This hump there looks a little odd.
But man, does it feel good. It fills in that spot on your thumb. You don't want it all empty. You want it. You want it. You want as much contact as possible. It's like staying sticky in martial arts. Like you might not be hitting the guy, but hopefully you're touching him and somehow.
And that's what you get here. You get constant contact. I should name a service that or something. You get constant contact there. You got jumping back here on the flat that really, you know,
this jumping is important. I have come to recognize, especially on flippers, because you hold the knife like this when you flip. And sometimes that's the only thing keeping it from shooting out of your hand.
[51:16] Especially with smaller flippers. This is a liner lock, a beautiful D2 blade and liner here. Awesome action. Interesting pocket clip. David Chen apparently is the designer of this. And like I
said, I would love to see them make a fixed blade version of this with that blade. That blade is just So handsome.
All right, and I love also, not for nothing, the thunder cloud blue handle.
Okay, let's do this. Let us pick a winner.
[51:49] We will pull up the pick a winner. Let's see. Oh, and it's this thing works so fast. It's Weston Probst.
Couldn't happen to a nicer guy.
Weston Probst wins this knife. Weston, congratulations. He's a frequent contributor to Thursday Night Knives. Always has something cool to say.
Also, for some reason, I like the name Weston Probst.
Something about it is very gratifying to say. So very happy to be sending this petrified fish wing to you, petrified fish wing.
[52:21] Weston Probst. Okay.
[52:26] Congratulations, sir. Why did I pick a mechanical pencil? There we go. This one won't break. Newfangled mechanical pencils. What are they trying to get us to do? All sorts of stuff.
All right. Here we go. Next up, we gave one of these away not too long ago in the Gentleman Junkie Knife giveaway. This thing is a cool one. This comes from MaxAce, also just a cool company.
[52:48] Maxase offers knives in the high end with super sculpted titanium and high end blade steel. And then they have their more budget models. And their budget models are awesome.
Actually, yesterday I was carrying my Sandstorm K, which is enormous and a very, very awesome knife. This is a little bit more practical and utilitarian than that Sandstorm,
but still a very good looking knife and feels great in hand. The blade to me reminds me of like an se, um, se blade. It's got that graceful drop point, very thin behind the edge. Nice slicer is,
the um, balance k here. It's got a k 110 blade. K 110 is analogous to d2 and it's got a an anodized deep carry pocket clip, sculpted g10 handle scales, comfortable and utilitarian. Plus it's got a
finger choil that it'll do in a pinch. I wouldn't be too confident if you got big sausage fingers.
[53:57] Gripping there and then squeezing. You might come away from it bleeding ever so slightly.
This one also, like the Acre that came before it, has a, and the petrified fish, has that that plain blade, clean sterile blade with just the pivot showing the logo.
I love that.
I think that should be everywhere. I think that should be a universal trend.
[54:24] I dig that a lot. All right, so let's figure out to whom this will go. This Max Ace balance K. All right. Let's we'll do it since this since this isn't the wheel that spins and takes some time.
We'll do a countdown. We'll count down from 17. No, I'm just kidding. We'll count down from three.
All right, let's pick a winner for this Max Ace balance K in three, two, and one. Eric Sherman, Eric Sherman, congratulations Eric Sherman.
[54:57] You have won the Max Ace Balance K. I'm happy to be sending this to you.
Also, I failed to mention before, go to the website, knifejunkie.com and send me your,
or you go to the Bob, Bob at the knifejunkie.com and send me your mailing address so I can get these in the mail this coming week.
[55:20] The Balance K, Eric Sherman. Nicely done, sir. This is a cool knife.
I think you will like it. Though I don't really know you, if you're here, I bet you'll like it.
Okay, next up, this one is exciting. They're all exciting, I love them all.
This one is probably the highest end, technically speaking. Is it the coolest?
That's up for debate, but highest end, I would say yes. This is a Tucson knife, and it's a tepe design.
That is a very cool, they have designed some really interesting things. And I cannot remember the name of the gentleman I spoke to from Tepe Designs at the Tucson booth.
He was a very nice guy, but his name was not Tepe. I always assumed that was the last name and it could be but it just wasn't the last name of the guy.
[56:10] May have designed this knife. Or designs some knives under that label. Okay, that was way too long and cumbersome, so I'm gonna stop.
This beauty is called the TS381, and it is, I think it's a very cool looking knife. I love the long, slender, pointy blade. I do love that.
It's a pretty stout blade stock, so that this very fine point has some beef at it,
the tip so it's not gonna break off like that Nighthorse did though that's still a pretty fine tip. It's got a full height flat grind and a nice curved plunge.
[56:52] Grind leaving you plenty of space to sharpen that up but you probably won't have to because this is M390 blade steel which means it's better. No I'm just
kidding. This is M390 blade steel which means it's more expensive and has higher edge retention and this is numbered 0 to 7 I wonder if that is a serial number,
that'd be kind of cool it's got an interesting pocket clip somewhat phallic.
[57:20] It's a frame lock with nice sculpting here and a nice lanyard slot you know I do appreciate a slot as opposed to a hole because sometimes the sometimes
depending on the type of pocket you have, you might want to slide the lanyard or the fob all the way into your pocket. And if it's got a slot in a little bit of room to move, sometimes it makes
that that easier. So kind of a specialized thing, but really great action. And just that amazing two sun build flipper and it also has that opening lozenge shaped opening so yeah you can,
you can spidey flick it and then to crown it all off a crown spine just a nice touch okay so let us just let us find out to whom this beautiful rather high end knife goes okay let us do the
the countdown. Let me take a sip of coffee too, just to build a little bit of anticipation.
[58:31] That's good. Jules, I don't need you to tell me I make good coffee. All right in three two and one.
[58:41] And just like that, it's Flip Solo. Flip Solo winning the Tucson TS381. That's awesome, Flip Solo. I recognize your name from the comments and from a TNK or two.
Congratulations. I'm very happy to be sending this off to you. Be sure you send your address to theknifejunkie at, or Bob at theknifejunkie.com.
Okay, next up, this is a cool one from the same design from the same atelier.
[59:12] But from their more pret-a-porté atelier. This is the six leaf. And I believe it's got my dirty paw prints all over it. So you'll have to excuse me. This is the six leaf. SL 02 SL 02.
I just got cool in spades. You don't need me to explain why, but I will.
[59:36] Let's start from the back. You've got a great triangular pommel. I mentioned that on the new Out the Front by Kershaw. It's a great shape for capping with the thumb because it gives you that little peek to wrap your thumb over.
So I like the pommel. I like the deep carry pocket clip. This one has some screws, but it's high up enough that it's not going to really interfere with your clothing.
It's got a really interesting camp, not canvas, but sort of micarta made from some sort of sack cloth, some sort of burlapy kind of thing, but a tighter weave.
I'm not sure, but they do a good job with it. It's obviously cheap, but they do a great job with it. No voids.
[1:00:23] It's a nice material. And then you have this cool flipper tab. It reminds me of the Commander model of a 1911, you know, with that circular hole through hammer with the jimping. Got a nice
big flat there on the guard area where you can come up for close-in carving work and that kind of thing if you want to get your hand real close to the edge. A really attractive double-peaked,
spear point. I've been through this before. That's probably not a spear point. And can it be double peaked and a spear point? Probably not by definition. But an interesting thing about this is that it maintains width, the blade maintains width all the way almost to the tip, similar to a tanto.
[1:01:10] But how they do that down here on the grind, instead of that faceted tanto grind on an American style tanto, they have that full thickness but they put a secondary bevel right here at the front,
and then you have that third bevel which is the cutting edge. So a really cool thing. I love that detail and I've seen that. I'm trying to remember on... that looks nice just like that. I'm trying
to remember whose custom knives I see that on. I know I've seen that I think on a Greg Lightfoot knives. He does something similar to that with the swedge. But can you think of anyone whose
forward edge has that sort of triple sort of bevel effect? I feel like I've seen it before. I just can't think of it. If you can drop it in the comments, please. Awesome action on this. A really,
really nice action and it says here.
[1:02:09] Rattlesnake design D2. Okay, so rattlesnake design and D2 on bearings. This is a cool knife. Okay, so who is going to win the six leaf SL02? Let's find that out in three, two, and one.
[1:02:29] Vince, hey, all right Vince, this is now yours. This six leaf SL02 is yours to do what that will, but I hope you use it, because I think this one is going to be a cool one to use with this really,
really sharp and interesting blade. I'm sorry, Jim, can you flash back to that real quick?
I just want to make sure I get the... oh, okay. I was going to say the spelling correct, but Vince, pretty sure how to spell that. Okay, Vince, congratulations, sir. This Sixleaf SL-02 is
now yours just in my hands but not for long. Okay second to last now this one this penultimate selection has been was in 2022 I mean people went bonkers over this Jared Neve Stassa who else a
lot of other people just loved this knife and I saw what that meant. This is the only knife of any of them that I carried and I carried it for one day and I didn't even carry it I had it in a zipper pouch, you know, with felt. And it was my emotional support knife. So it got flipped at my desk at work.
[1:03:41] Uh one day and so that's the carry i did with this this is the kubi moment oh i'm now i'm going to inspect it okay this is this is the kubi momentum it's been carried and
it's been uh dropped about three inches to a paper tablet um sorry to the future owner of this uh but,
it did take a little take a little piece of my paper off so that's cool it's nice and sharp,
Manonza's design, D2. Now what this is such a standout for, like all Kubis, it's just got amazing action.
And the fact that this is a really superiorly designed front flipper makes the action even more, all the more, enjoyable.
[1:04:29] Yes, you can Spidey flick it. Yes, you can thumb flick it, and both are gratifying and great. But really, this really wins the front flipper contest of the year.
I mean, it just feels great.
And if I can do that with my forefinger, and it doesn't bother my forefinger, I feel like it's a very good design.
Because that's not a surface I ordinarily do too much with. So when I front flip and it's too stiff and the detent isn't right, it's no good.
Now this Kubi gets it right in that it does the proprietary pivot, but they put the writing on the blade too. It doesn't need to be in both spots. Not a deal breaker, especially with a,
blade that cuts this well. Presumably I did not cut with it, but if you watch Neve's test with, or.
[1:05:22] Stasa's test with it, he takes it through the ringer as does Jared Neve and many others. You You can see how this thing performs.
But just a beautiful knife. It feels great in the hand. And I'm excited to pass this along, because this was one that almost disappeared.
I don't know what happened to it. It's gone. It's gone in the fourth drawer down. All right.
Let's figure out who's going to get this Kubi momentum in three, Two... and won.
[1:05:58] Alright, Agent Orangepeel! Agent Orangepeel, this is going to you, sir. Agent Orangepeel, a contributor to Thursday Night Knives, happy to see this going to you, sir. I know you will love this.
And, by the way, I love the cool camo G10. We don't see that too much anymore. It sparks for a little while, and I always wanted a PM2 in that camo G10.
[1:06:26] But seems to be trending out. I like it. All right, last on this list, and maybe the hardest to give away due to my penchant for big folders is this.
From dagger knives out of Russia, dagger spelled with two R's, this is the vendetta, a five inch bladed dagger style blade.
To me, it actually looks more like a spearhead than any other spear point blade I've talked about. It actually looks like a spear more than anything, even more than a dagger.
[1:07:01] This is such a cool knife. I wanna get one of these. I wanna get a dagger and I wanna get a vendetta. This is a very cool knife.
They do the large format well. This is kind of like, it feels more stout than the, what are those called?
The large Kershaw folders that came out, the large Kershaw clip points.
Feels more stout than those, I'm sorry I can't remember what they're called at this instant, but they're nice and slender, kind of like those knives. So that's kind of a cool factor here.
This is a steel frame lock with a secondary lock there, which I can't imagine you actually needing with this because that lock bar is somewhat short by comparison to the length of the lock side.
So that it...
You know, it's a little stouter to open or to close. So you don't, and when you're gripping it, you're gripping it like this.
So chances are you're not gonna need this. However, if you're gonna take advantage of the length and come way back here and, you know, have some standoff reach, yeah, I guess maybe that secondary lock might come in handy.
Anyway, if you're gonna use this as a fighting knife and you're gonna square off with someone, because that's kind of what this looks like, you'll definitely want to engage that secondary lock.
So I hope you are ready to take on the challenge.
[1:08:29] Of having a dainty tip like that, a pointy, pointy tip like that, because I will tell you, I have not had the best luck just recently.
[1:08:39] This, by the way, is sort of a reflective red and silver twill.
I think it's not carbon fiber. I think that's a carbon fiber layer laminated on G10, Kind of like that, Spider Code does.
[1:08:55] All right, let's find out who gets this vendetta. In three, two, and one.
[1:09:03] Kevin Main. Kevin Main, congratulations. You got my, I mean, you got the dagger vendetta out of this contest. Congratulations.
I am quite sure you will like this knife.
Kevin Main dagger. Okay, I'm quite sure you will all love these knives.
If you're here and you put I'm in, chances are you do.
If you don't, you can do with them what you like, but just know that I'm sending these out to you out of a feeling of appreciation, out of a feeling of just luckiness.
I am a lucky man in many, many ways, and a lot of that has to do with you. So thank you, thank you, thank you.
And as I mentioned, coming up, we'll give some off-grids away. We've got other giveaways coming up too. So if you didn't win this time, there's always chances in the future.
All right, I've gone way too long as Jim would attest, no doubt. So for him, working his magic behind the switcher, I'm Bob DeMarco saying until next time, thank you so very much.
[1:10:06] And don't take dull for an answer. Thanks for listening to the Knife Junkie Podcast. If you enjoyed the show, please rate and review at reviewthepodcast.com.
For show notes for today's episode, For additional resources and to listen to past episodes, visit our website, TheKnifeJunkie.com.
You can also watch our latest videos on YouTube at TheKnifeJunkie.com slash YouTube.
Check out some great knife photos on TheKnifeJunkie.com slash Instagram and join our Facebook group at TheKnifeJunkie.com slash Facebook.
And if you have a question or comment, email them to Bob at TheKnifeJunkie.com or call our 24-7 listener line at 724-466-4487 and you may hear your comment or question answered on an upcoming episode of the Knife Junkie Podcast.
[1:10:50] Music.
Share This With a Friend >>>
For early access to The Knife Junkie podcasts and YouTube videos, receive Knife Junkie stickers and be entered into the monthly knife drawing giveaway, join The Knife Junkie's Patreon group of awesome supporters.
Knives, News and Other Stuff Mentioned in the Podcast
Pocket Check
Resco Instruments MDCF
JWK Low Drag Jack
JB Knife & Tool Ditch Pick
Orion Scorpio (ESK)
Broken Tips — Cold Steel Pro Flight Sport Thrower & B'yond EDC Nighthorse
State of the Collection
Off-Grid Baby Rhino Coyote/Grey
Off-Grid Rhino V2 Coyote/Grey
Off-Grid Tracker X-2
Off-Grid Tracker X-2 Blackout
Steve Callari Custom 8-inch Chef's Knife
Cold Steel Voyager XL Bowie
Lucky #7 — Seven Knife Giveaway
Miguron Akri II
Petrified Fish Wing
Maxace Balance-K
Two Sun TS381 Tepe
Sixleaf SL-02
Kubey Momentum
Daggerr Knives Vendetta
Let us know what you thought about this episode. Please leave a rating and/or a review in whatever podcast player app you're listening on. Your feedback is much appreciated.
Please call the listener line at 724-466-4487 or email bob@theknifejunkie.com with any comments, feedback or suggestions on the show, and let us know who you'd like to hear interviewed on an upcoming edition of The Knife Junkie Podcast.
To listen to past episodes of the podcast, visit theknifejunkie.com/listen.
Today's podcast in sponsored in part by the Upside App, your way to get cash back on your gas purchases. Upside lets you search your area for savings on gas, claim your discount, fill up your tank, then just take a picture of the receipt with your phone. And that's it… you've just earned cash back! Get the app right now at theknifejunkie.com/saveongas. Get the app and start saving money on gas — and help support The Knife Junkie podcast! Again, that's theknifejunkie.com/saveongas.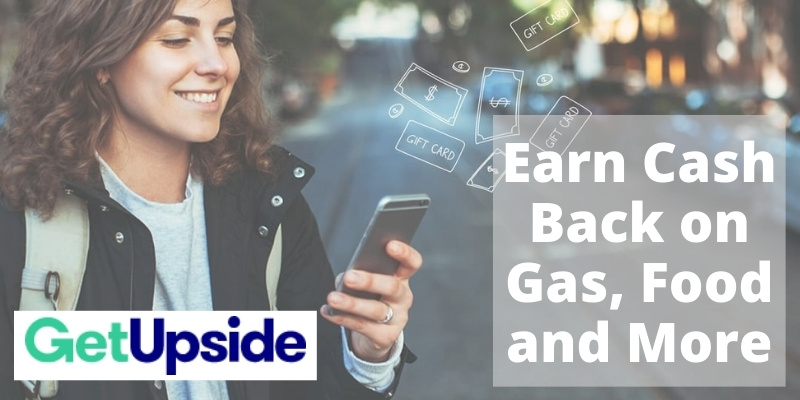 Shopping for a Knife?
Support The Knife Junkie Podcast and YouTube Channel by Buying Through My Affiliate Links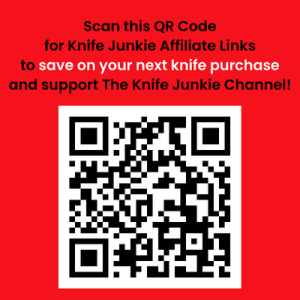 Bamba Forge
eBay
Field Supply
James Brand
Knives Ship Free
Off-Grid Knives
Vosteed Knives
WE (Civivi) Knives
Other Products and Services
Podcast Hosting
Website Hosting
Groove (Free Account) – Replace 17 Apps/Services in Your Business
Knife Books
Rakuten (Cash Back for Shopping Purchases)
Upside App (Cash Back for Gas Purchases)
TubeBuddy (Free Browser Extension and Mobile App for YouTube Creators)
Follow The Knife Junkie
Visit The Knife Junkie website
The Knife Junkie Listener Line — 724-466-4467
Email The Knife Junkie
Follow The Knife Junkie on YouTube
Follow The Knife Junkie on Instagram
Follow The Knife Junkie on Twitter
Join The Knife Junkie Facebook Group

Affiliate Disclosure
In the name of full transparency, please be aware that this website contains affiliate links and any purchases made through such links will result in a small commission for me (at no extra cost for you). If you use these links, I might be rewarded credit or a small commission of the sale. If you don't want to use these links, no problem. But know that I truly do appreciate your support.